This list of the Best Peloton Shoes for Wide Feet is based on the most used shoes by Peloton wide feet users, including budget-friendly and comfortable options, which will help you select one that's just right for your Bike.
After starting out with the peloton, I noticed a strange thing with my feet. My question was, why did my feet get so numb after some time of riding? So I get back to the community and found that my shoes are too tight. Even though I feel normal, my feet swell when riding, and circulation is restricted. Then I researched a lot to find the best peloton shoes for wide feet because comfortability is the first priority.
Did you know that length is not the only shoe sizing metric that matters when buying shoes? This is especially so when you naturally have wide feet, bunions, or simply feet that swell under heat and pressure. Actually, more than length, your shoe width plays a large role in a shoe's comfort and fit.
Most shoe manufacturers today have this in mind, hence adding a shoe width size in addition to the shoe length size. Peloton pedals are Look Delta, compatible with all Look-Delta and SPD-SL cleat shoes. With this in mind, comfort and fit are all that matter, regardless of the brand. And, you can finally get a shoe width that fits you best, even if it will not be Peloton brand shoes.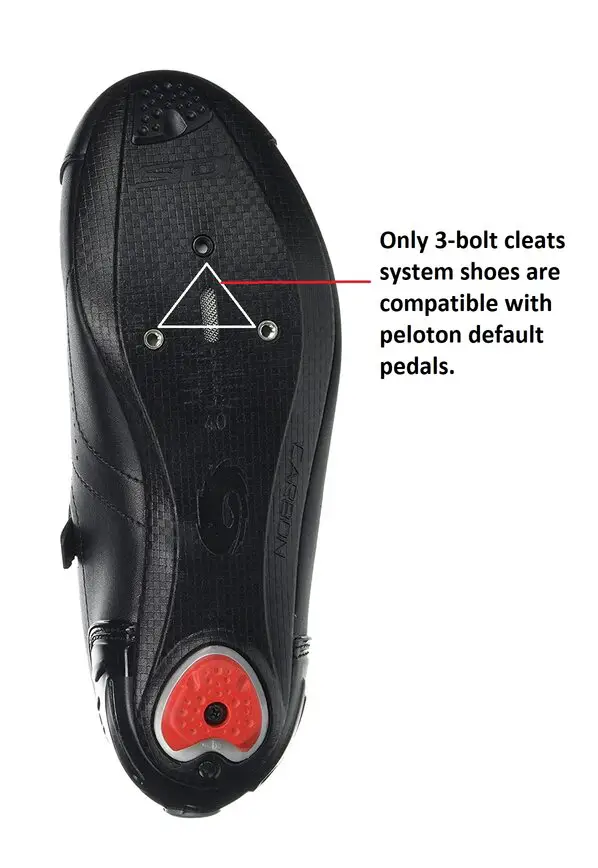 Are Peloton Brand Shoes Good for Wide Feet?
No, Peloton shoes are not good for wide feet. They are suitable for users with standard to narrow feet sizes, and even those with standard feet sizes often size up for a good fit.
Fortunately, you can ride Peloton on other brand shoes that are compatible with Look Delta pedals. Shoes such as Lake cycling shoes, Venzo Cycling shoes, and Sidi Mega are compatible with Peloton bikes, elegant, and suitable for users with wide feet.
Note: Unisex styles are in men's sizing.
Men's shoes are often wider than women's shoes, so we find maximum men's shoes for wide feet.
But Can A Woman Wear Men's Shoes?
Yes. Other than sizing, there aren't many differences between men's and women's shoes.
In general, the difference in length between women's and men's shoes is 1.5 sizes. Women should size down 1.5 sizes (ladies, if you're a size 9.5, you'd be a size 8 in men's shoes) but, the width remains unchanged (So if you are a women's D, you are also a men's D.).
This table shows how to change from men's shoe sizes to women's shoe sizes.
| | | | | | | | | | | | | |
| --- | --- | --- | --- | --- | --- | --- | --- | --- | --- | --- | --- | --- |
| Men's U.S. Sizing | 4.5 | 5 | 5.5 | 6 | 6.5 | 7 | 7.5 | 8 | 8.5 | 9 | 9.5 | 10.5 |
| Women's U.S. Sizing | 6 | 6.5 | 7 | 7.5 | 8 | 8.5 | 9 | 9.5 | 10 | 10.5 | 11 | 12 |
How do you know that the shoe width is the right fit for you?
The simplest method to check whether a shoe width is right for you is to wear different shoe widths. Then, check for the most comfortable fitting, with at least some space around the shoe. You can also ride in the shoe for cycling shoes to feel the experience of the different shoe widths.
Also, if you have wide feet, try to avoid;
The front of the shoe is too narrow
The shoe itself is too narrow
The part of the shoe that touches the ground is too small
Shoes without arch and heel support
Shoes with shoe shapes that don't match your feet shape
The shoe's curve is unnatural
7 Best Wide Cycling Shoes for Peloton
Unfortunately, Peloton brand shoes are not suitable for wide shoes, despite being the easiest option for the Peloton bike. But hey! You don't have to sulk because other shoe options can go with the bike. The best part is that they have wide feet options, sometimes in a wide range.
Let's look into the top-rated shoes that people with wide feet find most comfortable for Peloton;
1. Best overall wide cycling shoes for Peloton: Lake Cx
Check Price on Amazon
Lake shoes have a wide width option, designed for users with naturally wide feet, swelling feet, bunions, foot deformations, and foot injuries, among others. They keep the foot comfortable, ensuring that the rider is able to get through a bike ride without pain, fatigue, or injury.
What Are the Benefits of This Shoe?
On the upper shoe, separate panels release pressure from the shoes during intense activity. Also, they adjust to wider fitting, which comes in handy when the feet swell from exercise pressure. The upper is further designed to conform to sensitive parts of the foot, enhancing comfort throughout the ride.
Moreover, the profile is made specifically for high cadence and extreme pressure with a more curved outlook. Other features that enhance a good fit despite cycling pressure include a larger toe pitch, a tighter and lifted heel, and a wide ball girth.
2. Best Lightweight Cycling Shoes for Wide Feet: Sidi Mega
Check Price on Amazon
Sidi mega shoes are a top favorite for users looking for universal cleat shoes. Other than your Peloton bike, you can always count on the shoes for a studio spin class.
What are the Benefits of This Shoe?
Primarily, Sidi mega is suitable for wide feet, with EE and EEE options for multiple wide feet fittings. Also, the shoes are 4mm wider across the ball of the foot, hence a perfect fit for people with bunions and wide front feet.
On top of that, the shoes feature higher volume and an increased instep, which combine with a wide heel cup for better cycling comfort.
The upper shoe is a construction of polytex, which has several overlapping layers for optimal resistance to rips, stretching, lacerations, and fading. Then the sole is millennium four carbon composite, which is sturdy for maximum power transfer.
3. Best comfortable wide shoes for Peloton: Bontrager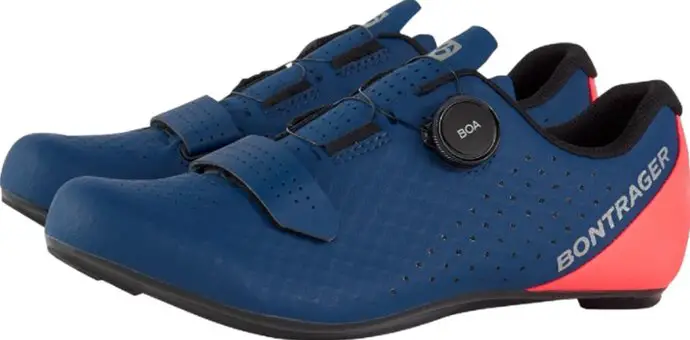 Check Price on Rei
Bontrager Circuit is famous for striking a balance between stiffness and comfort, hence enhancing a longer, faster, and less tiring ride. The balance stems from a company's nylon composite for the Bronze series, rated 7 out of 14 in stiffness.
What are the Benefits of This Shoe?
The Circuit is slightly roomier for every shoe size, which encourages wide feet fittings. They feature hook and loop closure, which further encourages ease in accommodating a wider foot size.
Better still, the closure finishes with a singular BOA L6, which facilitates a precision fit with small adjustments.
Amazingly, the shoes also facilitate breathability with a synthetic mesh upper, which couples with TPU material. Therefore, they quickly release pressure from workouts continuously for improved comfort.
Most importantly, the shoes are compatible with three-bolt cleats by default. However, you also have the option of mounting an SPD-cleat plate.
4. Best Stability Cyclling Shoes for Wide Feet: SHIMANO RC3
Check Price on Amazon
The RC3 wide is specifically designed for users with wide feet. With a BOA strap across the shoe, an extra width adjustment caters to pressure and heat during the exercise.
What Are the Benefits of This Shoe?
Essentially, Shimano cycling shoes are top-rating brand shoes. Therefore, high quality and durability are features that Shimano shoes assure you, and there's more.
RC300 has a new level of fit, with a redesigned midsole and upper construction. Once you identify your shoe size, you can be sure of comfort, breathability, and optimal performance.
Besides, the shoes are a rare combination of lightweight and stability, which gives you the confidence you need on the bike without compromising comfort. After all, they are the Super Light option of the SPD shoes, the SPD-SL.
5. Best Budget Peloton-Compatible Wider Feet-Friendly Shoes: SHIMANO SH RP1 Unisex Shoes
Check Price on Amazon
SHIMANO SH RP1 Unisex cycling shoes take care of this challenge with a fantastic precise fitting. This is through a synthetic PU leather upper, which hugs the feet for optimal comfort and precision. Then there is a slip-on style with a single strap for the closure, which you can adjust to ensure you get the snug fit required in spinning.
What are the Benefits of This Shoe?
Besides a precise fit, SHIMANO SH RP1 Unisex Shoes have broad compatibility that allows use with Look Delta, SPD-SL, and SPD clipless pedal systems. Thus, you can consider the shoes for versatile use, wearing them for Peloton, studio spinning classes, and outdoor road cycling.
Given that the shoes have SPD compatibility, they feature the nylon outsole used in mountain biking shoes. This outsole makes them wear-resistant yet non-slip, which enhances safety while riding on off-road trails.
You will also love the shoes' optimal breathability. They feature a mesh upper, which couples with perforated tongues and outsole vents to enhance airflow.
6. Best Cushioned bike Shoes for Wide Feet: Tommaso Strada
Check Price on Amazon
Tommaso Strada cycling shoes stand out among the few cycling shoes that use lace instead of velcro straps or hook and loop closure system. The lace is excellent for adjusting the shoe width according to preference, and people with wide feet take advantage of this feature.
Moreover, the shoes have an upper mesh structure, which facilitates the shoe's breathability and quick-drying capabilities. However, for people with wide feet, this feature has an added advantage; it allows the foot to occupy sufficient space through expansion. It hugs the foot just enough while preventing sores and blisters. The bottom also has vents at strategic points that are necessary for aeration and moisture-wicking.
Most importantly, the shoes come in large and large sizes so that people with standard feet sizes have to size down to get fit. However, it is a perfect fit for people with wide feet.
Amazingly, the shoes come with pre-installed Look Delta cleats, and the package has an Allen wrench in case you need to adjust the cleats.
7. Fits Wide Feet Perfectly for Peloton: Venzo
Check Price on Amazon
The Venzo Cycling Shoes are an excellent option for power transfer and a better Leaderboard position on Peloton. They feature steep outsoles that facilitate power transfer. Also, the stiff material insulates the feet against heat from the cleat friction in a high-intensity and long ride.
On top of that, the shoes come with Look Delta cleats that Peloton bike pedals require, hence direct Peloton compatibility. Other than Look Delta compatibility, the shoe is suitable for use with any other clipless pedal. It has options for the different types of two-hole and three-hole cleats, hence amazingly versatile.
I find the Venzo design closely resembling the original Peloton shoes (not the Altos), from the design, the Velcro closure, and the lightweight.
The shoes are quick-drying due to the upper, synthetic mesh. Then there is a removable sock liner, a flexible forefoot, and a beveled heel for added comfort.
Over and above that, the Venzo fitting is wide. People with standard feet complain about the feet moving around in the shoes, while those with wide feet have a great appreciation for the size and design.
You can see here : Shoe Width Measurement Chart
Additional Tips for Wide Feet
Here are additional tips you should consider when considering shoes for wide feet;
Always go for shoes with a closure system, such as Velcro straps, hook, and loop. They allow additional space for adjustment, especially during hot weather or exercise.
Ensure that the shoes have a removable insole whenever possible. The insole will further your advantage to increase or decrease wearable space.
Always get shoes with a rounded front or at least a pair that suits your foot shape. This way, you will never feel that your feet are too much for your liking.
Look for shoes with a supportive heel area. The support will keep your feet from bending the shoes sideways and causing damage.
FAQs
Can I wear wide-fit shoes with normal feet?
It would be best if you got standard-fitting shoes with normal feet. Usually, a good fit with slight space all around the shoe is suitable for your feet.
Why do you need peloton specific shoes to ride peloton?
Peloton pedals are only compatible with Look Delta and SPD-SL cleats. So, you will need these to have your shoes perfectly clip in to peloton pedals.
Can you use regular shoes with peloton?
Yes, you can. With toe cages, you can use non-cycling shoes on peloton. However, power transfer will not be possible, and the performance is lower compared to cycling shoes usage.
Final Verdict
There are the shoes that you can take into consideration for wide feet. Hence, your feet size should not discourage you from enjoying a peloton experience. Check out one of the best peloton shoes for wide feet from the above and enjoy spinning.