I have been going to OTF for over four years now. In every session, I work out on the Water Rower machine. I love this water rower machine; its smoothness and natural sound give me pleasure.
It is no secret that the Orangetheory equipment is top-class, as all the workouts are intense yet smooth. So, what rowing machine does orangetheory use?
Orangetheory Fitness Studios uses the WaterRower M1 HiRise rowing machine. WaterRower M1 HiRise model is specifically designed for commercial use and offers a smooth and efficient rowing experience. With its water resistance technology, the WaterRower M1 HiRise provides a realistic and challenging workout.
The elevated seat height of the HiRise design makes it easily accessible for all fitness levels. This rowing machine is a durable and effective option for Orangetheory Fitness, allowing participants to get the most out of their rowing sessions during their workouts.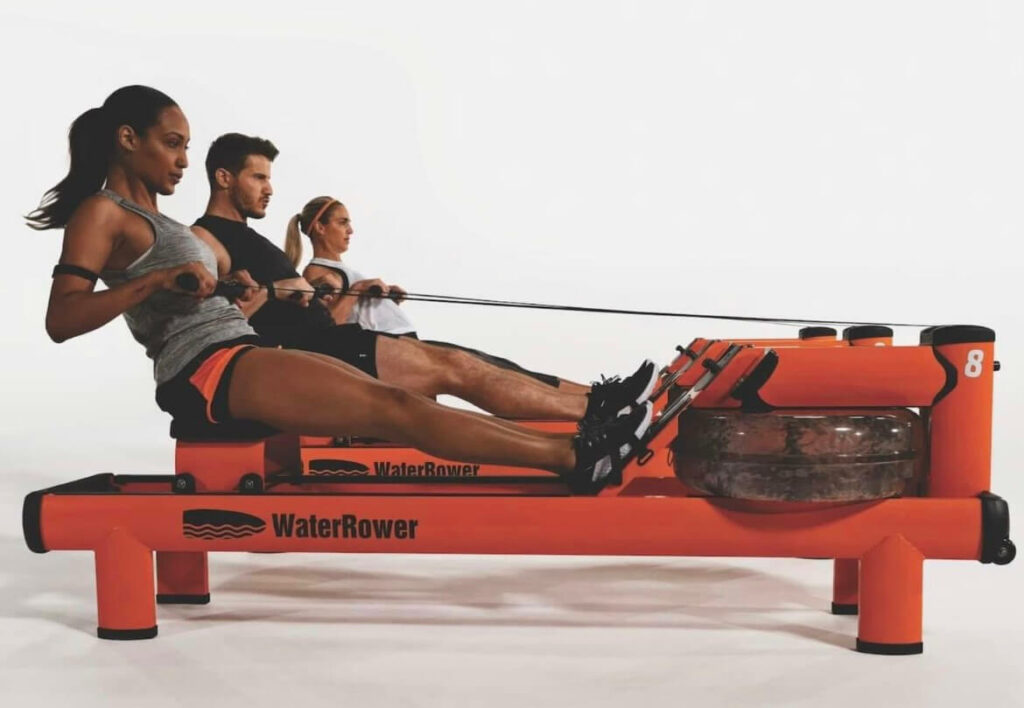 In this article, we'll take a closer look at the WaterRower M1 HiRise rowing machine (that uses Orangetheory) and explore its features and benefits for Orangetheory participants. And we'll also look at the differences between  WaterRower & Concept 2 (A popular rower machine) and help you determine which one may be the best fit for your fitness goals and preferences.
Can You Buy an OrangeTheory Rower for Personal Use?
Yes, you can purchase the same rowing machine that is used in Orangetheory workouts, which is the WaterRower M1 HiRise rowing machine. However, it's important to note that the rowing machine used in Orangetheory classes may have some customizations and adjustments specific to the franchise.
You can purchase a WaterRower M1 HiRise rowing machine through the
The cost of a new WaterRower M1 HiRise rowing machine typically ranges from around $1900 to $2000.
Orangetheory Rower Features and Specifications
Orangetheory has contracted WaterRower company, which supplies and manages the former's rowing machines. The gym is known for producing elegant rowing machines that are comfortable and excellent at delivery.
Nonetheless, for the best yet similar experience in all OTF studios, OTF chose the newest and most advanced WaterRower model, the M1 HiRise.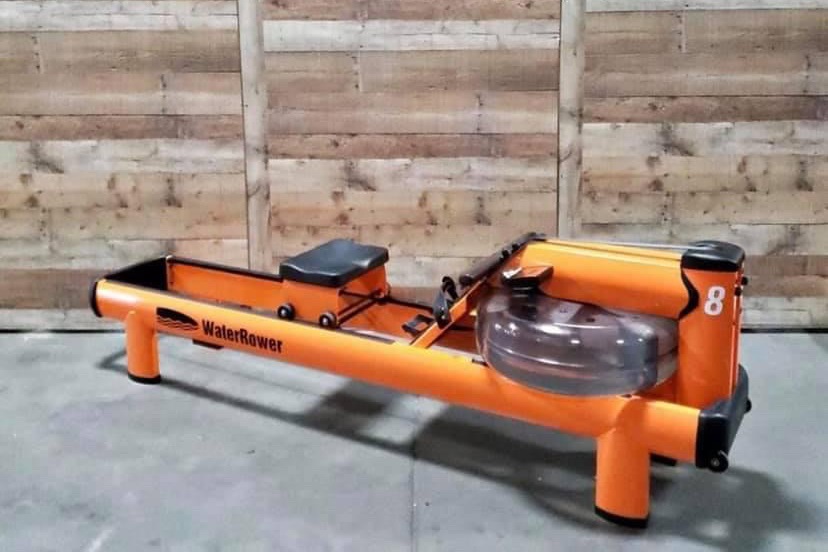 Basically, the M1 HiRise has a high entry point of 500/20 inches and a standard 17-inch handle. The smooth feel is obvious when rowing, with the authentic water rowing sound lower than most rowers yet providing the natural aquatic sports feel.
The rower's resistance is self-adjustable, which is great for the Orangetheory workouts where you wouldn't have the time to adjust.
WaterRower M1 HiRise Features
Let's have a quick look at the specifications of the M1 HiRise;
Dimensions: 88 L x 22 W x 28.5 H inches
Weight: 79 Pounds
Max user weight: 701 pounds
Material: Aluminum
Finish: powder-coated
Color: Black
Display: LCD
Primarily, the M1 HiRise comes with a patented flywheel that brings in the feel of a natural rowing dynamic. It couples with self-adjusting resistance levels, which vary depending on the user, accommodating different fitness levels.
With a no-impact and non-load-bearing technology, the rowing machine is excellent for people with joint injuries and concerns.
At 79 pounds, the machine is able to accommodate heavyweight users of up to 318 kgs, equivalent to over 700 pounds. The sitting area is well-padded to ensure that everyone is comfortable for the whole rowing session and could even take more time without getting seat bruises and injuries.
And when you want the equipment for at-home use, it is easy to raise and store on one end of the house to save on space.
WaterRower or Concept 2 (Which to Buy for Your Home Workout)
One of the most incredible competitions that the Orangetheory WaterRower has to face is with Concept 2, which is also used in popular gyms such as CrossFit. So, when it comes to a home gym rowing machine, most people who have used one or both has a tough choice to make between the two. So, which is the best rower between Concept 2 and WaterRower?
1. Overall Quality
Overall, both WaterRower and Concept 2 are high-quality rowing machines. The WaterRower is, however, pure aluminum, which explains the higher cost, while Concept 2 construction is a blend of aluminum and steel.
2. Storage
Both Concept 2 and WaterRower are excellent for saving on space. You can always lift them and store them in one corner of the house, minimizing the space used when in storage. However, Concept 2 also can also save on vertical space since it separates into two.
3. User Accommodation
The best part about rowing machines is that they accommodate heavier weights than other fitness equipment. With Concept 2, you are assured of a user weight of up to 500 pounds. If you have heavier users in the household, WaterRower allows for slightly higher than 700 pounds of user weight.
4. Noise
Both rowing machines have smooth construction that minimizes the noise while still mimicking the sound of a water body. However, if you are looking for the least noise possible, probably because you live in a flat, the WaterRower is perfect. On the contrary, Concept 2 will definitely alert next-door neighbors of your exercise schedule.
5. General Comfort and Convenience
When you use the two rowing machines, you will realize there is a difference in rowing. The WaterRower seat starts higher than concept 2, which makes the exercise more advanced. The seat is also more padded than the Concept 2 seat, making the WaterRower overall more comfortable.
However, as you row the WaterRower, you will realize that it has a limitation due to the sitting area at the front. It brings your knees so high that you might not get the optimal experience if you are tall. Nevertheless, it is also what makes the WaterRower the preferable option for users with back problems, as they don't get to lean much forward.
Concept 2, on the other hand, has a seat set higher than the feet plates, which allows the user to lean forward.
6. Cost
Concept 2 provides more value for money compared to WaterRower. Essentially, it costs less than 1000 bucks, retailing at $900 on Amazon. However, the WaterRower is at least 1000 bucks more, retailing at more than $1900 on Amazon.
For home equipment where only you and probably your family have to use a water rower, Concept 2 goes at a better cost.
So, Should I Buy WaterRower or Concept 2 for Home Fitness?
Generally, your preference will dictate the rowing machine you pick. As seen above, each of the machines has several advantages over the others. The best part is that they are both excellent at quality and offer workouts.
Even better, rowing gives you the benefit of getting both cardio and strength training from the same equipment. This is because you can use minimal resistance for cardio and optimal resistance for resistance training.
The BIG Debate: WaterRower or Concept 2 (Which to Buy?) this video will help you to buy one.
Live experience Water Rower vs Concept 2:
I own both, so here's my advice: if you're going to keep the rower in a living area of the house and you want a work of art/piece of furniture, then go with the Water Rower. It looks really nice standing up against a wall when you're not using it. You do have some maintenance with the water tank — you need to add water purification tablets every six months or so to make sure no algae develops, but it's simple to do. The water sound is soothing and it is quieter but definitely not silent. I know this is subjective, but I find Concept2 a little more comfortable, and the monitor is far better than the Water Rower. You have maintenance too with the Concept2 (oil the chain every 50 hours or so and keep the fan free of dust buildup — it's easy to do), but overall if I had to choose just one for the rest of my life, it would be the Concept2. It's built like a tank, slightly more comfortable, and the monitor is superior in every way. There are lots of accessories for it (phone mount, tablet mount, etc), it breaks apart for easy storage/transport, and it really is the industry standard. You'll see a Concept2 in almost every gym around the world. Both will kick your butt and make you sweat — a good portion of the decision just comes down to style. So if you're solely performance-based and can care less about pretty wood colors, Concept2 all the way. If you want a piece of furniture that makes you sweat, Water Rower. You really can't go wrong with either one.
TODAY'S BEST DEALS
Conclusion
Orangetheory uses the WaterRower for rowing exercises, which has excellent resistance adjustment and is best for preventing lower back injury.
However, WaterRower competes with Concept 2 for at-home exercise machines. Depending on your top preference, either is excellent for home rowing. After all, Orangetheory finally has a virtual exercise platform as well, so you don't always have to be at the studio.
Get More Info: