Nothing feels worse for a Peloton fan than having to cancel your ongoing challenge or program simply because it is time for you to travel. Luckily for you, Peloton bikes and equipment are in most hotel establishments in USA, Canada, Germany and UK, among other countries today. Actually, Peloton is currently working with Hilton management to have Peloton equipment in all their hotels.
Therefore, you can get through your streak target, attend a class you scheduled a week ago, and keep your fitness track intact.
Where Can I Find a Hotel with Peloton Bike?
Chelsea in Manhattan was the first to introduce Peloton bikes in hotels, and it still remains the neighbourhood with the highest number. However, today there is a spectrum of hotels with Peloton bikes all over the USA. Peloton is also available beyond the USA in many countries around the globe.
Most have a gym with Peloton bikes, while more high-end hotels have bikes in the rooms.
Most importantly, Peloton has created a forum where you can search for hotels with Peloton bikes regardless of the city you need. It is called the Peloton hotel finder on OnePeloton, and all you need is key in details of either the city or the hotel you prefer.
If you type in the hotel, the Peloton hotel finder will show you if a Peloton bike is available or not. On the other hand, a city name will give you the whole range of hotels featuring Peloton bikes and equipment.
Hotels with peloton bikes
Let's get into some of the hotels that already have a Peloton bike;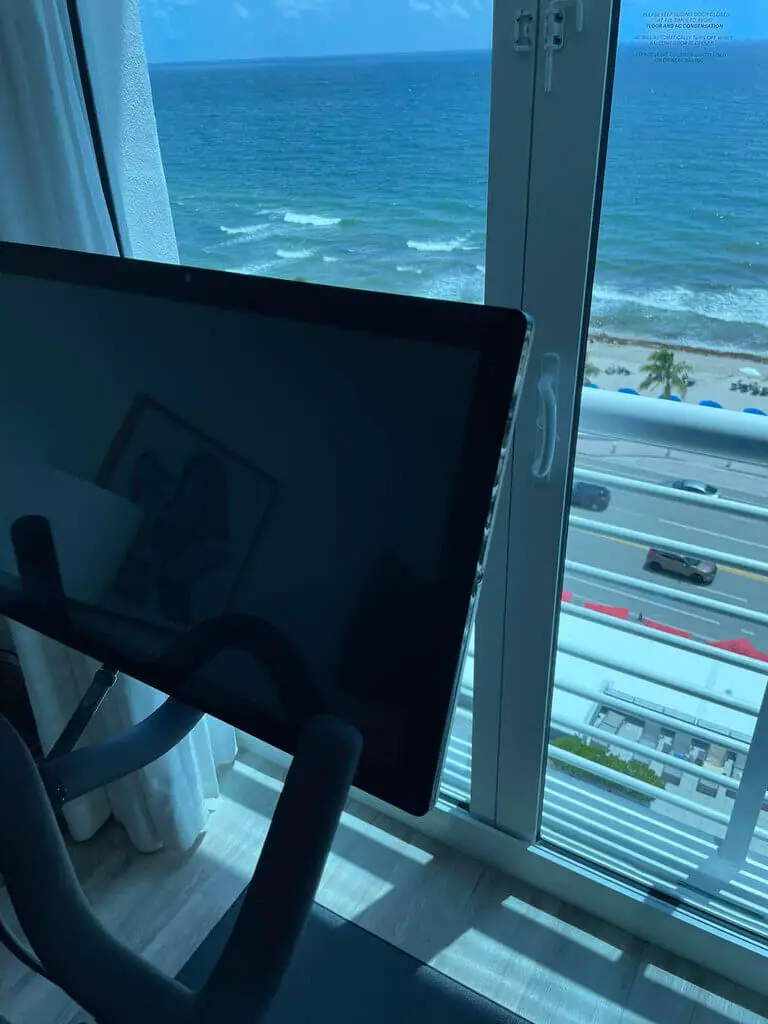 1. California
There are 570 hotels with Peloton bikes in California, with most spread out in the cities and towns. We will look into some of these hotels. At the same time, you will find more here
| | |
| --- | --- |
| Hotel | City /Place |
| The Shay | Culver City |
| Avalon Hotel Beverly Hills | Beverly Hills |
| Beverly Wilshire, a Four-Season Hotel | Los Angeles |
| The Ambrose Hotel | Santa Monica |
| Chamberlain West Hollywood Hotel | West Hollywood |
| The Anza A Calabasas Hotel | Calabasas |
| Renaissance Long Beach Hotel | Long Beach |
| The Westin South Coast Plaza, Costa Mesa | Costa Mesa |
| Disney's Grand Californian Hotel & Spa | Anaheim |
| Kimpton Shorebreak Huntington Beach Resort | Huntington Beach |
| Balboa Bay Resort | Newport Beach |
| Ojai Valley Inn | Ojai |
| Bruin Woods | Lake Arrowhead |
| Sheraton San Diego Hotel $ Marina | San Diego |
| Alisal Ranch | Solvang |
| Ayres Hotel Chula Vista | Chula Vista |
| Loews Coronado Bay Resort | Coronado |
| Alila Marea Beach Resort Encinitas | Encinitas |
| Mission Pacific Hotel | Oceanside |
2. New York State
New York State currently features 95 hotels with Peloton bikes. Let's get on 20 of the hotels, one from selected cities and towns for when you are in a hurry;
| | |
| --- | --- |
| Hotel | City /Town |
| Genesee Grande Hotel | Syracuse |
| Mirbeau Inn & SPA Skaneateles | Skaneateles |
| Inns of Aurora | Aurora |
| Stratton Mountain Resort | Stratton |
| Skaneateles, New York Westchester Marriot | Tarrytown |
| The George | Montclair |
| The Sagamore | Bolton |
| Courtyard by Marriott Poughkeepsie | Poughkeepsie |
| The Opus, Westchester | White Plains |
| Kimpton Muse Hotel | New York |
| Radisson Hotel New York Wall Street | New York |
| Even Hotel Brooklyn, an IHG Hotel | Brooklyn |
3. The UK and Scotland
And if your travel involves the heart of Europe, there are at least 130 hotels across Europe.
| | |
| --- | --- |
| Hotel | City /Town /Place |
| THE LANESBOROUGH | London, England |
| Kimpton Blythswood Square Hotel | Glasgow, Scotland |
| STOBO CASTLE | Stobo, Scotland |
| KIMPTON CHARLOTTE SQUARE HOTEL | Edinburgh, Scotland |
| THE GLENEAGLES HOTEL | Perthshire, Scotland |
| NOVOTEL LIVERPOOL PADDINGTON VILLAGE | Liverpool, England |
| KIMPTON CLOCKTOWER HOTEL | Manchester, England |
| LEONARDO HOTEL CHESTER | Chester, England |
| MERCURE BIRMINGHAM WEST HOTEL | West Bromwich, England |
| THE ABBEY HOTEL | Redditch, England |
| CHAMPNEYS TRING | Tring, England |
| ROYAL CRESCENT | Bath, England |
| THE HARI | Belgravia, England |
| THE SAVOY HOTEL | London, England |
| JULIOTS WELL HOLIDAY PARK | Camelford, England |
| ROOM2 SOUTHAMPTON HOMETEL | Southampton, England |
4. Germany
Germany may have been one of the latest to get Peloton services, but it really embraced the fitness technology impressively.
Here are some of the hotels with Peloton bikes you should consider;
| | |
| --- | --- |
| Hotel | City /Town /Place |
| Klosterhof – Alpine Hideaway & Spa | Bayerisch Gmain, Bayernayern |
| Titanic Gendarmenmarkt Berlin | Berlin, Berlin |
| Precise Resort Bad Saarow | Bad Saarow, Brandenburg |
| Hotel AM Campus GMBH & Co. KG | Ingolstadt, Bayern |
| City Hotel Antik | Aalen, Baden-Württemberg |
| Loev – Vela Hotels | Binz, Mecklenburg-Vorpommern |
| The Grand Green – Familux Resort | Oberhof, Thüringen |
| Das Prinzregent | Edenkoben, Rheinland-Pfalz |
| Hotel Fallersleber Spieker | Wolfsburg, Niedersachsen |
| The Grand Ahrenshoop | Ahrenshoop, Mecklenburg-Vorpommern |
| Hotel Engbert | Oelde, Nordrhein-Westfalen |
| Pentahotel Bremen | Bremen, Bremen |
| Senhoog Luxury Holiday Homes Salzwasserherz | Sylt, Schleswig-Holstein |
| Strandhotel Juist | Juist, Niedersachsen |
| Romantik Hotel Reichshof | Norden, Niedersachsen |
| Urban Nature | Sankt Peter-Ording, Schleswig-Holstein |
| Aparthotel Adagio Access Hamburg | Hamburg, Hamburg |
| Dorint Resort | Winterberg, Nordrhein-Westfalen |
5. Canada
When you are in Canada, you can still continue with your Peloton goals in hotels such as the following;
| | |
| --- | --- |
| Hotel | City /Town /Place |
| Ottawa Embassy Hotel & Suites | Ottawa, Ontario |
| The Westin Ottawa | Ottawa, Ontario |
| LE GERMAIN MONTRÉAL | Montréal, Québec |
| VERSANTE HOTEL | Richmond, British Columbia |
| GEC GRANVILLE SUITES HOTEL | Vancouver, British Columbia |
Amazingly, Peloton is also available in other places across the world, such as;
The Bahamas
Australia
Belize
The Dominican Republic
The Virgin Islands
Bermuda
Israel
Italy
Panama
Mexico
The United Arab Emirates
Saint Barthélemy
Do You Pay for Peloton Bike Use in Hotels?
No, you don't. Hotels with Peloton rooms and hotel gyms offer the equipment for free to all registered guests. Also, the Peloton bikes in hotels are available for Peloton and non-Peloton subscribers. So, if you want a Peloton experience before getting your own bike, a hotel bike is an excellent idea during your travels.
How Do You Use a Peloton Bike in a Hotel?
As a whole, anyone can use a Peloton bike in a hotel, subscribers and non-subscribers. Here are simplified steps on how to access and use a Peloton bike in a hotel;
Find a hotel with a Peloton bike (Peloton is still growing, and you will get it even in Asia, so just check your place of visit before you settle on a hotel).
Once you check into the hotel, ask for a room with a Peloton or head to the gym where there are Peloton bikes.
Ensure you take your headphones and water bottle with you to avoid being a nuisance, especially in a hotel gym.
Look for an empty Peloton bike in case of a hotel gym. If there are few bikes available, consider getting there early or at odd hours to avoid missing out on a bike.
Next, adjust the bike seat and the handlebars to fit your preference.
Then, create a Peloton account if you are new to Peloton or log in to the site if you are an existing member.
Finally, select a class and ride the new Peloton bike.
Log out of the bike in a hotel gym because you may not be the only user for the day.
Can I Use a Peloton with a Guest in a Hotel?
Yes, you can. Peloton offers guest passes to members, which you can offer a friend who wants to ride with you in a hotel. Also, remember that you don't need an active subscription to ride a bike in a hotel. So, your friend or partner can take advantage of this offer as well.
Final Thoughts
So, just because you have to travel doesn't mean that your Peloton goals are interfered with. Actually, it may be time to try out Peloton on a different bike and in a different environment.
Read Also: