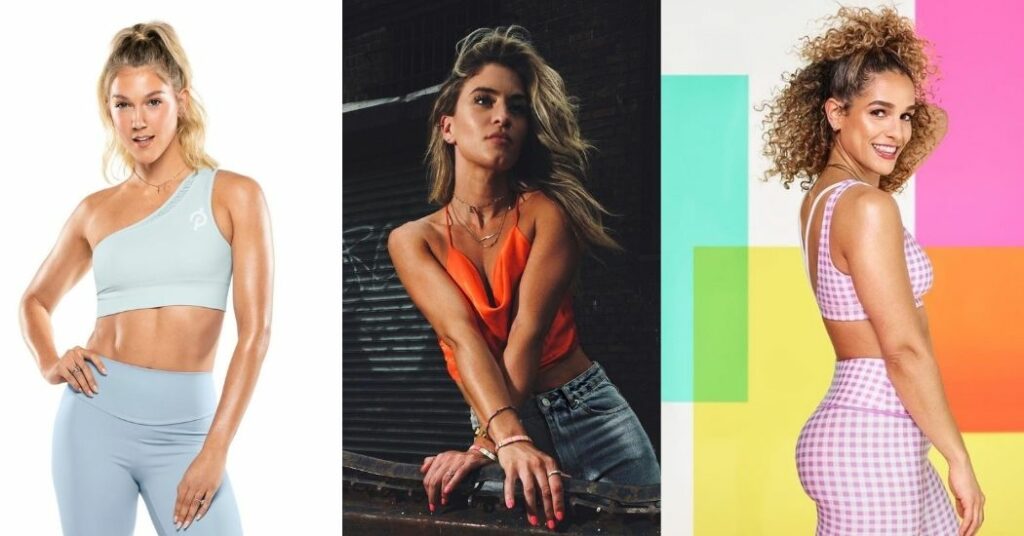 It is no doubt that exercise plays a great part in creating a hot body outlook. Therefore, it is no wonder that all the Peloton instructors look super cool. And this makes it extremely difficult to pinpoint the hottest of all.
Nonetheless, we have to come up with a shorter list than over forty instructors, right? Both male and female, you will get instructors whose looks will give you a perfect idea of fitness goals. More interestingly, they couple their admirable looks with unique personality traits that add to the fun in the class.
Hottest Peloton Instructors
So, let's get down to each of the instructors;
1. Callie Gullickson
When looking for a Peloton instructor to beat your ass on the bike and in strength training, Callie is always a number one pick. Her classes, even beginners, are on the tough end, which makes them most appealing. None of her classes will leave you without shedding some sweat.
Callie may come from a family of athletes, but she is actually a ballet dancer by profession. The greatest deal is that she actually brings the endurance, flexibility, and patience required in barre to Peloton classes, bringing them out uniquely.
While all the Peloton instructors are friendly and smiley, Callie glows. Her skin tone matches her near blonde hair, while her broad smile completes it all. Then, wait until you see how she handles the strength classes and the tough climbs on the bike.
2. Jess Sims – Hottest Peloton Trainer Female
Jess Sims is a Peloton treadmill instructor whose genuine love for people making it in life is obvious. She was a basketball trainer in college, and she is still an avid fan of the New York Liberty Basketball team.
Sims is also a long-standing athlete, which explains her expertise on the treadmill. Despite this, she never puts anyone down because she is better off at what she does. On the contrary, she pulls people up, which you will experience in her treadmill beginner classes.
Jess is definitely hot running on the treadmill, especially the way she handles it all well. And the running explains why she has maintained such a charming body. But wait until you see her in a tread Bootcamp class, taking on weights and bodyweight classes with ease, that you understand the hidden class. And this makes her even hotter.
3. Andy Speer – Hottest Male Peloton Instructor
Andy Speer is a Peloton tread instructor, and he is also one of the main strength instructors.
A former gymnast and pole vaulter before Peloton, Andy is great at ensuring that the class concentrates on specific groups of muscles and toning them or exercising them. I am a frequent user of his strength training program, which is great at enhancing strength fitness skills.
With his killer abs and arms, a strength training class with Andy gives you muscle building and toning goals. Coupling it with the treadmill classes, you definitely get an idea of balanced body exercise.
You will also love Andy's personality from the depth of the knowledge of his training. He is an expert in every aspect of the class, which makes it more interesting and achievable.
4. Tunde Oyeneyin – Hottest Peloton Cycling Instructor
Tunde Oyeneyin? Yes, that Peloton instructor with sculpted arms and abs that most of us will die for. The truth is that Tunde was not always the fitness icon we know today, unlike most of the other instructors. And surprisingly, that's a primary reason she stands out.
Tunde started out obese, with a rating of 200 pounds when she was barely a teenager. She then went into a successful make-up artist, but the glamor in this career stopped almost as soon as she realized that she needed a make-over herself.
And from a shy, overweight woman, Tunde has the arms and abs we all want. The fact that she started the journey farther from most of us did is the best motivation we all need in fitness.
In Peloton, Tunde is mostly on the bike. However, she is also in some of the strength classes, training on endurance and muscle toning.
5. Bradley Rose – Best Looking Peloton Instructor
Who doesn't like a British charm and that cool accent to spice up their exercise? And Bradley Rose just seems to know when and how to bring out these two in their best form.
Rose is a former actor and boxer who was always positive about winning in even the toughest of challenges.
In Pelototon, Bradley Rose is a bike instructor. You will also find his 10-minute strength training classes, which are short but the effect impressively lasting. The arms and lightweight classes are suitable for cycling strength, adding to cycling upper body endurance.
Bradley is into Pop, Jazz, and Rock music, which is obvious from his class music and theme music. The way he rides in the music and just makes it so-class-related makes him so amazing.
6. Kendall Toole – Hottest Girl Peloton Instructor
Kendall Toole is a Peloton bike instructor with a strong background in boxing. Amazingly, Peloton boxing classes gave Toole just the platform she needed to showcase her favorite talent, bringing in the user's best self through boxing.
Kendall loves fun and training to bring out the best in others and her best moment. And with a background in cheerleading, it is evident that she does that best.
Kendall is also a professional gymnast and athlete, which has helped build endurance, and muscle strength, and a great part of her experience that led to being a fitness trainer. Her charm and encouragement on the bike have given her a large following, evident in her Peloton classes.
Over and above Peloton coaching, Toole is great at fashion. I have seen several Peloton fans quoting her as intricately made rings and jewelry, fashion clothes, and hairdo. All these bring her out her best as the prepossessing woman she is.
7. Olivia Amato – Hottest Peloton Female Trainer
A pretty jack of all trades, you will find Olivia in three major exercise categories; strength, the bike and the tread exercises.
Generally, she has a well-toned body and a 5'6" boy height. At 31 years, Olivia has achieved a lot in her sports career, most notably being a popular Peloton instructor.
As a whole, fitness is a professional career for Olivia Amato. She is great at lacrosse, field hockey, cheerleading, track and cycling.
Olivia's classes are always cheerful, and it is no surprise to leave feeling as if you are on top of the world from her influence. For this reason, her classes are always looked forward to as per her social media posts responses.
8.Aditi Shah – Hottest peloton Yoga Instructor
Aditi Shah is one of the best Peloton yoga instructors and preferably the hottest. The grace with which she leads yoga, coupled with her impressive knowledge of the art, is beyond amazing.
Yoga is a part of her, and she has led physical yoga classes that were full of people who loved her classes.
Despite being young in her early 30s, Aditi follows in the footsteps of other Peloton instructors, cool and bringing serenity to the minds and houses of her users. With this personality, it is not a surprise that she also leads excellent meditation classes on Peloton.
Shah is further a Puma athlete, which adds to her amazing flexibility and diverse skillset.
Read also: 10 hardest Peloton instructors (From toughest to easiest)
9. Ben Alldis – Hottest Peloton Male Trainer
Another of the hottest instructors on Peloton, Ben Alldis, has fitness, running, and cycling as a passion. And maybe it is also worth noting that his official name is Benjamin Alldis.
It did not matter that he was already flourishing in the finance industry; he was never content until he was back in the field of fitness.
Starting out as a personal trainer, Ben has gone on to become not only a Peloton instructor but a successful and loved one at that.
As a whole, Ben is both a bike and strength instructor on Peloton. His classes stand out from the motivation, but the music is even better. There was no time I took an Alldis class whose playlist I did not love. And the way he resonates during the class to enhance the mood despite the tough class makes it even better.
Amazingly, Ben Alldis has a love of his life among the One Peloton beauties, Leane Hainsby. They both trains from London, and they make the most beautiful couple most people care to admit.
10. Emma Lovewell – Hottest woman peloton instructor
If you are looking for a freestyle, easy-to-love, easy-to-talk-to instructor, Emma Lovewell definitely gets it. With her 'Live, Learn, Lovewell' slogan, she obviously lives her life to the fullest and tries to influence others to do the same.
Emma was born and raised in Martha's Vineyard, an island in Massachusetts, USA. Today, she is not only a Peloton instructor but also a great fitness influencer.
On Peloton, Emma is a bike trainer, as well as a strength trainer. I am a great fan of her core training programs, which are short yet get your core muscles screaming.
Other than Peloton, Lovewell is a choreographer. Yes, it is one of the reasons she is on any Peloton class category that involves dance, not to mention the regular sweet moves she makes on the bike and in other classes.
11. Denis Morton
Denis Morton is a hot Peloton instructor who has defied age by look, despite the insistence on fatherly love to the Peloton community. The good thing is that his fatherly motivation and advice, combined with his daddy jokes, bring out the best in him.
Denis is both a cycling and a yoga instructor in Peloton. He has a long track record in fitness training, which makes him a pro at Peloton coaching. He catches you off guard with new tricks for every class, but tricks that make the bike rides more interesting.
Then there is his flexibility, which makes him excellent at yoga. After all, he is a former aerial acrobat, where utmost flexibility is key.
FAQs
Who are the hottest Peloton instructors?
The hottest female Peloton instructors are Jess Sims, Ally Love, Emma Lovewell, Aditi Shah, Kendall Toole and Olivia Amato. As for the hottest male instructors, we have Cody Rigsby, Ben Alldis, Denis Morton and Adrian Williams.
Who is the hottest Peloton instructor?
The hottest Peloton instructor is Aditi Shah, a South Asian yoga instructor. Her beauty is not only physical but also from her vast natural knowledge of yoga. And the way she blends her cultural heritage into the contemporary practices is just another level of class.
Who are the most famous Peloton instructors?
The most famous Peloton instructors are Robin Arzon (Peloton vice president), Cody Rigsby, Emma Lovewell and Ally Love, who are also professional choreographers.
Who is the most-watched Peloton instructor?
The most watched Peloton instructor is Robin Arzon, whose on-demand classes are always bveig watched. Her live riding classes are almost always crowded. Other than Robin, Cody Rigsby is highly watched, with his on-demand and live classes impressively popular.
Which Peloton Instructors Are Dating?
Ben Alldis and Leanne Hainsby are the Peloton instructors who are dating. They don't shy away from posting their adventures together, and many Peloton users are fans of their love story. They are just too beautiful together to ignore.
Final Word
Peloton has inarguably incredible and amazing faces, who couple the good looks with excellent training. I love the fact that you have a choice of which instructor you want to work out with, given that on-demand classes give you the opportunity.
So, did you find one you really liked, or do you wanna get exploratory? The floor is yours, and there is no limit to the number of on-demand classes you can explore in a day on Peloton.
Read Also: