I have had an elliptical for seven years, and I can attest that it is just as addictive as the Peloton bike. I have also had a Peloton bike for the last three years and know why it has become a worldwide cult. Yesterday I took 6 miles on the elliptical and eight on the bike for a final comparison before putting it all down.
FYI, I actually use the Elliptical on the Peloton digital app. After all, I'm able to take advantage of the free digital app membership that I get from my all-access membership on the bike. The two are so amazing, each countering the disadvantages of the other for an amazing full-body workout.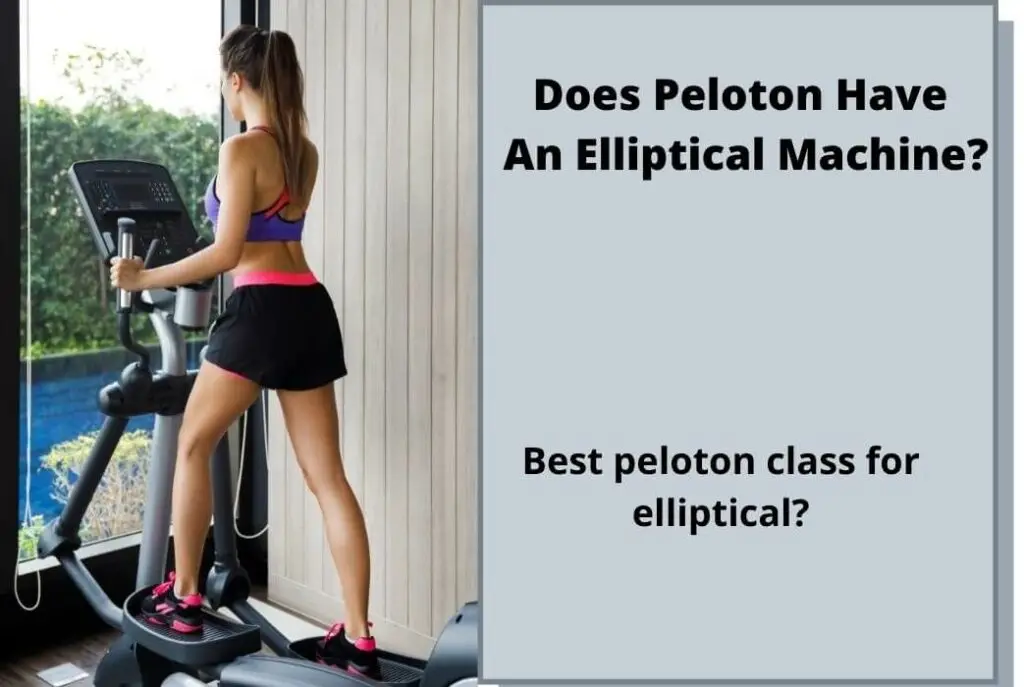 Does Peloton Have An Elliptical Machine?
Does Peloton make ellipticals? Unfortunately, Peloton does not make ellipticals. However, Peloton acquired the Precor premise and business, a fitness company that manufactured primarily elliptical equipment. Peloton kept all the company's former operations, which leads to the belief that Peloton could get into the business of ellipticals. Besides, didn't the Peloton CEO lately confirm that Peloton is a fitness company and not just a bike company?
So, Peloton does not have an elliptical, but future plans are unknown. In the meantime, you can take comfort in the fact that you can actually take Peloton classes on an elliptical. Even better, you are restricted to the bike classes only. You can take outdoor training and treadmill classes on the elliptical as well.
Peloton Will Make An Elliptical?
Peloton has not made any official announcement about plans for making an elliptical. While acquiring Precor may sound exciting, we only hope that Peloton would consider ellipticals in future.
Peloton Bike vs Elliptical
So, what is the difference between the peloton bike and elliptical training? While you can actually take Peloton bike classes on an elliptical, the elliptical is different from a Peloton bike. Amazingly, they also share some similarities. Below are a few comparisons;
Similarities Between the Peloton Bike and Elliptical
Both the Peloton bike and elliptical feature resistance make moving the flywheel more challenging.
They both count metrics based on cadence, resistance and heart rate.
Differences Between the Peloton Bike and Elliptical
The Peloton bike has a saddle, which allows you an opportunity to exercise while sitting on the bike seat. However, you just have to do your workouts while standing on an elliptical.
The Peloton bike handlebars give you a resting position for your arms. On the other hand, your hands will have to be active on the elliptical, mostly moving with your other body parts.
Is Peloton Working On An Elliptical?
Peloton is not working on an elliptical yet. However, the Peloton workouts allow you to use an elliptical during the classes. Basically, the resistance and cadence easily match with modifications on the Elliptical for Peloton bike classes. Likewise, the incline and speed should work for treadmill classes to resemble cadence and resistance on the elliptical.
I Have An Elliptical Machine, Can I Use The Peloton App with Elliptical?
Absolutely! I started with an elliptical. Still have it! Usually, I do runs and tread Bootcamps on it. The metrics may not be the same, but my watch calorie count is really impressive by the end of the class. The only changes I make are increasing the resistance when the instructor calls for increased incline and increased cadence with increased speed. And it is definitely so much fun that I don't realize that I am using a completely different type of fitness equipment.
Peloton App on Elliptical – How to Use?
Usually, I use the Peloton digital app for the elliptical training classes, which are either bike, outdoor or treadmill options. I have simplified the process on how to use the app on an elliptical as below;
First off, put the tablet or phone on the elliptical screen to hold well and provide clear visibility.
Next, log into your Peloton account on the Peloton app ( you should have the app downloaded prior to the class).
Then, join a class of your choice, either on-demand or scheduled for live for a class on the elliptical.
Enjoy a Peloton class on an elliptical.
Are There Any Peloton Classes For An Elliptical?
No, not specifically. You will not find classes on Peloton that are meant for elliptical training. However, many people use an elliptical in place of a tread or bike Bootcamp classes. So I use the running workouts and adjust for the elliptical. As mentioned above, you will adjust the resistance for incline and the cadence for speed to at least match up the workout instructions.
Which Peloton Classes Are Perfect For An Elliptical Machine?
Walking and running outdoor or on the treadmill are excellent options for elliptical training. You just have to adjust the speed to slow and increase as per the instructor. The hike classes are also great, as they only require a progressive increase in resistance in place of incline and with reduced speed.
Then there are the spinning classes, which are perfect for the elliptical too.
Best Peloton Tread classes For Elliptical
Ever since I got my Peloton bike, I have used the elliptical specifically for treadmill classes. Below are Peloton tread classes I find most convenient for elliptical training;
45 minutes hike with Matty Maggiacomo
45 minutes power walk with Kirsten Ferguson
20 minutes HIIT run with Chase Tucker
30 minutes progression run with Matt Wilpers
30 minutes Tempo Run with Becs Gentry
45 minutes hiking Bootcamp with Rebecca kennedy
Best Peloton Rides For Elliptical
I was a Peloton fan even before I bought the bike. I had the elliptical and the Peloton digital app, my dependable workout app. Here are Peloton bike classes that you can start with on the elliptical;
20 Minutes HIIT ride with Kendall Toole
30 minutes Tabata ride with Ally Love
30 minutes HIIT and Hills ride with Tunde Oyeneyin
45 minutes climbe ride with Christine D'Ercole
30 minutes climb ride with Ben Alldis
20 minutes groove ride with Cody Rigsby
45 minutes hip hop Bootcamp with Robin Arzon
45 minutes EDM Bootcamp with Jess Sims
Best Peloton Classes For Elliptical Trainer
Any bike or treadmill class on Peloton will work great for elliptical training. However, if you want optimal output out of your workout, consider the class categories below;
1. Bike and Tread Bootcamps
Bootcamps on Peloton are a one-stop shop for two-in-one exercises. They incorporate cardio workouts, which are cycling, running or walking, in strength training. Of course, the strength training could involve some weights, but there are bodyweight options if you don't have the free weights yet. Most amazingly, Peloton reports that one can use the bike, treadmill or any other source of cardio training for the cardio section. In our case, the elliptical definitely fits into the equation.
Peloton Bootcamp classes give you an opportunity to take cardio and strength classes at once, burning calories, losing weight and toning muscles all at the same time.
2. Tabata Rides
Tabata rides are surprisingly short, but the impact and output will shock you. In addition, they are intervals classes where the brusts are twice as long as the recovery sessions, creating energy deficits for more calorie burning. Tabata rides are the best option to burn fats and calories, yet with a tight schedule.
3. HIIT Rides and Runs
HIIT rides are also interval classes, but the recovery sessions are equal to the burst sessions. They are also longer than Tabata rides. Since the recovery session is long enough to offer sufficient rest, most people can handle HIIT classes. However, the classes are challenging, and you will definitely need a large or thick towel for the sweat.
You can take the HIIT rides on Peloton cycling classes or opt for runs on the treadmill running classes.
4. Climb Rides and Runs
Climb classes are the best option on the elliptical for low-impact options. They are on both the bike and treadmill class options. Essentially, climb classes encourage a progressive increase in resistance and incline, which helps build resistance and endurance. In addition, they strengthen the leg muscles, and in the case of an elliptical training, the arm and core muscles will tone as well.
5. Hiking
Hiking is available under Peloton treadmill walking classes. It offers a low-impact option for elliptical trainers, while the extended period and sustained speed help build endurance. In addition, hiking will not negatively impact your knees and joints, and you can consider it a recovery exercise as well.
There are hiking classes for different duration of time, which allows you to pick on the best for your level and preference.
Would You Recommend Bike Or Running Classes For An Elliptical?
Well, both running and cycling classes are great for elliptical trainers. However, while treadmill classes have different metrics from the elliptical metrics, they are easier to follow. This is because, in both, you will always be on your feet as opposed to sitting on the bike saddle.
Therefore, you can take the Peloton treadmill classes for a start, then progress to the bike classes afterwards.
FAQs
Has anyone tried any Bootcamp classes using an elliptical instead of the Treadmill? Is it possible?
Yes, I have tried the Peloton tread Bootcamp classes on an elliptical. The only difference is that while the instructor uses incline and speed, you will translate it to resistance and cadence. Actually, these are my favorite Wednesday classes on Peloton, yet I use an elliptical all the time.
How much does a Peloton elliptical cost?
Peloton does not have an elliptical yet, but you can consider one since you can take elliptical classes on Peloton. Using a comparison between the peloton equipment and other ellipticals in the market, we can also come up with the likely cost for Peloton elliptical
Let's have a look at the Peloton bikes and treadmill costs, and a few elliptical prices in the market;
Peloton Bike cost: $1,495
Peloton Bike plus cost: $2495
Peloton treadmill cost: $2499
Some elliptical costs in the market:
Sole E35 Elliptical cost : $2,799
Bowflex Max Trainer M9 cost: 1999
Proform Carbon Hit H7 cost: $1400
NordicTrack – Commercial 14.9 cost: 1999.99
Nautilus – E618 Elliptical cost: $1399.99
Why doesn't Peloton have an elliptical?
The Peloton started with a Peloton bike, then a treadmill, and then built up other models. In addition, the company has confirmed that a rowing machine is on the way.
Therefore, Peloton is a progressive company, progressing from one fitness equipment to another. They may not have an elliptical yet because it was not its first line of equipment, but it may be in consideration for later.
Which is better, spin bike or Elliptical?
The spin bike provides more intense workouts compared to the elliptical. Therefore, you can purchase an elliptical for low-impact workouts. On the other hand, the bike provides more stability with the availability of a bike seat, and you can stand on the pedals at will. Therefore, it has better convenience compared to the elliptical.
What burns more fat elliptical or bike?
The calories you burn on either the bike or the elliptical will depend on the duration and intensity of your workout. However, for the same exercise class, the bike should burn more calories than the elliptical, providing more intense exercise.
Wrapping Up
Does Peloton have an elliptical? Unfortunately no, Peloton does not have an elliptical yet. However, you can take Peloton classes on an elliptical. Since the elliptical is designed to resemble a cross between a treadmill and a bike, you can take either bike or treadmill classes on the elliptical.
The best deal is that an elliptical has both resistance and cadence. These are metrics used in Peloton cycling. In treadmill classes, they are the closest you will need for incline and speed matching for more fruitful treadmill classes on an elliptical.