Peloton exercises are not easy, especially for a beginner to do the same type of exercise over a long. For this reason, Peloton has a way of motivating users to get on the bike, treadmill or floor strength, yoga, or cardio with a challenge.
The century club program challenges you to get to 100 of any exercise on Peloton to join the club. On top of being a club member, Peloton awards you a 100 workouts badge and the legendary century shirt.
Note: Peloton century shirt is only available for all-access members since August 31st, 2021, so if you are an app user, you will not get the email.
What is the Peloton Century Club Shirt?
In general, the Peloton century club shirt refers to the shirt that Peloton sends you as a gift for hitting the 100 exercises milestone. Once you get the 100 workouts badge, expect an email within a day to a week from Peloton congratulating you for the milestone and with a century shirt code.
Usually, it doesn't matter what type of workout you complete to get a century shirt; it is available for yoga, meditation, running, walking, and outdoor and biking exercises. The only condition is that you take the same type of exercise up to the 100th mark to qualify for one.
Nonetheless, the fact that Peloton considers all exercise categories for the shirt is great because everyone feels part of the century club challenge, regardless of their best exercise category.
In Which Country Does Peloton Offer the Century Club Shirt?
Amazingly, the Peloton century club shirt is available for Peloton users in all the countries where Peloton is available. Initially, the shirts were only available for US, Canada, and UK users, but now the club has expanded its territories.
However, the shirt is shipped to you from the Peloton offices in your country. For example, if you are in Canada, the offices in Canada will take care of ensuring that you get the shirt.
However, you have to be 14 years and older to get the shirt, which is the minimum age for equipment exercises on Peloton.
How Do I Get My Peloton Century Shirt?
In most cases, Peloton will send you an email within seven days after getting your 100 workout badge. However, you can always contact customer service to request the email if they don't.
The email entails a congratulatory message from Peloton on the milestone, followed by a code you use for the century shirt. So;
Once you get the email and are over the excitement, click on the 'Order Century Shirt' link, which is also included in the email. (or click here)
Next, enter the century shirt code.
You will get the option to select your size from XS to 3XL. Previously, the sizes ran smaller, but Peloton seems to have corrected the size challenge, and you can comfortably order your specific size today. So, select your size, then click on 'add to cart.
Finally, click on 'checkout,' enter your shipping address, and wait for your shirt.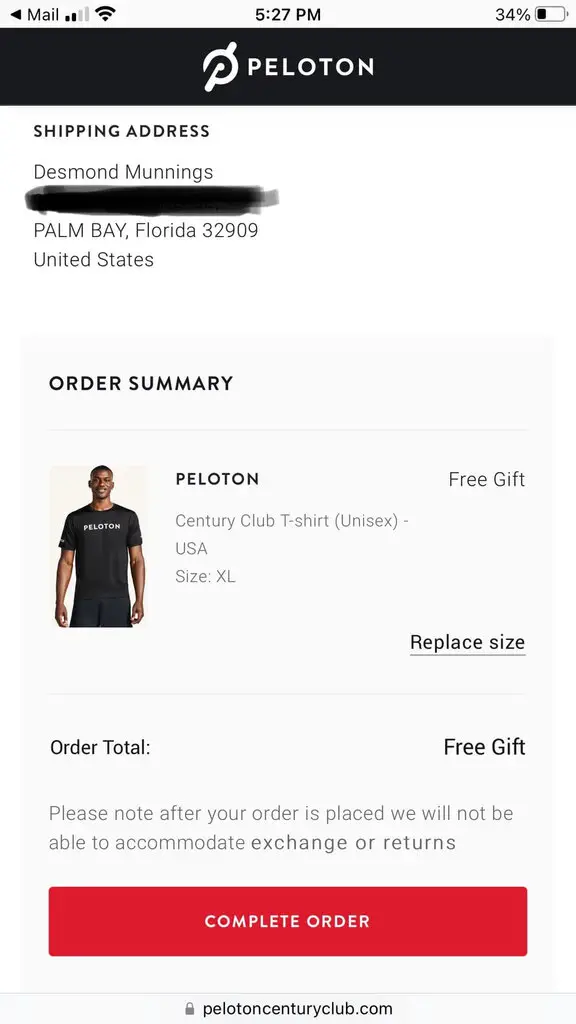 Peloton Century Shirt Size
The new century shirts are unisex sizes.
For Women's Size Chart (Inches)
| | | | |
| --- | --- | --- | --- |
| Women's SIZE | BUST | WAIST | HIP |
| XS | 30″-32″ | 23″-24″ | 33″-35″ |
| S | 33″-35″ | 25″-28″ | 36″-38″ |
| M | 36″-38″ | 29″-31″ | 39″-41″ |
| L | 39″-41″ | 32″-34″ | 43″-45″ |
| XL | 42″-44″ | 35″-36″ | 46″-49″ |
| XXL | 44″-46″ | 37″-39″ | 48″-49″ |
| 1X | 45″-48″ | 39″-41″ | 48″-51″ |
| 2X | 48″-50″ | 41″-44″ | 51″-54″ |
| 3X | 51″-54″ | 43″-46″ | 54″-57″ |
For Men's Size Chart (Inches)
| | | | |
| --- | --- | --- | --- |
| Men's SIZE | CHEST | WAIST | HIP |
| XS | 33″-35″ | 27″-29″ | 33″-35″ |
| S | 35″-37″ | 29″-32″ | 35″-37.5″ |
| M | 37.5″-40″ | 32″-35″ | 37.5″-41″ |
| L | 41″-42.5″ | 34″-36″ | 41″-44″ |
| XL | 43″-46.5″ | 37″-42″ | 44″-47″ |
| XXL | 47″-48.5″ | 43″-47.5″ | 47″-50.5″ |
How to Track Your Peloton Century Shirt Order
It is a good thing that Peloton has provided a way to track one's order, which reduces the anxiety of waiting for the century shirt. So, once you place your century shirt order on the Peloton Century Club website, click on Track Order to get info on your order progress. You will need your order confirmation number and email address to track your Peloton order.
How Long Does It Take to Receive the Century Shirt?
Well, the duration it takes for your century shirt to get to you from Peloton varies. However, you should get the shirt within two weeks and a month, depending on the number of orders processed at the time and your location.
Peloton Century Club Shirt Review
The Peloton century club shirt is a simple cotton shirt that you only wear for other errands or for Peloton functions, but not for exercises. Despite this fact, I relished that I was getting close to 100 rides, which meant a century club shirt. I guess it is the feeling of fulfillment from the completion of a challenge that gives true meaning to the t-shirt.
To my excitement, I got the century shirt email three days after my 100th ride. I placed the order and did not pay a dime for the shirt or the delivery. However, I had heard that the Peloton users before would pay for the shipping fees, which was around 7 bucks for the whole process.
So, I got my Shirt two weeks after placing the order, but the period still felt longer from the anxiety. And once I got it, I couldn't wait to rip it off the package.
The t-shirt was black, as is most of the others, round-necked, short-sleeved, and unisex. The material felt soft, but I did not mind the quality as long as it had a Peloton logo. Speaking of the logo, the shirt had white inscriptions, with the word Peloton on the chest, then Century on one edge of the sleeve, and 100 on the other edge of the sleeve.
I had ordered a size S, which is a size larger than my usual XS. Though it was not fitting, it did not feel exaggeratedly large. And, as expected from the reviews I had read earlier, the shirt shrank after the first wash. However, I did the wash intentionally to get the t-shirt smaller and better fitting. Well, it did not shrink much, but I did not want to risk it shrinking beyond my size, so I started on the recommended cold wash and air drying.
I love the century t-shirt as one of my most precious Peloton apparel since I feel that I earned it. After all, it is my only tangible gift from the virtual exercise company.
Are Century Shirts True to Size or Slightly Smaller?
Most people complain that their Peloton century shirts run small. Then others say their shirts were true to size until the first wash when they shrank and became smaller. One particular member said that her t-shirt shrunk so much that her daughter, who is half her weight, actually wears the shirt comfortably.
Basically, the Peloton century shirt is made of 100% cotton fabric. For this reason, the material shrinks after washing and drying the shirt.
However, it seems like the material before was lower-quality cotton because, after the complaints, Peloton seems to have changed the shirt material. It is still 100% cotton, but members getting the shirt lately report it does not shrink significantly.
Also, Peloton shirts ran slightly small for most users in the past, so it was advisable to order a size or two larger. However, today the case is reversed, and getting a shirt even one size larger gets you a bigger than a fitting shirt.
Therefore, I can conclude that the Peloton century shirt runs true to size today.
Peloton Century Club Shirt Questions And Answers
I Completed My 100th Ride and Haven't Gotten the Century Shirt from Peloton
Technically, Peloton will take time before sending out the century shirt email, usually up to seven days. Therefore, some people will get the email earlier than others.
Nonetheless, if you still don't get the email after seven days, you should contact Peloton customer service and enquire about the issue.
Also, if you are an app user, you will not get the email.
According to peloton, Congratulations on hitting your Century milestone! Typically, you would receive an email by the end of the week of your 100th workout (we suggest checking your spam/junk folders).

If you have not received that, Please let our Support team know about it here: Submit a request or call using this number: 1-(866) 679-9129. We'll make sure our team provides a code for you to order your well-deserved Century shirt!
Do You Get a Century Shirt After 100 Peloton Rides?
Yes, you do. However, you not only get a century shirt for Peloton rides but also for other 100 workouts on Peloton. It could even be stretching!
So, will I get a century shirt after completing 100 workouts on the Peloton tread?
Definitely! As long as they are similar exercises, for example, 100 running exercises on the Peloton tread, you will get the century shirt. You can also decide on 100 walking exercises or 100 tread Bootcamp classes on the treadmill.
However, you can only get the century shirt after 100 Peloton rides or other exercises if you are an all-access member. This means you have to own a Peloton bike, bike +, or Peloton tread to qualify for the century shirt.
So, Do Peloton App Users Get a Century Shirt for 100 Rides?
Sadly, no. Peloton previously gave the century shirt to digital app users and all-access members indiscriminately until August 31st, 2021. After that, only the all-access members are eligible for the century shirt.
Nonetheless, the digital app users still qualify for the century workout badge, whether a ride, a run, a strength training, or any other category on Peloton.
Is the Century Shirt on Peloton Limited to One User Per Subscription?
Luckily, the Peloton shirt is not limited to one user per subscription. One of the major benefits of getting the all-access membership is to have freedom for multiple accounts.
I will add that another benefit is that the century shirt is accessible for all the accounts in a subscription, regardless of the number. So, one per user? So if my partner and I share a Peloton subscription, can we both get a century shirt? You definitely got that right!
Can I Get a Century Shirt for a Total of 100 Different peloton Workouts?
Unfortunately, no. The century shirt is a gift for members who complete 100 similar Peloton exercises. For example, 100 strength exercises, 100 yoga exercises, 100 rides, or 100 tread running exercises.
To confirm – if I do 50 cycling workouts and 50 tread workouts, do I get the century shirt then? Sadly, no. To get a century shirt, you would have to take 100 Peloton bike classes or 100 Peloton tread running or walking classes. You can also consider concentrating on 100 bike Bootcamps or 100 tread Bootcamps for the century shirt.
Do I get a century shirt for every century milestone?
No, you don't. Peloton only offers the Peloton century shirt for your first-century milestone. Also, it is on the first exercise you hit the milestone. So, if you hit 100 workouts from yoga, you will get the t-shirt. However, you will not get other t-shirts from 100 rides, runs, walks, Bootcamps, or strength training. Also, you will not get another shirt from hitting the 200 mark on yoga.
Are there other milestone shirts?
Unfortunately no. There are only century shirts on Peloton, so you will only get badges on all other Peloton milestones.
If I Have Multiple Members on My Account, Can They All Get a Shirt?
Yes, they will, as long as they are 14 years and older. Peloton awards century shirt to all the all-access user accounts, even if they are several within the same subscription.
Do century club shirt codes expire?
Yes, the century club shirt codes you get in the congratulatory message expire. However, they expire after a long duration of one year after the email is sent. So, even if you get the century code while traveling, you still have enough time to come back home and claim your prize.
Is the Century Shirt Code Transferable?
No, you can't transfer or sell the century shirt code to other users. If you try to do so, you will risk canceling the gift. Therefore, only the user that Peloton sends the code to can place the t-shirt order.
Bottomline
So, you can get the Peloton century club shirt by completing 100 single-type exercises on Peloton as an all-access member. While it is not much, Peloton offers the shirt for free and even pays for the shipping fees, which is a great way to show appreciation for their all-access subscribers.
The century shirt should add to your workout motivation if you haven't gotten to your century mark. In the process, you will find your workout goals more realizable.
Read Also: