In addition to Peloton bikes and tread, Peloton has its own accessories and apparel. Peloton designs its own apparel and partner with well-known brands such as Adidas and Lululemon to create premium workout wear. They all are expensive and high-quality products.
But We can get this for free via the Peloton referral program.
In this article, we will discuss what is a Peloton referral program and how does one go about getting their referral codes? And how to use it? Let's get down to the discussion;
As of 2022, only all-access membership owners (The person who pays the bill each month) can take part in the referral program. Secondary Members (who use share accounts) can't refer friends.
Does Peloton have an affiliate program? No, peloton does not have an affiliate program. But Peloton has a referral program.
What is Peloton Referral Program/ Code?
Peloton referral program is a great way to get rewarded for referring friends and family to Peloton. Both can be benefited. The $100 credit you receive from successfully referring someone to purchase Peloton equipment can be used on the Peloton Apparel website at apparel.onepeloton.com. When someone is given a referral code to purchase equipment, they receive a $100 discount on the accessories in their order.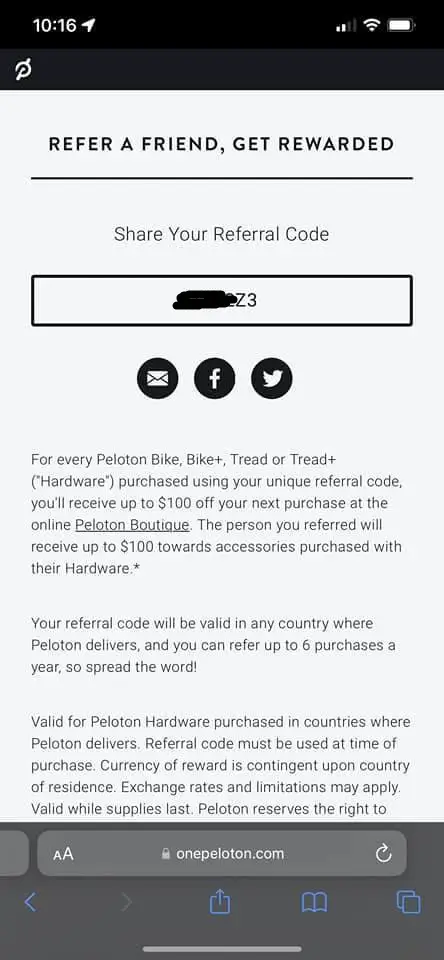 Usually, you give your interested friends and family your referral code, which they use to purchase Peloton bikes, bike + or treadmill. Then, they will get a discount of $100 off the accessories purchased alongside the hardware (https://www.onepeloton.com/shop/accessories).
Note: cannot be used on purchases on https://apparel.onepeloton.com.
Fortunately, the referral program works in both ways; for you and for the friend you referred. After the friend's order, Peloton will send you an email with another discount code, which you will use to purchase Peloton apparel. The code allows you a discount of $100 off any apparel you buy on Peloton(https://apparel.onepeloton.com).
Note: not valid for any additional purchases of Hardware that you buy for yourself.
In Which Country is the Peloton Referral Program Available?
The Peloton referral program is available in all the countries where Peloton ships its hardware. Therefore, people for Canada, the US, UK, Germany and Australia are eligible for the referral program on Peloton.
How Many Refers are Available Per User?
Currently, Peloton only allows for six referrals per user, as opposed to the previous twelve referrals each user got per year.
However, this still amounts to $600 you could get off the Peloton apparel every year, which is still a fantastic deal.
Can I Use My Own Peloton Referral Code?
No, you can't. Peloton states that the referral code is for friends, so you cannot use your referral code to purchase the hardware you don't own.
However, you can get around it by getting the hardware in your partner's or household member's name. For example, if you already have a Peloton bike and want to purchase a Peloton tread with your referral code, you could order the tread in your husband/ wife/ child/parent's name. Then, you can use your referral code to get $100 off weights, cycling shoes, and other bike accessories.
Even better, you will still get an email notifying you of the success of your referral, hence a discount on Peloton apparel as well.
How Many Days are Referral Codes Valid?
Once you receive the referral codes, they are valid for six months from that date. Therefore, if you did not know that you already got yours a few months ago, you can still use it to claim your prize if it is less than six months old.
But how can you look for the referral program email among the many emails on your address? In this case, use the search bar and type in 'Your Referral Reward is Here!' and your email will filter the exact email for you to use.
Does the Peloton App Have Referrals (Can Peloton App Users Participate)?
Unfortunately, the referral program on Peloton is only for all-access members. The digital app members are not eligible for the program.
Can I Use Multiple Discount Codes at a Go, Referral Codes and Others?
No, you can't. Peloton indicates that you can only use one promotional code at a time. Therefore, if you have a referral code and another Peloton promotion, only one will work for you, while the other is nullified.
So, when using the referral code for the $100 discount, ensure that it is the only discount you can get on the Peloton accessories or apparel.
Where to Find Peloton Referral/ Coupon Code? If you don't have any friends with a Peloton referral code
When I decided to buy a peloton bike, I had no friends or family to give me referral codes. That time I got help from a Facebook group. Good for you; there are many Peloton member's Facebook groups where you can get a referral code, which will help you get $100 off the accessories you want to purchase with your bike or treadmill.
The most common platform is the Peloton Referral Codes page on Facebook, where you will always get a few options if you request a code.
According to Peloton, Peloton reserves the right to void or refuse to honor referral codes or apparel voucher codes and/or terminate your eligibility for this Referral Program if Peloton suspects any abuse in connection with this Program (including but not limited to distributing or selling your referral code for commercial purposes, posting your referral code on deal or coupon aggregator sites, review sites, and solicitation on the Peloton Official Rider Page, etc.), and Peloton shall have no liability to you in connection with such decision.
Where Can I Find My Peloton Referral Code?
You can find your Peloton referral code on the web by logging into your account. You cannot find it in the bike or treadmill screen app, so you just have to sign in directly to the Peloton website members.onepeloton.com.
Then;
Click on the three dots at the top to access the settings.
At the bottom of the drop-down menu, you will see the 'Refer Friends' option, which you will click.
This will give you the referral code you will send to your friends.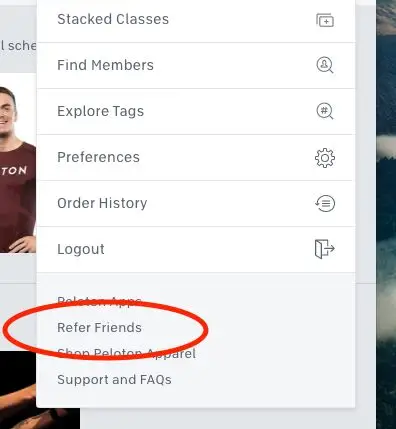 How to Use Peloton Referral Code
Where do you enter the referral code on Peloton?
Essentially, the referral code is used with the purchase of accessories with Peloton hardware (Peloton Bike,tread). Therefore, you cannot use the code on your hardware cost, which means that you have to include accessories with your bike or treadmill.
Also, you cannot use the code to purchase Peloton accessories without purchasing the bike or treadmill. So, if you forget to use the code when purchasing the hardware, you cannot use it for additional accessories after that. This also means that the referral code you get from another person cannot work on the Peloton apparel site, where there is no purchase of Peloton hardware.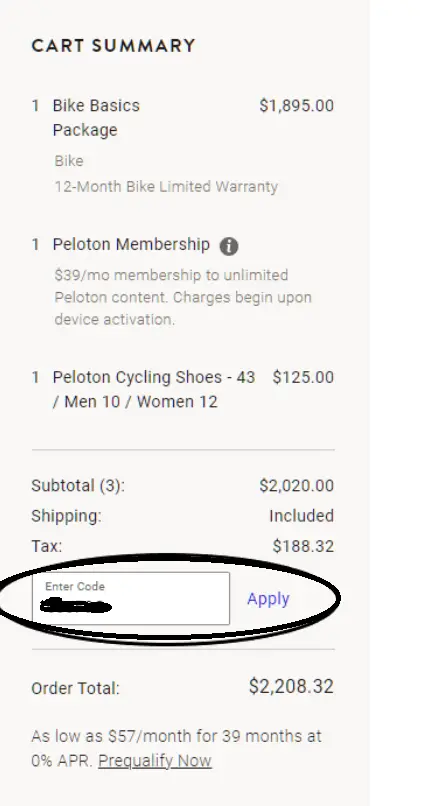 Typically, you will purchase the bike or treadmill, then add accessories such as cycling shoes and weights or other peloton accessories to your cart. When checking out, copy the referral code and paste it into the referral code box given. Remember that the accessories must cost at least $100; otherwise, you will lose the remaining voucher amount.
How to Use the Peloton Voucher Code After a Successful Referral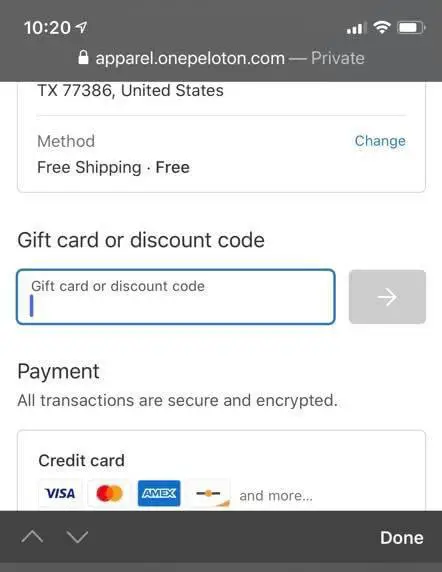 Once you refer a friend, Peloton will send you an email within 3 to 5 days after your friend places the order.
The email contains a referral code and a link to the apparel site on Peloton. So, click on the link to access the apparel site.
Next, look for the apparel you need on the site, and put them in your cart. When checking out, paste your referral code from the email, and you will get $100 on your purchase.
However, the referral code does not work on shipping, which means that you will pay for the shipping of the apparel you purchase with the referral code.
Peloton Referral Program Terms and Conditions
Peloton has terms and conditions regarding the referral program and the referral promo codes;
The currency of the discount will vary depending on your country of residence. For example, it is in US dollars in US and Euros in the UK.
The referral program is only applicable in countries where Peloton ships its hardware.
the referral program is solely for all-access members; even within that membership, only the subscription owner gets the privilege.
One can only refer up to six people in one year.
The referral code is meant for friends and family, not commercial. Thus, it cannot be distributed commercially or sold.
Peloton has the right to reject a referral code or voucher and even terminate eligibility if it suspects abuse of the program and does not bear liability to you for it.
Peloton can change, modify and even terminate the program applicability without notice, such as nullifying the code if the members have other promotional codes or programs.
Your referral code will expire if your peloton account expires or is suspended.
Referral codes should not be transferred or have an attached cash value.
Peloton reserves the right to solve disputes regarding the program, and its decision is final and binding.
Your apparel code is only valid for a single purchase, so you have to use it all at once. If you purchase apparel that costs less than $100, the balance will not be valid for another purchase.
How to Share Peloton Referral Code
Once you get the referral code, the easiest way is to copy it from the website and paste it as a link on any platform where you want to share it. You can also take a screenshot of the code to send to a friend or family or use it on a page where you share fitness success stories.
Where to Share the Peloton Referral Code
Peloton allows you to send the referral code via message or email or even post it on your social media account, such as Facebook. Generally, the link is easy to copy and paste; hence, there are no limitations in sending it.
However, note that Peloton prohibits advertising the referral code or using it for promotional purposes on sites that are not under your name or Peloton's official platforms.
Can Peloton Referal Codes be Shared on Social Media?
Yes, they can. However, you can only share it on platforms where you are the owner. Also, it should not be in an advert or for commercial purposes. Peloton also prohibits the use of the promo code on the Peloton official pages,
FAQs
How many times can my Peloton referral code be used?
You can use your Peloton referral code a maximum of six times a year. This means that you can only refer six people within one calendar year.
I share an account with another user and can't find my Peloton discount code. Where is it?
The Peloton discount code is only available for the primary user of the account, who is the person that pays for the subscription. You will not get the referral code if you are not the person charged for the subscription.
However, if you are the account owner and can't find the code on your bike or treadmill, you can log in using the Peloton website to get the referral option.
Do I need my friend's Peloton referral code if I buy in-store?
Yes, you do. If you buy the Peloton bike or treadmill from Peloton stores, you should give the code to the person processing your purchase to get the discount on the accessories you purchase with the hardware.
Can you use the Peloton referral code for shoes?
Of course, you can. You can always get a discount on any accessories in Peloton, including shoes. However, if you were referred, you must purchase the shoes in combination with a bike or treadmill.
Wrapping Up
As an all-access membership owner, you can find the Peloton referral code by logging in to your account on the Peloton website. The referral code allows you to refer up to six people to purchase the peloton hardware, with which they will get a promo discount. Likewise, you will get a discount on Peloton apparel for every successful purchase you refer.
Read Also: