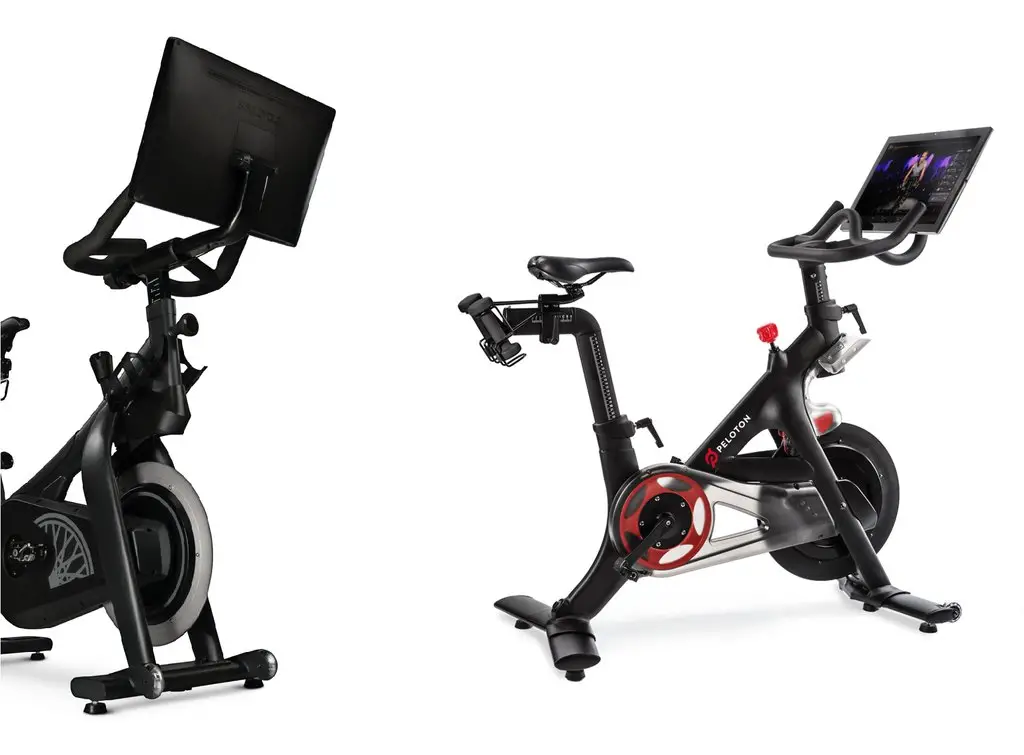 Now, Peloton is the leading indoor bike industry. They have huge classes and have a good community. The best part of the peloton is that peloton users compete with each other on the leaderboard and can see their output.
On the other hand, Soulcycle built and marketed by Equinox+ is a strong competitor of Peloton. Soulcycle Bike at home have also huge benefits. In this article, we will discuss some essential differences to help you compare which exercise bike works best for you.
At a Glance; Peloton Bike
Peloton bike is a product of peloton Inc., which makes and distributes fitness bikes and treadmills. It is also the same company that provides the Peloton app workouts.
The Peloton bike is the most competitive indoor fitness bike today. It features a Leaderboard that lets you see your position in the class. Instinctively, everyone tends to exercise harder and better to get to a better position. In the process, one improves their general workout output.
You never ride alone in a Peloton cycling class, even in an on-demand class. There are always people to interact with, even if silently, via competitions, hashtags and high fives.
At a Glance; Soulcycle Indoor Bike
The SoulCycle at-home bike is built and marketed by Equinox+ (formerly known as "Variis"), an Equinox subsidiary.
Basically, it is an indoor exercise bike that offers rhythmic exercises. You know that you have nailed a Soulcycle exercise if your resistance, cadence and even posture on the bike matches the beat of the music.
Interestingly, the Soulcycle music also gets to your emotions, facilitating the feel-good emotions release. Therefore, you end up working out both your inner and outer self.
Soulcycle bike works hand in hand with Equinox fitness app, which provides cycling exercises from different prominent brands.
Feature Comparison Between Peloton Bike and Soulcycle at-Home Bike
| | | |
| --- | --- | --- |
| | Peloton bike and bike Plus | Soulcycle at-home bike |
| Measurements | Bike: 59″ L x 53″ H x 23″ W; Bike plus: 59″ L x 59″ H x 22″ W | 62.2″ L x 22.2″ W x 53.5″ H |
| Weight | Bike: 135 lbs; Bike +: 140 lbs | 142lbs |
| User Weight limit | 297 lbs/135 kg | 350lbs |
| User Height range | 4'11"- 6'5" | 4'10" to 6'10" |
| Touchscreen size | Bike: 21.5 inches; Bike +: 23.8 inches | 21.5 inches |
| RAM/Memory | 4GB/ 16GB | 4GB/32GB |
| screen Resolution | Full HD 1080p PCAP Multitouch w/reduced-reflective coating & anti-smudge coating. | 1920×1080 FHD |
| Rotating touchscreen | Only on bike plus | No |
| Frame: | Welded steel frame for best durability and longevity. ED & Powder coated. | Commercial-grade steel frame |
| Resistance | Neodymium rare-earth magnet system | Magnetic |
| Auto-resistance feature | Only on bike plus (software-controlled) | No |
| Shoes compatible | Look Delta | Look-Delta and SPD |
| Bluetooth Compatibility | Yes | Yes |
| Apple Watch integration | yes | yes |
| App using | Peloton | Equinox+ app |
| Music licensing | limited | Expansive |
| Class formats | Live and on-demand ,scenic rides, Power Zone, Heart Rate Zone, | On-demand (pre-recorded) classes, Live classes |
Classes offered; Peloton and Soulcycle/ Equinox+ app
Peloton offer classes
Soulcycle/ Equinox+ app
Offer classes
Cycling
Cycling
Running
Running
Cardio
Outdoor
Outdoor
boxing
Boxing
Pilates
Pilates
yoga
yoga
strength
Strength
The Workout Experience Peloton Vs. Soulcycle
I agree that Soulcycle and Peloton are both spinning bikes, but the uniqueness of each exercise differentiates the experience on each bike.
Peloton Bike Experience
In general, Peloton workouts concentrate more on the output. Therefore, there are different measures put in place just to ensure that one maximizes their workout output.
One of the significant features that encourage high output is the Leaderboard. This is a list of riders in the same class in the output order. The list must include the rider's name and their position in the class they take. The more the rider improves their resistance and cadence for better output, the better their position on the Leaderboard.
Owing to the conspicuous nature of the Leaderboard, it is easy for other riders and the instructor to tell when one is making progress. Then the high five feature comes in handy. Other riders and the instructor in the class can give you a congratulatory high five when you make notable progress, which further adds to your cycling motivation.
Then there are hashtags which help you ride with riders with the same goals or life perspectives as yours. There are even hashtags targeting the age, allowing you to ride with your age group members. This helps you compete fairly, especially for seniors, and with added motivation from peers.
There are multiple Peloton instructors, each with a personal touch to the class. However, they all have one thing in common; they make the workouts feel achievable even when it is clear they are not. Surprisingly, you will always find yourself pushing yourself further than you thought possible, finishing strong when the odds feel against you.
Peloton becomes even more fun when the classes break the monotony with occasional touches of a celebratory mood, themes and Artist Series. These additions ensure that one does not tire or get bored from the apparent class setting, hence the motivation to look forward to the upcoming alternatives. And being all-new, who can resist the urge to see and experience what's new?
Soulcycle at-home Bike Experience
On the other hand, Soulcycle classes are more fun classes that guide the body and soul. They help you get in shape by aligning your cadence and resistance to the rhythm of the beat. Therefore, you have to concentrate on the music and the workout simultaneously.
The most interesting bit about Soulcycle is that the concentration you gain helps build your inner self as well. So actually, the emphasis is more on your ability to concentrate and match the rhythm to the music than on the workout output.
After all, the output on Soulcycle is not prominent on the screen, and you can even swipe it away to miss it all out during the whole class.
Nonetheless, Soulcycle is still concerned about your form on the bike. For this reason, there is an option to get a demo on the screen during the class, which alternates with the instructor to ensure that you gain from each.
Though Soulcycle barely urges you to increase your output, it is difficult not to keep up with the class standards. After all, you have to cycle faster when the beats dictate so and increase resistance to feel the beat down your arm, core and leg muscles.
I also love the fact that Soulcycle can handle more weight than the Peloton bike. I recommended the bike to my friend, other than knowing that it never gets boring with Soulcycle of course, because of her body weight, which was then 349 pounds. Obviously, this was too much for Peloton, and it would come with limitations, such as only taking the classes while on the bike seat.
With Soulcycle, this weight was perfectly fine for any class and form on the bike. Furthermore, she did not have to feel restricted, as the bike actually seems very steady and sturdy regardless of her cycling position.
Peloton app Vs. Soulcycle/ Equinox+ app
The Peloton app for the Peloton bike provides for all-access membership, which costs $39 per month. On the other hand, Equinox + membership for the Soulcycle bike costs $40 for monthly subscriptions.
The Peloton bike can only use the Peloton app, which only features classes from the Peloton instructors. Therefore, you will get the same instructors throughout Peloton cycling, whether in the on-demand or live cycling.
However, Soulcycle bike uses Equinox +, an app with infinite possibilities for brand cycling instructors. So it is not a surprise to get new content from different people all the time.
The Peloton app has a digital app alternative, which allows people without the Peloton equipment to access the app. Besides, the membership is cheaper, at only $12.99. Unfortunately, this mobile app is not an option with the Equinox + membership.
Amazingly, Equinox + comes with added enjoyment apps, including Netflix, Disney plus and Amazon Prime. Contrarily, Peloton only comes with the Peloton fitness app, with no enjoyment apps one can switch to at will.
Can I use Peloton app with Soulcycle?
No, you cannot use the Peloton app with Soulcycle. Essentially, Soulcycle uses Equinox + membership, which only has the Equinox fitness app, Netflix, Disney + and Amazon Prime apps.
Can I use the Equinox+ app with the Peloton bike?
No, you cannot use Equinox + app with the Peloton bike. This is because the Peloton bike comes with a touchscreen with the Peloton app already installed. Sadly, it does not recommend the installation of foreign non-Peloton apps.
The Cost Factor/ Costs and Fees
Generally, both Peloton and Soulcycle are high-end indoor fitness bikes. However, Peloton has a cheaper option, the standard Peloton bike, which costs $1,195 + Plus delivery and setup cost. If you want the premium option, Peloton offers the bike plus at $1,995 WITH FREE DELIVERY AND SETUP.
On the other hand, the Soulcycle bike goes for $1900, though this is a downgrade price from $2500.
Each bike requires a monthly membership subscription. For example, the Soulcycle bike uses Equinox + membership which costs $40 per month, while the Peloton all-access bike membership costs $39.
What is the Difference Between SoulCycle and Peloton Flywheels?
Technically, both Peloton and Soulcycle flywheels are high-quality Poly-V® Drive Belt. As a result, they deliver smooth and quiet cycling workouts and require low to no maintenance procedures.
Both flywheels sit at the front of the bike, with a complete outlook that brings some confusion between the two bike brands.
What Is the Difference Between SoulCycle Vs. Peloton Display?
Unlike most fitness bikes, Soulcycle and Peloton come with touchscreens, from where you can stream the workouts as well as the workout metrics. In addition, the screens are easy to operate with the touch interface, which makes it easy for any user on the bike.
Basically, the touchscreens are large enough to view the workouts, adjust changes and even watch the metrics without straining. The Peloton standard bike and the Soulcycle bike come with a touchscreen that is 21.5 inches in diagonal size, while the Peloton bike plus has a touchscreen that is 23.8 inches in diagonal length.
Each touchscreen is fitted with the respective fitness app, the peloton bike display with the Peloton app and the Soulcycle display with the Equinox + app.
Technically, the Peloton standard bike and the Soulcycle bike display tilt up and down for vertical adjustments. However, the bike plus does more than allow vertical adjustments; it is suitable for a 360-degree horizontal rotation. This makes it easy to take off-bike classes, which both Equinox and Peloton offer.
Each display has sufficient RAM of 4GB to enhance the speed. The Peloton bikes display has a storage of 16GB, and the Soulcycle bike display doubles to 32GB.
What Is the Difference Between SoulCycle Vs. Peloton Frame?
Both bike frames are strong welded steel, which is coated to facilitate lustre and frame protection.
The bike frame is sturdy, and the Peloton bike can accommodate up to 297lbs bodyweight while it accommodates 350lbs bodyweight on the Soulcycle bike.
Interestingly, you can even stand on the bike pedals without the risk of breaking the bike frame, as long as your body weight is within the recommended weight.
Shoes and Pedal Options
The Peloton bike uses Look Delta pedals, so it goes without saying that only Look Delta 3-hole design shoes will fit into the pedals and clip in. on the other hand, the Soulcycle bike uses dual pedals, which are both SPD and Look Delta. Thus, you can use Look Delta shoes as well as the common 2-hole SPD shoes.
However, in either pedal, you have the option to use compatible toe cages. The toe cages will allow you to use regular shoes, including sneakers and running shoes.
You can also change the pedals on either bike for longer-lasting pedals and suitable shoe compatibility. However, you will have to ensure that the pedals have an axle length of 9/16 inches before making a purchase.
How Does a Soulcycle work?
Generally, Soulcycle is a full-body fitness workout. It incorporates upper body training in lower body spinning classes, ensuring that all the body parts get the exercise they deserve.
There is a dark atmosphere in the studio, with candles lit to match the aura. While you miss out on this at home, your Soulcycle bike package comes with a candle gift that you can use to at least mimic the environment.
Essentially, Soulcycle is all about the beats and the rhythm. A matching music beat precedes every class and every move. As you work out with the rhythm, the exercise becomes fun, and you exercise both your physical and psychological self.
How Does a Peloton Bike work?
A Peloton bike is an indoor fitness bike that provides a workout based on virtual community interaction. The classes are group exercises, just like in a gym, where you can interact with other riders, compete and get metrics.
There is a Leaderboard that ranks riders according to their class output. In addition, social features such as hashtags, high fives and video chats enhance the interaction in Peloton classes.
Fundamentally, the Peloton bike exercises rate the output based on the resistance and the cadence. However, resistance has better output metrics compared to cadence. Balancing the two for different metrics for optimal output is fun concentrating in the class and competing on the Leaderboard.
Pros and cons peloton Bike
Let's get a quick glimpse of the advantages and disadvantages you get on considering the Peloton bike;
Pros of Peloton Bike
An interactive community
Availability of a competitive Leaderboard
Top-rated and interactive instructors
Best for fitness goals achievement
Sleek and space-saving
Availability of an economical bike option
Cons
The default pedals only allow for Look Delta cycling shoes
Limited music options
Pros and cons SoulCycle At-Home Bike
Now onto the benefits and disadvantages of the SoulCycle bike;
Pros
Best for wholesome body fitness; body and soul
Best for fun classes with music incorporation
Sleek and space-saving
Instructors from multiple top spinning brands
Dual pedals for SPD and Look Delta cycling shoes
Cons
Only one premium bike option is available
It does not concentrate on output
Head-to-Head: Peloton Vs SoulCycle Bike
1. Weight
Peloton bike is overall 135 pounds, with the inclusion of the 21.5-inch screen. It can accommodate people of up to 305 pounds of body weight.
SoulCycle is less weighty, weighing 128 pounds, including the 21.5-inch in-built HD screen. Nevertheless, it accommodates more weight in comparison to the peloton, which is 350 bodyweight.
For both stationary bikes, you have to at least be 4'11 inches tall for the saddle height to accommodate you. They are hence, not meant for kids at least under 12 years.
3. Cycling Gear
Both peloton and SoulCycle use the same cleat type, that is, Look Delta or SPD-SL system cleats. They have fit a 3-hole shoe cleat plate, for the shoes to perfectly clip into the bike pedals. They are most preferred for optimal performance of both bikes.
Therefore, you can choose any brand shoe of this system for both bikes. This is convenient since you can choose the right shoe size especially if your legs are wider than the available brand shoe. Moreover, brand shoes could be more expensive than shoes of the same features from other brands.
However, the SPD system cleats that have three holes that can fit in SoulCycle pedals, unlike in the peloton pedals.
Pedal features are similar, which have to have a spindle axle thread of 9/16", and of the Look Delta and SPD-SL system type. And indoor bike accessories are same for both use.
4. Classes
Peloton offers unlimited access to peloton workout classes, with a subscription that is worth $39, renewable monthly. This subscription gives you access to the peloton library, which consists of numerous classes of the 11 types of workouts they offer.
You can choose the live classes you want, and even choose your instructor, with whom you can video chat. You will also have your metrics recorded with the peloton, and even be on the leader board.
The recent improvement in peloton allows you to listen to either more music than instructor voice or vice versa or a balance between music and the instructor.
If you prefer spinning at a peloton studio, then the membership goes for $400 a month, which is unlimited.
If your budget is limited, you can choose a less costly subscription, which is $12.99 per month. With this subscription, you still have access to all of the peloton workout classes, with the exception of recorded metrics.
Moreover, you can even decide to access all workout classes from the peloton screen without any subscription, and all you will miss out on is a live class and an instructor.
You are restricted to only use the peloton screen for peloton classes, and can neither use your phone nor tablet instead.
Soulcycle, on the other hand, has more expensive subscriptions by a dollar in comparison to the peloton. Their classes are worth $40 every month. This subscription allows you to stream any SoulCycle class you wish, and access their library, which has classes that have around 30 different types of workouts. They also provide for a range of instructors that you choose from.
The metrics do not display on the screen unless you swipe to check. In addition to the output metrics, SoulCycle shows you whether your workout is in rhyme with the music it offers. You actually can choose a class depending on the type of music they offer, making it fun.
There are no membership subscriptions for studio workouts, but SoulCycle charges $34 for every class, which is overall more expensive compared to the peloton.
Both classes run for as long as 45 minutes, with the least lasting 30 minutes. They are cardio workout classes that can see you lose weight faster.
You can download the app on your phone or tablet and stream the SoulCycle classes.
5. Bike Cost
For economists, you will look for the best experience at the least cost. That being said, the peloton is cheaper when compared to SoulCycle indoor stationary bike. A Peloton bike, which is sold together with the inbuilt screen, goes for $1,195 + Plus delivery and setup cost.
Conversely, SoulCycle bike goes for $1,900, which includes the HD screen, delivery, and installation of the bike.
Overall, peloton experience is cheaper than a Peloton bike, even with the inclusion of a one-month subscription.
Is Peloton Better Than SoulCycle?
Peloton could be better than SoulCycle in a number of ways, and vice versa. Peloton has overall cheaper bikes and services, which is a plus for the brand. Their at-home bikes have been in the market longer, thus a wider market share. So, if you are looking for the already proven experience at home, then peloton wins.
On the contrary, SoulCycle indoor experience is more into rhythm and workout match, which makes it more interesting. It is, therefore, an individual decision as to which bike brand gives them maximum performance.
Frequently Asked Questions
Are SoulCycle and Peloton shoes the same?
Yes, they do. Both peloton and SoulCycle brands recommend the use of Look Delta or SPD-SL cleats, so the cycling shoes have to be of this 3-hole system. They both use clipless pedals, which is why it is of the essence to use cycling shoes as opposed to regular shoes.
Is SoulCycle still popular?
SoulCycle Studio workouts still have attendants, though not as many as before.
When peloton introduced the online experience where you do not need to go to the gym to have indoor spinning and stationary cycling, it overtook SoulCycle by extra miles.
However, with the new innovations to tap back its market that does not want to cycle at the studio, SoulCycle is bouncing back into the market. The commentators cannot wait to see the competition that is yet to erupt between the two brands.
Does SoulCycle use peloton?
SoulCycle uses the same gear as the peloton. They both use look Delta and SPD-SL cleat and pedal match. However, you have to use SoulCycle bikes for a SoulCycle experience.
Can I get either SoulCycle or Peloton internationally?
SoulCycle is available in five cities in the USA. You can get peloton if you are in the USA, UK, Germany or Canada. The two brands are working to include more countries, to ensure you get to enjoy indoor cycling and spinning from anywhere in the globe.
Conclusion
Spinning and stationary bike exercises are cardio workouts that can see you lose weight within a shorter duration than you probably imagine. Making an effort to have either SoulCycle or peloton workout classes could go a long way into ensuring that your performance improves.
You have to pay for the classes, which means you will do your best to ensure that you attend as many as possible to make the cost worth the service. As stated before, however, you will be the judge of the bike and class that will work best for you. Given the above analysis, you must already have the ideal experience dream. Make it materialize.