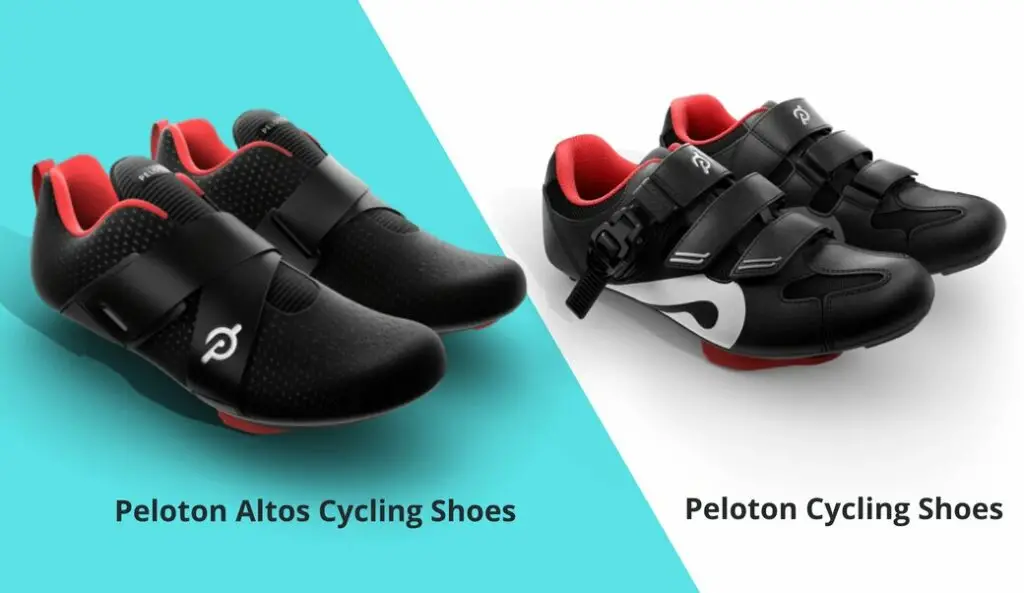 Currently, Peloton has two shoe models: the standard Peloton cycling shoes and the new Altos cycling shoes. Both are high-quality materials and have optimal durability, obvious from the high cost.
Nonetheless, the shoes are quite different, both in cost and design. Just a glance will tell you that one shoe is different from the other.
That said, the shoes have similarities and differences, which we will take into account in this discussion.
Peloton Standard Shoes Vs. Peloton Altos Shoes
| | | |
| --- | --- | --- |
| | Peloton Cycling Shoes | Peloton Altos Cycling Shoes |
| Fitting | Narrow to normal feet | Narrow to normal feet |
| Sizes | Women size 5 to 12 Men size 7 to 13.5 (Half sizes available) | Women size 5 to 12 Men size 6 to 15 (Half sizes available) |
| Unisex | yes | yes |
| Upper material | leather | Jacquard mesh |
| Closure | Three velcro straps with a ratchet | One strap with a hook and loop |
| Breathability | moderate | optimal |
| Outer sole material | fibreglass | fibreglass |
| Type of cleat compatibility | Look Delta | Look Delta |
| Comes with cleats | yes | yes |
| Cost | $125 | $145 |
Note: The new Peloton Altos cycling shoes and standard shoes are available on Amazon now.
Ease to Put On and Off
With only one strap and a hook and loop closure, the Altos are easier to get on and off. The regular cycling shoes feature a ratchet, which takes longer to adjust and put on and off, which may be time-consuming.
Material and Design
Technically, the design and material of the two pairs of shoes is their primary difference. At a glance, the new Altos is sleek, with a breathable jacquard mesh gracing the exterior upper.
On the other hand, the Peloton cycling shoes have a stiff leather upper, with only minimal mesh sections for breathability. However, it makes up for the breathability with a bottom vent.
On top of that, the Altos feature a single strap in a zigzag pattern across the shoe. It ends with a hook and loop closure, which is way easier to operate.
However, the standard cycling shoes have three velcro straps for closure, with the top strap ending in a ratchet.
Nevertheless, the shoe outsoles match, with each being high-quality stiff fibreglass. The essence of the stiff material is to enhance power transfer, which in turn eases the cycling. In addition, fibreglass adds to the lightweight nature of the shoes.
Besides that, the shoes are Look Delta compatible, which is a Peloton bike pedal choice. In addition, both pairs come with a set of Look Delta cleats on purchase to spice it up.
Sizing
Both shoes look relatively narrow, and Peloton actually recommends them for users with narrow to normal feet sizes. However, even with the normal feet sizes, you may have to size up half a size or a whole size.
Breathability
Breathability ensures that there is consistent airflow in and out of the shoes, preventing heat build-up and discomfort.
It is no secret that the new Altos are highly breathable compared to the standard Peloton shoes. I mean, the upper material is basically meshed all around, which implies breathability from every angle.
And while the regular Peloton cycling shoes are no match for the Altos, it features upper breathability that increases with the vent at the shoe bottom.
Comfort
Both shoes are comfortable, being Peloton brand shoes. However, the Altos, with a sock-like fit and a lighter feel, are more comfortable than the Peloton cycling shoes in comparison.
Colour
The Peloton cycling shoes and the Altos models have the Peloton signature black colour, with a red interior and cleat plate, and a white Peloton logo.
So, Which Shoe is Better; Peloton Cycling Shoes or Altos?
Of course, if you have the money, the Atos is better than the regular cycling shoe. It is an advancement of the older cycling shoe, with all the loopholes in the former shoe covered.
However, given that both shoes range high in comfort, you can save the 20 bucks and go for the Peloton regular shoes. After all, they are both durable and effective on the bike.
Final Thoughts
Peloton's two models of cycling shoes compete pretty, with one being highly breathable while the other provides value for money. Therefore, depending on your preference, you will easily be content with either of the shoes. The only challenge you have to look out for with both shoes is the sizing. I had to size up one size up, and I know that you will need to look elsewhere if you have wide feet.
Read Also: