One of the unique features of Peloton is their vast library of pre-recorded rides of varying durations and intensities, ranging from as little as 5 minutes to as long as 90 minutes. Among these, 20-minute rides have become a popular option for users who are short on time but still want to get in a quick and effective workout. They are also perfect for recovery days.
In this article, we will explore the 10 most popular Peloton 20-minute rides, These rides have been selected based on their popularity.
The Best 10 Peloton 20-Minute Rides
Let's dive into the classes you should consider for your quick 20-minute ride;
1. 20 Min FTP Test Ride with Denis Morton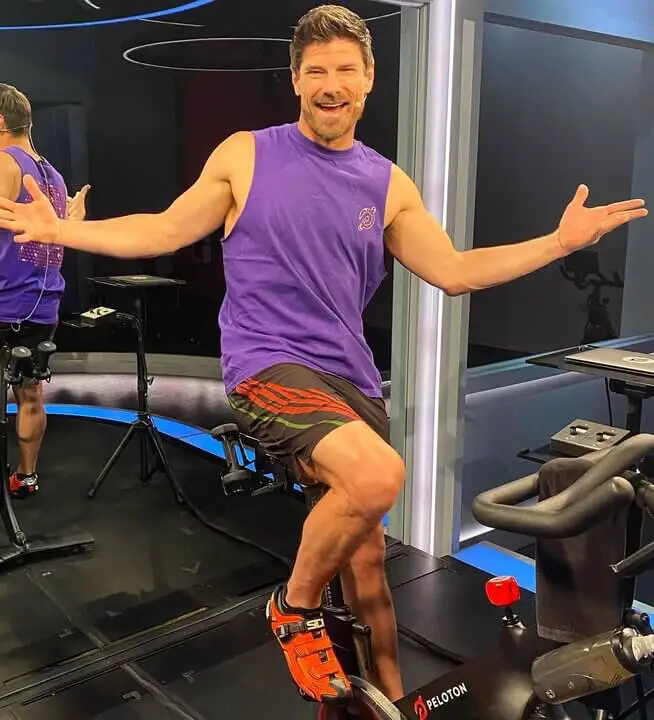 Total Workouts: 300K+
Difficulty: 9.5 /10
Average Output: 189 Kj
Average Calories: 262 cals
Average Distance: 6.36 miles
Average Speed: 19.3 mph
Average Resistance: 47
Average Cadence: 81
Music: Outkast | Guns N' Roses | Rage Against The Machine | D'angelo
Have you wanted to start a power zone class but have no idea how to set your output? The 20 min FTP test ride with Morton is precisely what you need. It is the hardest ride you will take with Morton, at a difficulty level of 9.5. However, it also sets the best basis for power zone cycling in Peloton.
Basically, you should do your best to produce your best output on the bike. Then, the average output is used to set your five power zones.
Good for you, the music is great, and Morton is still Morton; friendly and making you feel that you must get through the class successfully.
2. 20 Minutes 2000s Ride with Cody Rigsby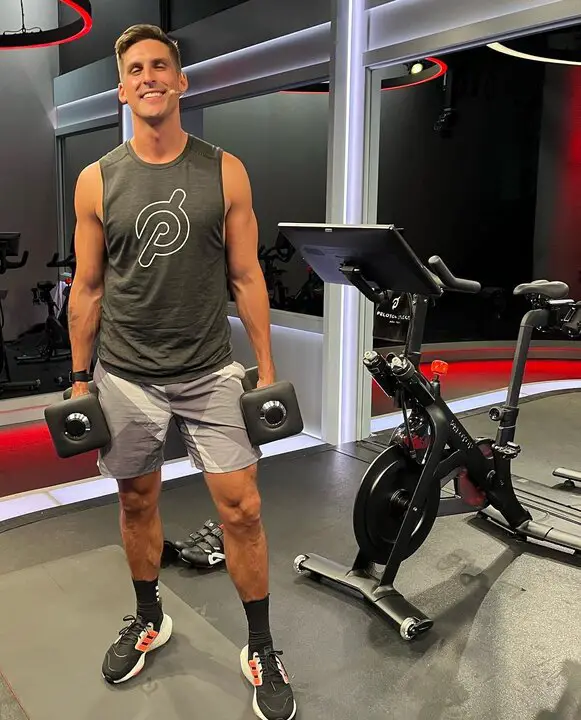 Total Workouts: 150K+
Difficulty: 7 /10
Average Output: 120 Kj
Average Calories: 168 cals
Average Distance: 5.08 miles
Average Speed: 15.5 mph
Average Resistance: 41
Average Cadence: 72
Music: Britney Spears | Destiny's Child | 112 | Jagged Edge
When you feel like enjoying a music theme, there's nothing better than having a pro DJ. Cody Rigsby is a master of choreography, so you can imagine how he mixes a 2000s playlist for you.
At a difficulty level of 7 and with Cody as the instructor, the class can accommodate all levels of cyclists. Whether you are a beginner or a pro biker, this class will refresh you and prepare you for a recovery day or a day full of the hustle and bustle. But you know what; it's all manageable and easier with an elevated mood.
3. 20 Min New Tracks Ride with Alex Toussaint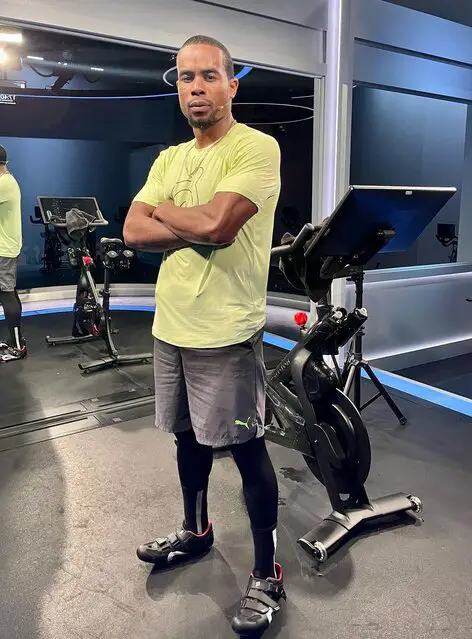 Total Workouts: 150K+
Difficulty: 7.4 /10
Average Output: 143 Kj
Average Calories: 203 cals
Average Distance: 5.46 miles
Average Speed: 16.7 mph
Average Resistance: 41
Average Cadence: 78
Music: Drake | Justin Bieber | Bruno Mars | 50 Cent
Has it been some time since you updated your playlist? Alex Toussaint rocks this cycling session with new tracks from Drake, Justin Beiber, and Key Glock, among others, that are really amazing. And since Alex is your DJ, you might like the tracks even more than you could listen to them on your own.
The class is moderate intensity, hence suitable for all levels of fitness, including beginners. At this intensity, you will also have a chance to listen to Alex's motivation which will keep you going for the rest of the day or night.
4. 20 Min Recovery Ride with Emma Lovewell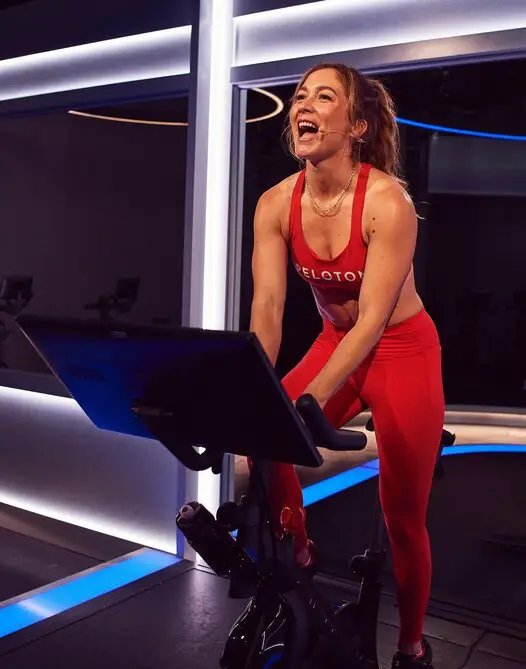 Total Workouts: 150K+
Difficulty: 3.9 /10
Average Output: 102 Kj
Average Calories: 148 cals
Average Distance: 4.85 miles
Average Speed: 14.7 mph
Average Resistance: 34
Average Cadence: 84
Music: Phil Collins | Bon Iver | The 1975 | Khruangbin
If you are for active recovery, this recovery ride with Emma Lovewell should be your pick. It gets you to flush out your legs and increase the blood flow to the legs and the rest of your body, which keeps you from muscle pain, especially after intense classes. But hey, it is still a recovery class, so there is no additional stress on your muscles.
More than that, you have Emma as your instructor. She is great with the music playlist featuring Phil Collins, Bon Iver, Khruangbin and The 1975 artists in this recovery ride.
5. 20 Min Country Ride with Ally Love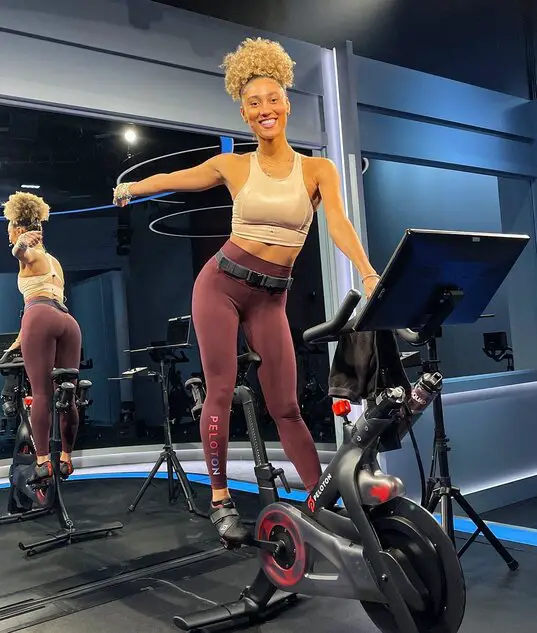 Total Workouts: 100K+
Difficulty: 7.3 /10
Average Output: 136 Kj
Average Calories: 186 cals
Average Distance: 5.38 miles
Average Speed: 16.4 mph
Average Resistance: 43
Average Cadence: 72
Music: Shania Twain | Keith Urban | Sam Hunt | Kelsea Ballerini
The country music-themed ride with Ally Love gets you cycling in class yet with a feel of a tour ride up and down across the country. And with a difficulty of only 7.3, you can bet that the music syncs amazingly with your cadence.
You should consider the class when you wake up feeling that you have to sweat on the bike, even if the rest of your body says otherwise. It will rejuvenate you, give you a reason to smile and still get you to burn some calories for the day.
6. 20 Min 90s Rock Ride with Emma Lovewell
The 90s rock ride with Emma literally makes you feel like you actually need a guitar while on the bike. And with that in your mind, the 8.1 level of difficulty actually becomes manageable.
Primarily, the class is perfect when you need more energy from the bike. You may be late for work, but do you need to feel you had an impactful workout? Try out this non-timing-consuming ride with Emma Lovewell.
I love returning to the class after long sitting hours at the office because it quickly takes away the numbness.
7. 20 Min Low-Impact Ride with Tunde Oyeneyin
When you feel that you cannot deal with all the energy of riding standing on the pedals, occasionally dancing off the saddle, a low-impact ride is a great pick. It is suitable for all levels, as it doesn't impact the joints and helps with joint injury recovery.
Nonetheless, you still get to sweat in this class, and the 6.1 difficulty level actually feels like more if the class was not a low-impact ride. However, we would expect nothing less from the energetic Tunde.
8. 20 Min Pop Ride with Emma Lovewell
If you have taken a class with Emma, you must realize she is a professional choreographer. She uses this skill to her advantage in this pop ride, daring you not to dance along with her from one track to another. By the end of the class, you will be sweating from both the ride and the dance.
Consequently, this class is perfect for you to work all your body muscles on the bike. You will work on your hamstrings, quads, glutes, calves, core, and even other body muscles in the upper body.
9. 20 Min HIIT Ride with Tunde Oyeneyin
A HIIT ride (high-intensity interval training ride) combines short bursts of exercise with similarly short recovery periods. It is the best form of high-intensity cardio exercise, where even the 20-minute ride feels like a 60 min spinning class.
With Tunde pushing you more at a difficulty level of 8.7, you will definitely have enough sweat for the day. Better still, you can take this class severally for weight loss goals when all you have in your schedule is 20 minutes for your ride.
10. 20 Min Beginner Ride with Sam Yo
Perfect for beginners, this cycling class with Sam Yo gets you to understand indoor cycling techniques. It also helps you understand the Leaderboard and how to tackle and get a position, thereby optimising your output.
If you enjoy gun movies and heroes, Sam Yo makes you feel like one of the heroes; only this time, you will be a bike hero. The optimism gives you the courage and motivation you need to learn the form, techniques and tips of indoor spinning even faster.
Faqs
Is a 20 Min Peloton Ride Enough?
Well, it is enough if you take a suitable class. Classes that have a difficulty level ranging from 7 and above can help with your cardio health, as well as help promote your lower body fitness.
The best thing would be to consider the type of class against your fitness goals. A Tabata, or HIIT, are great for weight loss, while climb rides are good for lower body muscle strength.
Nevertheless, you can consider two to three 20-minute classes spread across your schedule for even better cycling benefits or consider a combination with strength training for muscle endurance and strength.
How Many Calories Does a 20-Minute Peloton Ride Burn?
You burn an average of between 150 and 250 calories in a 20-minute Peloton ride. However, the number of calories you burn depends on your body weight, resistance and cadence. For example, heavier people burn more calories than lighter people, while classes with more resistance levels burn more calories than less intense classes.
What is a Good Peloton Output for 20 Minutes?
20 minutes has an average output of 100 – 200 watts. However, the exact output differs largely based on the muscle size. The larger a person's size is, the more their output on the bike is for 20 minutes. The ride's intensity and a person's fitness level may also influence their output in Peloton. For example, resistance increases output significantly.
Final Thoughts
A 20-minute ride will keep you rejuvenated and happy, and you can use it for recovery or for full exercise. Good thing Peloton has a variety, so you can choose the class that most suit your needs. Better still, since the classes are short, you can take multiple 20-minute classes in a day. After all, Peloton has a stack option to help you easily access classes you have already chosen later.
Read Also: