Peloton is a leading fitness platform that offers a wide variety of classes to help users achieve their fitness goals. 45-minute Peloton rides are moderate in duration, hence perfect for all levels of riders. The rides are not only great for endurance but also carry major benefits such as weight loss and goal achievement.
Nonetheless, while a large number of over 2000 45-minute rides library is impressive, it can be tasking to skim through and decide on the best option for the day.
In this article, we will take a closer look at the 10 most popular Peloton 45-Minute Rides. These rides have been selected based on their popularity, intensity, and the level of challenge they offer. Whether you are a beginner or an experienced cyclist, these rides will surely give you a great workout and help you achieve your fitness goals.
10 Best 45-Min Peloton Rides
We have a collection that ranges from the hyped Power Zone rides to the injury-friendly low-impact classes and everything in between. Let's get the show on the road;
1. 45 Min Bad Boy Entertainment Ride with Alex and Tunde
Total Workouts: 300K+
Difficulty: 8.4 /10
Average Output: 328 Kj
Average Calories: 466 cals
Average Distance: 12.24 miles
Average Speed: 16.7 mph
Average Resistance: 44
Average Cadence: 72
Music: The Notorious B.I.G.| Puff Daddy | DiddyBusta | Rhymes
Do you feel like you have so much energy you need to expel on your bike today? The Bad Boy Entertainment ride with Alex and Tunde is the best selection. You will definitely get all that energy out from the music to the instructors.
Honestly, we all know the type of energy that Tunde brings to class on her own, and it matches Alex's to a large extent. Now imagine the combination and what they would bring on board together. Then add the Bad Boy Entertainment music from Alex and Tunde's playlist, and you will know the 45 minutes will fly.
2. 45 Min The Beatles Ride Volume 2 with Denis Morton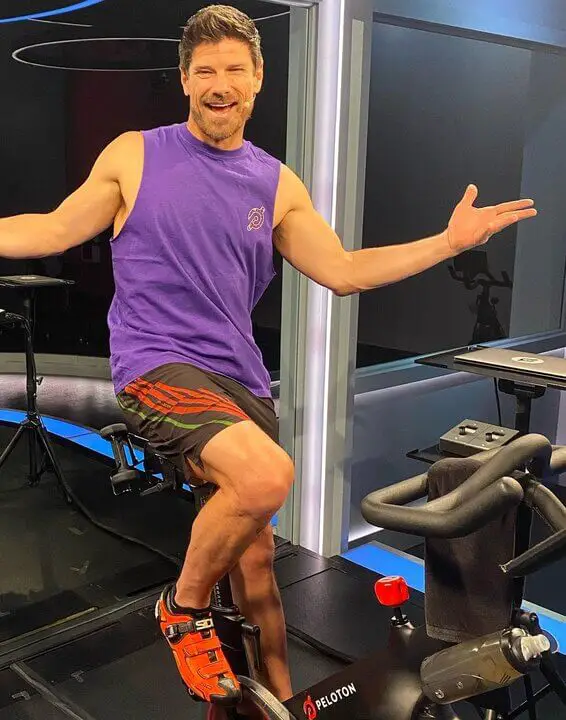 Total Workouts: 200K+
Difficulty: 7.8 /10
Average Output: 342 Kj
Average Calories: 471 cals
Average Distance: 12.68 miles
Average Speed: 17.2 mph
Average Resistance: 45
Average Cadence: 72
Music: The Beatles | Billy Preston
Are you ready to spread love through music? How about joining Denis Morton for a ride with the most influential English band of all time? The best part is that Morton is actually the most suited for this theme.
It is moderate intensity, which means that all levels of riders, from beginners to advanced riders, will manage and enjoy the ride. And with Morton adding in the daddy jokes, you will feel as if you are taken back to when the band reigned the music world.
3. 45 Min 5-Year Anniversary with Alex Toussaint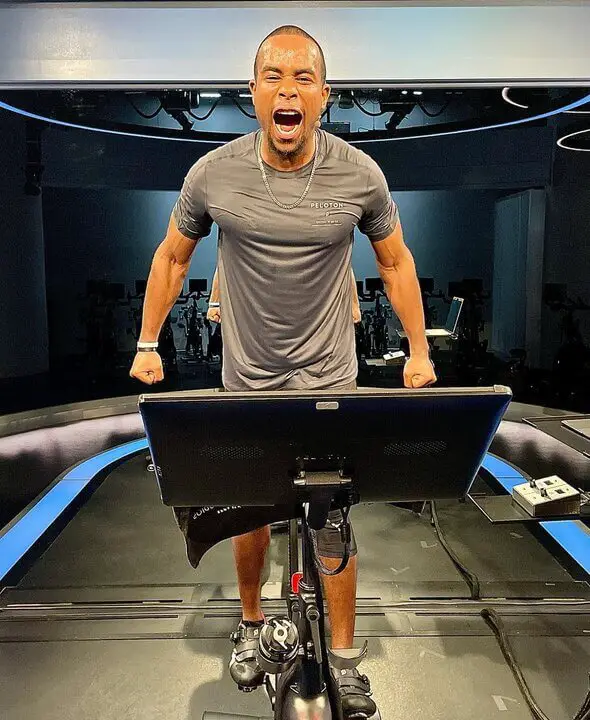 Total Workouts: 150K+
Difficulty: 8.2 /10
Average Output: 350 Kj
Average Calories: 489 cals
Average Distance: 12.8 miles
Average Speed: 17.3 mph
Average Resistance: 44
Average Cadence: 75
Music: Kanye West | Coldplay | Pharrell Williams | Kid Cudi
In this 45 min ride, Alex Toussaint takes us through his 5-year journey with Peloton. And damn! I just took the class to listen to his memories because he is one of my favourites. When you've taken even one of his previous classes, you feel connected to his memories as well.
Hey! The class is still challenging at 8.2, but trust me, and you will not feel the difficulty. After all, you are so engrossed in Alex's anniversary celebration to notice the increased resistance while the music keeps your cadence in rhythm.
4. 45 Min Metallica Ride with Kendall Toole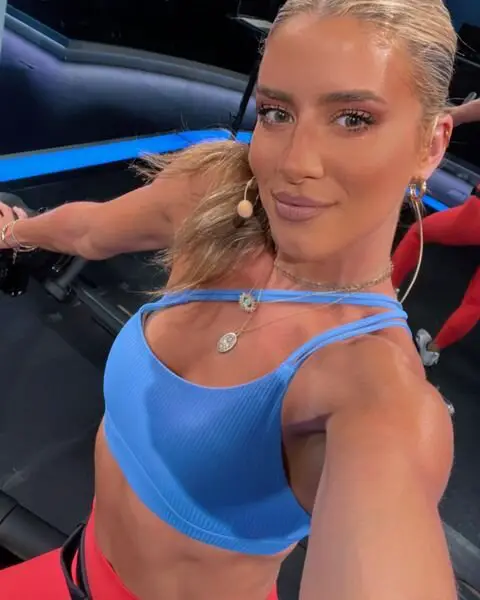 Total Workouts: 150K+
Difficulty: 9.4 /10
Average Output: 407 Kj
Average Calories: 573 cals
Average Distance: 13.36 miles
Average Speed: 18.5 mph
Average Resistance: 47
Average Cadence: 76
Music: Metallica | San Francisco Symphony
Whichever way you frame the question, Kendall Toole will always emerge top 3 among Peloton's most brutal instructors. For this reason, a 45-minute class with her is excellent for tough exercise. With this ride, you will not need to add an extra class for your day's fitness.
Let's talk about the difficulty; as you may have expected, it is at 9.4. Coupled with the Metallica playlist, you will definitely spin and feel the real impact of the exercise bike. I prefer this class most when I know I will take some days off the bike for recovery or work. It definitely helps you keep going without much guilt.
5. Emma Lovewell's 45 Min Red Hot Chili Peppers Ride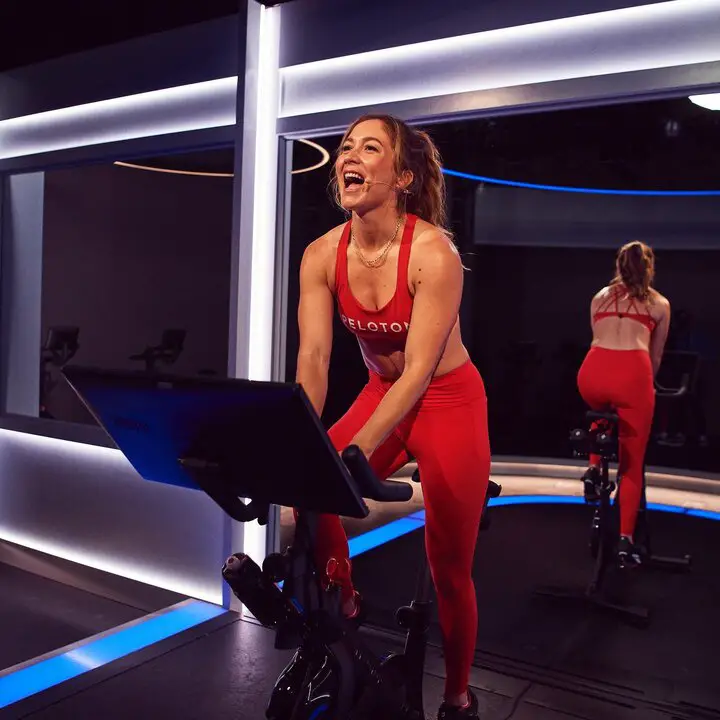 Total Workouts: 100K+
Difficulty: 8.4 /10
Average Output: 363 Kj
Average Calories: 510 cals
Average Distance: 12.89 miles
Average Speed: 17.7 mph
Average Resistance: 43
Average Cadence: 81
Music: Red Hot Chili Peppers
Emma Lovewell brings quite a challenging class here, at an 8.4 difficulty level, and it becomes tougher when you have to endure it for 45 minutes. However, with Emma bringing in her outgoing character as a dancer and model, you will likely surprise yourself with how far you can go.
Being a theme ride, Emma brings in Carlifonia legends Red Chili Peppers playlist. The rhythm matches the cadence so that you won't even realize it as you increase your resistance. So, though tough, you will still pull through and come back for the class sooner than later.
6. Matt Wilper's 45 Min Power Zone Max Ride
As the name max suggests, this power zone ride is really difficult. It helps you maximize your output based on your personalized power zones, with most of the class targeting zones 3 to 7.
The class is excellent for when you want a more extended class, say 60 to 75 minutes, but have a time limit. These 45 minutes will feel like you were on the bike longer.
Nonetheless, you will take the class with Wilpers, who makes it feel all achievable, from his words to his activity on the bike.
7. 45 Min Pop Ride with Ally Love
Ally Love always brings the party to you, and this time she dares you not to dance on the bike. The class is moderate to difficult in intensity, hence accommodating intermediate and advanced riders. Beginners who have already learnt the spinning basics will also manage the ride, especially since Ally makes it feel easier than it actually is.
The pop ride is a go-to option when you wake up feeling down and need some refreshing class to take you through the day. Also, it is awesome after a rough day, getting you tired and excited, and perfect for getting rid of insomnia.
8. 45 Min 2000s Ride with Kendall Toole
Kendall Toole brings a lighter mood to class with the classic music playlist. Since she held the class live on a Sunday, she must have wanted to enjoy the weekend mood with the class. There are tracks from Beyonce, Madonna, and Britney Spears, Justin Timberlake, among others, in the category.
The 45 minutes feel short, and it is a wonderful option for when you want to sweat but are considering a class that lasts 30 minutes instead of 45 minutes. The 45 minutes will feel like 30; the only proof that it was longer will be the class statistics.
9. 45 Min Climb Ride with Matt Wilpers
Matt Wilpers has a way of ensuring that you work all the muscle groups that a ride should target, from the core to the calves. In this climb ride, he reminds you of the joy of outdoor cycling on a hill, a perspective you can apply to the class to handle the resistance better.
If you have never been on a hills ride, Matt will help you realize how achievable it is and the joy it gives you to watch the output increase with the increased resistance. Remember that resistance increases your output more than the cadence in Peloton. This realization will get you through the 9.1 difficulty level class with curses under your breath while you still want to see it through to the end.
10. 45 Min Low Impact Ride with Emma Lovewell
The low-impact ride is specifically for people with injuries, seniors and those who are more comfortable on just the saddle rides. It takes care of your healing joints without impacting them, while the long duration ensures that you sweat.
At a difficulty level of 6.7, the class is the best for all categories of riders, from beginners to pro riders.
If 45 minutes will be your longest ride, this low-impact ride is perfect for getting you accustomed to the duration. You will neither impact your health nor feel discouraged to take long classes with the class. And with Emma spacing it up with words of encouragement and an amazing playlist, you may end up taking this class more than once.
FAQS
Are 45-Minute Rides Daily Enough for Exercise?
Yes, they are. 45 minutes rides daily will give you sufficient cardio that keeps your cardiovascular system healthy, saving you from related terminal illnesses. Moreover, the exercises will help you gain lower-body muscle strength and endurance. Since cycling requires core participation and strength, you will further build on your core strength while getting rid of stubborn belly fat.
However, you will get better fitness results if you take different types of cycling classes. For example, you can start with a low-impact option to adjust to the distance. Then, incorporate endurance, Power Zone classes, climbs, HIIT and Tabata. The different types target the different leg and core muscles, which help have healthy exercise.
Other than that, cycling classes are cardio, hence should be paired with occasional strength sessions for better muscle building and endurance.
How Many Calories Does a 45-Min Ride Burn?
A 45 minutes ride will burn approximately 500 calories. However, the number of calories you burn with the distance will depend on many factors, such as resistance, cadence, and body weight.
It would help if you increased resistance to burn more calories; hence classes such as climb classes are better calorie-burning options.
What is a Good Peloton Output for A 45-Minute Ride?
The output varies in a 45-minute ride for all the riders. Some people will get an output of as low as 150W, while others will get as high as 800 + W. Therefore, there is no right or wrong output.
Usually, the output depends on one's muscle mass, meaning that people with more muscle mass have a higher output than those with lower muscle mass.
In Conclusion
45 minutes is a standard time frame for cycling that is suitable for optimal sweating. It helps to lose weight as well as build on lower body endurance.
With the on-demand Peloton library, you can easily have your pick of the best options available, such as the ones above. Whether you are a beginner or an advanced rider, there is always a fantastic choice for you.
Read Also: