Thirty minutes tend to be the central point where beginners, intermediate and advanced riders meet, all agreeing that the duration gives significant exercise. They are perfect for squeezing in between a tight schedule and still getting optimal benefits.
It is also true that the Peloton colossal on-demand library is wonderful and a top advantage. However, with over 5k 30-minute rides, even a seasoned search expert will find it difficult to make a perfect choice when every minute counts.
For this reason, a quick yet explicit guide you easily fall back to will always come in handy.
10 Best 30-Min Peloton Rides
You know a good ride when you see it, recommend it to friends and family, and even give it a top rating on social media platforms. By the time you know it, everyone wants to take the ride and recommends it to more people. And this is how these on-demand Peloton rides have as high as 700K and still counting rides.
So, which are these 30-min rides that people feel are worth their recommendation and time?
1) 30 min Britney Spears Ride with Cody Rigsby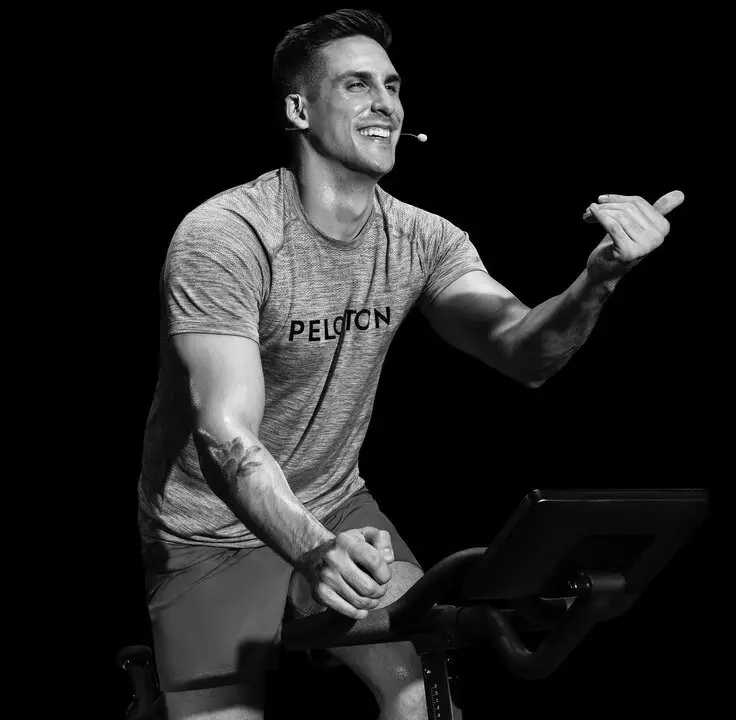 Total Workouts: 700K+
Difficulty: 8.1/10
Average Output: 196 Kj
Average Calories: 277 cals
Average Distance: 7.94 miles
Average Resistance: 42
Average Cadence: 74
Cody Rigsby is my go-to Peloton instructor when looking for a perfect theme class. Despite this, I still feel he nailed it best with this Britteny Spears ride. He compiled a playlist of the best you would love of Brittney Spears tracks, and you will love it even if you were never a fan. After all, it will be Cody on the deck!
Cody is great at starting your happy Friday when you are in a party mood or just up for a really happy day.
2) 30 min Beyoncé Two for One Ride with ALEX & TUNDE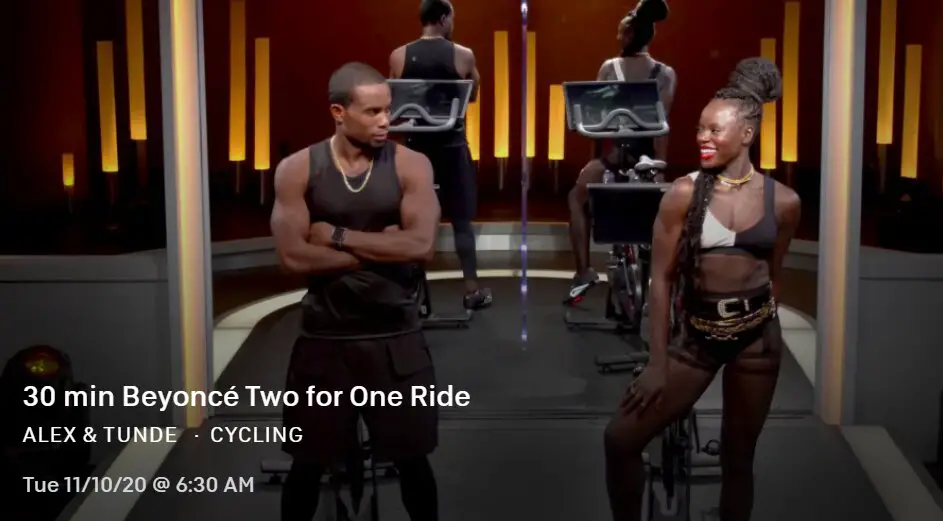 Are you looking for an energetic ride that brings positive vibes into your whole day? How about combining the two people who will do nothing less than bring you the energy?
Despite a high difficulty rating of 8.3, the ride with Alex and Tunde is the most energetic. Then, bring in the motivation and you-can-do-it vibes from both instructors, and you might be taking the same class severally.
Ooh, and it is a Beyonce theme class. So, also take into consideration that you might be so engrossed in the best of Beyonce tracks that you forget how the class kicks the ass.
3) 30 Min The Greatest Showman Ride with Robin Arzon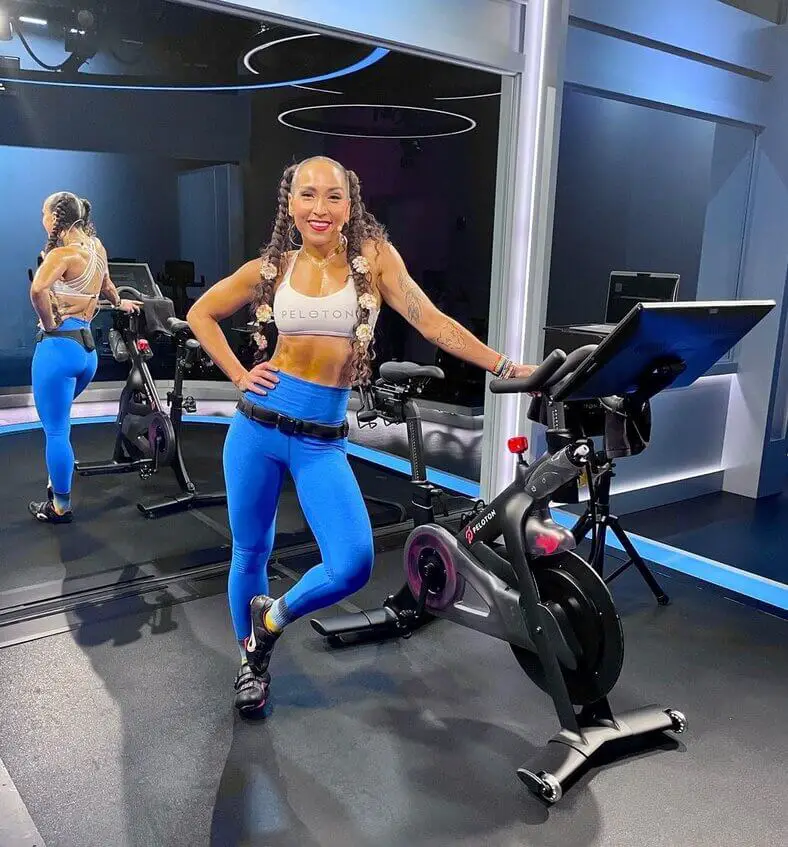 Total Workouts: 650K+
Difficulty: 8/10
Average Output: 207 Kj
Average Calories: 290 cals
Average Distance: 8.09 miles
Average Resistance: 43
Average Cadence: 72
In this ride, Robin Arzon celebrates the release of the Greatest Showman, Reimagined. During the ride, Robin plays tracks from the new album and the original album. You will love it if you are a fan of the Greatest Showman, and you might get new artistic work for your playlist if you have never thought much about it before.
As Robin goes on about the Greatest Showman, she hits the pedals and resistance in a way that makes you wonder at her ease in combining the two.
4) 30 min Lizo Ride with Robin Arzon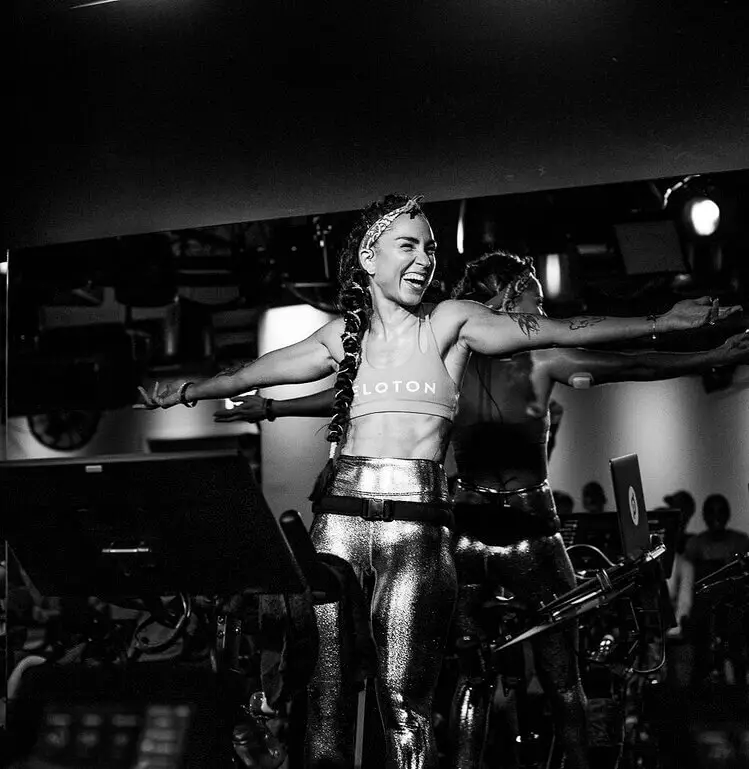 Total Workouts: 550K+
Difficulty: 7.7/10
Average Output: 195 Kj
Average Calories: 277 cals
Average Distance: 7.99 miles
Average Resistance: 42
Average Cadence: 75
Robin Arzon is the one Peloton instructor who will curse, laugh and crack jokes without apologizing. And that's just who she is, and this Lizzo ride gives her a chance to explore her potential without limits. Doing it with her gives you a new perspective, not about her, but yourself. You finish the 30 min ride feeling amazing and the most wonderful person you know.
The class difficulty level is moderate, which makes it perfect for all fitness levels, from beginners to advanced.
5) 30 Min Eminem Ride with Denis Morton
Another of the most popular 30-minute rides on Peloton is Denis Morton's Eminem theme ride. At medium intensity, most people who already did a couple of rides will manage this ride.
However, being in a theme class with Eminem is challenging, and you will be firing cadence as fast as Eminem raps. Despite this, the resistance level is still relatively moderate, which means you will have to strain your muscles a notch higher to get to the goals in the class.
6) 30 min Prince Ride with Emma & Ally
If you have exercised with Emma and Ally separately or together in dance cardio, you already know why a ride with the two is popular. The class is not only fun but also full of energy and motivation to push further. The two instructors do it so effortlessly that you will start to believe that an 8.1 difficulty is not much to the benefit of your leg muscles.
On top of that, Emma and Ally will serve you with a party feel that reminds you of the late 90s,m further rejuvenating your energy.
7) 30 min Justin Beiber Ride with Olivia Amato
Other than Kendall Toole, Olivia Amato is the other Peloton instructor who gets you sweating on the bike and optimizes your muscles. This class is a 30-min ride, but the end feels like you took a 45 to 60-min ride.
Usually, the class is perfect when you need a quick yet highly effective Peloton ride. Oh, and it is a Justin Beiber-themed class, so you can also opt to concentrate on the melodious music while your muscles take in every resistance and cadence that Amato throws your way.
8) 30 min Backstreet Boys Ride with Cody Rigsby
The Backstreet Boys was specific for people who love the Backstreet Boys, and it celebrated the band's 20th Anniversary. Cody dropped the best of their music, and the class was a hit. More interestingly, people still go back looking for the class because it still feels fresh despite being old.
So, if you are looking for a moderate-intensity class that keeps you occupied with band music while giving you a 30-min worth of cycling, this is an excellent deal.
8) 30 Min P!nk Ride with Christine D'Ercole
When you want to be true to yourself and feel authentic, why not do it with someone encouraging just that? The P!nk P! nk P!nk ride was D'Ercole's 2019 favourite because it was on embracing one's true nature.
Overall, the class is full of fun and with a music festival theme, just what you need when you miss or are looking forward to a musical. And yes, the session is quite difficult, but the fun is too much to feel the hamstrings burning during the exercise.
9) 30 min Hip Hop Ride with Kendall Toole
I love a Kendall Toole ride whenever I want a difficult and challenging ride. This hip-hop ride is the best because it lasts only 30 minutes, which is enough for me in a Kendall call.
The class is also perfect for a tough class that blends hip-hop music. The music in itself is enough to push you harder, with the beats sinking deep into your burning muscles. More amazingly, the music is a combination of different Hip Hop tracks, from the old school, new school, East Coast to West Coast.
Are 30-Minute Rides Daily Enough for Exercise?
Yes, thirty minutes of rides on a daily basis are effective in providing cardio exercises as well as lower body muscle strength. However, to reap the most cycling benefits, you will need to combine class types, such as Power Zone, bike Bootcamp, HIIT and Hills, Tabata, and others.
Wrapping Up
Peloton has 30-minute rides that you can consider for moderate exercise duration. They cut across all difficulty levels, and most cycling trainers have the option. Starting with the most popular classes provided in the list above, you can kickstart your 30-min ride program.
Read Also: