Peloton is a popular at-home workout system that offers a vast selection of cycling classes for users of all fitness levels. For beginners, it can be overwhelming to choose from the abundance of classes available. However, there are certain Peloton rides that have become particularly popular among beginners due to their accessibility and effectiveness. These rides cater specifically to beginners and offer a fantastic starting point for those new to Peloton.
However, beginner classes are also in thousands, so we have collected the best and most popular 10 to get you started. The list will introduce you to Peloton cycling and the various instructors that make the bike classes fun.
The 10 Best Beginner Peloton Rides
1. 30 Min Justin Bieber Ride with Olivia Amato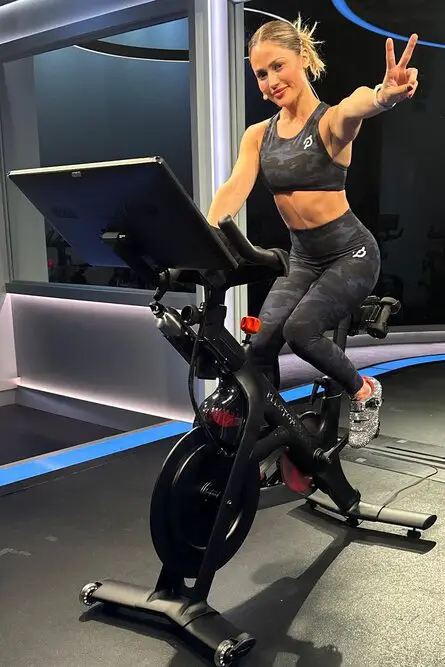 Total Workouts: 350K+
Difficulty: 8.2 /10
Average Output: 220 Kj
Average Calories: 302 cals
Average Distance: 8.21 miles
Average Speed: 16.8 mph
Average Resistance:44
Average Cadence:72
Music: Justin Bieber | Nicki Minaj | J Balvin | Ludacris
If you are a beginner in Peloton but feel you have the energy for a challenging ride, welcome to this 30-minute ride with Amato. She explains a lot about the basics of spinning and form, but she does not lower her energy just because it is a beginner class. And isn't that what some of us want? Feel the Peloton energy everyone is talking about right from the start?
The best part is the choice of playlists. The class rocks one Justin Bieber track after another, giving you a perfect R&B session on your bike.
2. 15 Min Groove Ride with Cody Rigsby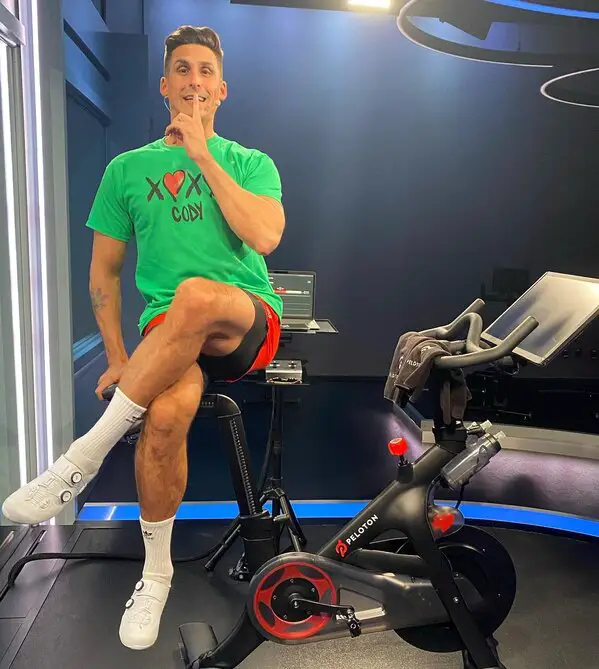 Total Workouts: 200K+
Difficulty: 6.6 /10
Average Output: 84 Kj
Average Calories: 118 cals
Average Distance: 3.69 miles
Average Speed: 15.0 mph
Average Resistance: 39
Average Cadence: 73
Music: Beyoncé | Janet Jackson | Ciara | Mya
Did you know that you could literally dance on the bike? Well, try this groove ride with Cody Rigsby and discover the choreographer in him just as you discover one in yourself!
He mixes the hottest hits that your body can't resist, even when you think that you are not good at dancing. Well, finally, you will sweat from both the dance and the ride. But isn't sweating the end goal, regardless of the means?
3. 15 Min Hip Hop Ride with Alex Toussaint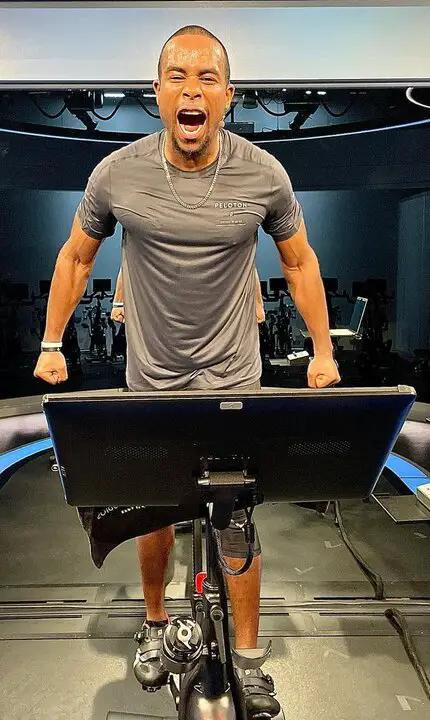 Total Workouts: 200K+
Difficulty: 7.5 /10
Average Output: 105 Kj
Average Calories: 149 cals
Average Distance: 4.04 miles
Average Speed: 16.4 mph
Average Resistance: 42
Average Cadence: 74
Music: Drake | Rick Ross | Lupe Fiasco | Travis Scott
In these 15 minutes, Alex Toussaint combines hip hop from East Coast, West Coast, Old School, and New School. And hey! They are all the best tracks you could ask for.
So, get ready to sweat through the class, as the hip-hop rhythm will not allow you to get your cadence down.
And Alex has a way of making you cycle to the beats, regardless of the resistance intensity. Therefore, even as a beginner, watch yourself make it through a class with a difficulty level of 7.2.
4. 20 Min New Tracks Ride with Alex Toussaint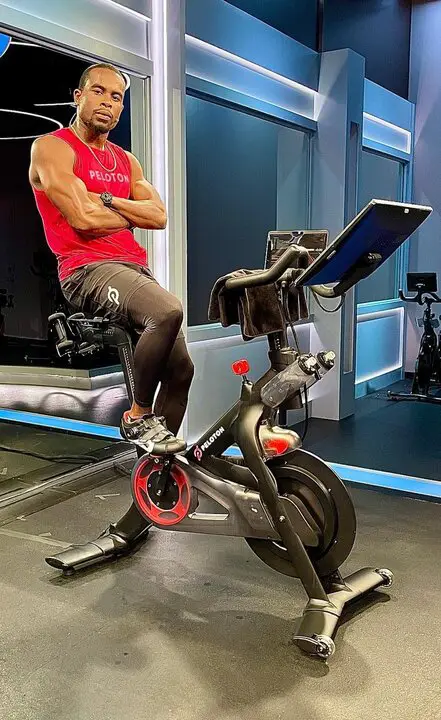 Total Workouts: 150K+
Difficulty: 7.4 /10
Average Output: 143 Kj
Average Calories: 203cals
Average Distance: 5.46 miles
Average Speed: 16.7 mph
Average Resistance: 41
Average Cadence: 78
Music: Drake | Justin Bieber | Bruno Mars | 50 Cent
The New Tracks class has a combination of tracks that were top of the chart in 2021 that still feel fresh to listen to. Alex Toussaint mixed Key Glock, Justin Bieber, Drake, Bruno Mars, and others to get you the feeling you need to keep you on the pedals without tiring.
Though the 20 minutes present a difficulty level of 7.4, how could you reduce the intensity while the beats feel so good to ride against?
, yet only your worked-out muscles will confirm this.
5. 15 Min Pop Punk Ride with Kendall Toole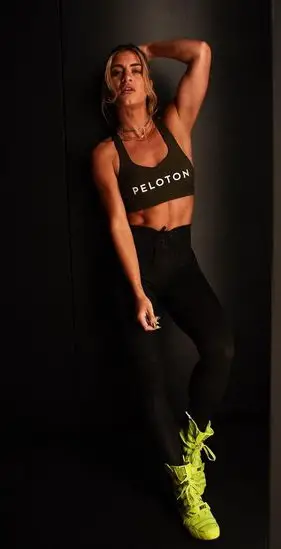 Total Workouts: 150K+
Difficulty: 7.4 /10
Average Output: 114 Kj
Average Calories:161 cals
Average Distance:4.2 miles
Average Speed: 17.1 mph
Average Resistance:44
Average Cadence:74
Music:Green Day | Panic! At The Disco | Paramore | Machine Gun Kelly
Kendall Toole is a top pick if you want to up your cycling game in Peloton. She is tougher than most instructors, having a boxing and gymnastics background. For this reason, even the most demanding class seems like a warm-up looking at her.
In this class, you will ride as you rock to the best punk playlist, a combination from across the decades. In just 15 minutes, you will sweat enough to believe you had a longer ride, yet the punk music makes it all bearable.
6. 15 Min Intro to Intervals & Arms Ride with Tunde Oyeneyin
While most rides barely focus on the arms, the Intervals and Arms get you to work on all four limbs. You will have a session with light weights for arms strength while still on the bike and intervals to a real ride.
Tunde explains the basics of the Intervals and Arms ride and prepares you for other classes you may have in the future. And yes, her arms are actually goals that may make you love focusing on your arms as a significant part of your fitness.
7. 15 Min Low Impact Ride with Kendall Toole
Primarily, a low-impact ride is a ride whereby you remain in the saddle throughout the class. It is perfect for people recovering from injury, with sensitive joints, or beginners that still exercise caution on the bike. However, it is just as challenging as other rides, and you will sweat and burn calories as much.
Now that Kendall Toole is the instructor, you can imagine it is pretty tough, even at a moderate difficulty level.
8. 20 Min Pop Ride with Cody Rigsby
If you can't dance in public, how about you dance privately? With Cody Rigsby giving you this opportunity, dance to the top music on the charts with the aim of rejuvenating yourself.
I can guarantee that the 20 minutes will fly by, and you will be surprised at how well you follow the instructions of form, resistance, and cadence even while deep into the music. Don't be surprised to retake the class over and over again just to feel good.
9. 30 Min 90s Pop Ride with Ally Love
The 30 min pop ride is the ride that works for you when you want a longer ride, especially after the very first round on Peloton. Cody's buddy in choreography, Ally Love, will ensure that you reminisce the 90s tracks with nostalgia, and it will be difficult not to sing, hum or dance along.
And with the length of the class coupled with the higher intensity of the class, you will sweat, burn more calories and get closer to your fitness goals even though you are just a beginner.
10. 20 Min Beginner Ride with Christine D'Ercole
Meet the oldest Peloton instructor, Peloton D'Ercole, for a beginner ride. She provides foundational info that gets you comfortable on the bike. Even if you have never had an experience with an indoor bike, you will learn proper technique and cycling form that will help you tackle subsequent classes.
You will also learn about the Leaderboard and other Peloton strategies. Therefore, this class is perfect for beginners with the least knowledge about cycling and Peloton.
Besides, Christin herself learned cycling later in life, yet it became her best career in life.
How Long Should You Do Beginner Rides on Peloton?
As a beginner, it's recommended that you start with 20-30 minutes beginner rides on Peloton. This duration will give you enough time to get used to the bike and the Peloton platform without pushing yourself too hard. As you progress, you can gradually increase the length of your rides to 45 minutes or more.
Wrapping Up
Peloton beginner rides are short classes, usually between 5 and 30 minutes, that help beginners with the know-how about Peloton cycling. They give a lot of emphasis on the correct form and techniques, which build a foundation for longer and more productive Peloton rides.
Read Also: