Orangetheory memberships are available in various pricing tiers, with automatic monthly charges based on the chosen plan. However, changes in personal circumstances or financial constraints may necessitate a break from Orangetheory.
To cancel your Orangetheory Fitness membership, you have three options:
Visit your local Orangetheory Fitness gym and request a cancellation form. You can complete the form and submit it in person.
Contact your local Orangetheory Fitness gym to obtain a cancellation form and their email address. Fill out the form and email it back to them.
Alternatively, you can cancel your Orangetheory membership directly through their official website.
Important Points to Remember:
After submitting your cancellation form, retain a copy for your records and call your studio to confirm they've processed your cancellation.
If you choose to fill out Orangetheory's online cancellation form, make sure to call or visit your studio in case you don't receive a confirmation within a week.
In this guide, we will provide step-by-step instructions on how to cancel your membership, covering various methods, including in-person cancellation, online cancellation, and cancellation via email. But first, we will see the policy of Orangetheory cancellation.
Orangetheory Membership Cancellation Policy and Fee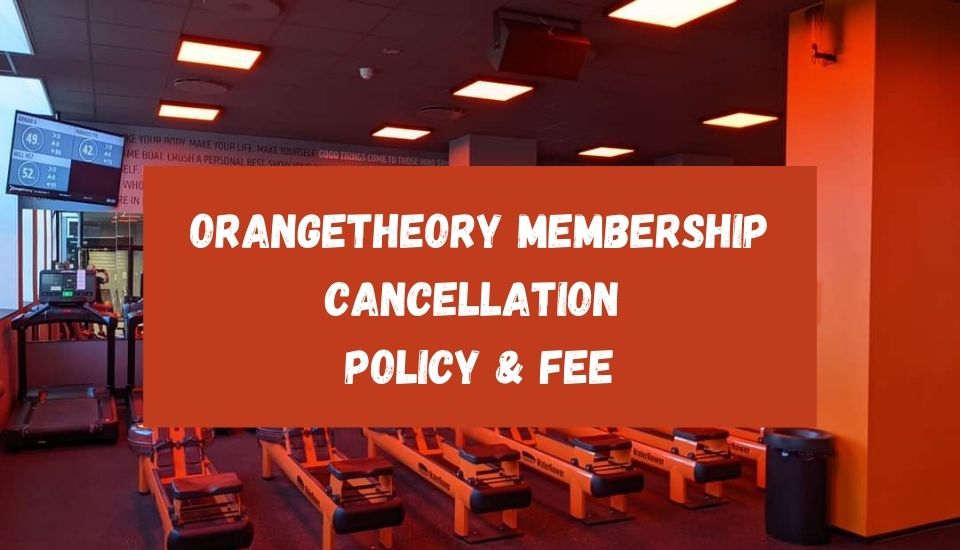 In general, Oranegtheory requires that you give notice of your cancellation and proceed with the process 30 days before the effective date. Usually, this 30-day notice means you will pay for one more monthly subscription before the cancellation starts. You just need to give them 30 days before the next billing cycle. Less than 30, and you will get charged the next month. Normally, there are no cancellation fees at Orangetheory Fitness.
According to Orangetheory,

Orangetheory Fitness offers a 30-day cancellation policy, unless otherwise stated in your Membership Agreement.
To process your cancellation request, your account status must be active.
In the event your account is frozen, the account must be reactivated before the membership cancellation request can be processed.
Any membership payment set to occur within 30-days after receipt of your cancellation request will occur as scheduled.
You will have 30 days from the date of your last payment to utilize any previously unused sessions.
Any remaining sessions or promotional rates will be forfeited.
While Orangetheory Fitness (OTF) memberships operate on a month-to-month basis, it's crucial to understand their 30-day cancellation policy, which may not function as you might assume. Upon submitting your cancellation request, you'll be billed for one more month at minimum, or possibly up to two months if your cancellation is lodged after the last day of your billing cycle.
For instance, if your billing date is the 1st of each month and you desire your final membership month to span from January 1st to 31st, you must submit your cancellation by December 31st, which is prior to your membership renewal date. If you submit the cancellation on January 2nd, post the renewal of your January membership, your membership would still renew on February 1st, since it's within 30 days from when you requested the cancellation and will only terminate at the end of February.
Note: Some studios may demand more than a 30-day notice for cancellations, so it's always advisable to verify the exact terms with your local studio.
Orangetheory provides immediate cancellation options for your membership under certain conditions:
Health Concerns: If an illness or disability prevents you from exercising, you can cancel by providing a doctor's note to Orangetheory.
Location Change: If you've relocated more than 18 miles (30 km) from an Orangetheory location, you can cancel by providing your new address for verification.
Financial Difficulty: In the unfortunate event of bankruptcy, where you can no longer afford your membership, you can cancel by providing relevant evidence to Orangetheory.
Can I Pause my Orangetheory Membership?
Yes, Orangetheory does allow you to freeze or pause your membership for a minimum of 30 days up to a maximum of 90 days. If you need a break but don't wish to fully cancel your account, you can request a membership hold. To do this, simply contact your home studio directly, either by phone, letter, or email, and ask them to put your membership on hold.
Do I get a refund when I cancel my membership?
Orangetheory generally does not provide refunds upon membership cancellation. Any purchased heart rate monitors are also non-returnable and non-refundable. However, there is an exception for new members: If you cancel your membership within 30 days of your start date and have attended 12 classes, Orangetheory offers a full refund. It's always advisable to review the terms of your specific membership agreement for detailed information on refunds and cancellations.
How to Cancel Orangetheory Membership
Typically, there are different ways to cancel an Orangetheory membership, which actually works to the members' convenience. Let's discuss the different procedures;
Cancel Orangetheory Membership in Person
Cancel Orangetheory Membership Online
Cancel Orangetheory Membership by Email
1. Cancel Orangetheory Membership in Person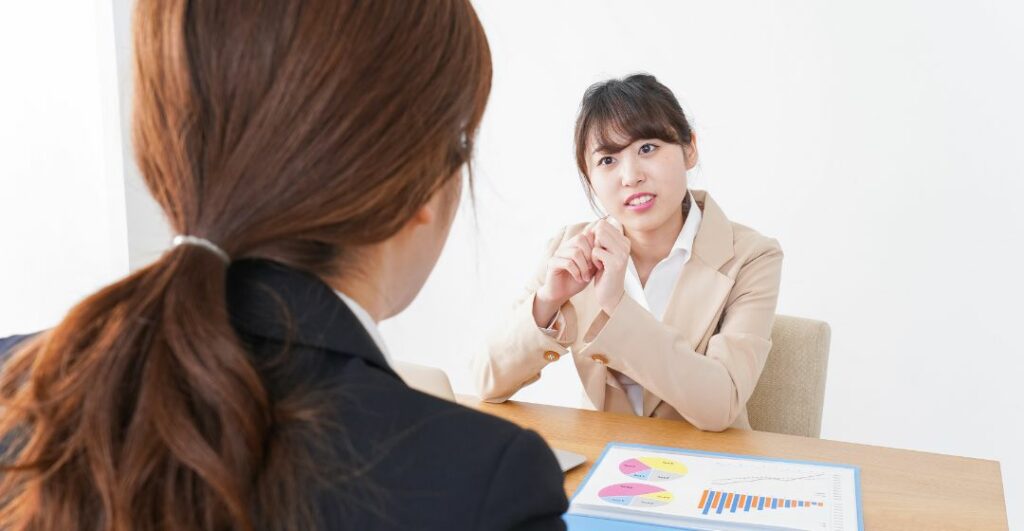 You can always cancel the Orangetheory membership in person, which is actually the most reassuring method. So, let's see how you go about it;
Go to your home studio to start the process.
Tell the customer service staff that you would like to cancel the membership.
The management will provide you with a cancellation form, which requests that you fill in your personal details. The details include your full name, address, contact number, and the last four digits of your credit card for OTF payment.
Once you complete filling out the form, ensure that you request a copy of the same for your own security.
Finally, follow up later to ensure that the cancellation is effective.
3. Cancel Orangetheory Membership online (Orangethery website)
Can I Cancel My Orangetheory Membership Online? You may be able to cancel your membership online through the Orangetheory website.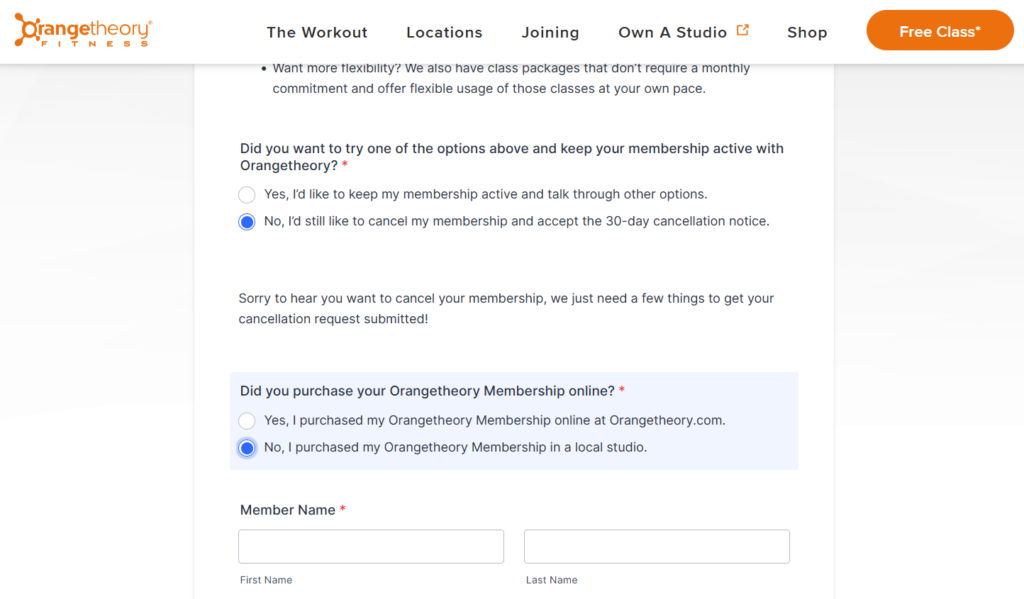 To cancel your Orangetheory Membership online, please follow these steps:
Scroll down and Click the option below that wrote (No, I'd still like to cancel my membership and accept the 30-day cancellation notice.)
Then click one of the option from two (Did you purchase your Orangetheory Membership online?)
Then, fill up all the information
Click " Submit my cancellation request "
Note: Please be aware your home studio will need to contact you to verify your membership & cancellation request. Make sure to call or visit your studio in case you don't receive a confirmation within a week.
3. Cancel Orangetheory Membership by Email
Orangetheory Incorporation does not recommend canceling membership via email. This is understandable, given the many emails they must receive in a day. However, this would result in your email getting lost in their email archives.
However, individual studios may be comfortable with emails and even encourage members to cancel or communicate via email to their studio address. In this case:
Contact your local Orangetheory Fitness gym to obtain their email address.
Type down your cancellation request letter, and include personal information such as; full name, current address, email address, phone number, membership ID, date of birth, and last four digits of the credit card you use in Orangetheory subscriptions.. For example..
Subject: Orangetheory Membership Cancellation Request
To Whom It May Concern,
I wish to cancel my Orangetheory membership immediately or at the earliest possible date. I'm canceling my membership because [reason for cancellation]. Please send me an email confirmation with the date my cancellation takes effect.
Here are the details associated with my Orangetheory membership:
Home Studio Address: [Home Studio Address]
Name: [First and Last Name]
Phone Number: [Phone Number]
Email Address: [Email Address Associated with Membership]
Membership Identification Number: [ID Number]
Last Four Digits of Credit Card on File: [XXXX]
Thank you for your understanding and prompt action.
Best regards,
[Your Name]
Then, send the email to your home studio's recommended email address.
Wait for an email confirmation, which will ask whether you truly want to cancel your membership. Confirm the cancellation decision.
Then, your Orangetheory studio will send you a cancellation form. So, fill out the form and send the document back to the studio.
Finally, you will receive an email confirming your cancellation, effective 30 days from the day of receipt. If you don't get the email, follow up with customer care to know your cancellation status.
What To Do After Canceling Your Orangetheory Membership
After canceling your Orangetheory membership, ensure that you confirm that the cancellation is actually effective.
Obviously, the following month's subscription will still be in effect, but that is the last time you will pay for the membership. However, it is always advisable to check on the next payment as to whether there are any more costs. There shouldn't be any, so you should consult your studio in case of any Orangetheory costs afterward.
After your last month working out at Orangetheory, ensure that you have a different workout program, even if it is at home. This will help ensure that your health and fitness progress does not regress after Orangetheory.
The good news is that you must already own an Orangetheory Fitness heart rate monitor, which is amazingly accurate and high-quality. Most importantly, it easily syncs with all Bluetooth devices, which makes it a catch for other fitness apps. Therefore, starting your next fitness journey after OTF will have a starting point already.
FAQs
Can you cancel Orangetheory membership by the app?
As of my knowledge cut-off in September 2023, Orangetheory Fitness does not allow membership cancellations directly through their app. The standard procedures for membership cancellation typically involve contacting your local Orangetheory studio directly, either in person, via email, or online.
Can I Return Orangetheory Heart Rate Monitor After a Cancelled Membership?
No, you can't return the Orangetheory heart rate monitor after the membership cancellation. On top of that, if you bought the heart rate monitor, then it is yours to keep. This actually works in your favor since the heart rate monitor syncs with other fitness apps. Besides, you can sell it as a used OTF heart rate monitor if you don't intend to use it later.
If I cancel my OT membership, is my heart rate monitor pretty much useless? Can I use it with another app? Can I still see results on the OT app?
You can use it with at-home workouts or ANY workout. I've used it during jumping rope, outdoor running, etc. And you can still see the results, just as you would after an OTF class. Also, I have the Garmin Vivoactive 4S watch, which has a way of linking to the OT heart rate monitor.
Read Also: How to Cancel Orangetheory Class? (Policy & Fees)
Conclusion
Orangetheory Fitness has a surprisingly easy cancellation policy and procedure. The only downside, really, is that you will have to wait 30 days for the cancellation to take effect, during which you will definitely pay an extra month's subscription.
That aside, there are no fees associated with canceling an Orangetheory membership. Also, you can either cancel by phone or in person, or you could check if canceling by email is allowed in your home studio.