It can be hard for a mom to find time to workout. You might have made plans to go to the gym, but then one of your kids gets sick, or your babysitter is no longer available. If you have small children who need to be watched all the time, it's almost impossible to work out.
In such situations, having access to a gym that provides childcare services can be a true game-changer. But the question is.
Does Orangetheory Have Childcare?
Unfortunately, no. Orangetheory does not have childcare services at any of its studios. On the contrary, they offer classes that will favor parents, running between 5 a.m. and 8 p.m. Also, the classes don't run for more than an hour, which also favors parents living close to the studio.
My studio has a deal with the local hourly daycare. Parents can get a discounted rate when they go take class. It's within five minutes from our studio and charges by the hour.
As some Orangetheory studios have partnered with local daycares, you may be eligible for a member discount if you contact your local Orangetheory studio.
How do you find childcare at Orangetheory?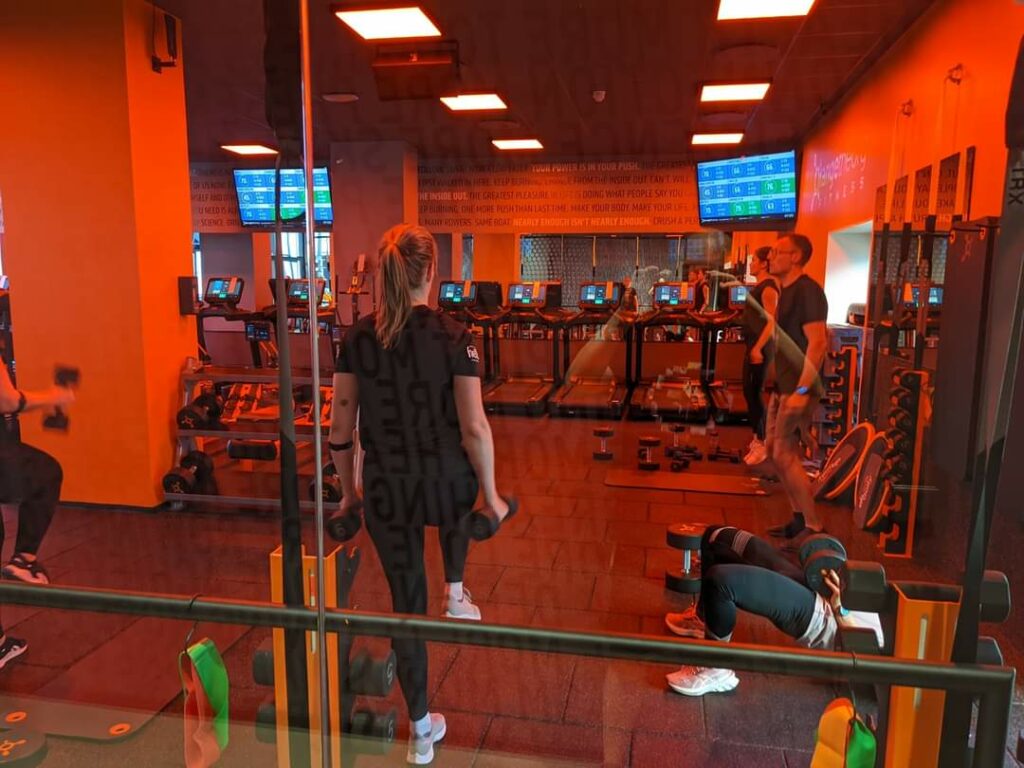 Even if your local Orangetheory studio doesn't provide childcare facilities, you can still exercise with the help of a variety of options.
Here are some tips for finding childcare while you workout at Orangetheory:
Check with Local Daycares – See if nearby daycares or kids gyms offer hourly rates so you can drop off your child while you take a class. Finding one close to the studio is convenient.
Hire a Babysitter – Ask other members who they use for babysitting. You can also post on local Facebook parent groups to find a reliable sitter to watch your kids during your workout.
Coordinate with Your Partner – Trade-off gym time with your spouse or friend also looking for a workout. You watch their kids while they are at Orangetheory, then vice versa.
Schedule Around Existing Care – Book classes when your child is already being watched – in school, at a part-time program, or with a family member.
With some strategic planning, you can find a childcare solution that allows you to stay consistent with your Orangetheory workouts!
Does Orangetheory have an age limit?
Children under the age of 14 are not permitted to exercise in the fitness center at Orangetheory.
Here are the key points regarding age limits at Orangetheory Fitness:
14+ can workout with parents: Children ages 14-15 are welcome to workout if accompanied by a parent or legal guardian. The parent must be participating in the same class and provide supervision.
16+ can workout alone: Teens ages 16-17 can workout unsupervised as long as they have a waiver signed by their parent or legal guardian on file.
18+ has full membership privileges: Once an individual turns 18 they can become a member, sign documents, and workout independently without any restrictions.
Discounts for families: Many Orangetheory locations offer special family discounts or rates when multiple household members join. Inquire with your studio.
How much is the Orangetheory family membership?
The cost of an Orangetheory Fitness family membership can vary depending on the studio location and specific package chosen. You can see the membership plan price here.
How Orangetheory Is Great For Parent's Workout
Here are some compelling reasons why Orangetheory is a superb workout choice for parents:
Short 60-Minute Classes
As a parent, finding time to workout can be challenging. OrangeTheory's 60-minute HIIT classes maximize your time and effort. The intense intervals raise your heart rate and metabolism, so you continue burning calories long after class. Spending hours at the gym is unnecessary when just 60 minutes provides results.
Only 2-4 Classes Per Week Needed
Due to the scientifically designed intervals, you only need to take 2-4 OrangeTheory classes per week to see noticeable improvements. The afterburn effect keeps your metabolism fired up on non-workout days. This flexible schedule is perfect for busy parents.
Classes Offered All Day, Every Day
With classes starting as early as 5 AM and running late into the evening 7 days a week, OrangeTheory fits into any schedule. Early morning, lunch break, and after kid bedtime – find a class time that works for you.
First Class Is Free
Try OrangeTheory risk-free to determine if it's the right workout for you. With no commitment required for the first free session, you have nothing to lose. Experience the fun group energy firsthand.
Family-Friendly Environment:
Orangetheory encourages family fitness. They offer family packages for discounted rates when a family member also joins.
Expert Coaching
OrangeTheory's team of trained coaches guide you through safe, effective workouts customized to your fitness level. As parents, injury prevention is key – rely on expert instruction.
Achieve Your Fitness Goals
As parents, taking care of ourselves is vital. OrangeTheory equips members with specialized tools to lose weight, tone up, and reach fitness objectives. Look and feel your best!
Alternatively, you can look for a gym with childcare services while you have your young one until you can comfortably leave them behind.
Gyms with Childcare
Gyms with childcare come in handy when you have a small baby, especially under two years old. This is an age that you wouldn't risk leaving behind, even for an early class, especially if no one else is home.
Furthermore, childcare at the gym allows you to exercise without feeling nervous about the baby. It is different from leaving a child sleeping, where you will always keep wondering whether they are already up, plus the numerous possibilities that come with it.
Amazingly, there is a spectrum of gym chains with childcare, which you can easily access in many locations. They include the following;
24 Hour Fitness
YMCA
LA Fitness
Equinox
Onelife Fitness
Life Time Fitness
Gold's Gym
Youfit
World Gym
Crunch Fitness
GoodLife Fitness
Snap Fitness
These gyms have fantastic infant and toddler care nannies and services that you will love. They give you sufficient time to exercise without the least worry about your little one.
Some gyms offer older child care in addition to infant care, so you can always have your older kids with you when they are not in school. They provide kids activities that keep them busy and adults who look after the kids.
Why Childcare is Important in Gyms
It gives the gym a competitive advantage over others, as more parents with younger children will opt for these gyms.
Parents are able to concentrate on their workouts when they know that their children and babies are in good hands. The higher productivity is a better gym motivation.
Mums get an opportunity to lose baby fat, which helps them ease back into their pre-pregnancy body shapes and clothes.
Parents interact with each other and get off the parenting stress that comes with being alone with kids at home.
Why Most Gyms Have No Childcare
Childcare in gyms is a relatively new concept in the world of fitness. However, some gyms don't seem to want the incorporation, regardless of the competitive advantage. But why?
Setting up a working childcare centre at the gym is quite expensive.
Childcare comes with added liabilities, which are more sensitive when it comes to younger children.
Should Orangetheory Add Childcare Services?
Absolutely! Most people have been asking for Orangetheory childcare services, which means it would be a worthy investment.
Conclusion
Orangetheory does not currently offer childcare services. However, they may include it in the future, given that the service has become one of the significant fitness gym dynamics.