When it comes to yoga, inspiration is key to a successful class. This is because yoga has not only physical benefits but also spiritual and mental.
The good thing is that Peloton yoga instructors make you want to give yourself more love, care and gentleness. You can manipulate your body and mind to stretch and twist beyond its limits in the process.
Though all the yoga instructors on Peloton are amazing, below are the top six inspiring trainers;
Best Peloton Yoga Instructors
1. Aditi Shah
Shah is a natural yogini, and yoga moves, turns, twists and inversions feel so authentic to her. Surprisingly, Aditi has tried venturing into other professions before finally setting on yoga. This was despite the fact that she had practised yoga ever since she was a young girl.
Aditi has a way of making you feel that you are capable of making that uncomfortable twist possible while assuring you that it is okay not to manage it for the first time.
Moreover, her personal life is an inspiration on its own, with the way she grabs and enjoys every minute.
Her best classes are;
75 min yoga flow (longest)
10 min focus flow (for complete concentration)
30 min beyond the pose (foundational)
Follow her on Instagram as diti22 and Facebook as Aditi Shah.
2. Kristin McGee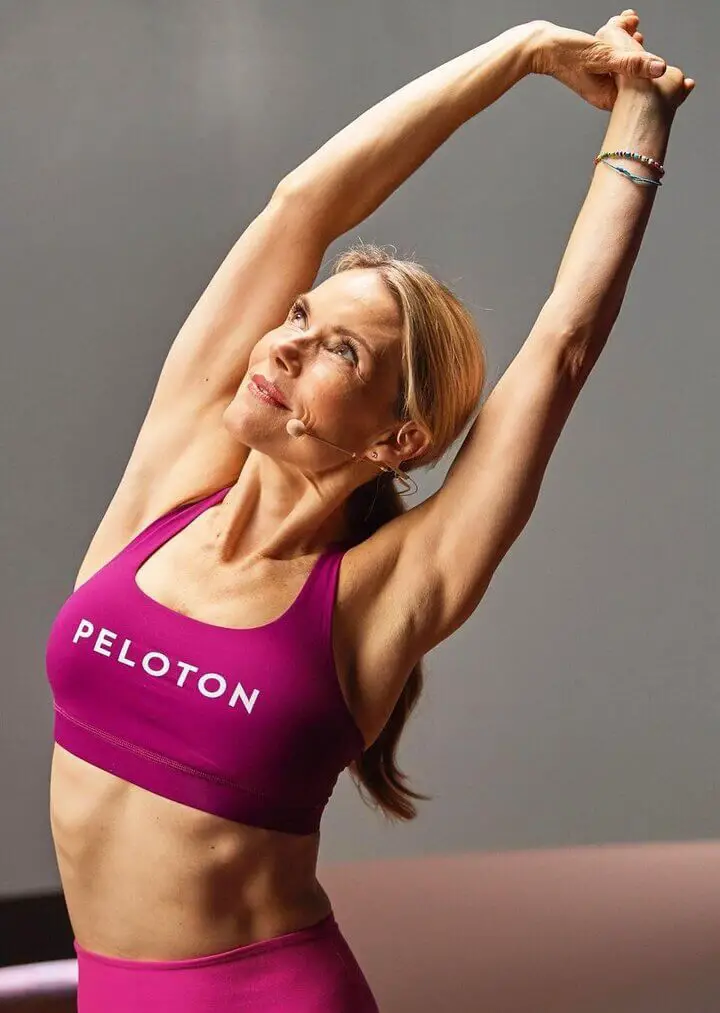 A mother of three, Kristin is the most inspiring parental yoga instructor on Peloton. But, other than the natural connection you feel with her as a parent, she is a yogin committed to delivering yoga benefits to others.
You can get her on yoga DVDs where she has featured, teaching the public yoga and yoga dynamics.
The best Peloton yoga classes with Kristin McGee include;
10 min prenatal yoga flow (for pregnant women)
20 min prenatal yoga flow ( lower body for pregnant women)
30 min Tweens yoga flow (for teenagers)
10 min fit family flow (for kids from the age of 3 years)
Follow Kristin on Facebook and Instagram as Kristin McGee and kristinmcgee consecutively.
3. Chelsea Jackson Roberts
Chelsea Roberts was an elementary school teacher before Peloton. She then got a certification in yoga, rising to become one of the most popular Peloton instructors.
Chelsea's yoga classes are real classes, which makes her great at beginner yoga inspiration. She explains every move, twist and lunge, in addition to cheering members on.
The best Peloton yoga classes with Chelsea Roberts include;
20 min focus flow (floor poses)
10 min focus flow (upper body)
10 min yoga basics (how to use blocks)
5 min basics (triangle)
You can always follow Chelsea's yoga classes through her social media accounts, Facebook as Chelsea Loves Yoga and Instagram as chelsealovesyoga.
4. Denis Morton
There are no jokes in yoga classes, but Denis still finds a way around it with his engaging daddy jokes. The most inspiring thing about him is that he makes yoga feel possible and straightforward for everyone, regardless of their fitness level.
Denis is incredibly excellent at slow flow yoga due to his patience and the you-can-do-it motivation. In the same way, you can trust Denis to train yoga flow in people who don't think yoga is for them and transform their attitudes towards yoga.
The best yoga classes with Denis Morton include;
30 min slow flow yoga
20 min slow flow yoga for beginners
30 min yoga flow
Denis is denis_morton on Instagram and Denis Morton Peloton on Facebook.
5. Anna Greenberg
Anna Greenberg's inversions will love your mouth agape, and this is her greatest inspiration to Peloton yoga users. None of the body twists, lunges or inversion seems too big for Anna.
Other than that, Anna has a fantastic sense of music that wonderfully blends into her yoga class. Every beat feels like part of the body moves.
The best Peloton yoga classes with Anna Greenberg are;
30 min 1st-trimester prenatal yoga flow for pregnant women
30 min WHM two for one yoga flow with Aditi & Anna
20 min LHM Bosa Nova Slow Flow
Follow Anna Greenberg on Facebook as Anna Greenberg- Peloton and on Instagram as annagreenberg.
6. Ross Rayburn
Ross Rayburn is the best yoga instructor for delivering challenging exercises. He doesn't give you an option to give up since he will always give alternatives to ensure you participate effectively.
Ross motivates you to feel that you can actually get to the most complex yoga poses. Besides that, he gets you reaching into your innermost being and using the strenuous yoga poses for healing and restoration.
Below are the best Peloton Yoga Classes with Ross Rayburn;
45 min turkey burn yoga flow
30 min best of the decade yoga flow
Yoga basics warrior 1, 2 and 3
Is Peloton Yoga Hard?
Peloton yoga is in different difficulty levels. There are beginner options that are simple and easy for everyone. Actually, there are fit yoga classes that kids as young as three years can master.
On the other hand, advanced level classes get you pushing yourself hardest in a yoga class. They are the best for the experienced yogi in terms of optimal stretching, flexibility and spiritual well-being.
Is Yoga Good for Young People?
Yes, it is. Actually, some of the yoga instructors on Peloton are young, and they give young people the motivation that it is suitable for their fitness.
In addition, there is contemporary yoga, which incorporates modern yoga poses to spice up the exercise.
Besides, yoga is among the few fitness exercises that help one incorporate the mind and spirit into physical activities, which is good for overall well-being.
Final Thoughts
The best part about yoga is that it is not only a physical exercise but also a mental and spiritual fitness exercise. Consistent yoga with inspiring instructors help you live a happier life, heal from scars and regain your best self.
Besides that, these inspiring Peloton yoga instructors will help with the advancement in yoga levels. Starting yoga late in life is never a justification for not making progress in Peloton.
Read Also: