Cycling and spinning requires shoes that incorporate comfort and stability. Are peloton shoes true to size? Yes, they are if you have standard or a semi-narrow feet. Peloton offers a wide range of sizes, starting from size 36 to size 48, hence covering a wide range of users. Both men and women are covered by the peloton shoes, not to mention kids that are starting out on peloton.
According to reddit users, Peloton brand shoes are true to size (But we don't think so)
According to peloton official FB group, A lot of users claim that peloton brand shoes run a bit small
What we suggest: If you have a bit wide to wider toes, you should go with wide peloton shoes from different brands available in the market.
Peloton bikes do not demand that you necessarily use peloton brand shoes, you also can use other peloton compatible shoes from different brands. Therefore, shoe sizes will vary depending on the brand you choose. Peloton brand shoes are true to size if you have standard or semi-narrow feet, and you can even order a set with the bike.
A peloton bike compatible shoe has to have a 3-hole cleat plate, which is made in the Look Delta or SPD-SL design. These are the only cleat systems recommended for the peloton bike pedals.
Should I Size Up in Peloton Shoes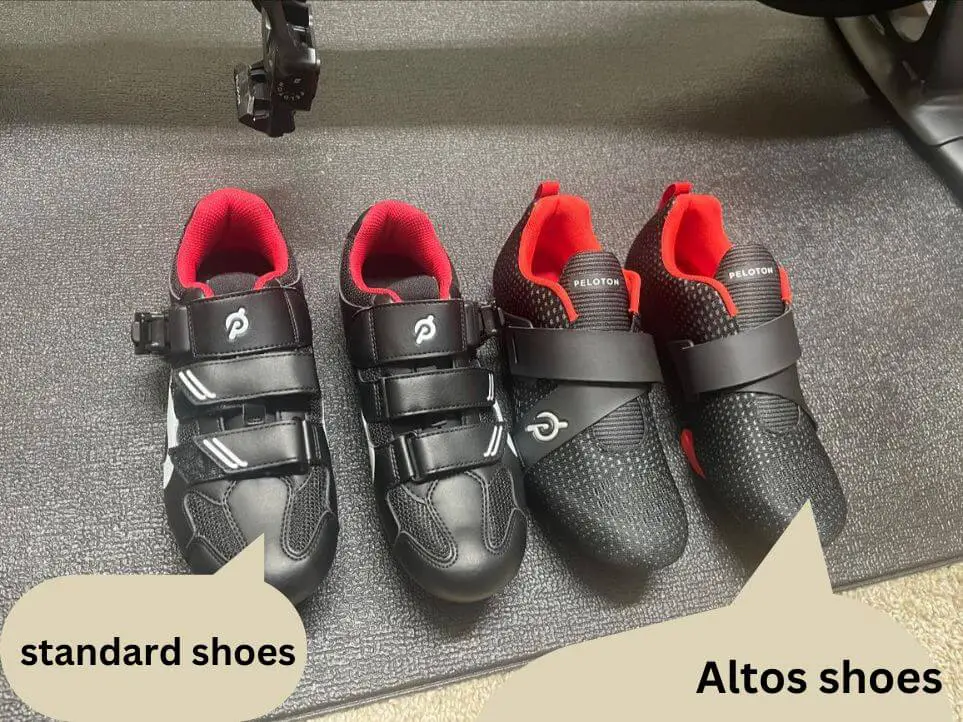 Yes, you should. Peloton shoes fit snug from their design. However, this only applies to people with narrow and small feet. For the rest of us, sizing up may be the only way to get proper Peloton shoe sizing.
Usually, the standard Peloton shoes do not have half sizes. In this case, it is advisable to take a half-size upwards. For example, if you wear a size 6 ½, you should go for a size 7.
On the other hand, people who use full sizes also get the Peloton shoes suitable when they go for a whole size up. Therefore, if you wear a size 6, you will find that Peloton's size 7 gives you the snug fit that the shoes should offer.
It is worth noting that Peloton's new Altos shoes have a better and larger fitting, hence close to true to size. Therefore, users with normal and narrow feet sizes find these shoes accommodating in their exact sizing. Good news is that The New Peloton Altos Cycling Shoes do come in half sizes also.
Note: The new Peloton Altos cycling shoes and standard shoes are available on Amazon now.
You can always go for a fitting at Peloton's retail stores, which is the best way to have a sure bet. However, For Peloton standard old shoes ,ordering half a size or one size higher online is the best shot.
Do Peloton Shoe Size Run True?
As peloton is a very polupar brand and everyone loves peloton brand accessories. The question is about peloton shoe sizing; Do peloton shoes run small? or run big? or run narrow? Peloton brand shoes themselves are true to size if you have standard or semi-narrow feet, so you may have to go a bit size up or down. There are both men and women specific sizes, and sizes that are in between (men/ women).
The women's sizes range from 36 to 43, which are sizes women 5 to 12. The men sizes range from size 40 to 48, that is, men size 7 to 13.5. the shoes that are suitable for both men and women are also accommodated. They lie between size 40 to size 43, that is, men's size 7 and women's size 9 to men's size 10 and women's size 12.
The shoe sizes even accommodate half sizes, which are equivalent to approximately a sixteenth inch in difference.
Kids aged 14, which is the youngest recommended for peloton cycling, can go a size or half a size lower. Boys can use the women's sizing chart to get their true size.
Nevertheless, there are exceptions with the peloton brand shoes, just as with all the other cycling shoes. The true sizes fit those whose feet sizes are standard or semi-narrow feet. Some people have reported that the peloton shoes run small, some feel they are bigger. If your feet are narrower or smaller, you may consider going half an inch down. If your feet are wider and larger, then consider going half an inch higher in size but this may not go with everyone.
In most cases, peloton shoes don't work for wide feet. For this reason, peloton allows the users to venture into other brands that offer peloton system shoes. For instance, Venzo shoes have proven effective for people with wide feet.
Peloton Shoe Sizing Chart
Question? How do you know what size peloton shoes to buy? Here is the peloton shoe sizing chart for both man and women EU to US size. As I already said that peloton shoes are a good fit with standard size feet. Choose your size according to:
| | | | | | |
| --- | --- | --- | --- | --- | --- |
| EUR | US Women | US Men | UK | AU | LENGTH cm |
| 36 | 5 | – | 3 | 5 | 23.3 |
| 37 | 6 | – | 4 | 6 | 23.8 |
| 38 | 7 | – | 5 | 7 | 24.5 |
| 39 | 8 | – | 6 | 8 | 25.2 |
| 40 | 9 | 7 | 7 | 9 | 25.8 |
| 41 | 10 | 8 | 8 | 10 | 26.5 |
| 42 | 11 | 9 | 9 | 11 | 27.2 |
| 43 | 12 | 10 | 10 | 12 | 27.8 |
| 44 | – | 10.5 | 11 | 13 | 28.5 |
| 45 | – | 11 | 12 | 14 | 29.2 |
| 46 | – | 12 | 13 | 15 | 29.8 |
| 47 | – | 13 | 14 | 16 | 30.5 |
| 48 | – | 13.5 | 15 | 17 | 31.2 |
Frequently Asked Questions
How tight should my peloton shoes fit?
Cycling shoes should be smart fit, not too loose, and not too snug. Just make sure you have a bit space for wiggling your toes and arch.
Should my toes touch the end of my shoes?
Not really. I suggest you to have minimum half inch space at the toe end. It feels comfortable, keep your nail pressure free and safe.
What should I do if I have already bought a bit bigger or wider shoes?
I suggest you to wear a thick socks to get rid of this problem or you can get another pair if you don't have a budget problem.
Final word
Are peloton shoes true to size? As explained above, peloton shoe sizing is true if you have standard or semi-narrow feet, but this is dependent on the individual user. Some will have them perfectly matching their normal shoe size, while others have to size up or down.
What matters most is that your feet are comfortable during your spinning and cycling workouts. Going for a shoe that hugs your feet completely for stability, yet leaves some breathing space to ensure your toes are not clogged together will serve you best.
Related: