The Peloton Altos cycling shoe is Peloton's most recent and currently Peloton premium cycling shoe. It has all the features you would desire in a cycling shoe, except probably the fact that it is not a fit for people with Very wide feet.
So, let's go through
all the features,
advantages
disadvantages
Rider Experience of Peloton's finest cycling shoes;
Reasons to Buy
Super comfortable
Less stiff than the regular Peloton shoes
Highly breathable and moisture-wicking
Excellent power transfer
Highly durable
Comes with compatible Look Delta cycling cleats
Suitable for both the Peloton bike and the bike +
Reasons to Avoid
Limited to narrow and normal shoe sizes
More expensive than most standard cycling shoes
Only three hole cleat system that Spd cleats and pedals not support
Technical Specifications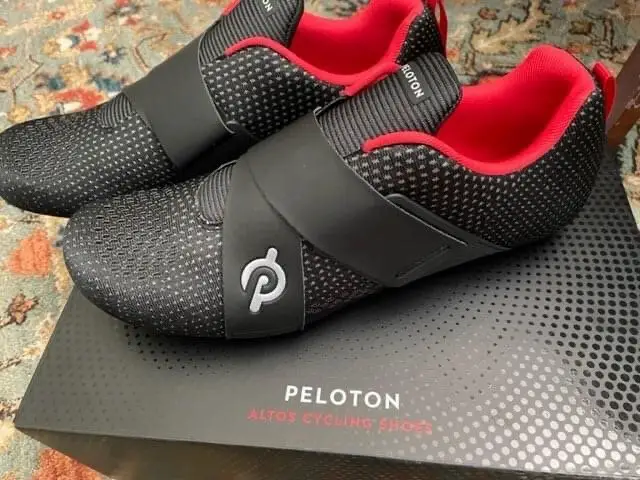 Weight: Lightweight
Outsole: glass-filled nylon
Upper material: woven jacquard mesh
Colors: black and red
Closure: single hook and loop strap
Cleats: Look Delta (a set is available in the shoe package)
Note: The new Peloton Altos cycling shoes and standard shoes are available on Amazon now.
Who Should Buy this Cycling Shoe?
The shoes are made explicitly for the Peloton bike and bike +, hence suitable for the Peloton riders. This shoes made for comfortable using and so much BREATHABLE and LIGHTWEIGHT. So who want first priority for comfort and keep feet always cold this shoes are perfect. And this shoes are easy to put on and take off than regular peloton shoes.The optimal power transfer makes it perfect for people training to enhance their cycling output.
Who Should Not Buy This Cycling Shoe?
The Peloton Altos cycling shoes are not for cyclists with wide feet since they run narrow to standard in sizing. Peloton altos cycling shoes only have 3 hole cleat system that only look delta pedals and delta cleat compatible that are using Peloton. So it,s not compatible with spd cleat and pedals. If you are a SPD lovers it's not for you.The shoes are also not the first option for people on a budget, especially since there are cheaper and more convenient alternatives. Related: 5 Best Peloton Shoes for Wide Feet: No More Numbness!
Design And Aesthetics Of Altos Peloton Shoes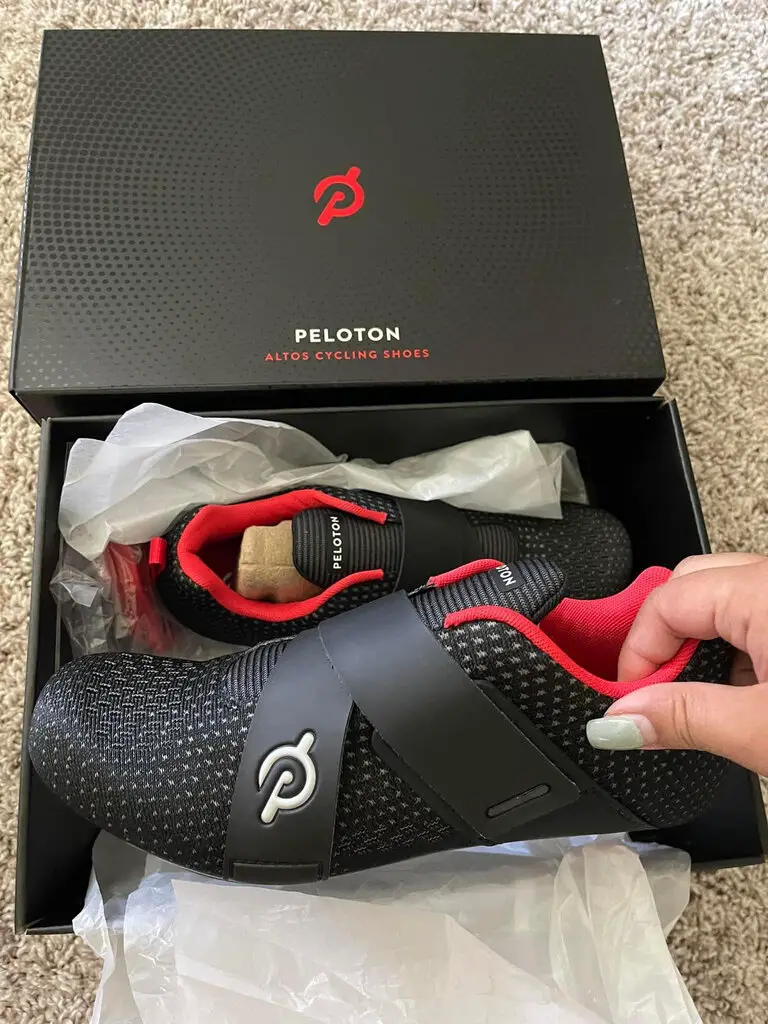 At a glance, the Altos will give you the impression of highly breathable cycling shoes, an area in which they don't disappoint. After all, the exterior is knit jacquard mesh, which couples with strategic vents all over the shoes. The shoe interior is waffle mesh, which facilitates maximum moisture-wicking capacity. With all these feature combinations, the shoes keep the feet cool throughout the ride.
Moreover, the material combination gives the foot a comfortable, sock-like fit and snug. It feels feet-friendly and therapeutic for long rides and has been confirmed to be more comfortable than the Peloton regular cycling shoes.
Generally, the shoes have a sleek cycling shoe outlook, with its Peloton signature design adding to its elegance. Then there is the V-shape design at the top of the shoe, which the single hook and loop retention creates. Finally, the colors are a combination of black and red, while the Peloton logos are in a conspicuous white color.
Rider Experience of Peloton Altos Biking Shoes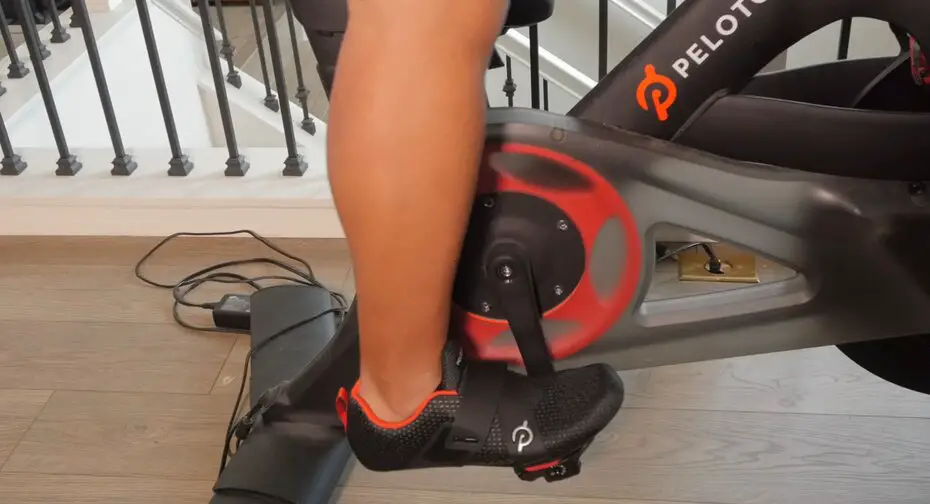 Essentially, the shoes are designed to improve the user's peloton cycling experience. The single strap hook and loop closure system facilitates ease in putting on and taking off the shoes.
The feature comes in handy for users who take bike Bootcamp classes, where you need to change the cycling shoes in between a session. It is also great for senior riders as well as pregnant mothers who are looking for a simpler way to get the shoes done. Other than the retention, the shoes have a firm heel strap with an opening, which fits in a finger or two to help secure the foot into the shoe.
Moreover, the shoes come with compatible Look Delta cleats, which save the user from having to look for extra matching cleats. There are vertical numbers on the shoe's cleat plate that ease the installation process. With well-fitted cleats, the shoes are easy to clip in and out of the clipless pedals. Actually, the manual recommends that you don't use a lot of force to clip in, while clipping out just calls for a kick of the heel away from the pedal.
Over and above that, the shoes guarantee comfort during rides. The interior is waffle mesh, which is soft on the feet, even with light cycling socks. It extends to the edge of the heel, giving the foot comfort from the soft toe box to the soft heel pad section. Add that to a snug fit from the shoe design and retention, and you might just start taking longer cycling classes.
Peloton is competitive, and a live Leaderboard doesn't make it any better. However, excellent power transfer would make you look forward to the same Leaderboard. The Altos feature a glass-filled nylon outsole, which is rigid to facilitate maximal power transfer. Coupled with the three-hole cleat Look Delta design, the shoe offers ultimate power transfer.
Last but not least, the new Peloton shoes are highly durable. While their warranty lasts just one year, the superior material combination gives you a more extended assurance. Besides, the shoes are not suitable for walking around, which, though a con, is good for their durability.
Value for Money of Altos Cycling Shoes
Peloton Altos is a high-end pair of cycling shoes, a premium option even in Peloton. Nonetheless, it features high-quality composite material and features, hence a better experience worth the cost.
However, Peloton is still yet to come up with a shoe that accommodates wide feet, which is an issue among the Peloton riders. Also, other than in the case of stiffness, the standard Peloton shoes are a cheaper yet amazing alternative.
Is The New Peloton altos cycling shoes True to Size?
Yes, the Altos can be said to be true to size, at least compared to the original Peloton cycling shoes. More people with narrow and standard foot sizes review that the shoe fits great at its true size. Others say they had to size up half to one size to get the best fitting. However, they are still best suited for people with narrow and standard feet sizes.
Related: Are Peloton Shoes True to Size? Know Before You Buy!
Should I size up these shoes? If you have narrow feet, the shoes will fit true to size. However, for standard feet sizes that tend to be wide, you should size up ½ to 1 for the best fitting.
Is Peloton Altos Better than Regular Peloton Cycling Shoes?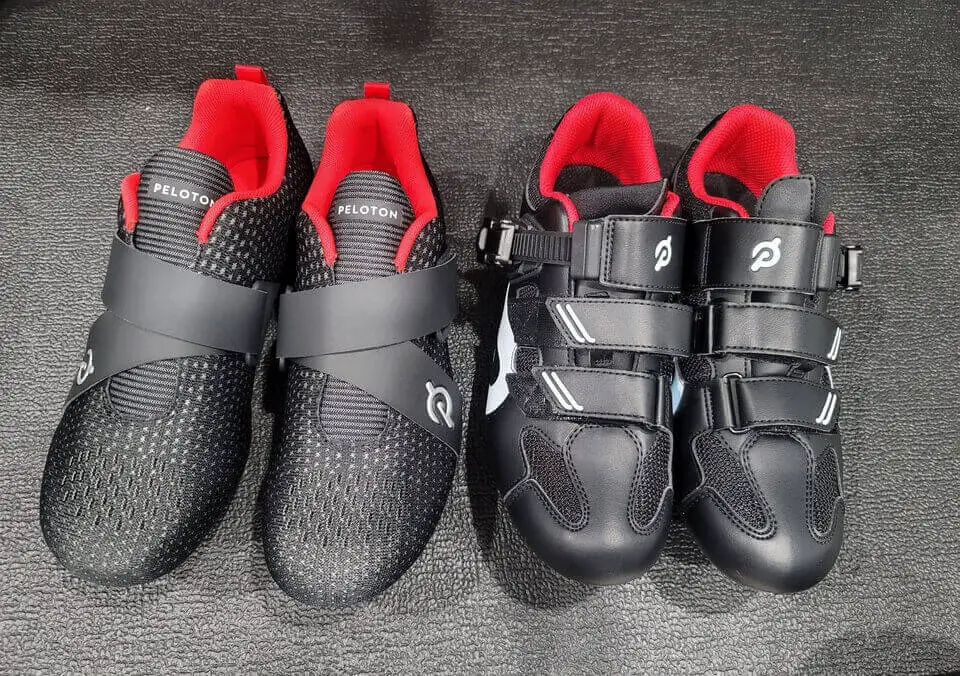 Well, the Altos are better than the regular Peloton shoes in some aspects. For example, it is less stiff, more breathable and generally more comfortable, say, like the Nike Super Reps.
Related: Peloton Shoes Vs. Peloton Altos Cycling Shoes: which one is perfect?
User Reviews of Peloton cycling shoes (Altos)
Currently, Amazon rates the Peloton Altos cycling shoes at 4.5 out of 5, with ¾ of the reviews being 5-star. Users say that they love the aesthetics and that they are easy to clean and elegant, while the shoe is overall comfortable. However, the negative reviews indicate that the shoes are unsuitable for wide feet and they also easily scratch.
In a Nutshell;
Peloton Altos cycling shoes have exquisite anaesthetics, which blend in with their comfort. The ease of wearing and putting off the shoes has improved the experience in bike Bootcamp classes, while users with sweaty feet find the shoes more accommodating. Though expensive, most users indicate that they feel the shoes are worth the cost.
Related: