I am considering purchasing the Peloton bike, but am having a really hard time committing to the monthly fees because I like to change things up. If I would choose to not subscribe and just ride the bike, do I get any metrics without the subscription? I have had this thought in the past. That time I researched and learned how to use a peloton bike without a subscription.
Definitely! You can use the Peloton bike without a monthly subscription if it is more convenient. However, there is a catch; you can only access three on-demand classes and the Just Ride feature which displays your performance metrics if you opt for the no-subscription ride.
Then, you will miss out on the extensive library of on-demand classes, live classes, an interactive community, scenic rides, and, most importantly, recording your metrics.
Nonetheless, it is a great choice to have, especially when you have months when you will not need that many classes or when you are low on budget.
You could use the digital app with a tablet, which would be cheaper, than a full subscription. I have been on a bike that didn't have a subscription. I used the app on my phone. It was really frustrating. It's still a great piece of equipment, but you're really missing out on a lot of the bike isn't activated.
Continue reading to discover how to use a Peloton bike without a subscription.
Peloton Bike Features You Can Access Without Subscription
As a whole, you can access a few bike features on Peloton if you don't have a monthly subscription at all. These features are;
The Just Ride feature
3 on-demand classes that are pre-chosen for you
The Peloton bike will measure the same metrics during a Just Ride as it would during an on-demand or live class. That is,
What is Just Ride? The Just Ride Feature is a feature on Peloton that allows you to ride freely, without any instructor. The feature has options for changing cadence and resistance, and it also records the calories burned and the general output for the ride. However, the metrics from the Just Ride feature do not reflect in your recorded metrics and output. Usually, the Just Ride feature is available even without a Peloton subscription.
A Guide for Using Peloton without Subscription
Basically, you will use your Peloton bike without a subscription using the following process if you are a beginner;
Connect your bike to a power source and power on the touchscreen.
Register with the account you used when purchasing the bike, though this is not really necessary if you don't intend to take on a subscription sooner.
You will find the three on-demand classes and a Just Ride option on the screen.
Click on your best option for a Peloton start and enjoy a spin class on Peloton.
Peloton Bike Features You Will Miss Without a Subscription
While riding without a subscription on Peloton seems like an attractive option, you will lose the real meaning of the bike without a subscription. After all, the features you get are the exact features you would enjoy if you bought a cheaper spin bike, saving the cost altogether.
So, what features make the Peloton bike a Peloton and are only activated by a monthly subscription?
All Peloton Live and On-demand Classes: The Peloton subscription opens the Peloton library, which has both live and on-demand classes in a broad spectrum of categories for choice.
Access to Other Non-Cycling Classes: There are yoga, meditation, strength, outdoor and cardio classes you can benefit from when not biking.
A Guiding Instructor: Peloton instructors are friendly and guide on important cycling factors such as proper form and best classes for different exercise goals.
The Leaderboard: The Leaderboard gives unlimited users a competitive advantage that helps improve output and adds fun to the classes.
Scenic Rides: Scenic classes take you through different cycling routes and get you enjoying an outdoor adventure while still in the comfort of your home.
What Are the Benefits of Using a Peloton Bike Without a Subscription?
Sometimes Peloton users find both Peloton subscriptions either unaffordable or unnecessary. If you find yourself in either of these situations, you can choose to look at the bright side of riding a Peloton bike without a subscription. Let's go through the most difficult to ignore;
Ride at Your Rate: Paying for a subscription means that the better part of your classes is instructor-guided. Unfortunately, the rate at which the classes run may not match you. They are either too much or less than you want to achieve in a class. Without the subscription, you can take on the Just Ride option, where you train at your rate and stop at will, depending on your riding experience.
Excellent Option for Beginners: If you just bought a Peloton bike to succumb to the pressure of owning one or probably want to start spinning, you probably have no idea where to start. You don't even know whether you will enjoy spinning. In this case, starting off with minimal costs, such as free rides, is an excellent idea. Without a Peloton subscription, you will still have access to three classes, which you can use for training. And when you just want to be alone, the Just Ride feature is available for use.
Great for a Tight Schedule with Minimal Workout Time: There are times when you have a heavy workload, which you know will take a month or so. In such cases, fitting in a class may be difficult. However, you can skip the subscription and use the three free classes whenever you have time. Working from home will also blend with the Just Ride feature, where you just pedal at your rate while in a virtual meeting or while working from your laptop.
Ride with Other Fitness Trainers: Most of us buy a Peloton bike because we want the trainer and community experience that Peloton offers. However, others want some time off the Peloton instructors. You probably have a personal trainer or got one on an app you want to train with for some time. In this case, you can fail to pay the subscription, and then use the Just Ride feature for other spin training options.
Peloton Bike Subscription (All-Access) Vs. Peloton App
The digital app membership is cheaper, at $12.99, compared to the all-access membership, which costs $44.
Also, the digital app only has a single account, while the all-access subscription allows multiple accounts on the same bike or treadmill.
Nonetheless, members have access to the vast library of live and on-demand Peloton classes regardless of the subscription. They can access the bike classes, as well as non-bike classes such as strength, Tread, yoga, meditation, and cardio training.
Essentially, the Peloton all-access subscription is for Peloton bike and treadmill owners. They are able to access all Peloton classes, including the Just Ride and scenic rides that are not available for digital app members. The membership also allows members to compete on the Leaderboard, a feature that is exclusive to all-access members.
On the other hand, the digital app membership is primarily for users without a Peloton bike or treadmill. It can be used with other brand bikes and treadmills or even without equipment.
Can You Use a Peloton Digital Subscription with the Peloton Bike?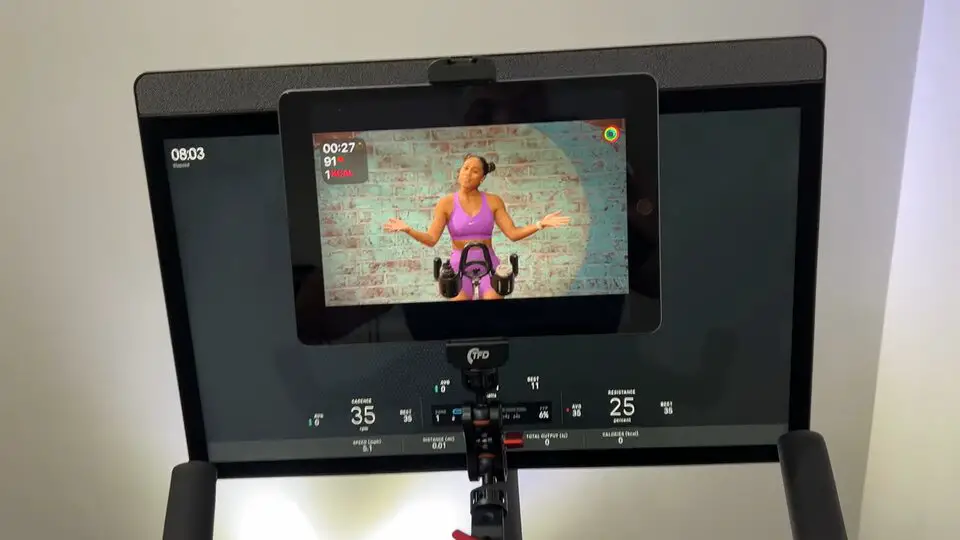 Yes, you can. If you want to avoid the hefty cost of the unlimited subscription, the digital app, which is $12.99, is the best option for maintaining the live and on-demand Peloton classes. However, you will require an external screen like a tablet or phone on your bike to stream the digital app. Because Peloton bike's screen only supports all-access membership.
For more details read this article: Can I Use Peloton Digital App with Peloton Bike? Yes, You Can. How?
Tips for Using the Peloton Bike Without Subscription
Using the peloton bike without a subscription can be tricky, given minimal guidance. One would require ultimate discipline to take a class for predetermined durations and determine cadence and resistance.
For this reason, I have a few tips that you could use to kickstart your sessions without a subscription;
First, determine your workout goals. For example, you will need more cadence for weight loss and more resistance for a leaner outlook.
Then, set a workout timetable, regardless of how tight your schedule is. Ensure that you can exercise for the minimum amount of time you set in a week to maintain body fitness.
Wear your heart rate monitor as you would in a regular class, and track your heart rate zones. Maintain optimal heart rate zones depending on your workout goals. For example, ensure you use at least 20% of your heart rate to enhance your weight loss goals.
Join the Peloton forums on social media, which will give you helpful tips and help you ask questions, especially if you are a beginner.
Ensure that you occasionally use the three free classes to set the pace for your workout schedule.
Always start with a set cadence, then adjust the resistance accordingly. For example, a cadence of 80 or 100 with varying but effective resistance level ranges.
Is The Peloton Subscription Worth It?
Ooh yes! The Peloton subscription is worth it and the best way to gain from Peloton. You get all types of classes with a subscription, from bike to non-bike classes, live to on-demand. You also get a competitive community to will want to ride with and succeed in workout goals together.
Besides, when you think about it, the Peloton monthly subscription is cheap for a spin class, especially if you commit to multiple live classes that resemble studio classes.
Peloton Subscriptions
It goes without saying that Peloton has among the most expensive bikes and treadmills. On top of the expensive machines, you are expected to subscribe to monthly payments in order to access Peloton content, which is virtual.
The monthly subscription cost at Peloton is $44 if you have a Peloton bike or treadmill. The good part is that you benefit from everything Peloton offers, from accessing all Peloton content to being part of the competitive Leaderboard community. Also, note that this membership is unlimited, so you can have multiple accounts on the same bike. So, if you have a household with more than one person, it will be more than worth the cost.
Nonetheless, you can also opt for a limited digital app membership with the Peloton bike, though you would have to use a personal device such as a phone, a laptop, or a tablet. You will love the digital membership because it also allows you to access all Peloton content, except the scenic rides.
The digital membership only allows for one account and costs only 12.99 bucks, which is way less than the unlimited membership. However, you also have to deal with not being able to compete on the Leaderboard.
Are There Charges for Foregoing a Peloton Subscription?
Amazingly, Peloton does not have any subscription cancelation or pausing fees. Therefore, whenever you feel that you need to skip a subscription, you can always pause the autopayment for the duration. And when you are ready to resume the paid option, you can as well resume without any additional costs.
FAQs
Can You Share a Peloton Bike Subscription Plan?
Yes, you can share a Peloton subscription plan if you have the all-access membership, which costs $44. Your whole household and visiting friends can benefit from your peloton bike or treadmill, reaping all the Peloton subscription benefits.
Can You Pause Your Peloton Bike Subscription?
Yes, you can pause your Peloton bike subscription at will. However, you have to pause the membership before a monthly membership is over to ensure that you don't get your membership auto-renewed.
Once you cancel your subscription, Peloton will not deduct payment from your credit card; you can use the free-riding options available.
Is a Peloton Subscription Per Person?
Peloton subscription has unlimited accounts if it is an all-access subscription, which means that multiple people can use the membership plan. However, the subscription is per person if it is a digital app subscription, so only one account can use the membership.
Final Word
You can use the Peloton bike without a subscription, but you would get limitations to a few classes and the Just Ride feature. This makes it easier to go on holiday or take extended breaks off the bike without completely neglecting your body fitness.
However, note that the Peloton all-access subscription is the best way to get the benefits of owning a Peloton bike.
Related: