A heart rate monitor is an excellent indicator of cardio fitness level and gives you a more accurate calorie count. I can't ride without mine! However, as excited as you want to connect your Heart-rate-monitor to Peloton, it is sometimes not as seamless as we imagine, especially without the know-how. For this reason, a clear-cut guideline always comes in handy.
In this regard, we will discuss connecting an HRM(Heart Rate Monitor) to a Peloton bike, tread, and app, and also Peloton HRM Troubleshooting and maintenance measures.
Connecting A Heart Rate Monitor With The Peloton Bike and Tread
Peloton bikes, treadmills, and digital apps connect seamlessly to the Peloton heart rate monitors. On top of that, I love the fact that your heart rate monitor does not have to be a Peloton heart rate monitor to be compatible with Peloton. Instead, a Bluetooth heart rate monitor connects to the app, the bike, and the treadmill. Moreover, the Peloton bike and the treadmill are also compatible with ANT+ heart rate monitors.
How to connect Peloton heart rate monitor or any other heart -rate monitor to Peloton Bike and Peloton Tread;
First, put on the heart rate monitor appropriately. If it is a chest strap, wet the sensors to enhance the sensitivity. Be sure the sensors are completely in touch with your skin.
Ensure that the heart rate monitor is in pairing mode. Some will show a different colour, and others will blink rapidly as they await the connection.
Then, navigate the heart rate monitor with your bike or tread. Go to your Peloton screen and Start by clicking on the three dots at the top right corner, which will lead you to a menu. Select the heart rate monitor modal to set up the HRM.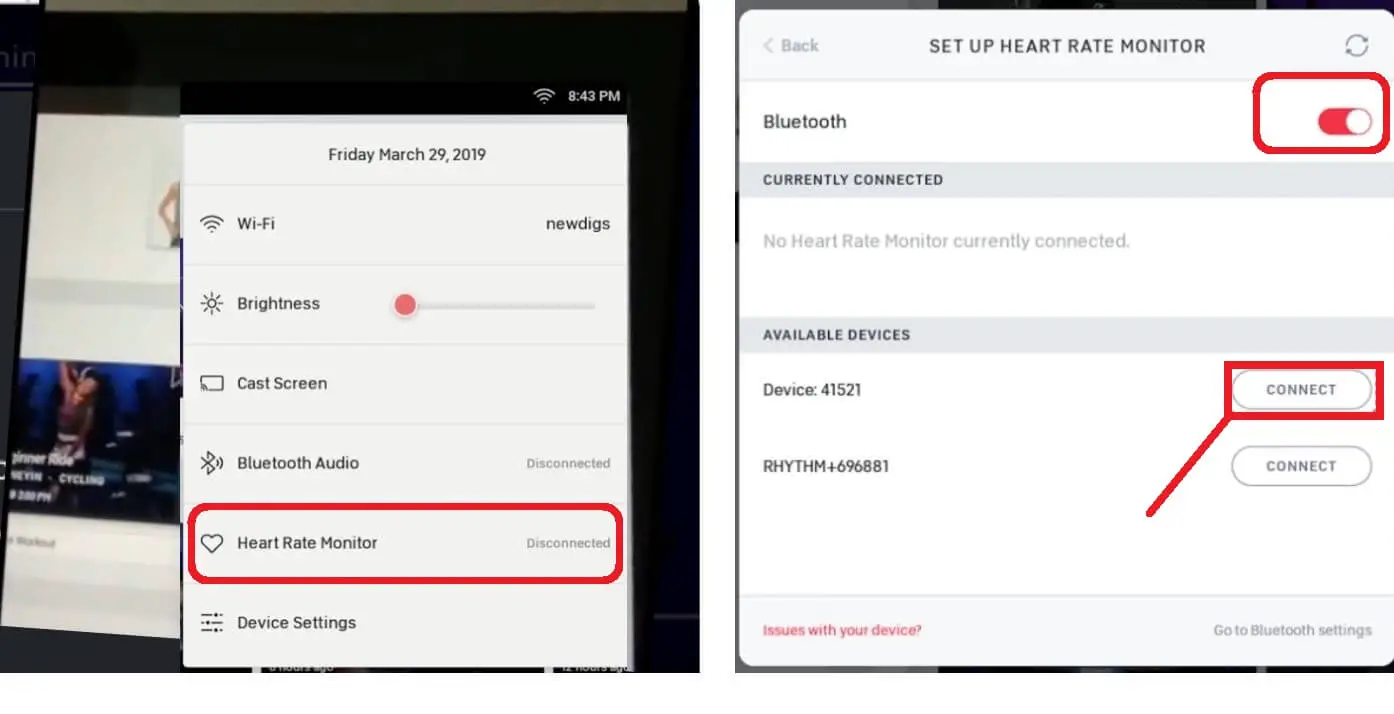 Alternatively, join a Peloton class, and below the class, the description will be a heart rate modal. Tap on "Heart Rate Monitor".
And also, ensure that your Peloton Bluetooth is turned on. If your heart rate monitor does not support Bluetooth, please check that it supports ANT+. Peloton also connects with ANT+ compatible heart rate monitors.
Next, click on connect to send the bike or treadmill to pairing mode. Your heart rate monitor name should appear in the list that follows underneath the hrm modal. For example, if your heart rate monitor is ANT+, a series of numbers will appear. In addition, Bluetooth heart rate monitors show by name or brand. [Note: If your Heart Rate Monitor is not displaying on the list, click the refresh button on the top-right of "Set Up Heart Rate Monitor" screen.]
Click on your heart rate monitor representation, and get ready for a connection within seconds.
When the connection is successful, the HRM setup will read 'Connected,' indicating that you had successful connectivity. Join a class to see the metric for your heart rate in the upper left-hand corner on your Peloton screen.
How to Connect Heart Rate Monitor to Peloton App
The good news is that you can also connect your Bluetooth heart rate monitor to your device even when you are a digital app user. Let's get into the processes involved;
Connect heart rate monitor to peloton app for Android;
First, ensure that you turn on the Android device's (phone, tablet, or other) Bluetooth and enable location services.
Then, get into the Peloton app and log in.
Start any class to see the heart rate monitor icon and click on the heart rate monitor icon on your app.
When you click on the heart rate monitor option, Peloton will prompt you to enter your birth date. The birth date helps place you in heart rate zones before taking an FTP power zone test.
The Peloton will be in pairing mode, and you should ensure that your heart rate monitor is in place on your body.
Click on the heart rate monitor name, which will appear on your Peloton app device.
The connection should take a few seconds to complete. A green approval sign will correspond to your heart rate monitor to indicate the connectivity.
Connect Heart Rate Monitor To Peloton App for Ios
iPhones and iPads do not have the physical hardware inside to receive ANT+ signals. So iOS devices are only compatible with all Bluetooth heart rate monitors as in the process below;
Firstly, put on your heart rate monitor, wetting the sensors with sweat or water where necessary.
Log in to Peloton App and Start any class to see the heart rate monitor icon and click on the heart rate monitor icon on your display. Next, click on the Bluetooth option and enable it.
The Peloton app will connect to your heart rate monitor in a matter of seconds.
Please note: your heart rate will not appear on the TV when using airplay through the Peloton app.
Heart Rate Monitor Troubleshooting
1. My Heart Rate Monitor still does not connect
If your heart rate monitor fails to connect following the above procedural steps, try the following;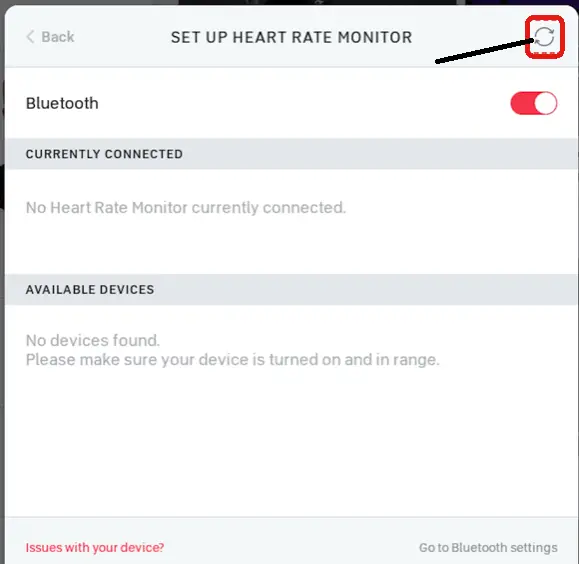 Refresh the peloton icon on the heart rate monitor setup (top-right corner of the Heart Rate Monitor wizard on peloton bike and tread screen.) [Note: Tap the refresh button, then wait until the refresh animation is done spinning before you do it again, if you need to.]
Recharging your heart rate monitor
Disconnecting the heart rate monitor from other Bluetooth or ANT+ devices and only leaving Peloton.
Wetting the heart rate monitor sensors, especially for chest straps during installation.
2. There are no lights on my heart rate monitor during connection.
If you wear your heart rate monitor and don't see any change, or when there are no light changes during the connection, try recharging the batteries. The heart rate monitor could be off or going low on battery.
However, if the battery charging does not change the situation, it is time to change your heart rate monitor batteries.
3. Incorrect Heart Rate Monitor Reading
Sometimes you may go through the connection process successfully, but the readings are inaccurate. In this case, you should try wetting the gray sensors, usually at the sides of the heart rate monitor grid.
Other than that, ensure that you have placed the heart rate monitor in the correct setup position(Check that the sensors are completely in touch with your skin). Usually, the hrm chest band should lie on your sternum, while the armband is on the wrist, arm, or forearm.
Got from onepeloton: For chest strap models, please note that the leads should be slightly wet in order to best pick up your heart rate. You can dip your finger in water and gently wet each lead before putting it on, or just put it on after you've already worked up a sweat.
Can You Replace the Heart Rate Monitor Battery on Peloton?
Yes, you can replace the batteries on your heart rate monitor.
How to replace the Peloton heart rate monitor batteries?
First off, remove the back cover on your heart rate monitor using a coin turned on a flat object in the hrm groove.
Then, remove the battery in the heart rate monitor, and install a new pair in the same manner as the previous pair. Usually, the positive sign will face outwards. (The Peloton Heart Rate Monitor uses a 3V Lithium battery model number CR2032 that you can buy from Amazon or a local hardware store).
Finally, put back the heart rate monitor cover.
How Do You Keep Your Heart Rate Monitor Battery Longer?
Once you are through with a class, ensure that you detach the band from the heart rate monitor. It will help keep the battery longer and clean the chest or armband safely.
Do Peloton bikes or treadmills pair with other heart rate monitors?
Yes, they do. Peloton bikes and treadmills are not limited to the Peloton heart rate monitors. Therefore, you can use other heart rate monitors to sync your metrics to your Peloton equipment. Your only consideration should be that the devices are either ANT+ or Bluetooth for compatibility.
Can You Read Peloton Heart Rate Metrics on the Peloton Digital App?
Yes, you can. Using the Peloton digital app does not prevent you from using a heart rate monitor. However, unlike the bike and treadmill tablets, your digital app device may only be limited to Bluetooth-compatible devices.
Do Heart Rate Monitors Auto-Connect to Peloton?
Yes, they do. Once you have gone through [one of the above processes, the next time will be simpler. You will only turn on the Bluetooth feature on Peloton, then put on the heart rate monitor, and pair the two.
Conclusion
How to use a heart rate monitor on the Peloton bike, tread and app are all about prior tips and procedural knowledge. It doesn't take more than a couple of minutes, and more interestingly, once you pair the heart rate monitor, the subsequent processes are easier. Most heart rate monitors will reconnect automatically after the first connectivity with the Peloton equipment or app.
Read Also: