Absolutely! Orangetheory Fitness has lockers and showers in all their studios. The showers are not crowded in most cases, while the lockers are more than enough for any particular class.
And, while most people are not into public bathrooms and showers, Oranegtheory has made theirs so comfortable that you don't feel awkward or odd. And there is always a way of identifying empty lockers without trying out every other locker in the section.
Let's look into this and more about Orangetheory lockers and showers;
How Are Orangetheory Showers?

Orangetheory showers allow members to clean up their sweaty selves after the strenuous 60-minute exercises. People who need to go straight to work or be somewhere other than home after class can always utilize this amenity.
Overall, Orangetheory showers are private, which facilitates convenience and comfort. In addition, they are large, with an area where you can change, dry your hair and, make yourself if there is no queue in waiting.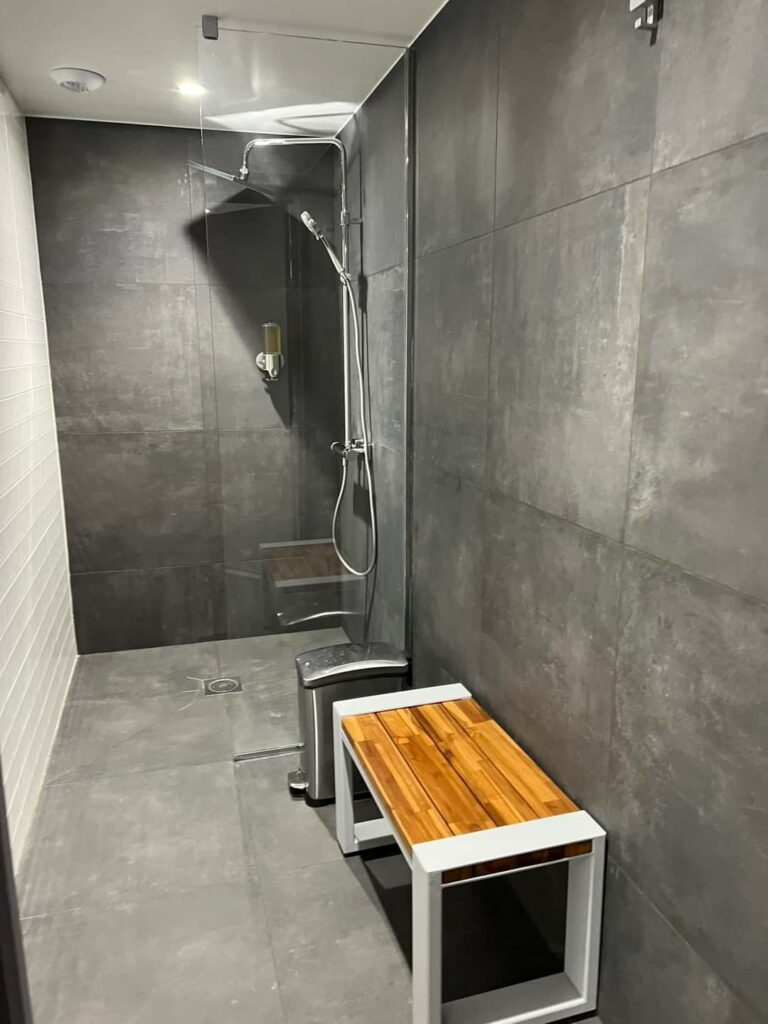 Moreover, the shower rooms are always spotlessly clean, which adds to their elegance.
Please don't worry about needing to shower after class. We have a lot of cleaning/end-of-night things to take care of so there is really no rush. I work in the evenings sometimes and we have a handful of people who shower after the last class and they're never holding us up! Plus, it's our job to be there for members. It never bothers me in the very few times we've wrapped up cleaning before they're done in the shower. Do what you need to do, using the shower and not feeling pressured or rushed is one of the benefits of your membership.

According to Orangetheory Coach and Studio Assistant
However, at Orangetheory, most showers are private and separated by gender. But in very few studios, unisex showers are available, primarily in less crowded areas.
Does Orangetheory Provide Shower Essentials and Toiletries Like Body Soap, Shampoo, etc.?
Yes, most of the Orangetheory fitness studios have provided!
Shampoo
Conditioner
Body Wash
Hair Dryers
Curling Irons
Deodorant
Lotion
Face Wash and
Other things.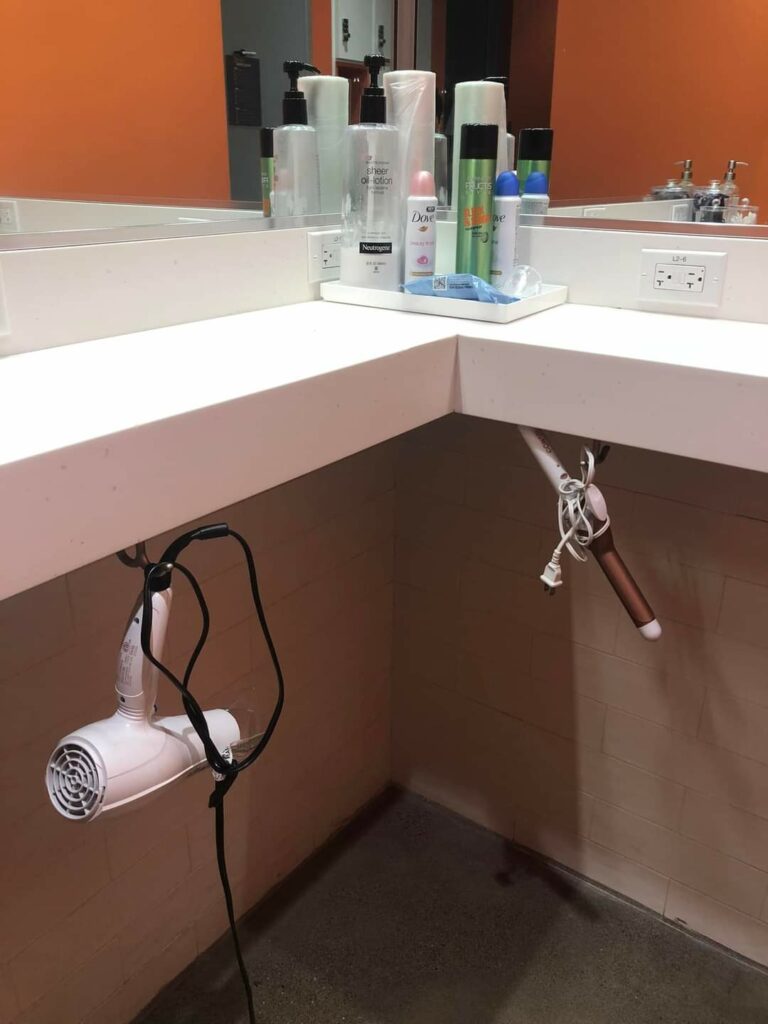 If your studio has gendered bathrooms, you'll encounter varying product offerings. Men's sections typically provide traditional essentials such as soaps, shower gels, deodorants, and shampoos. On the other hand, women's sections are often better equipped, featuring additional items like lotions, moisturizers, and feminine products. This ensures a more comprehensive range of personal care options for women.
Does Orangetheory Provide Towels?
In most studios, Orangetheory does not provide towels for members. They recommend members bring their own towel in a gym bag.
Some premium locations, usually larger studios in major cities, may offer standard shower towels as an added amenity. But this varies by specific studio.
Even when towels are available, many members still prefer using their own towel for sanitary reasons.
Paying extra for premium membership levels at select high-end studios may include towel service as a perk.
Portable towel options like microfiber towels are a popular choice for Orangetheory workouts since members need to bring their own.
So, in summary – while a few exceptional locations may offer shower towels, Orangetheory's general policy is for members to bring their own towel to each class for hygiene purposes. It's best to check with your specific studio if towels are provided. But most members find it preferable to pack their towel regardless.
Is Sign-Up Needed to Take an Orangetheory Shower?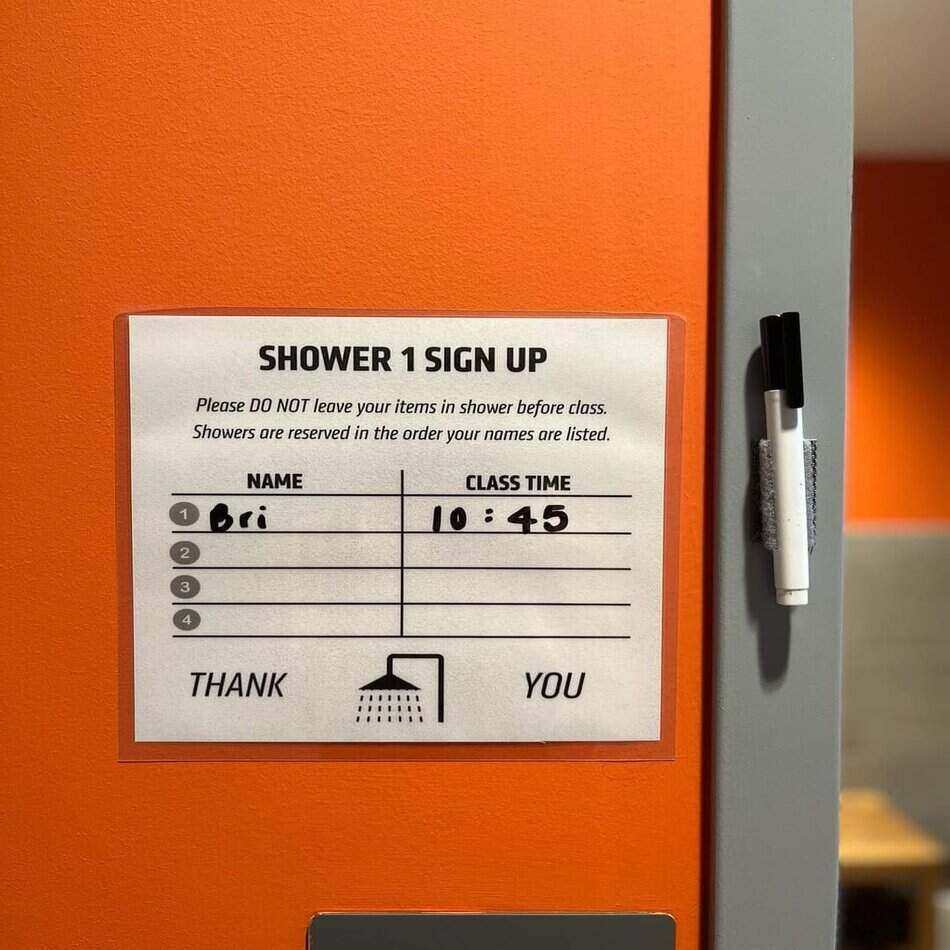 It depends from studio to studio. For example, I shower at the gym every day during the week. Our studio has a shower sign-up when you walk in. You pick your station and your shower at the same time. And other OTFs have a whiteboard signup on each shower door. If you need to shower, you sign up and your place is held while you work. If you do not find a sign-up board then ask the front desk for a sign-up sheet.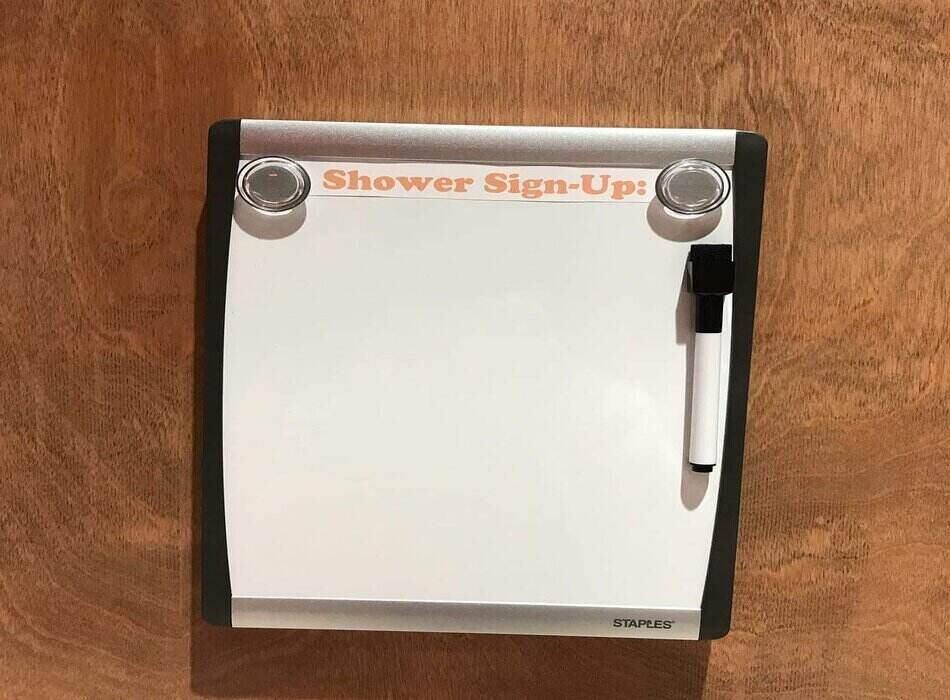 If the studio doesn't have a sign-up, the location is implicitly saying they are "first come, first served" with their showers.
Is there any specific etiquette I need to adhere to?
Sign up on the whiteboard outside of the shower you are using, including the time.
Do not store personal belongings in the shower room during class.
A gym shower is not the same as a home shower. Keep it brief, 10 min. Max in the shower room.
Shower only. Hair and makeup can be done at the beauty bar.
Limit the use of heavily scented lotions and sprays.
Note that:
Every Orangetheory studio has showers. But its facility will depend from studio to studio. One studio in my area has a massive shower facility with everything you need. There are also two unisex bathrooms. The other two don't have a whole lot.
My home club has separate body wash, shampoo, and conditioner. The one I visited had an all-in-one formula.
One studio is well equipped with shower essentials, but others are not well equipped.
Just remember to bring a towel, shower shoes, and your stuff for work. Just make sure to look outside once you finish showering to make sure no one is waiting. If no one is, I usually dry my hair and get ready there. Some studios are different, but mine doesn't have a hair-drying station. But many studios have beauty bars where you can dry your hair.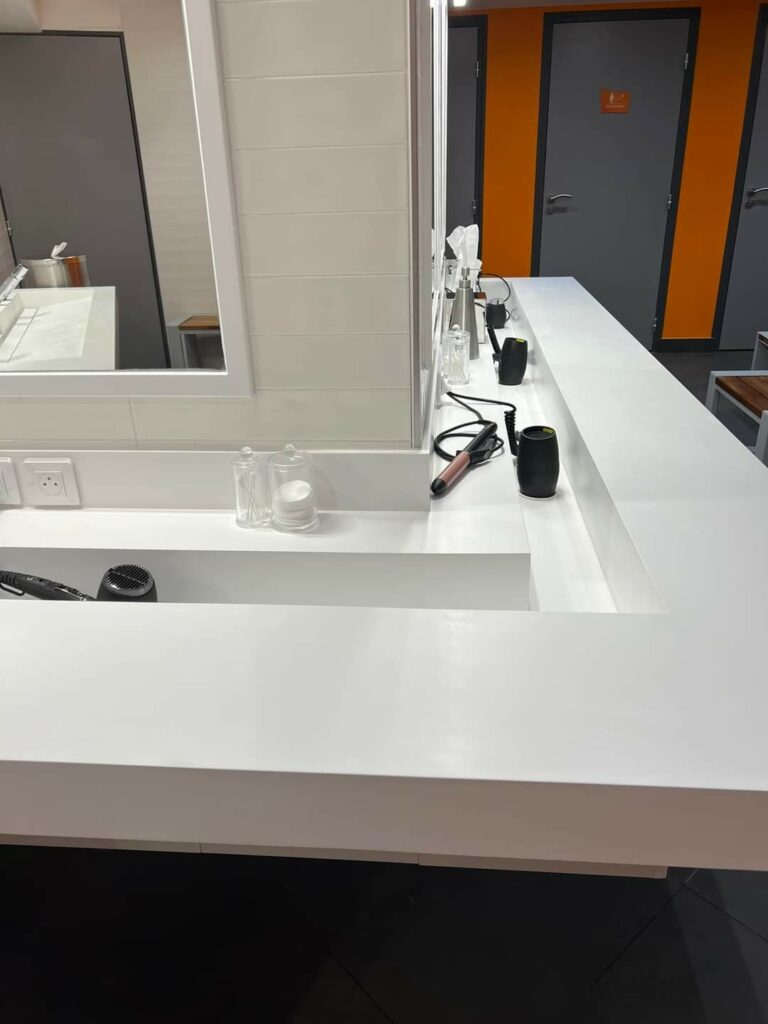 In this situation, contact your local studio and ask which facilities they provide.
Does Orangetheory Have Lockers?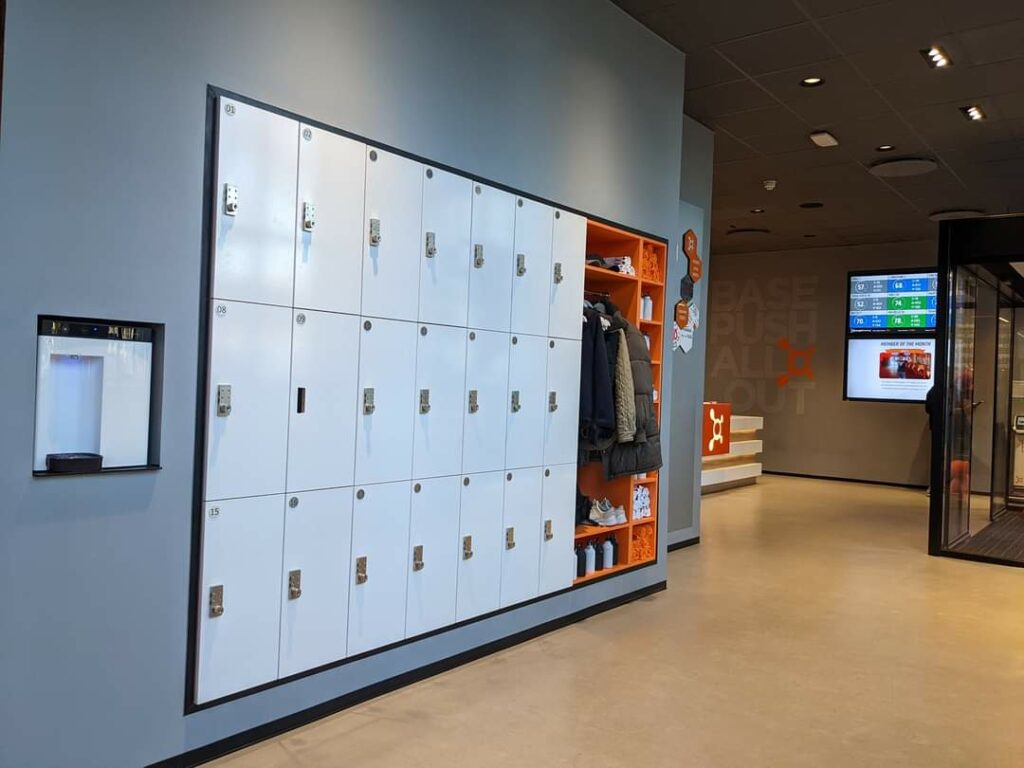 Yes, Orangetheory has public lockers, allowing you to leave your stuff behind when going to class. They are accessible to all members in Oranegtheory, regardless of their membership plan.
Typically, there could be orange locks that you pick just before getting to the lockers. Then, you look for the locker that doesn't feature the conspicuous Orange T, which means it is vacant. Next, you can choose your favorite spot, open the locker, and keep your duffel bag or other stuff inside. Finally, cross the Orange T on the locker, and you are good, too.
Other studios feature more secure codes for the lockers. The codes are adjustable depending on your personal preference, securing even your most valuable stuff.
Usually, the lockers are quite small. Therefore, you cannot consider them for bulky stuff such as playing bats and other large sports materials. Instead, they are made for general personal stuff you want to bring into the gym.
Tips for Showering at Orangetheory
As mentioned above, very few people use the showers at Orangetheory. Most have the option of going back home for a shower, while others just don't know whether it would be in their best interests to shower in the public shower rooms.
In this case, here are tips you have to consider to ensure that your best interests are at hand in the OTF bathrooms;
The showers have body wash, while others feature hair shampoos and conditioners. However, it would be best to wash your hair before coming to the studio so that the process will be simple.
Carry a towel with you in case your studio doesn't offer one or for instances where you can't stomach using a towel that others have used.
Ensure that you carry flip-flops or bathing slippers with you because they are unavailable in the showers. Also, it would be best not to get into a public bathroom barefoot to prevent instances such as fungal infections.
Take a maximum of ten minutes to shower and change so as to give time to others who are in the queue. There is always an option to finish your final touches in the general bathroom, which is also welcoming. You can also consider checking whether anyone is waiting to use the shower before you do anything more than you should in the shower room.
Check the bathrooms before you actually need to use them so as to consider the amenities available and those you would actually consider using. For example, some people would rather use the OTF towel than drive around with a dumpy cloth in their car, while others would prefer the opposite.
Lotions, facewash and other personal stuff are not a guarantee. Therefore, it is safe to always take them with you for the shower.
Finally, the showers are for freshening up after an exercise and not a place to relax or get into social media, among other leisurely activities that you could do outside the shower room. Always give consideration to others who may need to use the shower after you, especially if you were the first to go in.
Are Orangetheory Showers Good for Use?
Yes, they are more impressive than most of us would think of public bathrooms. However, you can always consider them as a first option when you have somewhere to be after the exercise, rather than stressing over time to go back home for a shower.
FAQs
Can you shower after the last class?
Yes, you can. I used to work the weekend night shift right next to my studio and always took a shower after the last class. If they were ready to go before, I finished my shower, they never indicated that. Not one hint. Because that's how he takes care of his members.
Is it weird to shower at OTF?
Not weird! I shower at OTF regularly and used to shower at OTF 3-4 times a week. It's not weird. Sounds like this isn't a problem at your studio, but make sure you're aware of how much time you're taking.
I also try to make sure I leave the place clean, make sure I don't leave my hair in the drain (I have really long hair), and always double-check I haven't left any products or anything.
Can I change my dress in the bathroom?
Yes, Orangetheory general bathrooms are also suitable for changing. The bathrooms feature handwash and a few general essentials, which help you prepare for work after a shower at the studio.
How long should I take in the shower?
You should take 10-12 minutes max.
Conclusion
Orangetheory Fitness studios have showers and lockers, which further add to the convenience of the classes. You can always leave home prepared for work and still pass by the gym. Most importantly, the showers and lockers are welcoming and worth considering.
Get More Info: