Believe it or not, the clothes you wear for a workout can make a difference in how you feel after exercise. Choosing the right clothing for Orangetheory can significantly impact your comfort and performance during the workout.
In this guide, I'll provide you with some tips and recommendations on what to wear for Orangetheory to help you feel comfortable, confident, and ready to tackle any challenge. However, while everything about Orangetheory is well-illustrated and the registration process smooth, the dress code is not as clear.
While some clothes may be considered inappropriate in some OTF studios, they may be perfectly fine in others, depending on the location. For this reason, it will be best to ask the studio about the exact dress code you intend to use before physically attending a class. Other than that, we have a list of clothes and footwear you should wear and a list of those you should generally avoid to OTF.
What is the Dress Code for Orangetheory Workouts?
Primarily, Orangetheory has three sets of workouts that include running/ walking on a treadmill, rowing/ cycling, and floor cross-training. Usually, your outfit should serve you through the three types of workouts. However, you can opt for cross-training outfits when going for the Strength-50 class, a strength-only OTF class.
Typically, most OTF gym wear is two-piece. Therefore, you will need tops and bottoms specific to the gym.
Gym tops include light t-shirts, tank tops, workout bras, and jackets.
Gym bottoms include exercise shorts, leggings, jeggings, and gym pants.
While different exercises require different sets of gym wear, you should wear neutral gym clothes for Orangetheory, given that the exercises are cut across different categories.
Most importantly, your outfit should be comfortable, as comfort is key;
The shoes, top and bottom wear should be moisture-wicking to avoid a soggy and sweaty outlook and feel.
The clothes should be fitting but not tight for optimal comfort and performance.
Remember that Orangetheory states that the clothes should be gym-appropriate, yet not offensive to the members. Therefore, the outfit you choose should not only be gym-appropriate, but it should not be offensive to attending members. For example, very short gym shorts for either men or women can be considered inappropriate for some OTF studios.
What to Wear for Orangetheory
For Women
For Men
For Both Men and Women
Other Important Accessories
Choosing the Right Workout Clothes for Orangetheory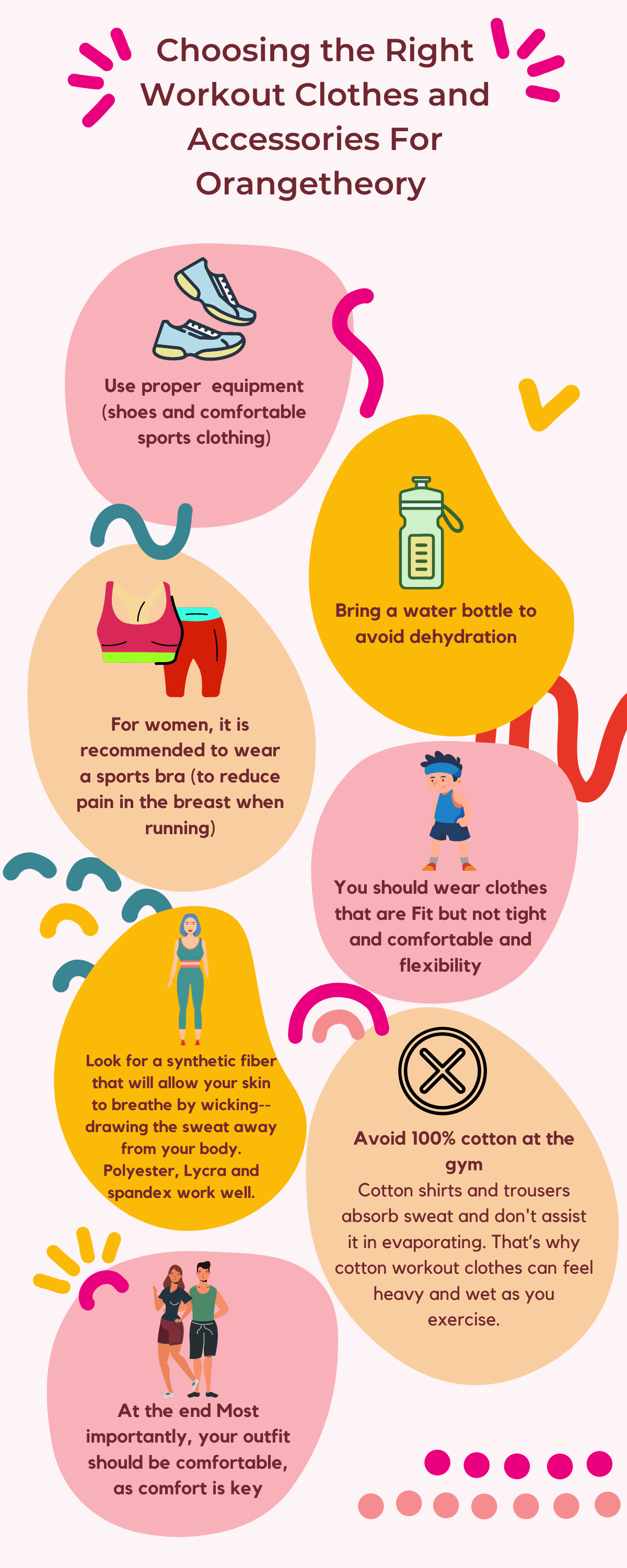 Below are some tips that will guide you in choosing the right workout clothes;
Cloth material: When looking for workout clothes, you generally want to consider three main factors:
Moisture management
Breathability
Feel and fit are important
Usually, it is essential to choose an appropriate workout material that is moisture-wicking and breathable. The material should also be stretchy to allow for flexibility. This will help you keep lightweight, sweat-free, and comfortable for all the OTF workouts. Most of these outfits are made of nylon or polyester, with a blend of spandex or a combination of the three materials.
Also a lycra and polyester blend is the most common type of cloth for gym wear. You also choose these clothes Clothing made out of fabrics containing polypropylene Or fabrics such as SUPPLEX® and COOLMAX® When you exercise and are likely to sweat a lot; these are a good choice because they let sweat evaporate from the skin without getting clothes wet.
On the other hand, while cotton may feel like a great option, it simply absorbs moisture and keeps it, bringing out a soggy and uncomfortable feel. So, Avoid cotton and opt for moisture-wicking workout gear.
Cloth fit: Ensure that you go for a size that fits you. Clothes and shoes that are too tight will limit your exercise or even tear when overstretched, while clothes that are too loose may get caught up in workout machines.
Cloth for the season: Different seasons demand different types of clothes, even gym wear. For example, in hot seasons, you can walk into Orangetheory premises in only a tank top and workout shorts. However, in cold seasons, you should add layers of clothes to keep warm and even cover your head, ears, and palms.
However, remember that while the outdoor weather could be chilly, you are bound to sweat in an OTF class. Therefore, ensure that you dress in layers so that you easily remain with comfortable clothes you can sweat in when the exercise climaxes.
What Shoes Should I Wear for Orangetheory?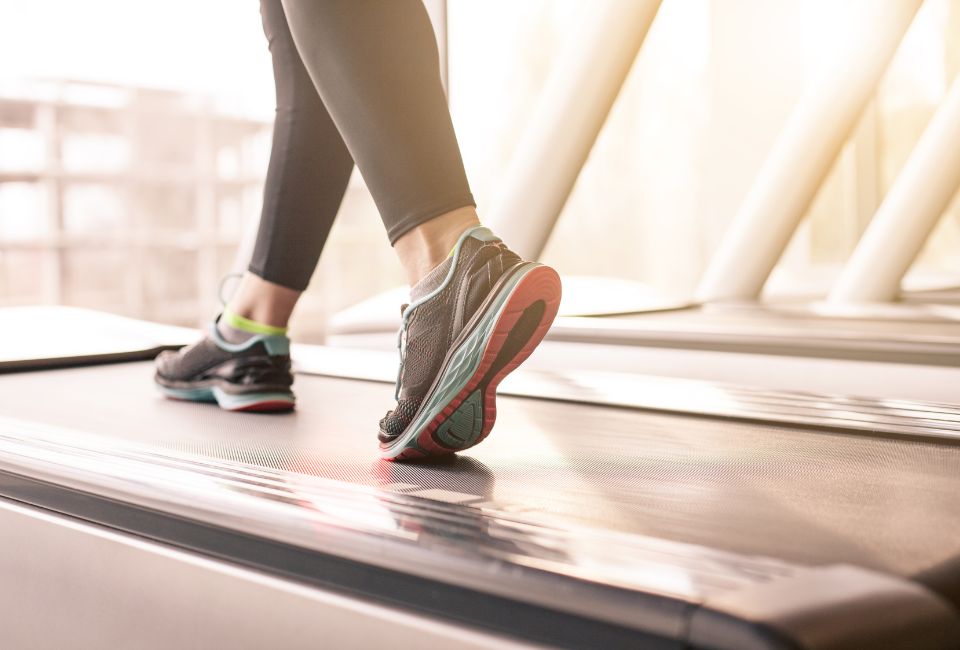 Choosing the right shoes for Orangetheory classes is essential to keep your feet protected and comfortable during the workout. It's crucial to prioritize finding shoes that offer support, breathability, grip, and light cushioning to help you perform the movements efficiently while minimizing the risk of injury.
Look for shoes that have a sturdy sole with good traction, breathable material to keep your feet dry, and light cushioning to absorb shock. Cross-training shoes or running shoes are excellent options, providing the necessary support and stability for lateral and forward movements. Invest in a good pair of shoes that fit well and prioritize the features that are essential for Orangetheory classes.
I already picked the 10 best shoes for Orangetheory from my experience. Here is this article: 10 Best Shoes for Orangetheory
What to Avoid Wearing to Orangetheory
Avoid wearing anything that feels too revealing because the studio is public. This will cause you discomfort and hence affect your performance. On the other hand, it may cause others in the class to feel uncomfortable, which may lead to the coach asking you to leave the workout.
Don't wear flip-flops, sandals, heels, or official leather shoes to the studio. These are not gym-appropriate, and neither are they comfortable for the exercises at OTF.
Avoid denim or 100% cotton-pure t-shirts because they turn soggy and uncomfortable during sweaty classes, affecting performance.
Long Pants: Especially those that could drag on the floor and cause tripping.
Avoid hanging jewelry: jewelry that hangs, such as neckpieces and long earrings, may get caught up in the exercise machines or even hurt you; hence, it is best not to wear it to Orangetheory.
What to Wear to OTF
Usually, the best clothes for Orangetheory vary between men and women as follows;
For Women
A) Sports Bra
Always ensure you put on a sports bra on its own or under a tee or a tank top. Whether you're running, walking, or exercising at the Orangetheory studio, a comfortable, supportive, and easy-to-put-on sports bra can make all the difference in your workout. The best sports bras have to endure stretching, yanking, and profuse sweating. My favorite sports bra is_
SHEFIT Sports Bra for Women
View On Amazon
Shefit Ultimate is the best one on the market. You can probably find a used one on Poshmark to try out too. I've been hooked for the last 5 years and have owned 8 or so of them so far!! They have adjustable bands and shoulder straps, front zip, and can be converted from racer back to tank-style. They are sportier looking, supportive, super comfortable and way easier to put on. Shefit always felt like a straight jacket.
You can also choose these. All are Available from Amazon
Champion Women's Sports Bra
View on Amazon
SYROKAN Women's Sports Bra
View on Amazon
Yvette Women High Impact Sports Bras
View on Amazon
B) Tank top/ t-shirt
Put on a sports tank top or t-shirt, usually made for breathability and moisture-wicking capacity to keep you dry and cool, even during the most intense sweat sessions.
You can choose them.
ICTIVE Workout Tops for Women
View on Amazon
Just My Size Women's Plus-Size Cooldri Tank Top
View on Amazon
Under Armour Women's Tech V-Neck Short-Sleeve T-Shirt
View on Amazon
C) Leggings
What should you look for in leggings? Get quality workout leggings that are moisture-wicking yet not-see-through, flexible, and comfortable for all OTF exercises. Also, consider the length of the leggings as well as the design to suit your preference. High-waist leggings accentuate your legs and bring out a smaller waist outlook.
You can choose one of them.
IUGA High Waist Yoga Pants with Pockets
View on Amazon
Ewedoos Leggings with Pockets for Women
View on Amazon
Lululemon Fast and Free Leggings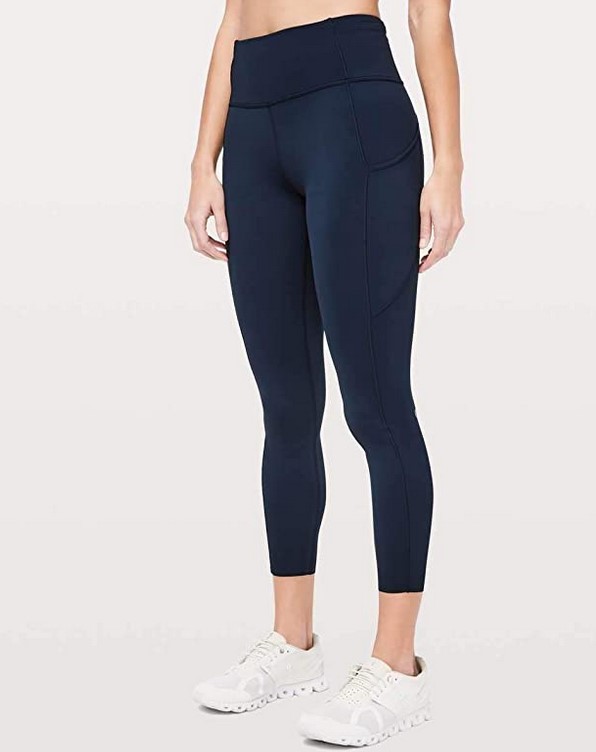 View on Amazon
For Men
A) Shorts or sweats:
Shorts are great and with optimal flexibility for men. However, during cold seasons or if one feels that shorts are too short in public, there are options to wear sweatpants for Orangetheory training. However, the pants should be manageable and short enough to prevent getting stuck in the treadmill, bike parts, or rowing machine.
Nonetheless, the bottoms, whether shorts or sweats, should be flexible enough, especially for floor training. They should also be moisture-wicking to prevent sweat from getting in the way of comfort.
Pudolla Men's 2 in 1 Running Shorts
View on Amazon
G Gradual Men's Sweatpants with Zipper Pockets
View on Amazon
B) Exercise shirt, t-shirt, or tank top:
The top should be breathable and moisture-wicking while flexible enough to allow for all types of body movements at the gym.
Under Armour Men's Tech 2.0 Short-sleeve T-shirt
View on Amazon
For Both Men and Women
A ) Shoes:
Since OTF has running and weight-lifting, each of which has a special type of shoes, you have to consider the shoes you wear. You can opt for shoes with the best traction for cross-training while getting excellently cushioned shoes for running. However, you can also get shoes that offer a cross between cross-training and treadmill training.
Over and above that, ensure that your shoes fit perfectly and are breathable and moisture-wicking. And hey! The shoes should be enclosed for safety and performance.
Related: The 10 Best Shoes for Orangetheory
B) Socks:
Go for lightweight, moisture-wicking, breathable socks that save you from a sweaty smell and hot points during and after exercise. Also, ensure that you also love the socks design, especially when you have to wear them from home to the studio.
C) Heart Rate Monitor:
Luckily for you, Orangetheory offers heart rate monitors, commonly known as the OTBeats, which are compatible with OTF systems. You can use an Apple Watch with an OTbeat-link, which also syncs with the studio systems. Orangetheory works on the premise of the heart rate zone improvement, hence essential, though not necessary, to get a heart rate monitor that syncs with the OTF system.
Related: Do You Have To Use Orangetheory Heart Rate Monitor, & Is It Accurate?
D) Headband/ hairband:
Your hair can get into your eyes and distract you from your exercise, especially in high-intensity exercises. Therefore, it is important to come with a headband or a hairband that will keep your hair away from your face, especially the eyes.
QiShang Workout sweatbands for Women Head
View on Amazon
General Advice
A) Towel:
Orangetheory is basically cardio-intensive, so you can be sure to sweat more than you probably knew you could. For this reason, you should carry a sweat towel to keep your face, neck, and hands dry during intense, sweaty exercises.
Acteon Microfiber Quick Dry Gym Towel
View on Amazon
B) Water bottle: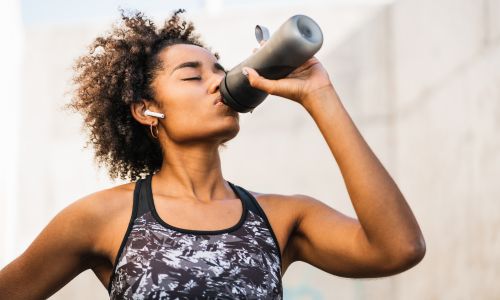 Carry a water bottle that you can refill mid-workout. Trust me; you will need that rehydration and cooling effect.
View on Amazon
Benefits of Wearing Proper Attire to Orangetheory
You will minimize injuries, sores, and blisters.
Wearing light and moisture-wicking clothes prevents embarrassment and discomfort from stained and soggy clothes, building confidence and self-esteem.
You will perform optimally when your clothes and shoes are not limiting you.
Appropriate and non-offensive exercise clothes keep you from being sent out of class.
Conclusion
It can be tough to determine what to wear to Orangetheory, especially for first-time members. However, with an appropriate guide, you will find it easy to select the proper footwear, bottoms, and tops for exercising. You will also learn that while some clothes feel fit for exercise, you actually need to be specific and careful with the selection because it determines how your fitness journey at the studio goes.
Get More Info: