As an Orangetheory Fitness member, you have the flexibility to attend any Orangetheory location within the country where your membership was purchased. This means that if you have a membership in the United States, you can visit any Orangetheory studio across the country without any additional charges.
It's important to note that while you can attend any studio within the same country, premium studios in major cities such as New York and Los Angeles may have an additional charge for members from other studios. This charge typically ranges from $10 to $20.
However, if you plan to visit an Orangetheory studio outside of the country where your membership was purchased, you will be required to pay the drop-in rate applicable at that particular studio(Drop In rate at majority of studios is $28).
Overall, being an Orangetheory Fitness member grants you the freedom to work out at various locations within your membership country, providing convenience and flexibility for your fitness routine.
How to Book Orangetheory in Another City?
You will need to book a class at a location of your choice at least 24 hours before the class commences.
How do I book classes at another studio through the app?
To book classes at another Orangetheory Fitness studio through the app, follow these steps:
Open the Orangetheory Fitness app on your device.
Clicking on the "My Studio" button in the top right corner, then searching for the desired studio by name or zip code.
Clicking on the desired studio from the list.
Once you've selected the studio, you can view the available classes at that location.
Choose the specific class you want to book and click on it.
Follow the prompts to confirm your booking for the selected class.
Sometimes the app won't allow it due to the fact you don't have a card on file. Or it could be past your billing date. If the scheduled class is occurring after your next billing date it won't let you schedule somewhere that's not your home studio. Just call the other studio and they will book for you.  They need a CC on file.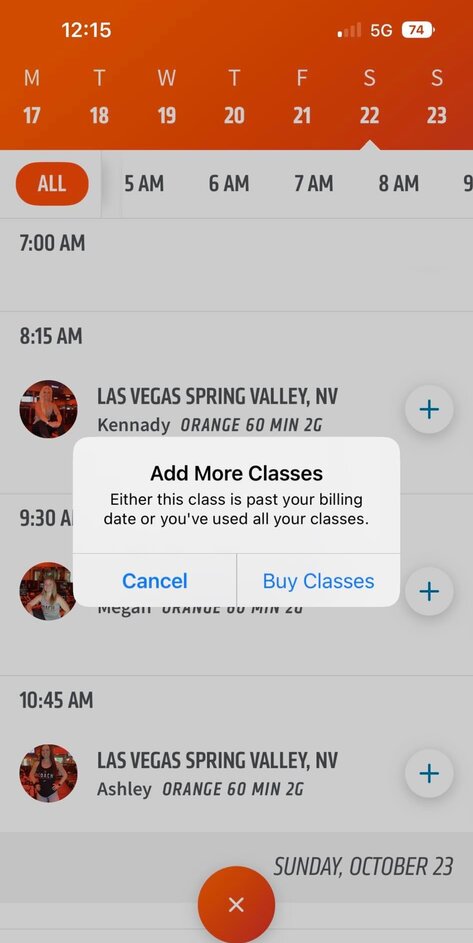 Follow these steps:
Call the studio.
They'll book the class in for you
From my experience, You have to call the first time. You might not be able to book on the app is that sometimes (but not always) the app won't let you book away from your home studio; the other studio will require a cc on file, they don't charge it, but they need it in case you late cancel or past your billing date, etc. And also studio needs you to sign a liability waiver and enter your personal information (name, address, emergency contact information, etc.) into their system. Once they've done that once, you'll be able to book through the app in the future. Their phone numbers are listed in the app, so it's usually very quick to do if they're open and answering the phones.
So, you should call the studio to ensure that you secure a spot on the waitlist. The studio agent will ask about your home studio and a few more questions, then ensure that you are on the waitlist.
The earlier you book a spot, the better for you, given that you don't know how long the list may be.
Once you get a place in a class, you should get to the studio at least 15 minutes before the class begins. Going early will help you complete the physical form-filling process before the class starts. You will also get to familiarize yourself with the place, as opposed to coming precisely on time and having to ask everything around.
Are There Extra Charges for Taking a Class at Other OTF Studios?
In regular Orangetheory studios, it is free for members to join a class from other locations. However, premium studios in big cities such as New York and Los Angeles charge $10 to $20 to OTF members from other studios.
Nonetheless, taking a class in an OTF studio outside your country is more expensive. Essentially, you will have to pay a drop-in rate or simply subscribe to a number of classes when you are in a foreign country.
However, remember that if you purchase classes, the passes will only be credible in that country. You would have to resume your regular subscription classes when you are back home.
Are Orangetheory Workouts the Same Everywhere?
Fortunately, yes! Orangetheory classes and workouts are the same regardless of the location. They all last 60 minutes for the regular classes, and the heart rate monitor is a primary accessory in the class.
You can also count on the treadmill, water rower, and floor training activities, all in high-intensity interval training.
Therefore, it will not matter which studio you attend and when you sign up for a class. They are all the same everywhere.
What Are Drop-in Rates at OTF Studios?
Assuming you sign up for a class in other Orangetheory studios in other countries, then you would pay the drop-in rate, which is the rate for a single class in the studio.
Usually, the rates will vary depending on the location and the franchise management. For instance, you will find that it is more expensive to get an OTF class in large cities that are highly populated compared to smaller towns.
Nevertheless, the most common rate is $28 for existing Orangetheory members.
Conclusion
You can go to any Orangetheory location with a membership as long as the location is in your country. However, once you leave the country, you would have to pay the drop-in rate, given that the membership is not transferable across the country's borders.
Get More Info: