If you're considering joining Orangetheory Fitness or are already a member, you're probably looking for some inspiration and motivation to help you achieve your fitness goals. The before and after success stories of Orangetheory Fitness members are a great way to get inspired and see what's possible with hard work, dedication, and the support of a community.
To help you on your fitness journey, we've collected some of the most inspiring Orangetheory Fitness weight loss success stories from real members who have transformed their bodies and their lives.
May Orangetheory Assist Me in Losing Weight?
I've lost over 50 pounds since joining and it has helped me keep it off even when being less restrictive with dieting. Even behind that, it changed my body comp a lot so even though in some ways my weight is higher than at my lowest adult weight, I can wear smaller sizes and such. I also go 5-6x per week and have done more than 550 classes so you can't expect it to happen over night.
Note: Can't do it with OTF by itself. You have to change your diet. You can't out exercise your fork so it has to start in the kitchen first.
So, Focus on your diet. You can take classes every day, but if you eat like crap then most likely nothing will change. Eat in a calorie deficit to see results and use exercise to help supplement.
OTF helped me condition my mind to eat more responsibly. I only get between 500-550 calories burned every workout and an average of 15splats which I do 5-6x a week.
Remember, If that's your goal, you'll want/need to make your nutrition the focus of your attention.
At the end of the day, there are a few things that matter the most to focus on:
-Calorie balance (needing to take in fewer than you're expending so you're in a deficit)
-Protein (for lots of reasons including satiety, muscle retention/growth)
-Fiber (satiety, overall health)
13 Motivational Orangetheory Success Stories (Before and After)
Get inspired by these 13 before and after success stories of Orangetheory users who have transformed their bodies and their lives through hard work and dedication.
1. Allison Murphy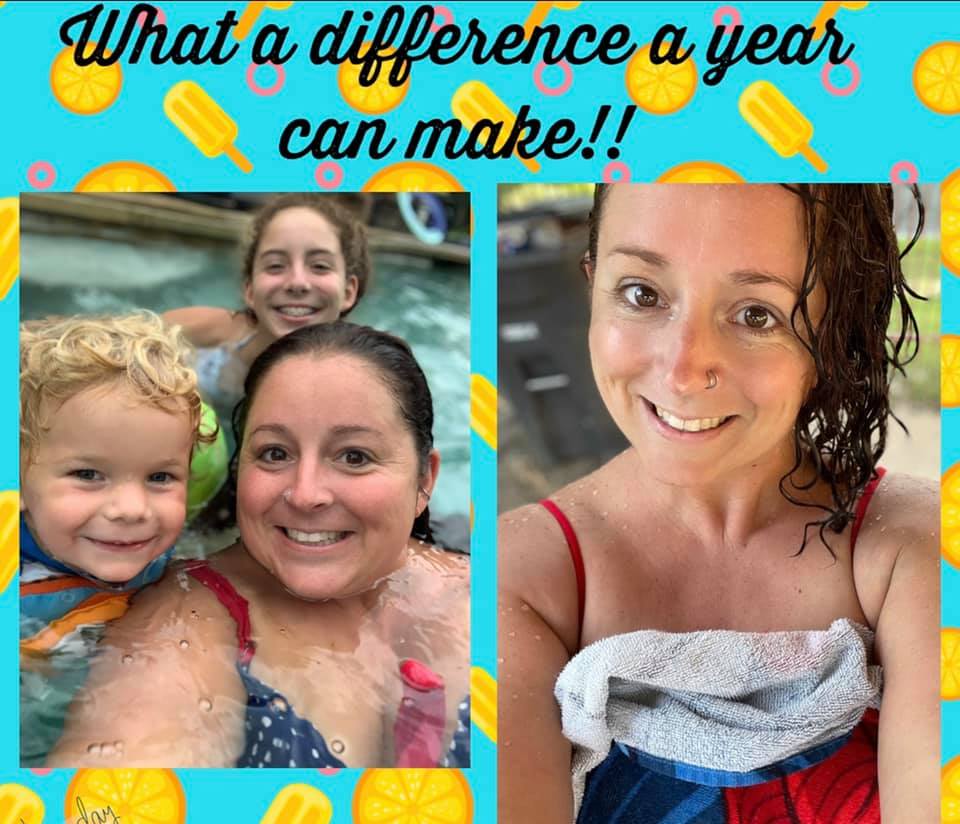 One year ago 𝑡𝑜𝑑𝑎𝑦, I stepped out of my comfort zone & began working out at Orangetheory Fitness Stone Oak.
As of today, I am down 110lbs.
If you can't fly then run, if you can't run then walk, if you can't walk then crawl, but whatever you do you have to keep moving forward. – Martin Luther King Jr
Sometimes you gotta look in the mirror and think "damn, look what I did!!!"
Both pictures represent that for me.
The top pictures I had lost my first 10lbs. I had just completed my very first OTF workout.
I started believing that healthy weight loss and maintaining a goal weight was actually 𝑝𝑜𝑠𝑠𝑖𝑏𝑙𝑒 for me.
I started believing in me.
That I was worthy. That I could do this & that I was WORTH it!
I've lost 110lbs, I'm wearing sizes I haven't seen in 10+ years, I'm experiencing life in its fullness, I have the energy to run and play w/ my kids. I am 𝓬𝓸𝓷𝓽𝓮𝓷𝓽.
I'm so proud of the girl on the top for believing in herself and getting me to where I am today.
Be proud of wherever you are in your journey!
2. Clare Danielle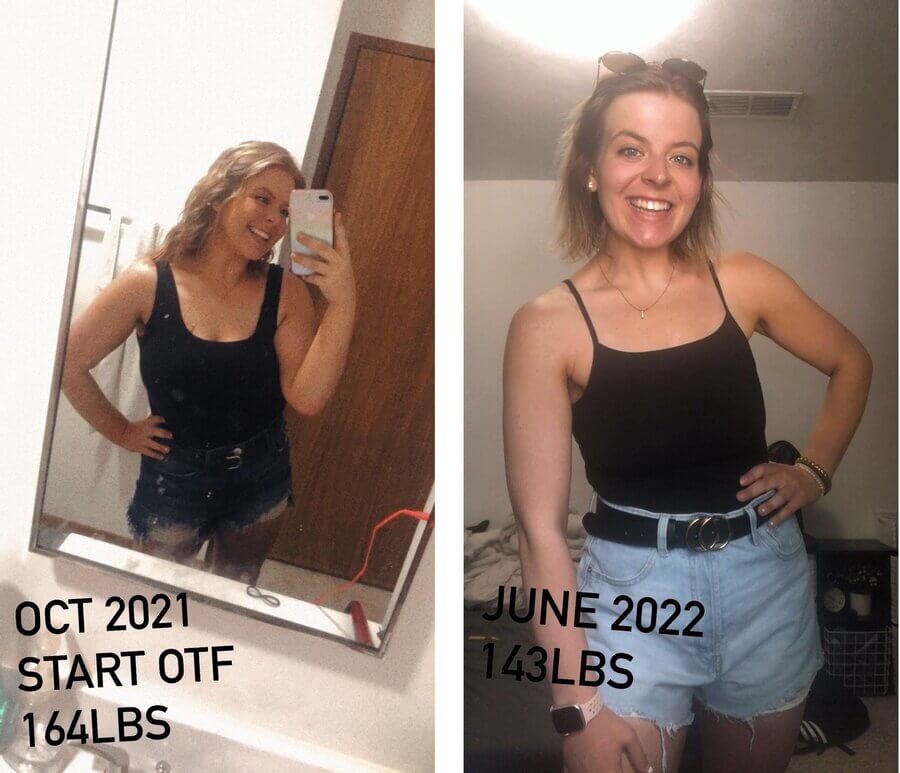 Down 85lbs total over 2years, 20lbs since starting OTF in October 2021. Noom, OrangeTheory, Therapy, and my own hard work have aided me in completely turning my life around.
The amount of tone and comfortablity I have with showing off my upper body now is unreal to me. 2years ago, I had on a flannel or sweat shirt every day, now it's a tank and shorts.
XL/XXL-16/18- – – ->s/m-8/10
One of my reasons I was avoiding working out was I didn't want to start running/jogging and loose all my curves. Found PW at OT and don't plan on ever switching to running. I've been able to increase my base to a 4.1, 4.2 on a good day. My incline is always 2+ over what's called. After 21 years of being obese and unhealthy food/exercise habits, it's feels amazing to define what Happy&Healthy means to me!
3. Charisse Bee
This is One Year of consistency and accountability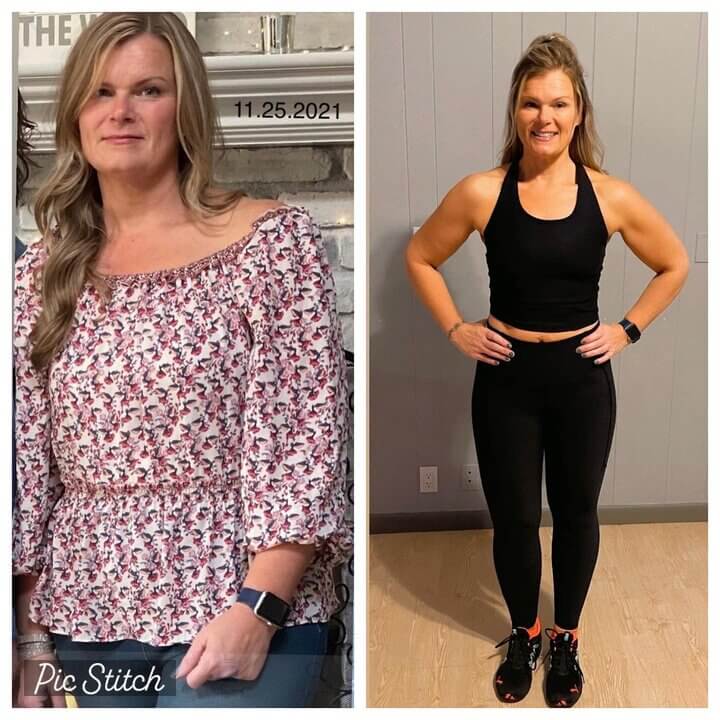 25 pounds gone
Body fat from 31.8% to 21.8%
Muscle mass up 3lbs
A dance mom friend @laura_anne685 highly recommended OTF. I kept putting it off, and on 11.29.21
I woke up and I just went by myself. No plan, no friends to workout with, just went. Jen was the first smiling face I saw & she told me all about how it works & set me up with a HR monitor & I went into class with coach Ashley
When I was done, I thought I was going to die LOL
But Ashley told me I would become addicted. I said "we'll see about that". Well,
tonight I will take my 217th class.
I am 47 years old. I have surgery scars (3 children via C-Sections 10, 9.9 and 10.5lbs-among other surgeries) & wrinkles that won't go away. And I'm ok with that. I feel the best I have felt in a longgg time. It has become mental for me. I feel good when I go. I feel crappy when I don't. It's an hour to clear my head & know that I'm doing something for ME.
The friends & coaches I have met along the way are such a HUGE part of my journey. We push each other, we hold each other accountable, we text & say "come on let's go", we work hard and we have fun. The coaches correct me when I'm doing something wrong, when I'm fading & I feel like I can't go anymore…a friend or a coach are right there to say "come on
you got this" or "Charisse I know you're stronger than that, here's a heavier weight".
My kids are my biggest supporters & I'm a better mom for them since I've been taking care of myself.
THANK YOU OTF
4. Alaina Elizabeth RN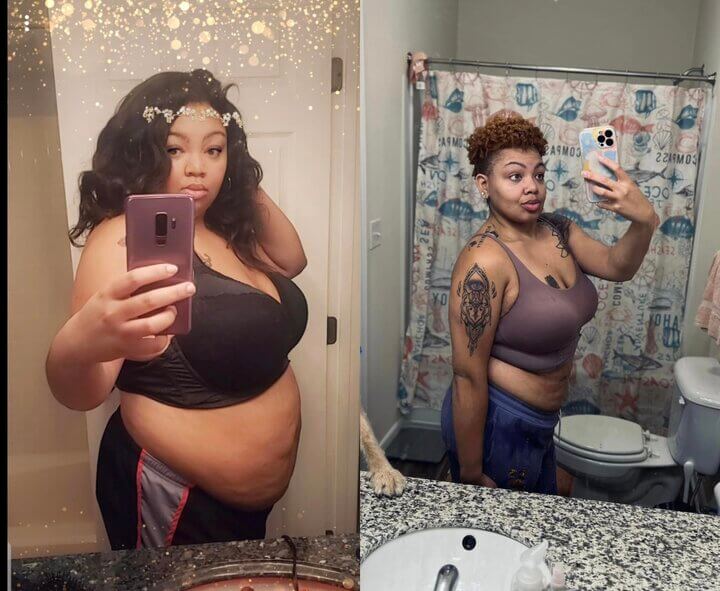 This is what weight loss looks like for me and I'll be 100% honest and transparent with y'all..
Despite losing almost 100 pounds pounds and working out 3-5x a week with high intensity work outs, I absolutely do NOT see a difference but that's body dysmorphia for you.
I've put in nothing but strong hard work and dedication to changing my mindset, body and soul.. and I know that it has paid off.
For instance, today at the gym… I literally ran on the treadmill NONSTOP for 15 minutes and ran a mile and a half. Usually I have to take small little recovery's in order to complete my mile but I took absolutely NO breaks today.
I am super proud of my progress and of my success, even if it's not reflected on the scale or visually because I am better and healthier than I was yesterday.
Everybody's weight loss story is different and that's what make us all unique.
However, due to having trouble with my midsection and hanging skin.. I am PRAYING that I can get approved for a Panniculectomy..
which is plastic surgery to remove hanging skin and fat from the lower abdomen to create a smoother abdominal contour. I am also considering breast reduction surgery as well.
The picture of the upper was me in 2018 (team android
)..
I weighed 290 pounds, wore a size 24/26 in jeans, XXL in tops and a size 54 G in bras.
The picture of the right is me today.. I currently weigh 200 pounds, wear a size 10/12 in jeans, medium/large in tops and a size 42 DDD in bras..
non scale victories are so important and I have to realize that because I see myself everyday, I may not see subtle changes but my hard work is paying off.
2023 is MY year y'all
Related Post: 10 Best Shoes for Orangetheory (for Orange 60 & Lift 45)
5. Sarah Mason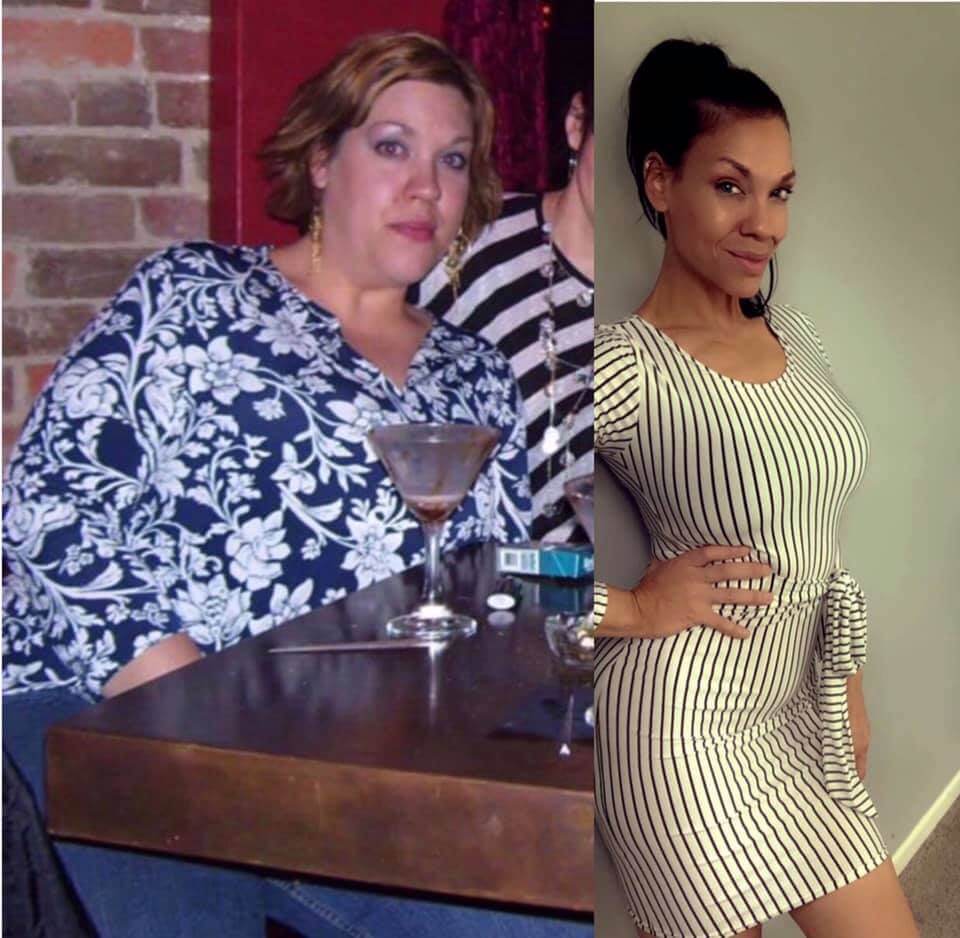 OTF has been a huge part of my life for well over a year now and has helped me immensely in this transformation. OTF is how I've kept my weight off and how I've finally built muscle for the first time in my life. It gave me a passion for fitness that I never had and I'm extremely grateful for it. I NEVER exercised until starting at OTF. I took one class and was hooked. I didn't know how to do a squat, lunge or anything really. I couldn't run. I walked the first 6 months. Since that time I've pretty much placed 1st or 2nd in most every challenge we've had. I give 100% most EVERY class. So, in saying all that, I feel like I should also share here.
"Working out everyday is hard. Sometimes I want to quit. Sometimes I complain because "it's not freaking fair I have to work harder than everyone else" (that's how it feels). I don't like my lil belly popping from the food I just ate. Then I look at this. I've kept 152 POUNDS off for almost 8 years. That's a whole human I'm not carrying around. I'm 40 and healthier than I've ever been.
That's when I shut my big whiny mouth
. My legs and belly could barely fit under that table.
6. Samantha Paige Gazda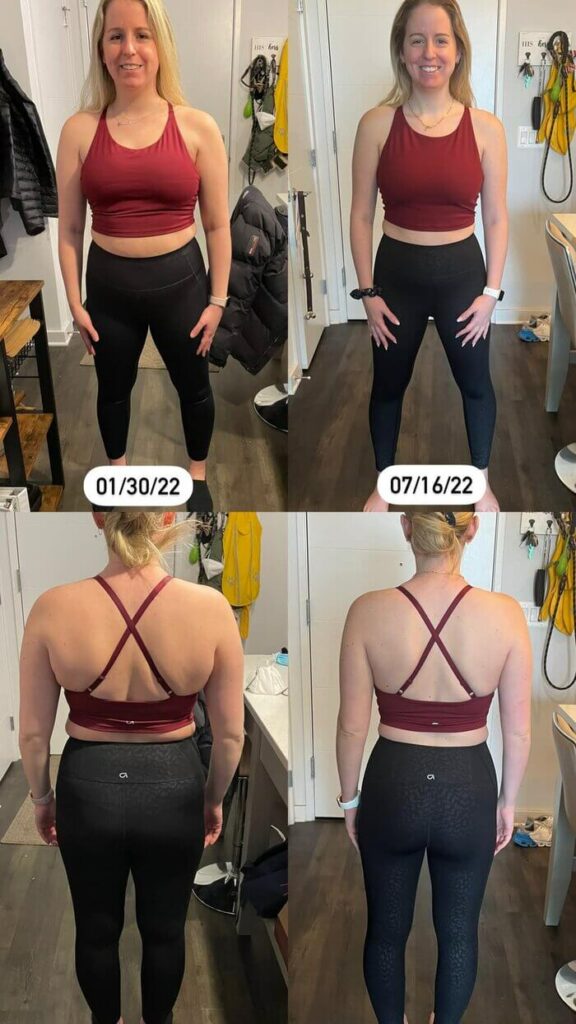 In January 2022 my fiancé and I decided to join OTF. Prior to that, I truly didn't work out or move my body intentionally in at least a decade. I was so against working out…hated it. I was a competitive dancer until I was 18 and that was my exercise. Admittedly, we joined because our wedding was approaching. But, now I realize it wasn't just because I wanted to look better on my wedding day. My mental health was suffering. The effects it's had on my daily mood, confidence, learning when I'm really full, changes to my appetite, and "liking myself" again…wow it has had a huge affect on my mental health.
I know my progress isn't groundbreaking, but I when I actually took the pictures about a week before my wedding and looked back at the pictures of all of my wedding dress fittings… I really couldn't believe how much change I saw all over my body. A different person!
I had to take quite a break from OTF pre-wedding because I was traveling from MD <—> NY, ending the school year, and celebrating our wedding and honeymoon. I'm about to return (without my husband, he's going to end his membership
) and that scares me. I only went to class without him once, meanwhile he went so many times without me! He was my comfort zone. It scares me that I now won't go without him! We're both teachers and we had such a strong daily routine. I know it's going to be extremely difficult to force myself to continue that routine alone! It's scares me that I'll be back to feeling and looking like I did before. It wasn't healthy. It's a big fear because in the past no matter how much I wanted to change, I didn't. Especially with going back to teaching very soon…I'm exhausted every day after teaching 3rd graders! I hope I can prove myself wrong…
**Update
– my husband let me know today he is going to start back up with me again for a month and help me get back into a routine. This will be a HUGE help for me!
I'm proud of myself because I never imagined it would be possible to have progress pictures. I hated working out and was so against it. I'm also proud because my progress pictures don't only remind me of the weight I lost, but it reminds me of the things I GAINED that you can't see in the picture. I know that is so cliché….but it's the truth!
Update: I lost 20-22 lbs since I joined OTF in 5.5 months. My weight always fluctuates 2-3 lbs.
7. Kelly Kirk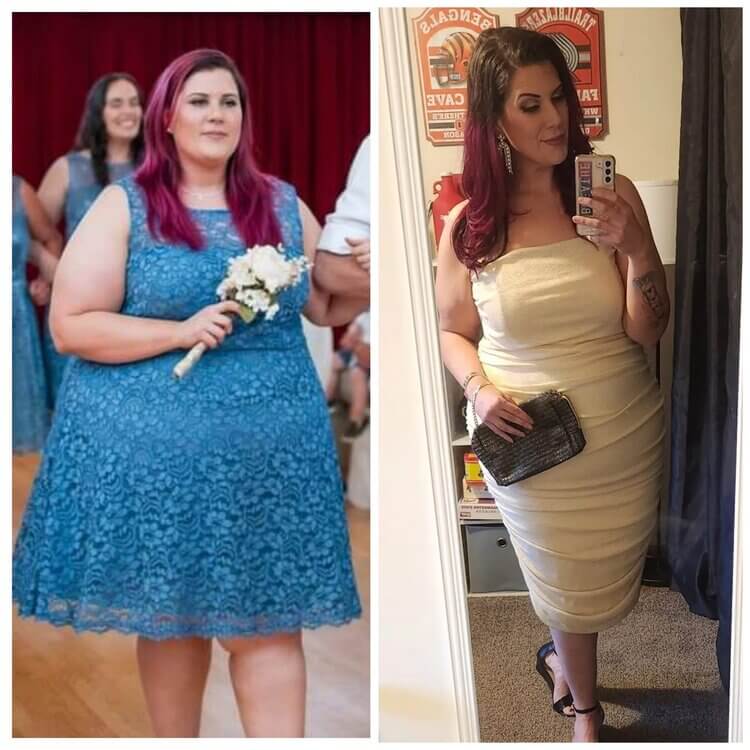 In 2017, I started on my weightloss journey.
I lost 60 lbs. on my own during that 1st year, and joined OTF in 2018.
I'm down 124 lbs. total, completed my 3rd Dri Tri, and PR'd today.
I initally was upset by my performance especially on the treadmill. I cried when I finished. I didn't feel good. I finished last.
And then, I put it into perspective.
I'm loving MORE LIFE.
I would NEVER have been able to do what I did today. I'm in the best shape I've ever been in.
Pic on the left was a few weeks before I began my journey. It's the photo that made me want to change. The picture on the right was 2 days ago at the event my studio held for the Transformation Challenge participants.
Friggin' consistency. Love this community
8. Danielle Moselle-Miller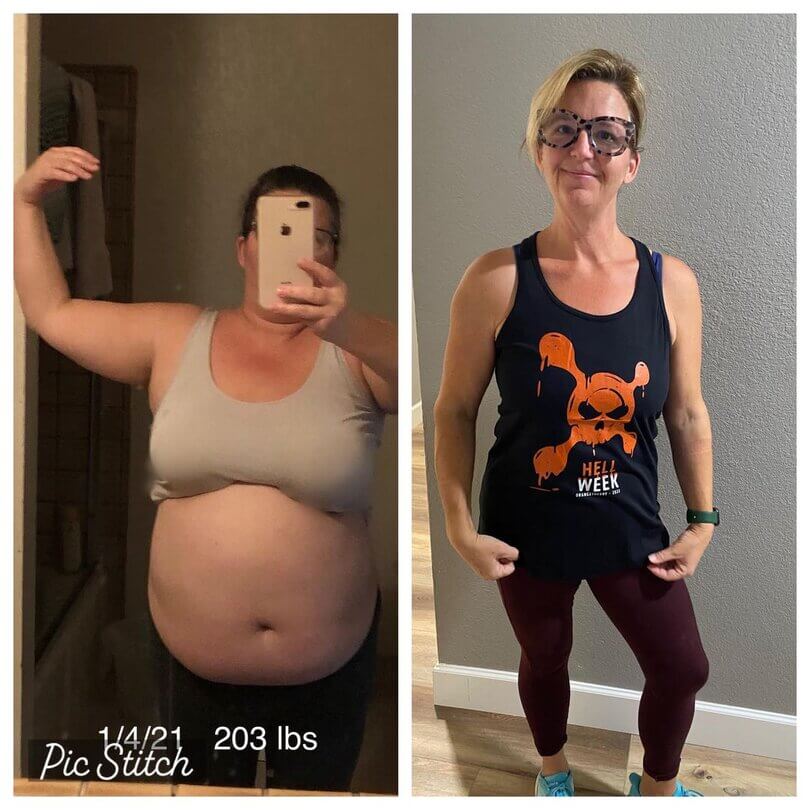 I'm a bit sad because as much as I love OTF, I've decided to put my cancellation notice in. Now that I've proven to myself over the last few years that I'm dedicated to exercising, I'm building a home gym to save cost over the long term. Hopefully making the right decision.
Update: you all got me thinking, for now I'm dropping down to 8/month. After the class I just took, I can't bring myself to give it up completely. Since my car is paid off and my student loans are paused, I think I'll stay because I love it so much. I just canceled Planet Fitness instead
While OTF was added to my routine more recently, it really has helped me get closer to my goal of being fit by fifty. Began my health journey exactly 2 years ago.
9. Kari Berger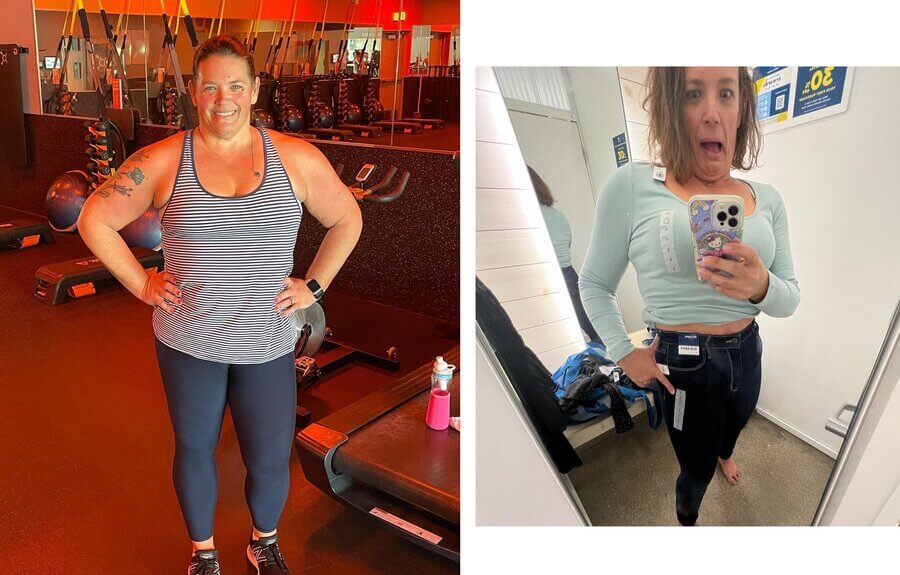 I've been going to OTF for almost 2.5 years (6/30/2020 start date). When I started, I wore a size 16/18.
Yesterday I bought my first ever pair of size 8's. Here is a time lapse of my ugly cry inside the dressing room. At first I'm shocked that I pulled these on, over my butt and hips AND BUTTONED THEM! Then me ugly crying when I pulled on a different type/style of size 8 and also buttoned them all the way (button fly ta-boot!).
Over the weekend I was wearing my size 10's and made a comment to my husband that I thought they were too big. Not only did I never think I'd be in a size 10, but I never in a billion years thought they'd ever be too big. To go from a size 18 to a size 8 in 2.5 years, just astounds me. AND NO MUFFIN TOP!
For context, I have lost over 70 lbs since joining OTF. First pic is from November 2020, dressing room pics are from yesterday.
ETA: I workout at OTF 5x a week, usually M-F. I was intermittent fasting in the beginning and dropped about 25 lbs but stalled out and was at a plateau for over a year. Frustration made way for me linking up with a dietitian/nutritionist in October 2021, and I fully implemented his suggestions January 2022. Once I did, the remaining 50 lbs came off. I didn't really change my diet, but rather substituted healthier options, ate more veggies and protein too. I swapped out my coffee creamer for protein shakes, substituted pasta with Protein Pasta, and overall just ate better. It never felt like a diet because I could still eat the things I craved, just slightly altered (those slim fast fat bombs are so good in place of a piece of chocolate). I have spent my entire life overweight and unhealthy, so to see the scale in ONEderland and even fathoming pulling on a size 8 pants is just something I never in my life thought I'd see.
10. Rebecca Harris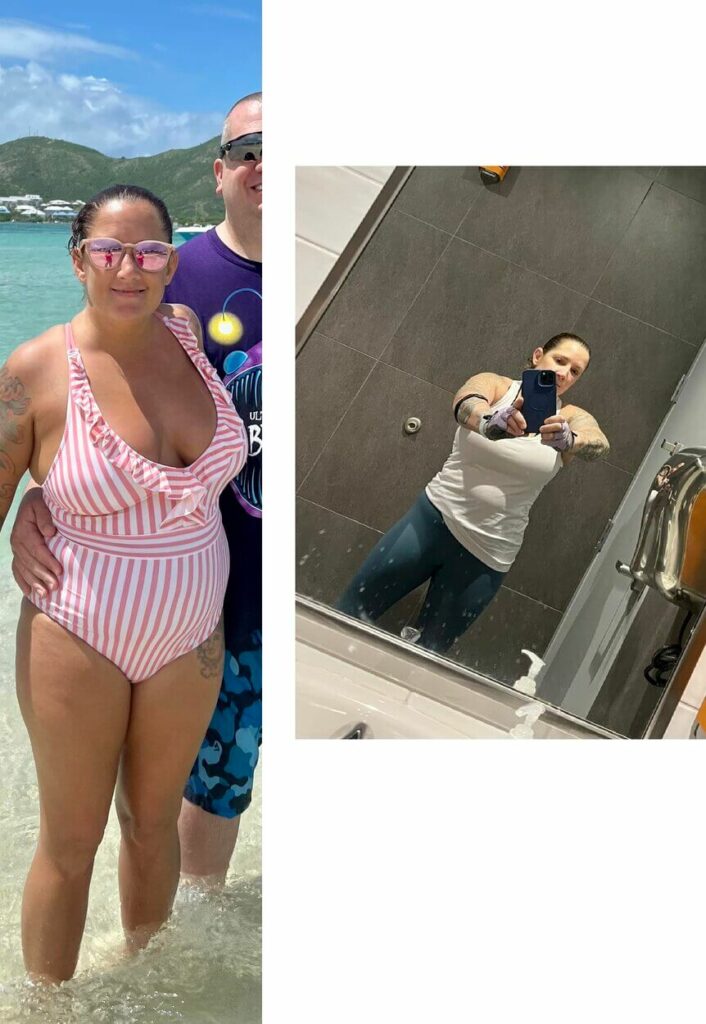 I posted this on my own personal FB page and thought that I'd share it with you guys. After seeing the changes, I'm going to bump up my workouts for the transformation challenge.
It's my first time making a post like this. After 10 months (Wednesday) and 150 classes I think it's time. This is the first time that I'm even seeing the side-by-side comparison myself.
I still have a long ways to go and I'm still working on feeling comfortable in my body, but I'm in the best physical shape that I've ever been in in my 45 years. This is my first time making a commitment like this and sticking to it. There's no way that I could've done it without OrangeTheory Fitness.
People want overnight success and unfortunately it takes a ton of commitment.
The first 2 pictures are from today (Tuesday) and the last photo is from our honeymoon cruise exactly 10 months ago. I always keep the before picture close by so that I can remember where I started.
11. Chana Nats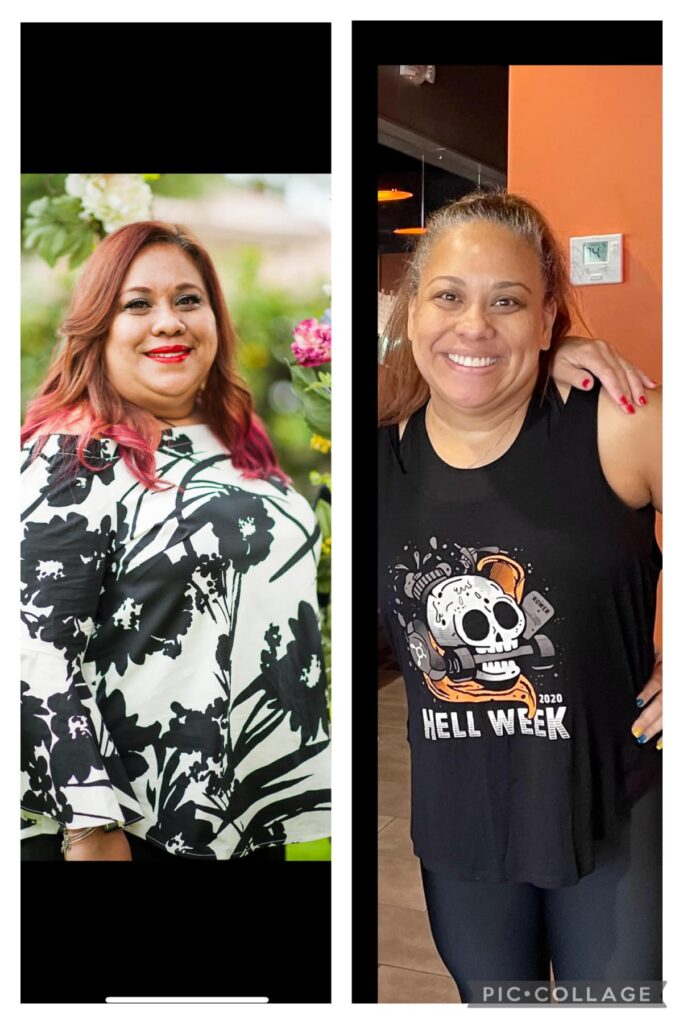 Tomorrow- August 19th, 2021 will be the one year anniversary that I walked through the doors of Orangetheory Fitness Weston with Kimberly Styles Haralson at my side. There is not enough space or words in the English language for me to fully express my gratitude to Kim, to all the coaches (Meredith Lauria, Kristi Goldsholle, Jess Llanos, Adam Duhe, Melanie Mel and Karl) and to my #SweatSisters family.
This year has been an emotional rollercoaster with days of wanting to quit, with days of crying at the gym, with days of tears of absolute joy. This year has showed me how to do the impossible. All you need is dedication, drive and determination. Y-O-U have to want it. Y-O-U have to work for it. Y-O-U have to push through all the negativity that comes your way.
At the beginning denying the want to quit every day was hard. Getting up and getting dressed at my 16+ size was hard. The muscle soreness every day was hard. Not eating my usual foods was hard.
One year later, I still fight the urge to want to quit some days. I still find it hard to get dressed when my muscles are sore. And I still have to say "NO" to the foods I really like. These feelings will probably never change .
But I have learned never give up the opportunity to workout when possible. No matter how I feel, I need to think about where I have started and where I want to be in 5 or 10 years health wise.
None of this would have been possible without my coaches and my #SweatSisters family being there for me…encouraging me, pushing me, loving me!! I love you all
My journey is not over, it has only just begun. Next year I will hit other milestones and I hope my "Fit Family" will be there to cheer me on!
12. Doune Eva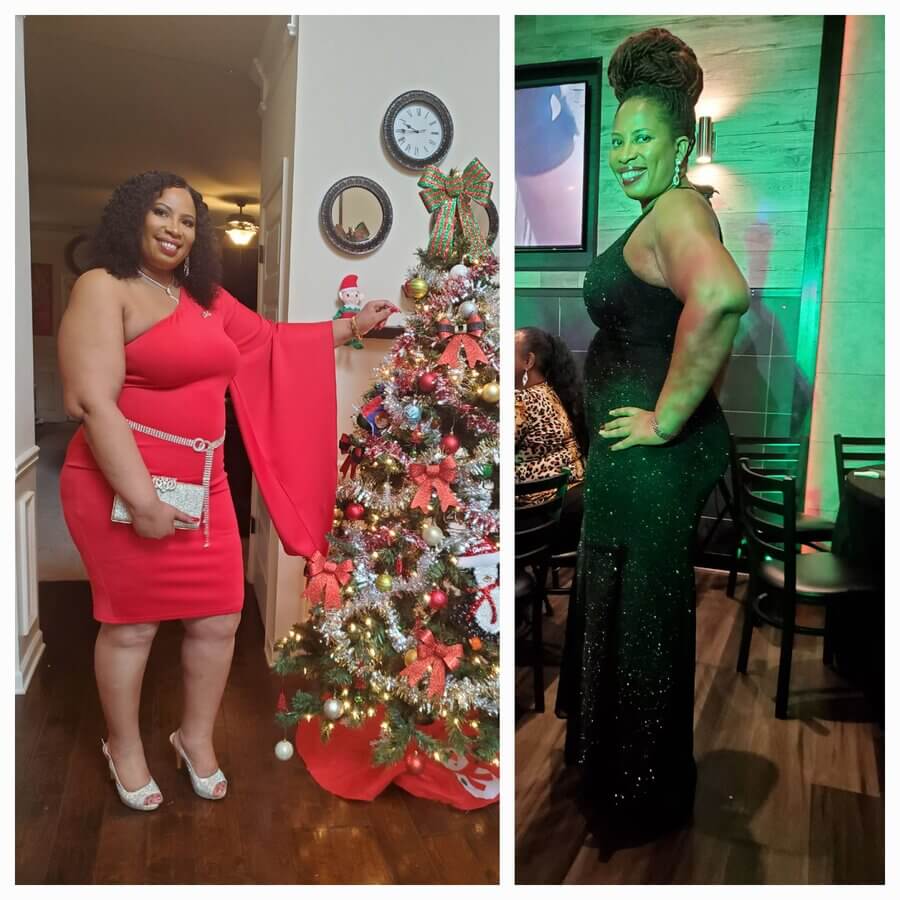 Since joining Orange Theory 5 months ago, I have gained more energy, lost 40 lbs, and overall I am in good spirit. The second picture is the difference between Christmas 2021 and last night.
One of the best decisions I made in 2022 was making my health and fitness a priority. I am so determined to make OTF a part of my life permanently for as long as I am able God willing.
13. Britt Franks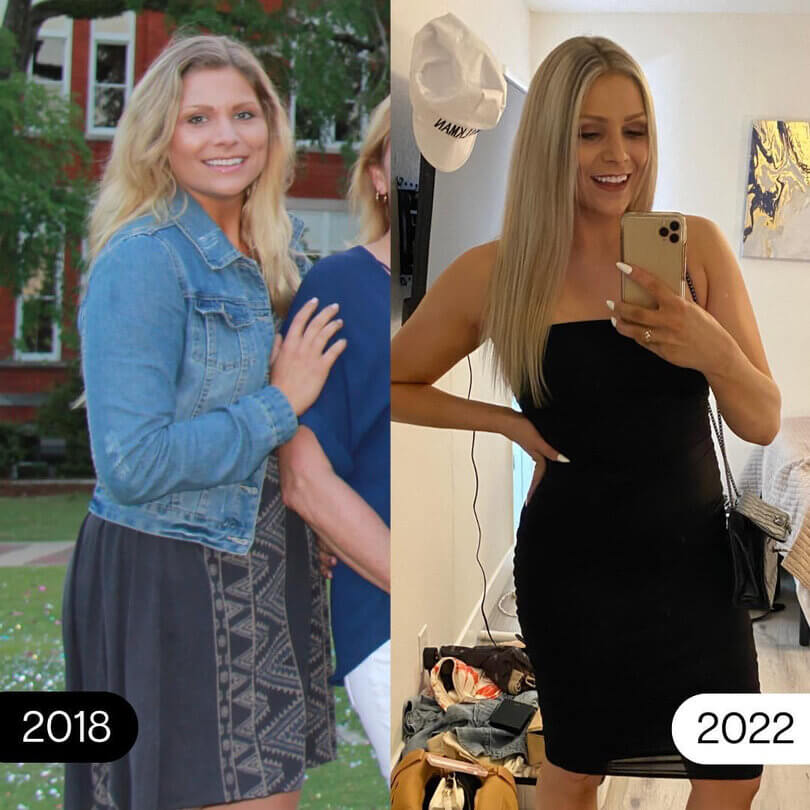 It's my OTF Anniversary this week! 🧡
I joined September 2019. Crazy to look back on my life in 2018 before I had a consistent workout routine and a supportive community of amazing people!
I always loved eating healthy and taking care of myself, but I really struggled with self confidence.
Most of the time I wore lose fitting clothing and jackets to cover my arms.
Now I am so proud of my strong body and it feels amazing to have a variety of things to chose from that I actually WANT to wear!
If you have felt frustrated on your fitness journey, remember it takes time. Keep focusing on the small habits you are doing DAILY.
Work on your mind and spirit MORE than you do your body and soon enough they will all line up. 😄
I'm rooting for you!
Off to take a Lift 45 class now!