Being Challenged In Life Is Inevitable,

Being Defeated Is Optional.

-Roger Crawford
Dri tri is a kind of modified triathlon at Orangetheory that takes place twice every year, usually over a weekend in mid-late March and over a weekend in mid-late September. The workouts during dri tri are basically meant for self-competition, to try and outdo oneself with an extra challenge.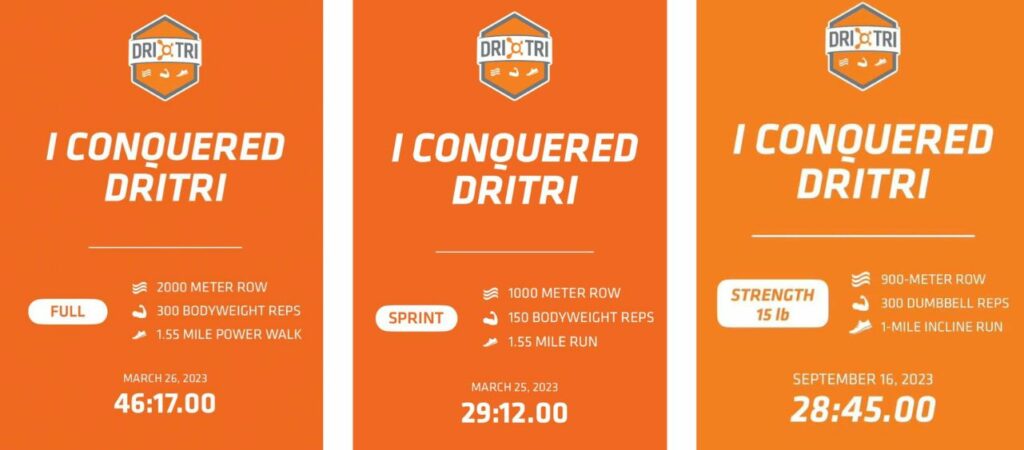 What is Dri Tri at Orangetheory?
The DriTri is the ultimate benchmark event. You try to get your best time, then six months later you try to beat yourself. A select few members are in there to be competitive, but the main goal is to be competitive with yourself.

Jeremy Whitehead, an Orangetheory coach in Albany, N.Y.
In general, The DRITRI is an OTF-inspired Triathlon on dry land. DriTri exercise sessions are 2000 meter rowing, 300 bodyweight exercises (such as burpees, push-ups, and step-ups), and finishing with 5,000m (3.1 miles) on the treadmill. The time you take on each station is up to you, though the maximum time limit is 90 minutes. Therefore, it is manageable since you take every exercise at your own Pace.
There are 4 forms of Dri-Tri. Anyone can select one for their capability.
The FULL DRITRI
The SPRINT DRITRI (for beginners)
The RELAY DRITRI
Dri Tri Strength
The FULL DRITRI consists of the following:
2,000M row
300 body weight reps
5K (3.1 miles) run
The SPRINT DRI-TRI (half of full dri-tri) consists of the following:
1,000M row
150 body weight reps
2.5K (1.55 mile) run
The RELAY DRITRI consists of the following:
3 members come together as a team
2,000M row (Teammate 1)
300 body weight reps (Teammate 2)
5K (3.1 miles) run (Teammate 3)
The Dri Tri Strength:
The new Dri Tri Strength, introduced in September 2023 by Orangetheory Fitness (OTF), involves dumbbell-based exercises, shorter rowing distances, and a one-mile incline treadmill run. A walking alternative is available for non-runners. Like the original Dri Tri, the goal is to complete the challenge quickly while maintaining good form. However, participants must pick one dumbbell set and use it for the whole floor section, choosing from 10, 12, 15, 20, 25, or 30 pounds to suit their level. The Strength DRITRI consists of the following:
• 900-meter row
• 300 dumbbell reps
• 1-mile run/jog (Power Walk 0.5 miles)
Strength Dri Tri Breakdown
300 M Row, 3 rounds floor
300 M Row, 2 rounds floor
300 M Row, 1 round floor
1 mile run or 1/2 mile power walk (Joggers & runners start at 8% & decrease incline by 2% every 0.25 mile, PW start at 12% and decrease by 2% every 0.25 mile)
The Floor consists of:
Select a weight you can use for the entirety of the challenge (10, 12, 15, 20, 25, 30 lbs)
10X DB BURPEE
10X HAND RELEASE PUSH-UP
10X DB BENCH TAP SQUAT
10X DB SEATED HAMMER CURL TO NEUTRAL GRIP SHOULDER PRESS
10X DB FRONT LOADED ALT (TTL) REVERSE LUNGE
If I Can't Run, Can I Power-Walk, Use The Bike, Or Use the Strider for FULL DRITRI and Sprint DRI TRI?
Yes. You can. There are three alternatives if you want to avoid running.
Power Walk
Bike
Strider
FULL DRITRI Options:
Power Walker – 2.5 K / 1.55 miles at 3% incline
Biker – 20K / 12.4 miles at gear 6 (or greater)
Strider – 15K / 9.32 miles at gear 6 (or greater)
Sprint DRI TRI Options:
Power Walkers – 1.25k / 0.75 miles at 3% incline
Bikers – 6.2 miles at gear 6 (or greater)
Striders – 4.66 miles at gear 6 (or greater)
How Much Time Do I Have To Finish The Dri-Tri?
Most studios give each heat about 90 minutes, which is long enough for most people to finish the Dri-Tri. Most people can complete the Dri-Tri in less than 60 minutes. Also, most people say that the work needed to finish the Dri-Tri is about the same as the work needed to finish a regular OTF class (or a 90m class).
What is the Orangetheory DRI-TRI Goal?
It's a 90-minute benchmark. You get 90 minutes to complete it. The goal of the dri-tri is to get it done as fast as possible in 90 minutes.
Remember, It's only competition against yourself. So if this is the first time you're doing dri-tri, then whatever time you get is awesome; that's a personal record, and then six months later, you do the dri-tri, and your goal would be to beat that record.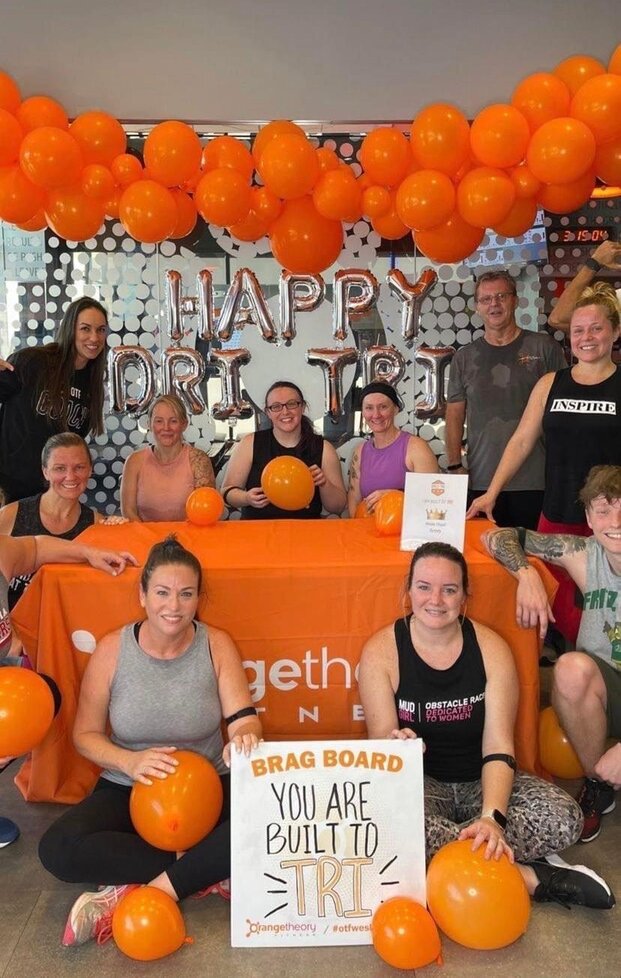 Is There an Extra Cost for OTF's Dri Tri?
Yes, there is a cost for participating in Orangetheory's dri tri, which is usually $25 in most studios.
Technically, everyone willing to participate in the challenge must sign up for it to book a slot. Unfortunately, if you sign up late, you may end up missing a slot, as the event is so looked forward to by most OTF members. However, you can avoid the hustle by booking for your slot and paying if you have to, as soon as the challenge dates are announced.
Note: it is very important that you understand that many Dri-Tri policies vary between OTF studios.
How Can I Sign Up for Dri-Tri? 
First, decide if you want to do the Full, Sprint, Strength Dri Tri or Relay.
Then pick a time slot.
Sign up at the front desk & sign a waiver, or click here to sign up.
Are There Prizes for Dri Tri?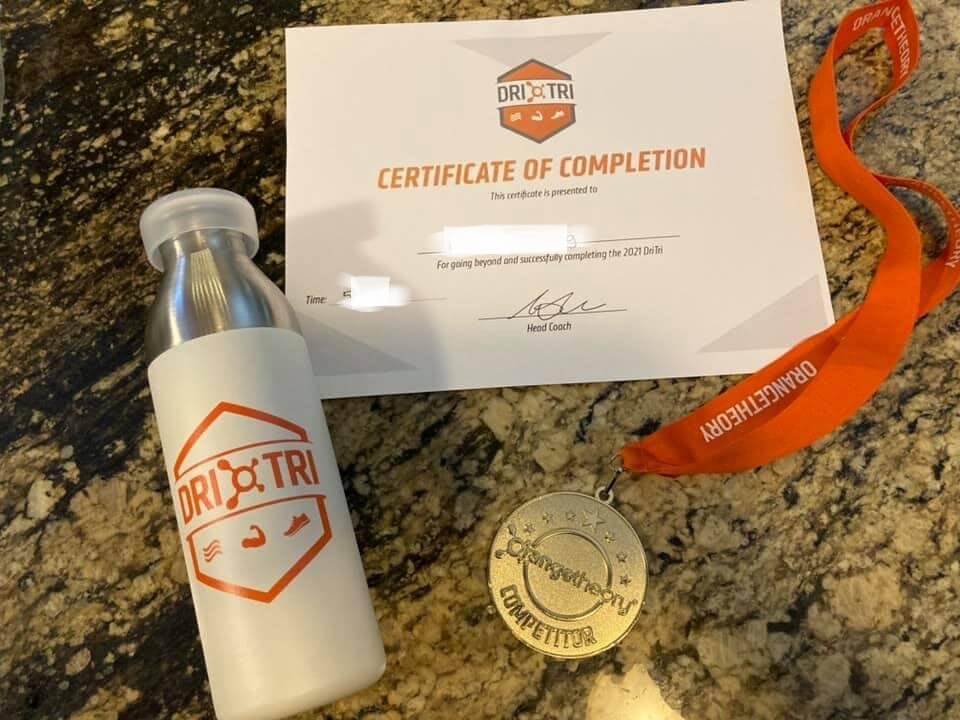 This varies depending on the studio. Some studios only award bragging rights, whilst others may award medals and studio cash. Several studios will provide attendees with water bottles and towels. Several localities will hold a regional Dri-Tri, with the fastest times qualifying for the regional tournament.
Why Should I Participate in the Dri Tri Challenge?
Variety: DriTri offers a change of pace from regular classes, adding excitement to your routine.
Measure Progress: It's a chance to gauge your improvement in rowing, reps, and running based on your DriTri completion time.
Self-challenge: DriTri pushes you to exceed your perceived limitations, fostering personal growth.
Supportive Environment: With the encouragement from coaches and fellow members, the challenge becomes a shared experience.
Rewards: Participants often receive small gifts like towels or water bottles, and top performers might get a chance to participate in regional competitions.
What Gear Do I Need? 
Water bottle: Come to DriTri ready to sweat! Most participants find it beneficial to have a reusable water bottle within easy reach to stay hydrated throughout the challenge.
Comfortable Workout Gear: Additionally, it's crucial to wear moisture-wicking, movement-friendly workout gear. Opt for clothing made from breathable materials that can help keep you cool and comfortable during an intense workout.
Properly Fitting Running Shoes: Finally, ensuring you have properly fitting and supportive running shoes will contribute to your overall comfort and performance during the DriTri challenge. According to the American College of Sports Medicine, it is recommended to replace your running shoes after approximately 350 miles of usage. Since the DriTri involves a 5K run, it's important to ensure that your feet are adequately supported.
Which Body Reps are in Dri Tri Challenge?
While the type of exercises on the rowing machine and treadmill is obvious, the floor reps are not as obvious. Fortunately, tradition has given a trend in the type and approximate number of reps you should expect in floor training.
They include push-ups, bench tap squats, burpees, step-ups, bench hop-overs, and plank jacks. All of them are bodyweight exercises, so you shouldn't expect any weight lifting. However, they are more challenging than you probably expect for bodyweight reps.
All the exercises are either 20, 30, or 40 for each before going to the next, and there is a repetition to hit a total of 300 reps.
For example;
20 push-ups
20 bench tap squats
30 bench hop overs
40 step ups
20 burpees
20 plank jacks
Then repetition of each from top to bottom. This order and the number of reps for each exercise vary by year and time.
Strategy And Guide for Full Dri Tri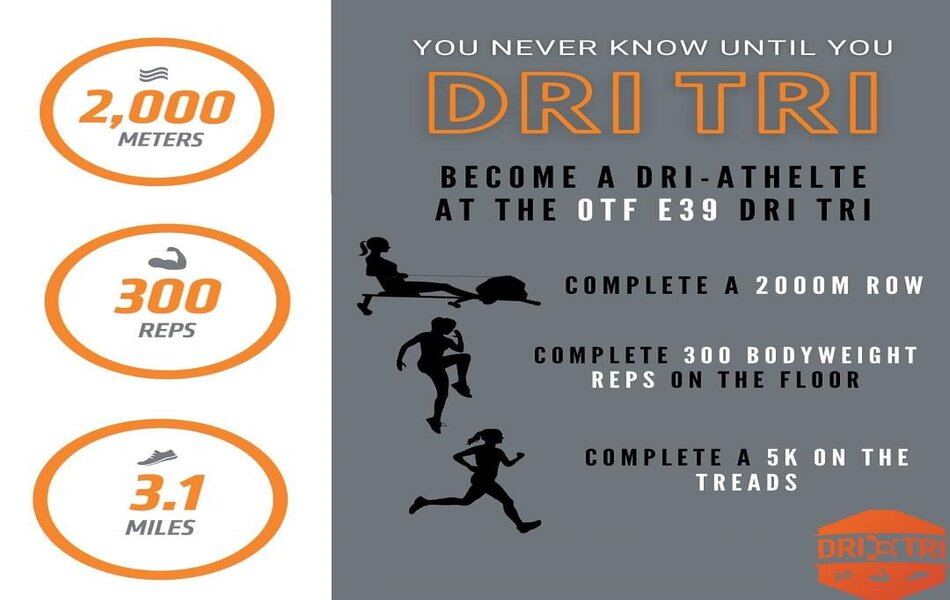 You will only fail if you do not try. My first Dri Tri was the most exhilarating confidence booster and hardest workout ever. I did my first one less than 5 months after starting OTF. I did the Full and powerwalked most of the 5k. And finished in just (barely) under an hour.
Here are a couple of Strategies for you in Dri Tri:
1. You will start on the rower with a 2000m row. You won't get your best time on the Dri Tri by smoking it on the rower. As such, take it slow and save your energy for the run. I know it sounds crazy, but take my word for it!
2. After the rower, you'll go to the weight floor for 300 reps. Do everything you can to conserve energy in this section as well. Mainly just get through it in a reasonable time, again saving as much energy for the run as you can.
3. Finally, you'll make it to the treadmill for the 5K. This is where time is made or lost. If you have saved enough energy up to this point, you should be able to complete a strong run with a good time.
Here are some guidelines to help you stay safe and challenged on DriTri: 
PACING: ROW(2000m)
ADD 1 MINUTE TO YOUR 2000M BENCHMARK ROW
Use the Mobile App to find your 2000m Benchmark Row time.
Take that number and add 1 minute – that is your 2000m Dri Tri Pace!
Don't know what your 2000m Benchmark time is? Try to maintain a Base to Push Pace. Watch your heart rate … if it's in the red, pull back.
PACING: REPS(300)
STRATEGIZE YOUR RECOVERY
Plan to take short recoveries every few reps.
More frequent, shorter breaks will save you from taking longer recoveries that slow you down.
PACING: RUN(5k/3.1 mile)
CHOOSE AN APPROACH: PROGRESSIVE, STEADY, OR INTERVALS
Progressive: Start slightly below Base Pace and add steady incremental increases of speed or distance at certain time markers (e.g., every 3-5 minutes or every mile/kilometer).
Steady: Maintain a steady, sustainable pace.
Intervals: Alternate between Push and Base using your heart rate response to guide your timing.
The Dri Tri Sprint at Orangetheory (Beginners' choice)

2000 rows, 300 bodyweight reps, and 5k run! Sounds intimidating for beginners, right? And it is, though it is more achievable than it actually sounds. Most participants compare it to a regular OTF class; only there are targets and added pressure on oneself this time.
The good news is that you don't actually have to miss it if you are still not convinced. And this is where the dri tri sprint comes in.
The sprint is a modified dri tri, with half of each of the exercises in the real challenge. Thus, you are expected to complete 1000m rows, 150 bodyweight reps, and 2500M (1.55 mile) run.
Even better, the dri tri sprint takes place at the same period as the real dri tri challenge, only at different times of the day. Consequently, you will feel the pride of participating in the challenge as much as those who participated in the regular dri tri classes.
How to Train Yourself for DriTri? 
To adequately prepare for the DriTri event, which is suitable for beginners. Here is some training. It is advisable to follow.
1. Engage in Regular Orangetheory Classes: Aim to attend Orangetheory Fitness classes two to three times a week in the weeks leading up to the DriTri. These workouts will enhance your endurance, strengthen your muscles, and instill the confidence necessary to conquer the challenge.
2. Build your endurance: Since the Dri Tri involves a significant amount of cardio, it's important to build your endurance. Incorporate longer runs or other cardio workouts into your routine leading up to the Dri Tri.
3. Embrace the "Infinity" Workout: Participate in Orangetheory's signature "Infinity" workout, specifically designed as a DriTri preparation workout. This session incorporates elements such as rowing for distance, body-weight repetitions, and a run for distance. Think of it as a mini DriTri experience, allowing you to familiarize yourself with the different components.
4. Foster Community Connections: Stay connected with your fitness community, whether it's through online platforms or interacting with fellow members and coaches at your home studio. By doing so, you can gain insights from experienced participants who can share their DriTri experiences and offer valuable advice. Additionally, having a support system will boost your morale throughout the training process.
Remember, it is essential to listen to your body during training. If you experience any discomfort or pain, take appropriate rest and consult with your coach.
Preparation Of Dri Tri:
The Dri-Tri is a popular workout event at Orangetheory Fitness that challenges participants to complete a set of exercises in a specific order and time frame. The workout consists of a 2000-meter row,300 bodyweight exercises (such as burpees, push-ups, and step-ups), and finishing with a 5K run on a treadmill.
Start with a plan: Before you begin your Dri-Tri workout, make sure you have a plan in place. Decide on the Pace you want to maintain for each segment of the workout, and how you will transition from one exercise to the next.
Focus on your technique: Proper technique is essential for completing the Dri-Tri efficiently and without injury. Make sure you pay attention to your form during the floor exercises and use the rowing machine correctly. Consult with a coach at Orangetheory Fitness to help you improve your technique.
Fuel your body: Proper nutrition and hydration are critical for any endurance workout. Make sure you eat a healthy, balanced diet leading up to the Dri-Tri, and stay hydrated before, during, and after the workout.
Get plenty of rest: Adequate rest is essential for muscle recovery and preparing for a challenging workout. Make sure you get enough sleep leading up to the Dri-Tri, and take rest days as needed to avoid overtraining.
Mentally prepare: The Dri-Tri is a physical and mental challenge. Practice visualization and positive self-talk to help you stay focused and motivated throughout the workout.
Remember, the Dri-Tri is a challenging but rewarding event that can help you push your limits and achieve your fitness goals. With proper preparation, you can conquer the Dri-Tri and feel proud of your accomplishments.
FAQs
Can Anyone Participate in The Orangetheory Dri Tri?
The Orangetheory Dri Tri is available to Orangetheory Fitness members in general. But some studios offer nonmembers to participate in Dri Tri cost $53 (member is $25). In detail Contact your local studio to further information.
Can Beginners Participate in Dritri?
Yes, beginners are welcome to compete in the Dri Tri Sprint. It is a challenge for people of all fitness levels, and participants can alter the reps or run distance to their liking.
Can I Modify The Floor Exercises?
Yes, floor exercises can be changed. For example, you can do push-ups from your knees. However, if you change these exercises, some studios will not let you participate in any leaderboards, competitions, or prizes.
Is The Distance Different for A Power Walker?
Yes. You can choose to do the half distance (2500m/1.55 mile) as a power walker.
Do All Studios Dri Tri Same Date?
No. Most likely, it will be the weekend in mid-late March and the weekend in mid-late September, but most likely, all studios will not have it on the same date.
I Don't Want To Do The Dri-Tri! Can I Still Take A Regular Class That Day?
It depends on the schedule of your studio. Some studios cancel classes and run numerous Dri-Tri heats all day (or all weekend), while others operate them outside of class periods. Talk to your studio about it.
Bottom Line
What is dri tri at Orangetheory? It refers to special Orangetheory days twice a year when people participate in a unique self-challenge. There are three sessions, just like typical OTF classes, rowing, floor reps, and treadmill training. However, there is a target for each in this case, and one should strive to hit the target in the minimum time they can.
So, how long would you need to complete 2000-meter rows, 300 bodyweight exercises, and 5000-meter runs in one session? Sign up for the next dri tri at Orangetheory to find out!
Get More Info: