Adrian Williams, born on January 9, 1983, is an American Peloton strength and treadmill instructor. He is the icon behind Peloton's Thunder 45, and Peloton users can't get enough of his dual personality: strength + humor in all his classes. He's tough, and his classes quite challenging, but he has a way of making them manageable to almost all fitness levels.
The strength and tread instructor joined Peloton in 2018, through which he has accomplished his dream of reaching out and helping people through fitness.
Fast Facts
Full Name: Adrian Maurice Williams
Birth Date: January 9, 1983
Age: 40 years (2023)
Height: 1.86 meters (6 ft 1″)
Ethnicity: American
Current Profession: Peloton Instructor
Instructor: strength, treadmill
Peloton Leaderboard Name: AdrianWNYC
Likes: meditation, fitness, photography, family time, and rest
Social media: Adrian Williams – Peloton (Facebook), Adrianwilliamsnyc (Instagram)
Interesting Facts About Adrian Williams
There are so many exciting facts about William that we cannot exhaust, but I will point out a few of the best:
Adrian loves a good rest: though he values exercise, the fitness trainer says that life is more than just working, something he learned from his late grandma.
He sets time apart for meditation: Adrian sets the time in the morning and at the end of the day to meditate, and he says he prefers lying under the shower for a more serene impact.
Adrian is a photographer: when Adrian is free from work, he loves taking time for photography, taking snaps that arouse his interest as he mellows at the scenery (have a look at this one or even this pic of the nighttime scenery).
Adrian was close to his grandma and learned a lot from her: If you attend Williams's class, there is a high likelihood that you will hear him mention his grandma, either a piece of advice or a lesson learned from her. He says she brought him up when his parents worked, which explains the closeness.
He brings humor into a challenging workout: It is easy to find yourself frowning in Adrian's class, especially strength and tread Bootcamp. You may also be panting too much for an extra thought. However, Adrian will bring in a joke or a sense of humor that will definitely curve your lips upwards.
He loves children: Adrian Williams' Instagram post of him and his nephew happily playing together shows his love for children and the joy they bring. His beaming smile and his nephew's laughter are a testament to their special bond.
Background Story of Adrian Williams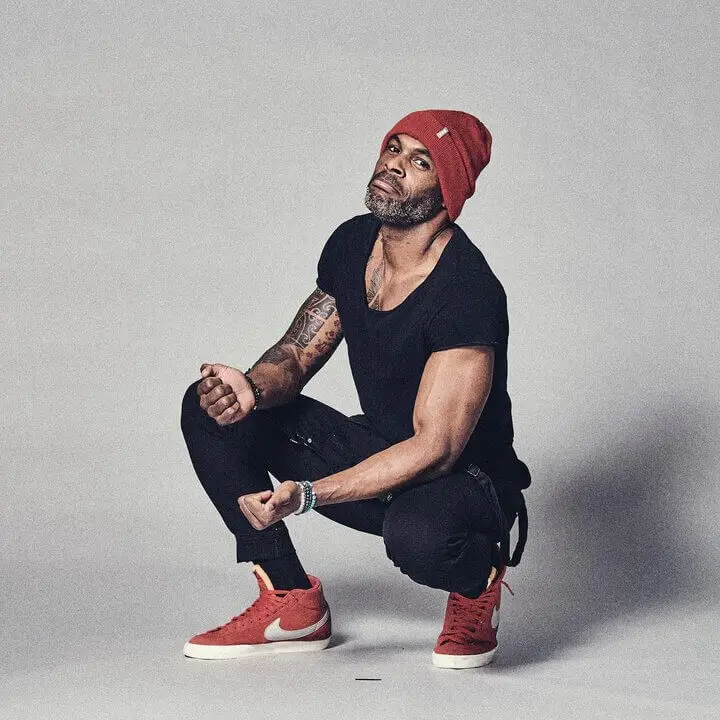 Adrian Williams was born in 1983 and raised in New York, USA. His mom was single until Adrian was six when she married an Italian American. He says his stepdad was a fantastic dad who proudly took his hand when they were out, to the amazement of many. He also points out that his grandma never took it lightly that her daughter married a white man, but she also came to love the man when she interacted with him.
Since both his parents were working, Adrian and his siblings stayed home with their grandma, who became Adrian's most significant influencer.
At school, Adrian was a Bronx athlete and was into sports and fitness from a young age. Surprisingly, all he wanted was to become a pediatric nurse.
He did not get a chance at nursing school, as fate would have. His stepdad had cancer and was under hospice, so Adrian had to take over his family. Therefore, he would take on odd jobs to ensure that his dad and family were okay.
When his father died, Adrian felt it was time to pursue his heart's desire. Since he could not get into pediatric nursing, a friend advised that he join fitness, which had the same agender as nursing; helping people.
Adrian went to West Coast, where he started a career as a personal trainer. Within no time, a startup fitness boutique recognized his talent and offered him a place to work with them.
He loved working at the startup and gave it his all, hoping to grow with it. However, he worked out too much; he says at least 12 hours a day. Sadly, this cost him the last dinner with his grandma before she passed away since he was busy working. It was then that he moved back to Manhattan, only to find his dream career at a growing fitness company waiting for him.
Career of Adrian Williams
Adrian started his career as a personal fitness trainer on West Coast before joining a startup fitness boutique. He dedicated his time and energy to the startup, so much that when Peloton offered him a job in 2018, he declined it in favor of the West Coast startup. However, over time he realized that the startup was not growing as he had hoped.
While working out at a Peloton studio in Manhattan, Rebecca Kenedy, Peloton's director of strength training, saw how he worked out and offered a job proposal. This time, Adrian Williams was in for it and went for the trials, which he obviously won.
Since then, he has always had his mind on Peloton, becoming part and parcel of the success of one of the most excellent virtual fitness companies globally.
At Peloton, Adrian is mostly on strength, treadmill, and treadmill Bootcamp, though he also trains cardio and stretching. While he neither trains in meditation nor yoga in Peloton, he says he takes time off work to concentrate on his mental health. Actually, he takes two meditation sessions daily, in the morning and the evening.
Adrian William's Peloton Classes Overview
Adrian Williams is a strong voice behind strength and treadmill on Peloton just by his appearance and workouts. He is an experienced athlete, which couples with his passion for helping people with fitness goals.
Primarily, Adrian trains strength, treadmill running and walking, circuits, cardio, caesar, and stretching. He has more classes on strength than any other category, where everyone can access his classes regardless of their Peloton equipment or membership.
Moreover, Adrian has a fantastic teaching style, which Peloton refers to as a cross between Andy Speer and Alex Toussaint. All his classes are tough and difficult for the fitness level, yet he brings humor and a sense of encouragement. You will even forget that you did not want to work your body to that extreme when with Adrian.
Adrian also emphasizes the need for rest during the class and between different workout sessions. So, during the class, you will find him getting less intense moments where you move around the mat to cool down.
The fitness instructor has numerous fans, evident by how frequently his classes are taken on demand. For example, this 10-min full-body stretch class has over 450k workouts.
Most importantly, Adrian Williams is great at maintaining neutrality, which attracts all categories of people to his classes. He never talks about religion, sexual orientation, politics, or other things that could make some people feel left out or discriminated against. He is also excited to welcome new Peloton users to his class, who can definitely feel the warmth in his voice.
Adrian Williams is a Tread and Strength instructor at Peloton, leading popular high-octane classes. He always tries to balance a sense of humor and high fitness performance.
His main role is Tread and Strength, so almost all of Adrian Williams's classes are about Tread and Strength with 166 and 278classes, respectively.
We will focus on his Strength Class in the next parts of this article.
Class Length:
Adrian Williams's classes vary in seven kinds of time, ranging from five minutes to thirty minutes. Specifically, it can be shown as below:
5-min (9 classes)
10-min (73 classes)
15-min (18 classes)
20-min (77 classes)
30-min (40 classes)
Adrian Williams' exercises are short but intense. His classes are suitable for intermediate and advanced learners. So please consider carefully before joining his classes.
Class Type:
The Strength exercises of Adrian Williams are quite diverse. They help you practice all parts of the body. Along with that are:
Warm-up (12 classes)
Bodyweight (27 classes)
Full Body (52 classes)
Upper Body (74 classes)
Lower Body (30 classes)
Core (36 classes)
In addition, the exercises for each muscle area of the body are also instructed in great detail by Adrian Williams, including Arms, Back, Chest, Legs, and Shoulders.
Class Language and Subtitles:
All Adrian Williams's cycling classes have the English language. Additionally, he has 15 classes with German subtitles and 222 classes equipped with English subtitles.
Class Music:
Music in Adrian Williams's strength classes is rich and diverse in genres. He can combine many types of music intelligently and effectively to boost the members' power.
In particular, the music includes:
Alternative (1 class)
Electronic (7 classes)
Latin (2 classes)
Hip Hop (84 classes)
Pop (9 classes)
Rock (1 class)
R&B (6 classes)
Popular Workouts from Adrian Williams
30 min Power Walk: (Difficulty: 5.2 out of 89,449 ratings) Get excited and get moving in this 30 min Power Walk. After a 5 min warm up, you'll spend 24 mins walking to one of Adrian's favorite playlists before a 1 min cool down.
10 min Full Body Stretch: (Difficulty: 3.8 out of 84,959 ratings) Recovery starts here! Your muscles will thank you after taking this full-body stretch so you're ready for your next workout.
30 min Pop Run: (Difficulty: 7.2 out of 70,506 ratings) Feel the beat and run with Adrian to this pop playlist. After a 4 min warm up, run for 25 minutes and end with a 1 min cool down.
30 min Pop Walk: (Difficulty: 4.8 out of 68,364 ratings) If you only have 30 minutes, this pop fun walk with Adrian is the perfect workout. Start with a 4 min warm up and then focus on 25 mins of walking before wrapping up with a 1 min cool down.
30 min Walk + Run: (Difficulty: 6.8 out of 58,203 ratings) Get the best of both worlds in this walk + run with Adrian. After a 6 min walking warm up, walk and run for 23 mins before winding down with a 1 min cool down.
30 min HIIT Cardio: (Difficulty: 8.0 out of 57,487 ratings) Join this cardio workout designed to increase strength and endurance.
10 min Core Strength: (Difficulty: 7.0 out of 56,799 ratings) Join us on the floor for a core workout to align, strengthen and tone your lower back and abdominal muscles.
Top 3 Reasons why Adrian Williams's Tread Classes are interesting
Adrian Williams's Motivation
Caring for a father taught Adrian how he overcame adversity and pain. Thanks to her grandmother's advice, he understood the importance of health and wellness. Therefore, every time he teaches his members, he motivates people to practice with enthusiasm.
Adrian Williams's Training Style
Adrian Williams always wanted his members to start the class in the brightest mood and end with a smile. The way he transmits positive energy in each training session is the trait to attract more customers.
For high-intensity exercises and a combination of cardio and strength, Adrian Williams requires members to have a good fitness foundation. Although these exercises are quite difficult for beginners, members will have significant changes if they can catch up.
Adrian Williams's Playlist
For high-intensity exercises, EDM will be very suitable for music platforms. Meringue, bachata, salsa, and hip-hop are his favorite genres. Coming to Adrian Williams' training class, you will not be afraid of being bored because there will be a new song every day.
All About Adrian Williams
Let's briefly talk about Adrian Williams's life in general;
Early Life and Family
Adrian was born in 1983 in New York and is a US citizen. He is black by ethnicity and was raised by his mom, stepdad, and grandma. He also has siblings.
He started athletics at the Bronx at an early age and always had a soft spot for fitness, which is a reason his classes at Peloton feel so natural.
Personal Life
Adrian Maurice Williams is not married yet, nor does he talk about his dating life. Some people speculate he is gay, though he never did or said anything to suggest it. While on the same, Adrian has not talked about having any children of his own.
However, he has a soft spot for children. He loves his niece and nephew, who also seem to enjoy his company. He also has a spectrum of photos he views as impressive, which include captions with children.
Adrian also values family and constantly reminds his fans to spend time with family for holidays and fun times. He also regrets not being there for his grandma during her last dinner with family, simply because he was working. Most notably, he halted his childhood career dream of being a nurse to care for his ailing dad and his family when they needed him.
Hobbies
Photography
Swimming
Nature walks
Adrian Williams Famous Quotes
If You Don't Squeeze Your Glutes, Noone Else Will
I think we'll play great. We have lapses, but we encourage each other and have great chemistry.
You should never take an all-star game too seriously. You should take it seriously enough that you don't get hurt, but it's having a good time for the most part. It's all laughter and fun.
Never give up because great things take time.
Why We Love Adrian Williams
We love Adrian Williams because he is so much fun to work out within Peloton. He does the job without cursing or making us feel like it is too much for us. Also, he will remind us that we are the only ones who can work out for our bodies.
Besides that, Adrian has a healthy diet plan that comes naturally. Did you know that he swears salmon for breakfast? Well, he says that his discipline in diet started in childhood when his mother enforced it.
He also encourages patience and persistence in people who want results in physical training.
This is a 10-question interview about Adrian Williams with a close and interesting question:
Adrian Williams FAQs
Who Is Adrian Williams?
Adrian Williams is a strength and treadmill instructor on the virtual fitness platform Peloton. He puts on a blend of strength and endurance training into something that becomes fun and manageable for his users.
What Does Adrian Williams Eat?
Adrian Williams is disciplined in what he eats, which mainly includes fish and vegetables. He also takes toast, peanut butter, and oat milk coffee for breakfast and adds fruits and nuts for his daytime snacks.
Is It True That Adrian Williams Turned Down Peloton's Offer?
Yes, it is. When Peloton first approached Adrian Williams, he was reluctant to work with them because he was committed elsewhere. However, the second time he got the chance, he realized just how much he wanted to be in a place like Peloton.
Does Adrian Williams Have Children?
No, he doesn't. The children Williams posts on his social media are either relatives or friends' kids. He loves kids, but he doesn't have his own yet.
Read Also: