Jenn Sherman, born on December 1, 1969, in New Jersey, was the first instructor ever in Peloton. At 53, she is among the Peloton cycling instructors who have contributed to the success of indoor Fitness at Peloton. Surprisingly, she got the job by actually requesting it when the opportunity did not even exist!
Most interestingly, she started spinning at 40, only to make a career out of the exercise. You probably know Jenn Sherman as the first instructor of the famous virtual indoor fitness company, Peloton. Or, she is simply your favourite mother-figure Peloton instructor. Either way, let's dig up more about her bio;
Quick Facts About Jenn Sherman
Jenn is the oldest Peloton instructor in age and the time she has served in the company.
She did not try anything to do with sports when she was in school, though she loved the field of Fitness.
She's in love with her hometown, which led to her being on a local (@201magazine) magazine cover!
She earned her Communications degree at Syracuse University, where her love for music was enhanced.
Though into Fitness, she only tried an indoor spinning bike once she was 40.
Jenn got her Peloton job by sending a random email to an address provided on the media.
Fast Facts
Full Name: Jenn Sherman
Nickname: Jenn S.
Birth Date: December 1, 1969
Age: 53
Height: 5 Ft 6″
Residence: New York City
Citizenship: American
Relationship Status: Married
Current Profession: Fitness Instructor
Instructor: Cycling
Peloton Leaderboard Name: Jenn Sherman
Social Media: Facebook, Instagram, and Twitter
Background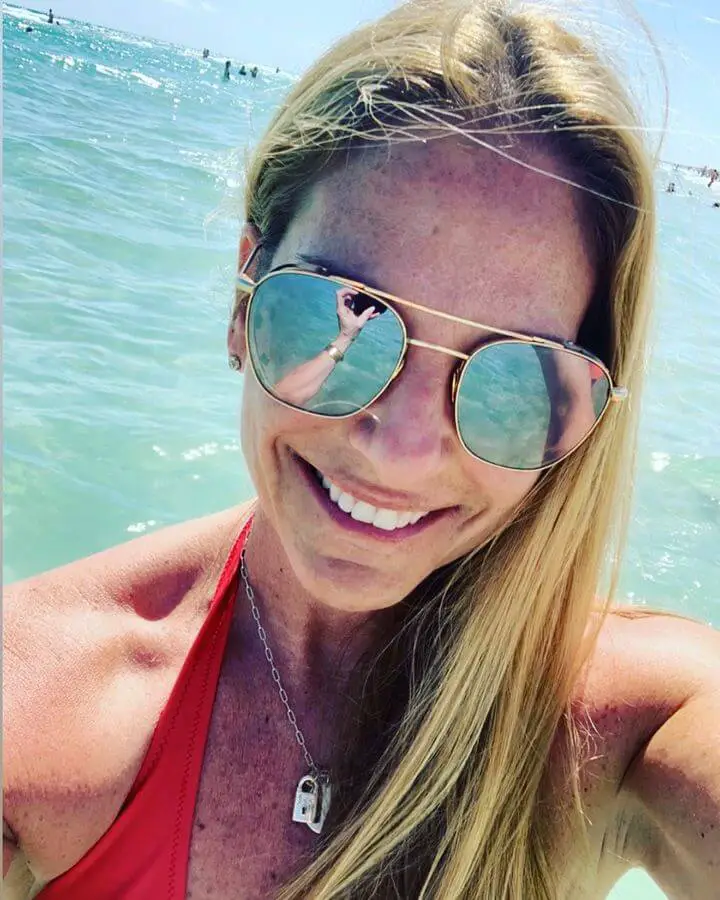 Jenn was born on December 1, 1969, in Fort Lee, New Jersey, USA. she loved Fitness ever since she was young, though she only got to try aerobics. Later, between 18 and 20 years, she studied and graduated from Syracuse University with a bachelor's Degree in Communications.
She was iconic for working out at the nearest SounDown Fitness on campus. She also loved talking about basketball with friends, though she never considered even cheerleading.
When she got married, she decided to settle down and take care of her two kids as a stay-at-home mom instead of taking on a job as her career demanded. She waited until they were both in pre-school (they have a difference of approximately three years) before she could go back to Fitness.
Once she returned to Fitness, a friend recommended that she take an indoor spinning class. This class was the beginning of her newly-formed interest: she was ready for a new course as a spinning instructor.
Jenn Sherman Peloton Classes Overview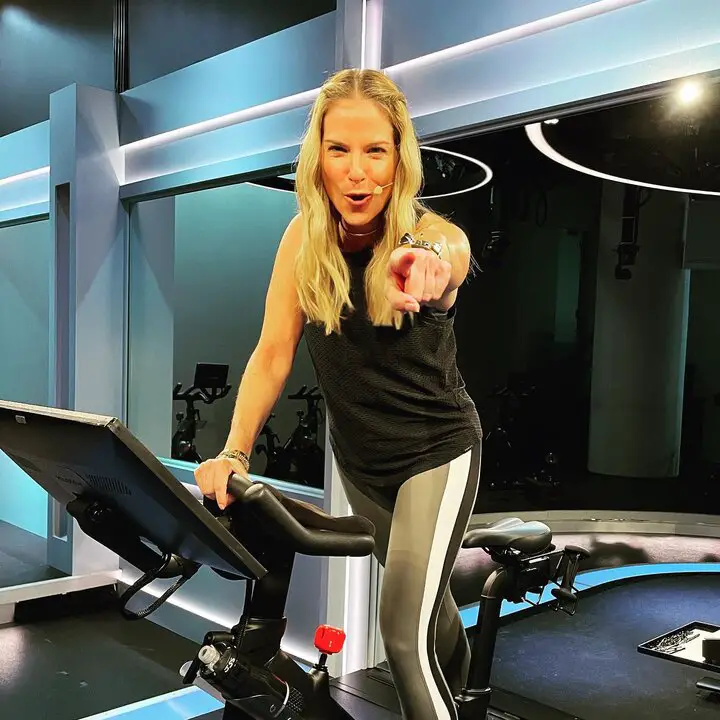 Jenn Sherman has so many classes, of course, being the oldest on Peloton. Also, you can see from her catalogue how much Peloton users love her classes, as with this 5- min post-ride stretching, which has over 500k workouts.
Jenn is primarily a spinning instructor at Peloton, where she trains most spinning classes. She is one of the best low-intensity cycling instructors in Peloton. Other categories of workouts she coaches also revolve around cyclings, such as stretching ( post-ride stretching) and strength (arms & lightweights, and toning arms).
Jenn is also one of the few instructors with almost all durations of cycling exercises on Peloton. For example, Peloton cut on long classes in 2021 to concentrate on shorter and medium-level options. However, you will still find a spectrum of 60-minute rides with Jenn Sherman.
Basically, Jenn's classes are mostly themed, which is not surprising given her taste in music- I mean, she has been to Bruce Springsteen's concert 75 times and counting. Middle-aged people and seniors in their 40s and above are fascinated by this music that they can resonate with, and she also attracts youngsters who love old music. So, if you are up for the 2000s, 70s, 80s or 90s playlist, there is a big chance Jenn's next scheduled class will have a selection for you.
On top of that, Jenn is a get-it-done type of instructor. While singing along to most of the tracks, she still takes advantage of every opportunity to remind you to push yourself harder.
However, don't mistake her age for a cool and polite class; on the contrary, she is a typical northerner with many curse words in her commentaries. It is no wonder some of her classes are labelled 'explicit', which means you cannot watch with younger children.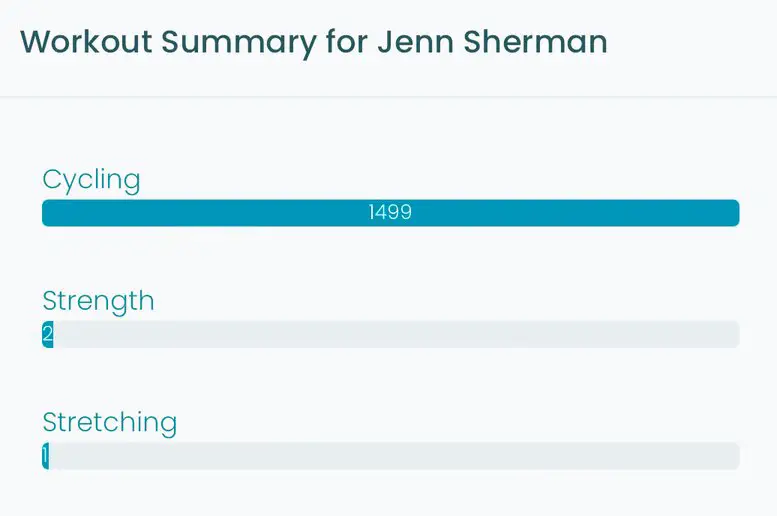 Popular Workouts from Jenn Sherman
All About Jenn Sherman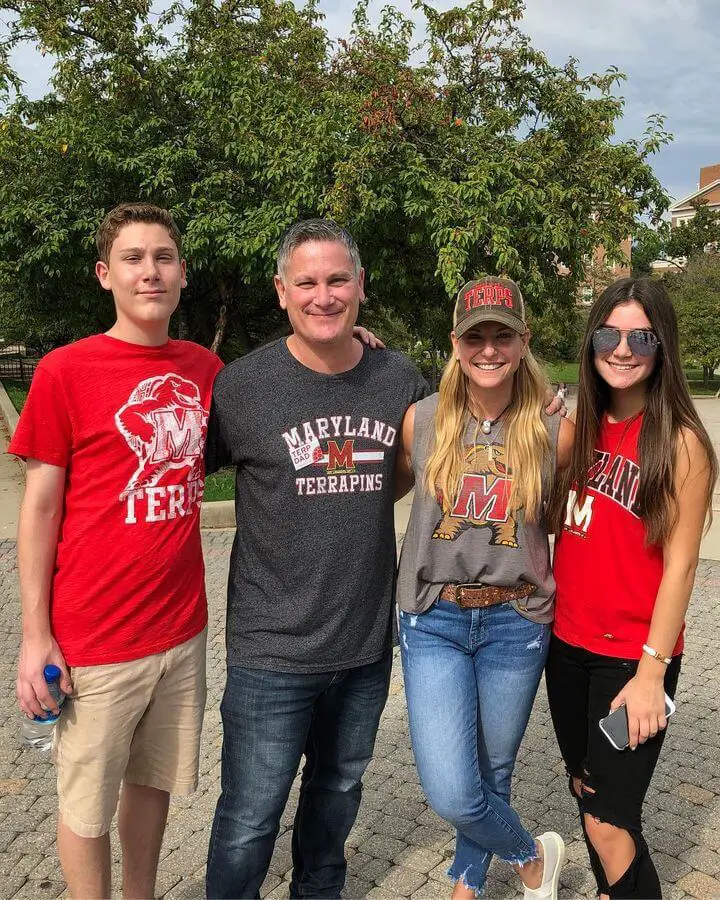 Let's have a glimpse at some of the important details about Sherman's life:
Early Life and Family
Jenn was born in 1969 and brought up in New Jersey, USA. She is white with a natural blonde outlook and a slender athletic figure at 5'6″, making her look way younger than her 'proudly '50s'.
She went to school in New Jersey, ending up at Syracuse University for her tertiary education, where she pursued a bachelor's degree in communications.
Though she never engaged in sports, she always got time for fitness activities. On campus, she would always go out with friends for aerobics and fitness exercises in a nearby fitness centre.
Personal Life
Jenn is married and a mother of two beautiful children, Evan (21) and Carly (18). She dedicated her life to taking care of her children before school and only thought about working when they were both in school.
She talks about her family on Peloton, which gives her classes a personal and real touch, despite being virtual.
Hobbies
Being with her kids when not at work
Reading books
Live concerts and listening to music
Career
Though Jenn studied communications, she ended up where her real passion was; in Fitness. Actually, Peloton was able to blend her degree in communications with her passion for Fitness, both of which she uses for virtual coaching.
In her late 30s and early 40s, Jenn joined the spinning world through a friend. She loved it the first time she hopped onto the bike, and the studio owners could also see it. Therefore, they offered to pay for her to train as a spinning instructor.
Once she was through with the training, she started training spinning classes, and her classes were so loved that people would queue for her training.
It was then that she felt ready for a breakthrough in her new career; she wanted to open her own fitness studio as a partnership.
However, the breakthrough came into a whole new dimension. Before starting her studio, she saw the peloton startup article and felt it was for her. She loved the virtual fitness training concept and felt she wanted to be part of the deal.
Consequently, she took the email at the bottom of the article and wrote to the email, though she had no hopes for a response. In the email, she dared the recipient with an email titled: 'Why You Need Me' and explained that she was already a spinning trainer.
Within a week, John Foley, the then Peloton CEO, emailed her back with a response, and they were to meet for coffee. Here, she was honest that she had no experience with startups or what they entailed. Nonetheless, she was positive that she wanted to be part of Peloton. She impressed Foley and was hired immediately as the first Peloton spinning instructor, hence the beginning of her Peloton career.
Jenn has seen Peloton grow from scratch and is happy to be part of the process. They started off with 100s to millions of users, and one live class can attract thousands of users. With it, her career as a spinning instructor has grown, and today she has on-demand classes that command 200k and even 350k + workouts.
Moreover, she has grown into a socialite, with a Peloton following of over 204k on Instagram. She even has celebrity fans that attend her classes, such as Rob Lowe and Howard Stern, who are media personalities that specifically quote her for their Peloton experience.
Jenn Sherman's Famous Quote
JFDI (Just F**king Do It!)

Jenn Sherman
Jenn Sherman's FAQs
What is Jenn Sherman's age?
Jenn Sherman, a Peloton indoor cycling instructor, is 53 years old as of 2023.
Is Jenn Sherman married?
Yes, Jenn Sherman is married and has two grown-up kids, Evan and Carly.
Who is Jenn Sherman's husband?
Jenn Sherman is married and a family woman, but she has not yet revealed her husband's identity.
What is Jenn Sherman's salary?
Jenn has never revealed her exact salary from Peloton or other sources. However, being the first peloton instructor, she definitely earns among the highest. She also has shares in Peloton, like all other Peloton instructors, which gave her a lucrative income, especially between 2020 and 2021 when the company was at its peak.
Who is the oldest female Peloton instructor?
The oldest Peloton female instructor is Jenn Sherman, who will be 53 years old in 2023.
How old is Jenn Sherman Peloton?
Jenn Sherman from Peloton is 53 years old in 2023, having been born in December 1969.
Does Jenn Sherman have kids?
Yes, Jenn Sherman Peloton has two kids, Evan and Carly. They are 21 and 18 years respectively.
References
Related Posts: