Rebecca Kennedy, a dancer and gymnast by profession, is a renowned Peloton tread and strength instructor. On top of that, she is the Director of Strength at Peloton. Her popularity as a Peloton instructor stems from her numerous moderate-intensity exercises, which are doable for most users.
Probably due to a background in Dance and gymnastics, her choice of the playlist is ever top-notch. She also gives instructions that rhyme with the music rhythm, making exercising easier than it actually is. She is also currently training a Peloton Guide exclusive 'Straight to the Core' program, which should be available to all Peloton users soon.
And there's more;
FAST FACTS
Full Name: Rebecca Kennedy
Nickname: rk-solidcrew
Birth Date: August 13th
Age (How old, as of 2023): 29 years old
Height: 5 Ft 6 inches
Residence: Boston, USA
Citizenship: American
Relationship Status: Dating
Current Profession: Peloton Fitness Instructor
Instructor: Tread and Strength
Previous Profession: NFL Cheerleader, Bootcamp trainer, Nike Master trainer
Peloton Leaderboard Name: RKSolid
Social Media Account: Facebook, Instagram, Tiktok, LinkedIn, Twitter
Background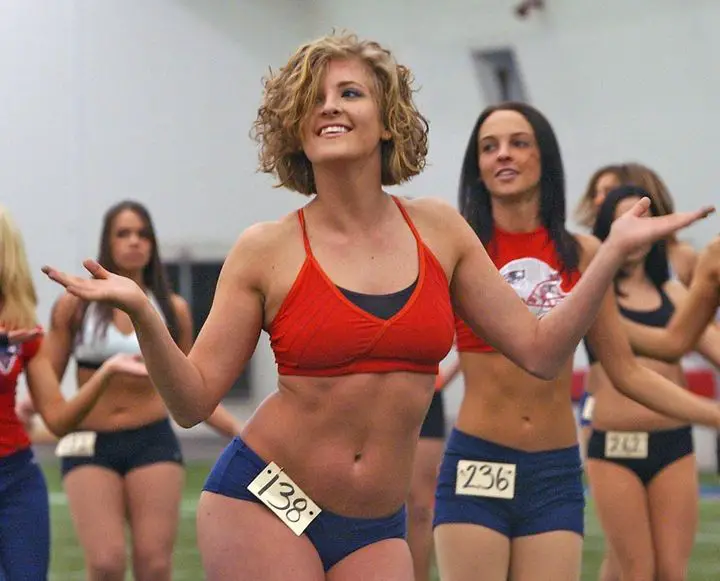 Rebecca Kennedy was raised in Boston, where, from as young as three years old, she started taking an interest and training in gymnastics and Dance. Actually, she was in USA Gymnastics competitions throughout her school life until she was in grade 10.
She was also involved in track & field, which explains her unique experience brought in the treadmill classes.
Later, she graduated from Dean College with a Dance major and a Business minor. It was then that she moved to NYC, where she sought a job as a model, and dancer, among others.
Wilhelmina Modelling Agency took her as a Fitness model, and she also got a place as an NFL cheerleader.
She also did fitness training, where she would lead group Bootcamps as well as take on personal training. Rebecca would then work with Barry's Bootcamp and later as a Nike Master Trainer.
John Foley, Peloton's former CEO, attended one of Rebecca's classes, saw the outstanding potential and hired her in 2017 in Peloton.
Overview of Rebecca Kennedy's Peloton Classes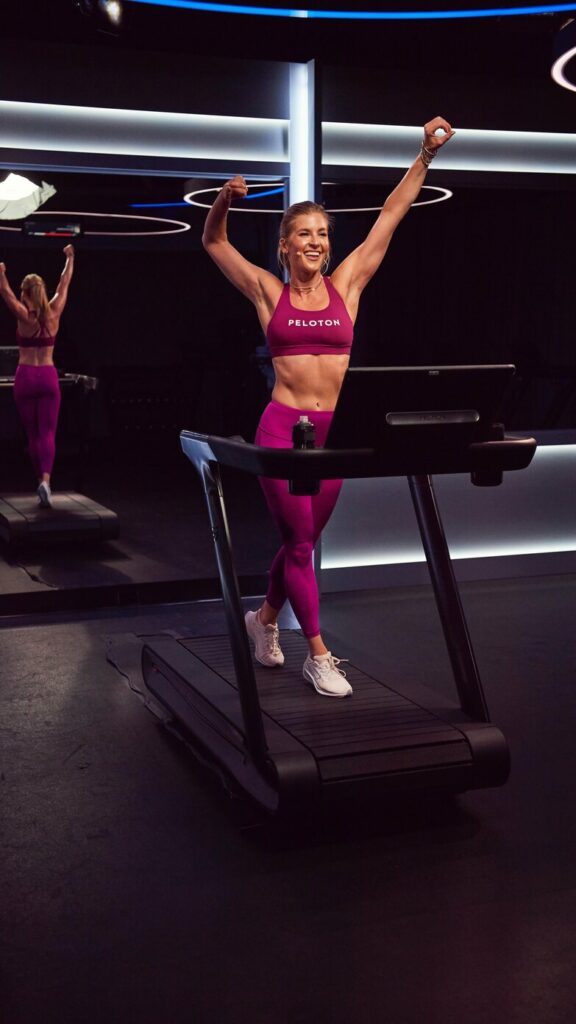 Rebecca is the Director of Strength Training in Peloton, and most of her classes are strength. She focuses on full-body and core training, though she also has upper-body and lower-body strength training classes.
Other than strength training, Rebecca is also a treadmill trainer, which is not a surprise given that she spent the better part of her life on track and field activities. You can find her in both running and walking classes, though she has more running classes for the treadmill. I also love taking Bootcamp classes with her, especially the hiking options, because I dare not try a running option with her. The energy requirements won't just match.
Over and above that, you will also find Rebecca in cardio training, where almost all her classes are HIIT cardio. The best part is that they are often short, between 10 and 30 minutes, hence manageable.
Her new program, which peloton Guide users currently take, 'Straight to the Core', is already popular. Hopefully, it will be accessible to other Peloton users before the end of February 2023.
Her training style involves music that resonates with the exercise and the intensity of the workout. She also motivates her class and has a way of generating and passing energy to her class, even in the most demanding exercise. Overall, she makes her class become the best person of every user's day.
Interestingly, she also motivates her fellow Peloton trainers, and Jess Sims talks to her in her podcast about her role in Jess' strength training progress. Rebecca has a massive following on Social media, and her tread and strength classes are popular. However, her strength classes, especially core and full-body moderate-intensity classes, are the most popular. For example, a 10-minute core exercise from 2020 archives has hit over 300k uses. Another full-body stretch has over 400k workouts from users. There are also longer exercises, such as treadmill walks, that are 45 minutes, yet with over 30k workouts.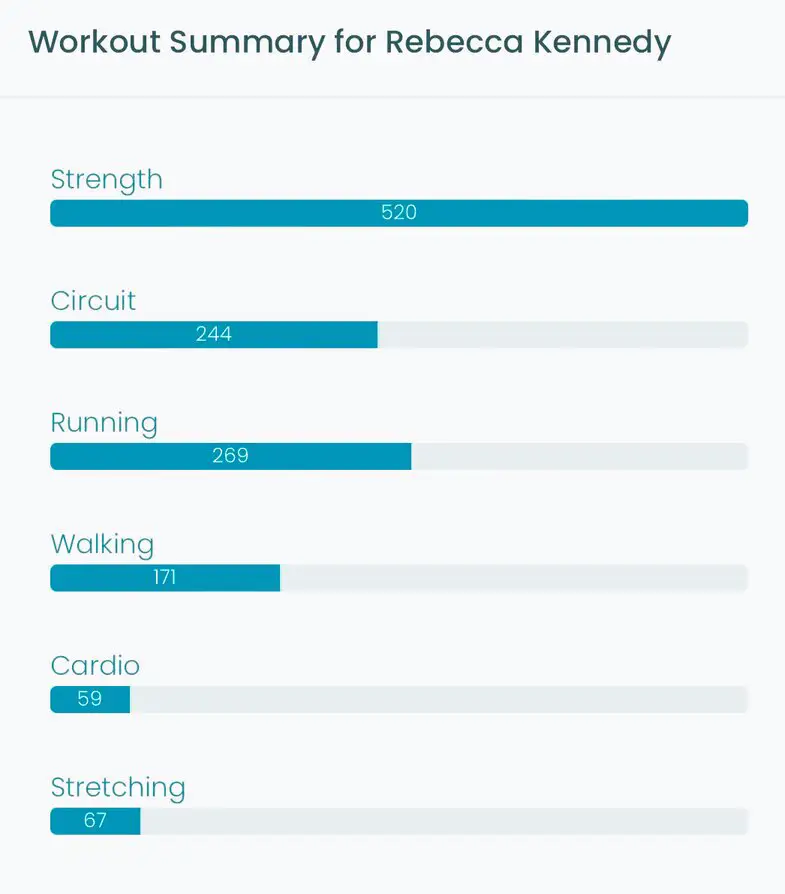 Popular Workouts from Rebecca Kennedy
STRAIGHT TO THE CORE Program: new 4 week Core program is available now exclusively on Peloton Guide. This 4-week program is designed to build core strength and power using progressive overload training. Class durations and technical difficulty increase and equipment is added as the weeks progress"
45 min Power Walk: (Difficulty: 5.2 out of 105,386 ratings)Get excited and get moving in this 45 min Power Walk. After an 5 min warm up, you'll spend 39 mins walking to one of Rebecca's favorite playlists before a 1 min cooldown.
10 min Core Strength: (Difficulty: 7.8 out of 95,797 ratings)Join us on the floor for a core workout to align, strengthen and tone your lower back and abdominal muscles.
20 min Full Body Stretch: (Difficulty: 4.6 out of 86,555 ratings)Recovery starts here! Your muscles will thank you after taking this full-body stretch so you're ready for your next workout.
10 min Full Body Stretch: (Difficulty: 4.5 out of 79,135 ratings)Recovery starts here! Your muscles will thank you after taking this full-body stretch so you're ready for your next workout.
30 min Pop Fun Walk: (Difficulty: 4.5 out of 76,164 ratings)Feel the beat and walk with Rebecca to this pop playlist. After a 4.5 min warm up, walk for 24.5 minutes and end with a 1 min cooldown.
30 min 2000s Fun Run: (Difficulty: 7.0 out of 73,032 ratings)Feel the beat and run with Rebecca to this 2000s playlist. After a 4 min warm up, run for 25 minutes and end with a 1 min cooldown.
45 min Walk + Run: (Difficulty: 6.8 out of 465 ratings)Split your sweat 50/50 between walking and running in this Tread workout.
All About Rebecca Kennedy
Early Life and Family
Rebecca doesn't say much about her early life except some details pertaining to her career. For example, she talks about starting track and field, Dance and gymnastics at an early age. She even had a dream to cheerlead for NFL, which was actualised after she was offered a place with the Patriots Cheerleaders after college.
Career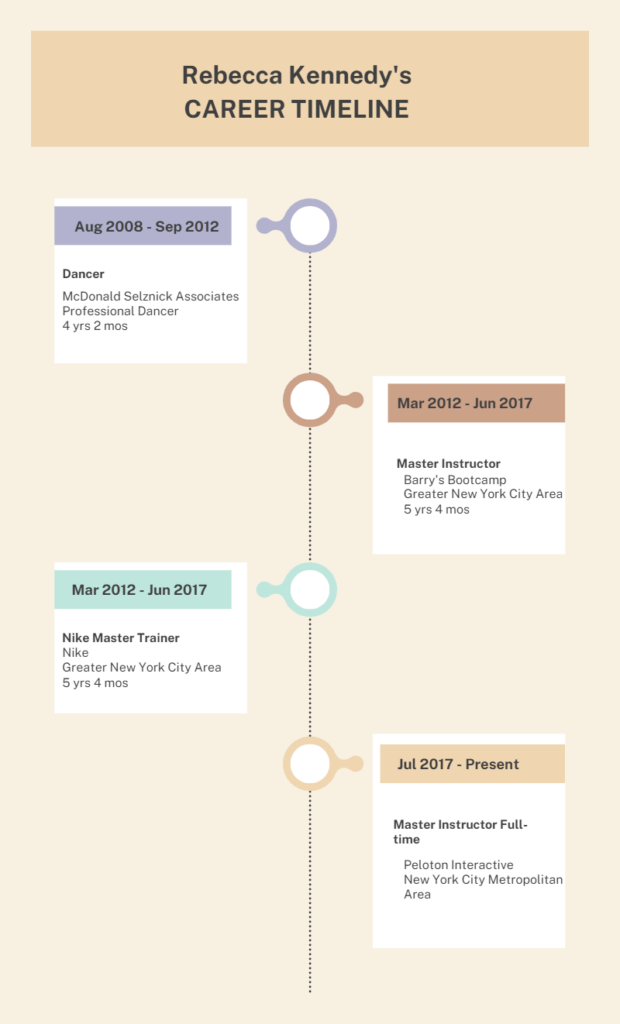 Rebecca has fitness in her blood, and she started track and field activities, Dance and gymnastics at an early age, then carried on until way after college. She even took Dance as a major for her bachelor's degree.
Then, she got a place with Wilhelmina Modelling Agency as a fitness model. At this time, she applied for a place to cheerlead for NFL for the second time, which she got.
Having a passion for fitness, Rebecca also started a fitness journey. She would train in auditoriums and conference rooms while taking personal training jobs. She worked with Barry's Bootcamp and later moved on to Nike as a Master Trainer.
Finally, in 2017, she got a job with Peloton as the Director of Strength Training, where she has been working until now. Here, she is actively involved as a strength and treadmill trainer. She also does HIIT cardio training, as well as stretching exercise training.
Personal Life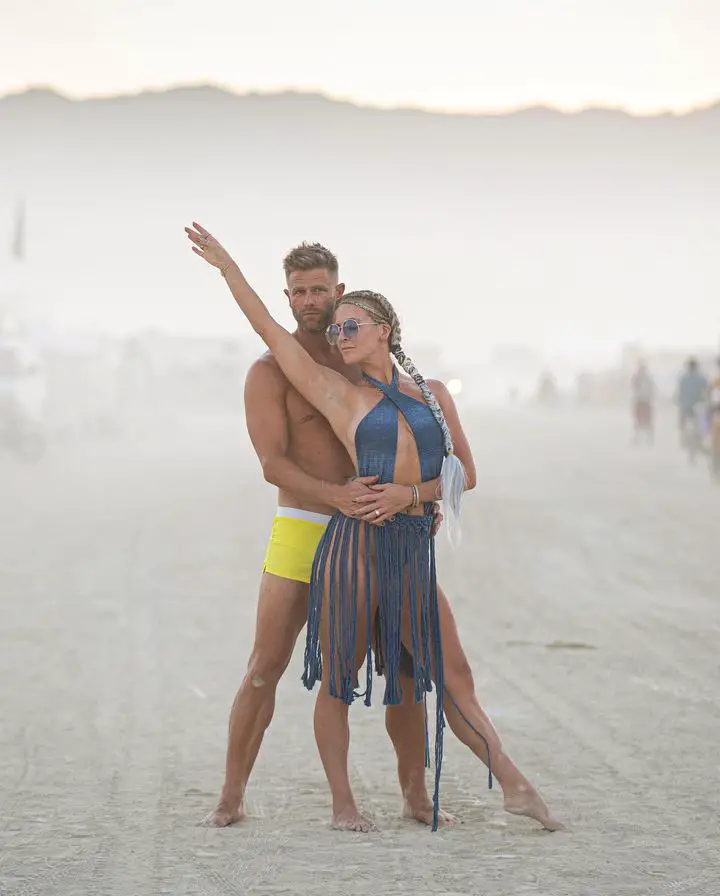 Rebecca Kennedy is currently dating a fellow Peloton instructor, Andy Speer. They are both great at treadmills and strength training and tend to have the same fans. They also both love hiking and enjoy new environments.
She also has a dog she adopted from Puerto Rico, which she cherishes and lives with.
Rebecca motivates her fans through social media channels outside class to be active, sharing tips and guides to keeping fit.
Is Rebecca Kennedy married? No, Rebecca Kennedy is not married.
Rebecca Kennedy's Hobbies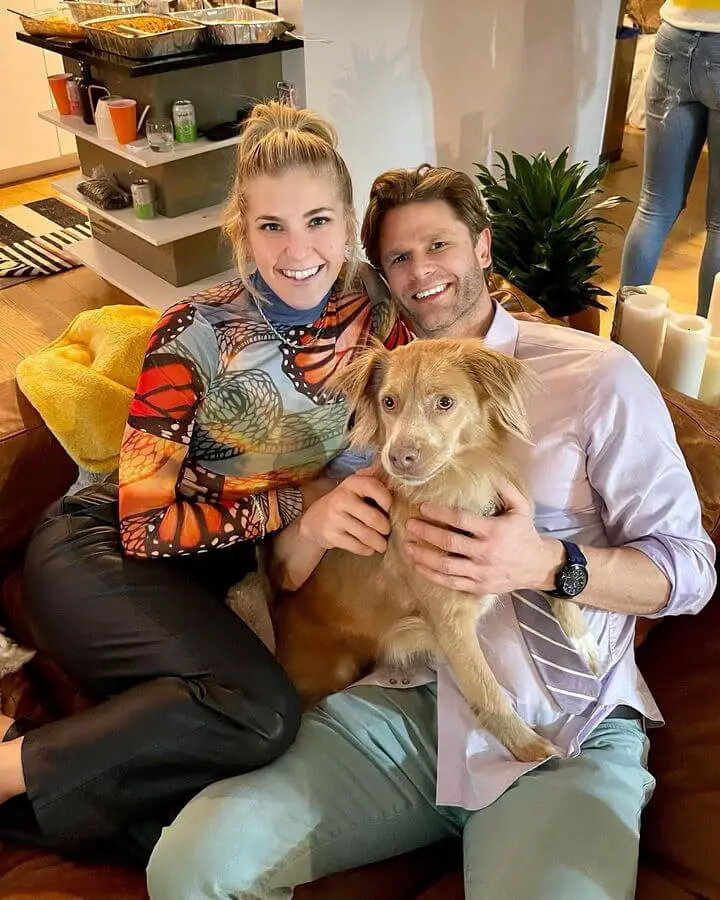 Rebecca has a dog, Sunny, which she loves, shares memories and even posts birthday wishes to.
She also loves cooking, and she has a great zucchini bread recipe.
Kennedy likes travelling to new places, trying new foods and new hiking places.
Rebecca loves hiking and has lately been hiking with her boyfriend, Andy Speer.
She is into Dance and cheerleading, which she can't help even when in class.
She has a substantial social media following and never disappoints with regular updates about her life and job.
She likes taking coffee, which is almost always on her breakfast menu.
Rebecca is humorous in her talks, workouts and social media posts.
Rebecca Kennedy's Famous Quote
You're the keeper of your own body, and you're making your own right choices.
Why We Love Rebecca Kennedy
She is good at what she does and knows exactly what we need for specific training, especially with strength and treadmill classes.
She dresses and acts up to the occasion, reminding us that fitness is part of our bigger lives.
She gives cooking recipes that appeal to food and cooking lovers.
Rebecca is ever happy and dancing, which appeals to the majority of her class users.
Her choice of music playlist is always great.
She is not selfish with information: always giving tips on diet, exercise and fitness in general. Whether you are on vacation or at work, she always has something for you.
Rebecca Kennedy FAQs
Does Rebecca Kennedy Diet?
Interestingly, Rebecca doesn't really diet. However, she says that she takes what her body needs, inside and out. For example, she takes coffee in the morning for rejuvenation, fruits and proteins after workouts and a lunch rich in proteins and vegetables. Here's she Shares What a Week of Eating Intuitively Looks Like for Her.
Rebecca kennedy age?
Rebecca Kennedy is 29 years old. Her birthdate is unknown.
What is Rebecca Kennedy's sexual orientation?
Rebecca Kennedy is currently dating Andy Speer from Peloton, which is an indication that her sexual orientation is straight.
Who is Peloton's Rebecca Kennedy?
She is a fitness instructor at Peloton Interactive and is also the Director of Strength Training. Primarily, she coaches strength and treadmill running and walking, and also treadmill Bootcamps. Rebecca is also Peloton's Andy Speer's girlfriend.
Does Rebecca Have a Background in Dancing?
Yes, she does. She has always danced since she was young and majored in Dance in college. On top of that, she cheerleaded for NFL after college. You might have noticed that as she dances or does some cheerleading often during class.
Conclusion;
Rebecca Kennedy is a Peloton instructor who also came in as a Director of Strength Training. She trains strength, treadmill running and walking, and also stretch and cardio. She is also the only Peloton fitness trainer currently doing hiking Bootcamps. 
Read Also: