Clipless cycling pedals, shoes, and cleats are the three names revolving around advanced biking. However, other than using clipless cleats and shoes, you have to consider that there are different clipless pedal designs. Even better, understand that clipless pedal compatibility with shoes and cleats is not apparent.
Among the most popular clipless pedal designs are Delta and SPD, yet the two are so different that their accessories are not compatible.
As a whole, SPD cleats are two-hole, while Delta cleats are three-hole designs. Delta is better for power transfer than Spd. On the other hand, spd is easy to clip in and out than delta. You can walk with spd shoes, but it's hard to walk with delta.
And there is more to this, so let's dig into the details.
What is Look Delta?
Look Delta is a clipless pedal and cleat combination usually preferred for road bikes and indoor spinning bikes. The cleats have a signature 3-hole design, differentiating them from its greatest competitor, the SPD pedal and cleat system.
It is more convenient, with a wider contact surface and wider compatibility. They are also more convenient, with a memory positioner that facilitates ease in changing cleats.
Furthermore, the design is the most comfortable of Look's creations. It also allows for rotational movement inside and outside for easy disengagement, hence a safer option.
It has also regained popularity from its use by the indoor spinning bike company, Peloton as a default pedal and cleat design.
What are the Benefits of Look Delta?
Basically, Look Delta is preferred for road cycling due to its high power transfer benefits. Its cycling shoes come with a rigid bottom, which couples with the three-hole cleats to offer excellent power transfer to the pedals, hence a more efficient ride. Also provide more secure foothold on the pedals.
Being the default Peloton pedal system makes it the best option for cycling Peloton, as one feels they are in line with the instructors and top-performing Peloton users.
What Shoes are Compatible with Look Delta?
the three-hole system, (which is the cleats' connection point) shoes are compatible with look-delta design cleats and pedals.
Pros of Delta
Best traction for power transfer
Most preferred for road cycling
A more secure foothold on the pedals
Cons of Delta
Shoes not suitable for walking
Difficult to clip in and out
Is Look Delta the Same as SPD-SL?
Well, not exactly. Look Delta is a product of Look Cycle, while SPD-SL is a product of Shimano. The SPD-SL design was created to resemble Look Delta, hence a three-hole design as well. Both look delta and spd-sl are three hole cleat system. However, Shoes with 3 holes will accept Look or SPD-SL cleats. But SPD-SL cleats won't work on Look pedals.
For this reason, it is recommended that one uses each type on its own, either Look Delta or SPD-SL.
What is SPD?
SPD is a Shimano clipless pedal and cleat design that uses two bolts and is standard for indoor spinning and mountain biking. In full, it means Shimano Pedaling Dynamics.
The SPD cleats are small due to their design and the characteristic feature of fitting shoes in a recess. Therefore, they are easier to walk with, a feature that has made the design popular for bike tourists and people who commute on bikes.
What are the Benefits of SPD?
Though there are other two-hole cycling shoe designs, SPD has risen to dominate the field and is unofficially known as the two-hole cleat design.
Primarily, the SPD pedal system is popular for ease in walking in cycling shoes. The shoe bottom has a gripping tread, while the cleats fit in the recess of the shoes encouraging users to walk with ease. And SPD system cleats and pedals make you both faster and safer by making the connection between your foot and the pedals better and easier to clip in and out.
Therefore, they are great for off-road cycling, currently best for gravel biking and mountain biking. They are also most preferred for studio spinning, as members can walk in the shoes to the studio and use the same shoes for different studios.
What Shoes are Compatible with SPD?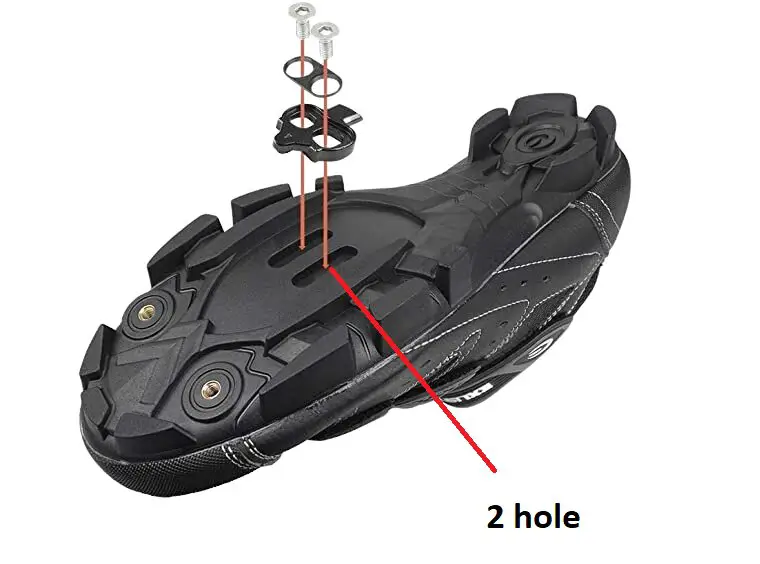 SPD is compatible with shoes whose cleat plate is designed for the two-hole SPD cleats, hence pedals.
Pros of SPD
moderate float
More shoe options
You can walk in the shoes
Easier to clip in and out
Cons of SPD
Less power transfer than Delta
Less shoe durability due to walking factor
A Summary Table of SPD Vs. Look Delta
| | | |
| --- | --- | --- |
| Features | SPD | Look Delta |
| Ease in walking | Yes | No |
| High durability | No | Yes |
| Optimal power transfer | No | Yes |
| Best for road cycling | No | Yes |
| Best for spinning | Yes | Yes |
| Best for mountain and off-road cycling | Yes | No |
| Company | Shimano | Look Cycle |
Common QUESTIONS AND ANSWERS About Spd And Delta
Which One is Better for Power Transfer?
Look Delta shoes feature a rigid outsole, which minimizes flexibility when cycling. It is, therefore, the best power transfer, preventing fatigue and facilitating longer rides.
Which One is Easy to Clip In and Out?
SPD is easier to clip in and out compared to Look Delta. After all, it is designed for ease on and off the bike so that one can even walk in the shoes.
Which is the Best for bad Knees?
Basically, SPD is best for bad knees because it has less float, which is 4.5 degrees. The medium float allows the feet and legs just enough lateral movement to avoid stiffness while locking the feet enough to prevent knee twists.
Delta or SPD: Which is Easier for Walking
SPD is definitely easier to walk in compared to Look Delta. Actually, SPD is designed to enable users to ride and walk in the shoes without a challenge. On the other hand, Look Delta shoes are designed for optimal power transfer, hence a stiff outsole and protruding cleats that are both bad for walking.
Delta Cleats Vs. SPD Cleats: Which Do People Prefer, and Why?
Most people prefer SPD cleats to Look Delta, which is evident from the significant number that even change Peloton Look Delta pedals to SPD. Essentially, SPD cleats and pedal systems are more diverse, given that it is the preference for most spinning studios.
Another primary reason people lean towards SPD is the ability to walk in the shoes, even with the cleats intact. The recessed cleats on SPD make commuting easier, mountain biking more convenient, and offroad cycling fun.
On the contrary, Look Delta cleats are a bit reserved for professional and serious road cyclists, who barely leave the bike for a break when they take a ride.
Is Peloton Delta or SPD?
Peloton pedals are Look Delta and are only compatible with Look Delta and SPD-SL cycling shoes.
Why does the Peloton bike come with Delta cleats compatible pedals? The Delta system has fantastic power transfer, with the three-hole cleats combined with a rigid shoe outsole to deliver optimally.
Which are the cleats that come with the Peloton shoes? Peloton shoes come with Look Delta cleats, compatible with the Peloton default Look Delta pedals.
Can I convert Peloton default (Delta) pedals to SPD pedals?
Yes, you can convert the Peloton default pedals to SPD pedals. There are adapters like this Venzo, designed to fit right into the Peloton pedals without switching the pedals. And with this dual function adapter, you finally ride in your SPD spinning shoes and still get moments with the powerful Peloton Delta cycling shoes with a swap.
Read This Article: How to Convert Peloton Default Pedals to SPD or Flat Pedals?
Can I Change Peloton Delta Pedals to SPD
Yes, you can. Both Peloton Delta and SPD pedals share a spindle length of 9/16 inches. Therefore, they are interchangeable, allowing you to convert your Delta pedals to SPD.
If I Change the Peloton Bike Pedals, Will I Have Any Warranty Issues?
Definitely! Your Peloton pedal warranty only works as long as you use Peloton Delta pedals. Therefore, if you change the pedals for SPD or any other, you will nullify your warranty on the pedals.
Nonetheless, this only means that Peloton will not offer free help for any issue concerning the pedals. On the bright side, the rest of the warranty conditions will remain intact.
Can I Remove the Delta Clip and Put Regular SPD Clips onto the Peloton Shoes?
Otherwise framed, can I put SPD cleats on Delta shoes (Peloton shoes)? Unfortunately, you can't. The Delta clips on the Peloton shoes are not interchangeable with SPD clips, and neither can the SPD clips fit onto the Delta shoes. This is because the Delta clips are three-hole in design, while SPD clips are two-hole.
But, you will need an extra accessory that will aid in the conversion of Look Delta(3 hole cleats) to SPD(2 hole cleats) compatibility. For more details read this: Can You Convert Peloton (Delta) Shoes To SPD? The Answer Is Yes!
Which is the Best for Peloton Bike Bootcamps: SPD or Delta?
Yet another reason Peloton users change the Delta pedals for SPD, the SPD shoes are amazing for Peloton bike Bootcamps. The bike Bootcamps combine strength workouts and biking sessions in the same class, and with SPD, one does not need to change from one shoe to another.
With the Delta shoes, one has to change from cycling shoes to regular in order to take strength training sessions.
Wrapping Up
SPD and Delta are both popular clipless pedal designs. However, their main difference is the benefit each has over the other; Look Delta uses three-hole cleats, while SPD uses two-hole cleats. Moreover, Delta dominates the road cycling field while SPD dominates the mountain cycling and indoor spinning fields.
So, your choice between SPD and Delta will essentially depend on the convenience you need in clipless cycling.
Read Also: