Overall, the Peloton bike pedals require clipless cycling shoes in a three-hole Look-Delta design. These shoes are compatible with the Peloton bike and bike plus pedals without any adjustments. They are the best option for a full Peloton experience.
Nonetheless, suppose you are looking for a full spinning experience instead of cycling shoes. In that case, you can get toe cages compatible with the Peloton bike or even a pedal adapter that allows for regular non-cycling shoes.So, you don't really need special shoes for peloton to ride a Peloton bike, but they are the first option the bike gives you.
Understanding the Toe Cages and Pedal Adapter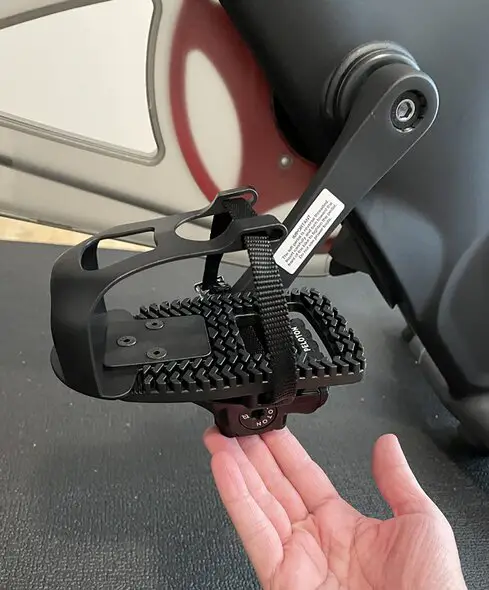 As a whole, toe cages are small fittings that are set at the front of clipless pedals to allow riders to ride in regular shoes. Technically, they have a curved outlook facing away from the toe so that the rider inserts the shoe into them. Most toe cages are adjustable, fitting a wide range of shoe sizes.
Moreover, they are easy to install and uninstall, giving the riders cycling versatility. Note that you can fit toe cages into most universal pedals, regardless of the pedal type.
They can either ride in the toe cages, where they use regular non-cycling shoes or remove the toe cages and use cycling shoes.
Related: 5 Best Peloton Toe Cages for Using Regular Shoes Securely
On the other hand, adapters play the same role as the toe cages, facilitating versatility in shoes for cycling. Adapters are fitted on the clipless pedals for a flat pedal outlook to allow the use of regular shoes. But a side effect of the pedal adapter is that it may slip when riding speedy.
Read Also: Can You Convert Peloton Default Pedals to SPD or Flat Pedals? Yes, You Can!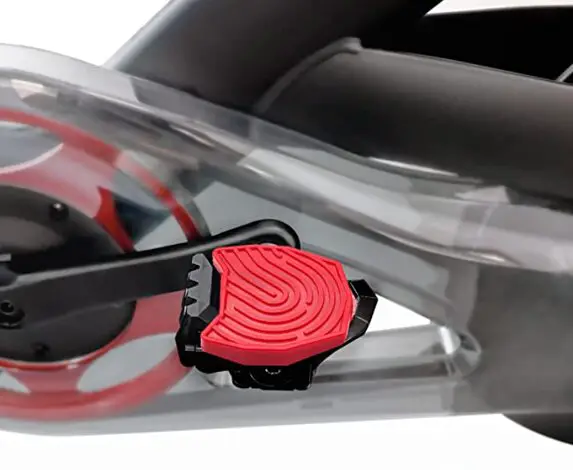 Understanding the Cycling Shoes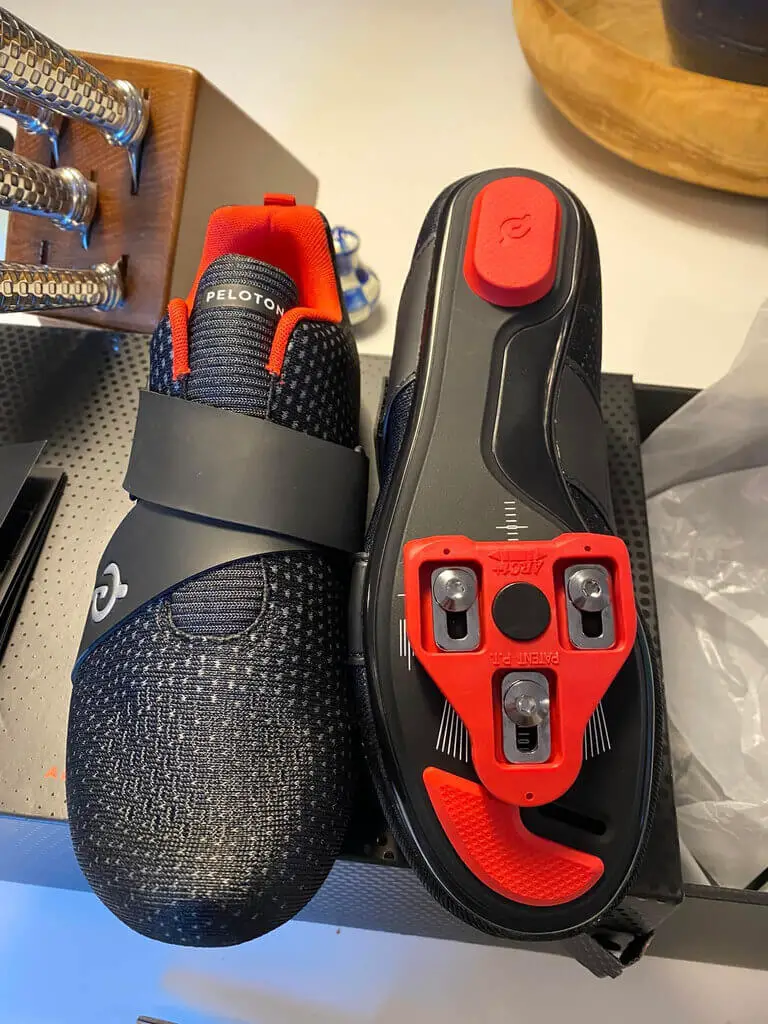 Generally, cycling shoes are special shoes that are designed specifically for cycling on clipless bike pedals. They have a specially designed bottom, which fits in cleats that clip into the clipless bike pedals.
There are different types of clipless cycling shoes, such as Look Delta, Look Keo, SPD, SPD-SL, and Crank Brothers. Likewise, there are different variations of clipless pedals, which fit specific designs of cycling shoes and cleats. For example, SPD pedals are compatible with SPD cycling shoes.
Cycling shoes clip into the clipless pedals, making them one. Therefore, you will be free to slide off the pedals during cycling. They are also better preferred than regular shoes because they have a stiffer outsole, and the power transfer is way better.
Usually, Peloton uses Look Delta pedals, which are compatible with cycling shoes that are in the Look Delta design. Currently, the only compatible shoes are either Look Delta or SPD-SL (3-hole cleat system).
Related:
Which is the Best for Me, Toe Cages or Cycling Shoes?
Of course, cycling shoes, but if you have a knee problem, then toe cages should take precedence.
In general, cycling shoes have more benefits than toe cages in terms of better performance. They have better power transfer benefits, and it is easier to concentrate in cycling shoes because they are difficult to clip in and out.
On the other hand, toe cages are better because they have more flexibility, hence more convenient. They are easy to get in and out of, most preferred by parents with young kids and people with other things to do during cycling sessions.
Benefits of Using Cycling Shoes for Peloton
Cycling shoes are more expensive than regular shoes or even toe cages, yet people will still prefer them over the cheaper options. So, why are cycling shoes for Peloton an attractive option for users?
A Secure Foot: Cycling shoes attach to clipless pedals to become one, which makes them more secure regardless of the riding intensity and style.
A Solid Base for Stronger Strokes: Unlike regular shoes that only encourage the push factor in pedalling, cycling shoes enhance both the push and pull factors. After all, the shoes have a solid outsole, usually fibreglass or a composite of fibreglass that reduces flexibility.
A Smoother Ride: Since your cycling shoes and the pedals become one, you get a smoother and more comfortable ride.
·A More Aerodynamic Position: There are times when you want an aerodynamic position for better cadence and output. In cycling shoes, the aero position is more achievable because the shoes have a better pedal grip.
No Slipping/ Injury Prevention: cycling shoes have the best grip on the pedals, given that they clip in and attach into the compatible pedals. Therefore, there is no risk of bike slipping and potential injuries.
More efficient energy transfer to pedals. Power transfer refers to the energy transfer from the feet to the pedals, which minimizes fatigue during cycling. Better power transfer enables the user to ride faster and longer, enhancing their overall output. In Peloton, where cycling is really competitive, cycling shoes will definitely offer a competitive advantage over others on the Leaderboard.
Cycling shoes are highly durable. Peloton cycling shoes have protruding cleats, which make them difficult to walk in when not cycling. Therefore, even the cheapest options will last long, given that you only use them for cycling. Then, you will always have assurance for your feet anytime you need to take a class.
The three-hole cycling shoes for Peloton also double as road bike shoes. So, if you already have a road bike or are intending to start road biking, the shoes are an excellent accessory for another of your activities.
The clipless pedal shoes help finish a class without distractions. Clipping in and out of the cycling shoes is not as easy as getting out of the toe clips. Therefore, rather than take a couple of minutes to get on and off the bike, users prefer hanging on until the end. The final result is a complete exercise with better output.
Cycling shoes give you a complete Peloton experience. Ideally, the Peloton bike comes designed for cycling shoes. The instructors also use cycling shoes for the classes, and it becomes easier to fall in line with the class when you have the same cycling accessories.
Cons of Using Cycling Shoes for Peloton
While cycling shoes are a great addition to your Peloton bike, they have limitations that we cannot ignore;
Cycling shoes are quite expensive. You will find that cycling shoes, especially Look Delta, are quite expensive. After purchasing the expensive Peloton bike or bike plus, cycling shoes are an extra expense that can be a pain on your budget. Since they are unnecessary, one can often opt for the adapter or toe cage options.
Cycling shoes are limited in emergency cases. It is not easy to get on and off the Peloton pedals when wearing Peloton shoes. For this reason, Peloton users who have cases such as diabetes, and small children, among others, can find the shoes risky. Therefore, they opt to avoid the shoes to cater to the emerging needs as they arise.
Do You Need Peloton Brand Shoes?
No! Peloton brand cycling shoes are great and high-quality, plus convenient, especially if you purchase them with the bike. However, they have limitations, such as only being available for narrow to standard foot sizes.
Therefore, Peloton allows members to choose shoes from other brands, as long as the cycling shoes have the Look Delta cleat design. So, you can always source shoes from Amazon or even physical stores around you to suit your budget and exact shoe size.
Can you use any cycling shoes with Peloton? While Peloton allows the use of other cycling shoe brands on the pedals, not every cycling shoe is good for Peloton. Cycling shoes in designs such as SPD is not compatible with Peloton pedals, Only Look Delta or SPD-SL (3-hole cleat system) shoes are compatible with peloton. so you still have to be choosy even with freedom with other brands.
Related: Peloton Brand Shoes Vs. Other Shoes
Can You Use a Peloton Without the Cycling Shoes?
Yes, you can use a Peloton bike without cycling shoes. The Peloton pedals are compatible with a spectrum of toe clips and pedal adapters, which allow for the use of regular shoes on the bike.
Can You Use a Peloton Without Shoes? No, you can't ride the Peloton bike barefoot. The clipless pedals are slippery, and the feet can slip off the pedals, causing feet and other body parts injuries. If you cannot use the cycling shoes for whatever reason, Peloton allows for the use of toe cages, which accommodate regular non-cycling shoes regardless of the shoe size and design.
Related: Can You Ride A Peloton With Regular Shoes?
What Cleats Do You Need for Peloton?
You will need the three-hole cleats in the Look Delta hole design. Therefore, you must confirm that the cleats are Look Delta or at least fit into Look Delta cycling shoes and pedals for Peloton compatibility.
For the Bike Bootcamp, Do You Need Two Pairs of Shoes?
Peloton bike Bootcamp refers to Peloton exercises that are a combination of bike sessions and floor strength training.
So, do you need two pairs of shoes for bike Bootcamps? Yes and no. The Peloton cycling shoes are necessary if you have clipless pedals. Then, you will change into regular sports shoes for the floor training exercises.
On the other hand, you can decide to take the floor sessions barefoot on a carpet, in which case you will only need cycling shoes. Alternatively, if you are cycling with regular shoes on Peloton toe cages, you can use the same shoes for floor training. Then, you will only use one pair of shoes for both sessions.
Bottom Line
Do you need special shoes for peloton? You don't really need special cycling shoes for the Peloton bike. However, you may want them due to the power transfer and better Peloton experience that is better with cycling shoes.
Nevertheless, the peloton pedals are compatible with a variety of toe cages, from the peloton bike and on other markets. In this case, you can ride Peloton with regular shoes.
Read Also: