Research from Orangetheory indicated that a significant number of members had two gym memberships; one at Orangetheory and another with a strength training gym. Most of these members opt for a lower-cost membership at OTF, preferably the elite membership that has 8 classes per month. Then, they supplement the classes with strength classes from the other gym.
Other members only have the Orangetheory membership and are committed to the Orange 60, but they wish that there were muscle-building alternatives.
From this research and user recommendations, Orangetheory introduced Orange lift 45 for weight lifting, in addition to the Orange 60 classes.
What is Lift 45 at Orangetheory?
Lift 45 at Orangetheory simply means, as the name implies, lifting weights for 45 minutes. Therefore, it primarily focuses on strength training.
According to Orangetheory,
Lift 45 is Orangetheory's new 45 minutes class focusing on weights/strength training. It is meant to help you build or maintain lean mass, improve your form, and add healthy lifting and floor work to your workout routine. During a Lift 45 class, you'll see NO cardio and will focus only on Upper Body, Lower Body, or Full Body. Lift 45 classes are an amazing option to add to your everyday fitness routine.
It is different from other Orangetheory classes that last for 60 minutes, hence Orange 60. Other classes also incorporate three types of HIIT workouts that are the treadmill (with the bike and strider alternatives), the rowing machine, and floor training. In this case, Standard Orange Theory classes don't spend enough time on resistance training, floor strength training only takes one-third of your class time.
When you come to Lift 45, you will have 45 minutes purely dedicated to strength training. And, as we all agree, building muscles is just as important as losing weight, hence great incorporation to the studios.
Lift 45 is a great addition to the mix to avoid unbalanced programming that favors cardiovascular and muscular endurance over building strength and power. More metabolic changes (better body recomposition) will happen with resistance training too (yes, even with lower heart rates which is hard for a lot of OT members to accept).
Now, members have options to either book Orange 60 classes only as before, shift to Orange 45, or simply, as most prefer, have a blend of both niceties.
Lift 45 involves gym equipment such as BOSU balls, TRX straps, medicine balls, dumbbells, workout benches, and other strength training equipment in Orangetheory. Some of the exercises require specific equipment and accessories; others have alternatives depending on your preference.
News: As of September 1, Lift 45 is now changing to Strength 50. Starting September 5, there will be a Strength 50 class offered every day of the week!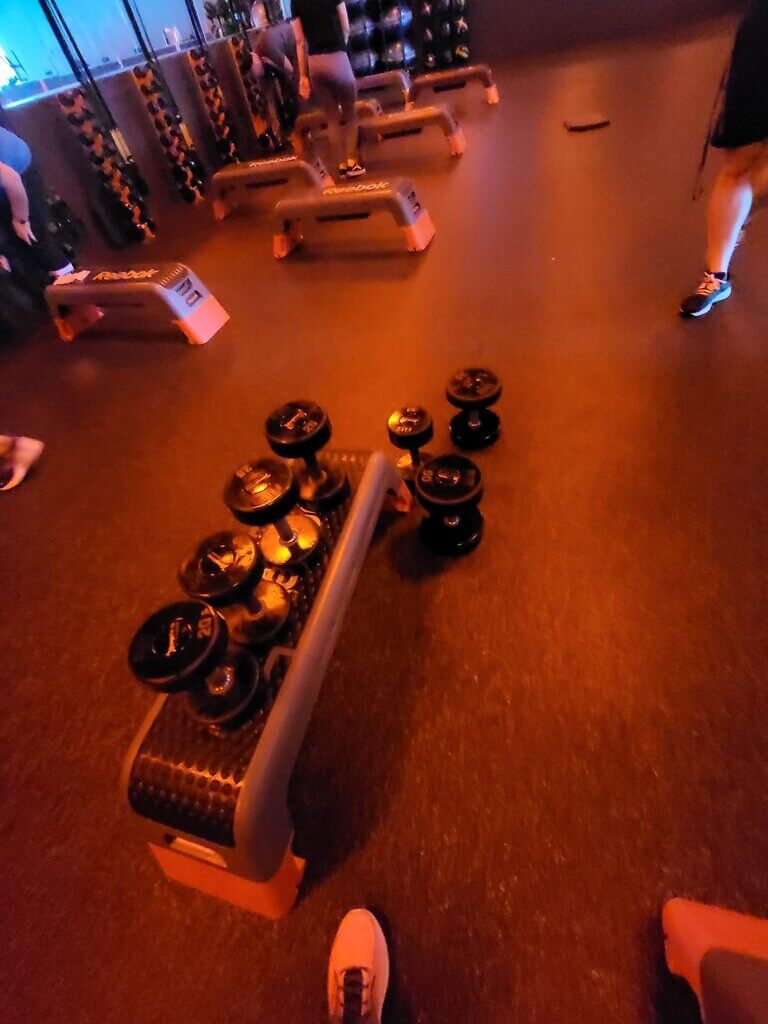 Benefits of Lift 45 at Orangetheory
Why is Lift 45 such a relief to Orangetheory members? Lift 45 adds benefits that we all agree that Orange 60 could not achieve, even with a strength training incorporation.
Adults should perform strength training for all major muscle groups twice a week, according to U.S. exercise guidelines.
A study revealed that 30 to 60 minutes of strength exercise each week may be sufficient. Compared to individuals who did not engage in strength training, those who worked out for this length of time had a 10% to 20% decreased chance of dying during the research period from all causes, and especially from cancer and heart disease.
From I-Min Lee, professor of epidemiology at Harvard T.H. Chan School of Public Health, in a March 14 Everyday Health article
I-Min Lee explained that muscle-strengthening workouts are advantageous since they improve physical performance.
According to I-Min Lee, "Such exercises also improve glucose metabolism, enhance maintenance of healthy body weight, and help improve cardiovascular risk factors such as blood pressure," she said. "All these factors lead to lower risks of cardiovascular disease, cancer, and diabetes, which lowers mortality risk."
And More Benefits We Can Get From Lift 45 Classes
Lift 45 is the best way to build muscle
Lift 45 helps you become stronger.
Lift 45 classes help you Burns calories efficiently
Decreases abdominal fat
Lift 45 Can help you appear leaner
Lift 45 Promotes greater mobility and flexibility
Lift 45 Boosts your self-esteem
Lifting weights strengthens your bones and joints
Lifting weights may reduce injury risk
Lifting weights can improve heart health
What Does an OrangeTheory Lift 45 Workout Look Like? (Templates)
It's a really good class. You don't focus on your splat points. You focus more on strength training as there's no cardio or rowing. It is not only weight lifting. It is also core exercises and balance and stretching.
Each week there are 3 templates that the studio will rotate through. Each template will mix upper and lower body lifts and be different enough from the others so that by the end of the week, you've basically cooked everything.
When the Lift 45 format first came out, they did have templates that were just upper body or just lower body, but I believe they quickly moved away from that, and now you get a mix of both every time. That way, even if you only go to one Lift 45 class per week, you'll always get a full-body workout. I'm sure that's the reasoning. They do 3 different templates per week, so those of us who want to do multiple Lift 45 classes per week can be working different muscles, in general, because the templates are different.
There are different Lift 45 templates from week to week. There are 3 different templates for L45 every week.
Total Body 1
Total Body 2
Total Body 3
The most typical format is a 5-minute warm-up consisting of stretches, some abs, and a tiny cardio blast. Then you typically do 4 move sets. The screen is a little confusing the first time because it has the demos for both groups going at once. But your coach will explain it, and it gets easier to understand. Then there's a finisher and, finally, some stretching.
Here are some examples of what they might look like. There are variations and different focuses (endurance, strength, power), and your coach will give you weight recommendations.
These templates were collected from Reddit.
LIFT Total Body 1 (sample 1)
Total of 5 blocks. Two blocks on each side at 5.5min each block, ending with a 3min finisher block. All of the blocks are built back-to-back, so use the same weights for the first two exercises of each block; the third exercise is as many reps as you can get until collapse, then rest before doing it again.
6 min warm-up
Floor Block 1: 10 bicep curls, 10 low rows, bridge low row until fatigue
Rower Block 1: 5 each side weighted suitcase squat, 5 each side weighted lateral lunges, speed squats until fatigue
Floor Block 2: 10 triceps kickbacks, 10 bench chest fly, tricep push-ups until fatigue
Rower Block 2: 5 each hollow hold chest press, 10 palms to elbows, hold high plank until fatigue
COOL DOWN
Basic arm/shoulder stretches (for example. stretch the arm across the body and pull)
Basic leg stretches (ex., quad stretch, lunge)
LIFT Total Body 1 (sample 2)
6min Dynamic Warm-up
Block 1 – 5.75 min
Floor – 3 Rounds
45s – Split Stance S/A Low Row (L)
5s – Rest
45s – Split Stance S/A Low Row (R)
30s – Rest
Rower – 3 Rounds
45s – Sumo Deadlift
5s – Rest
45s – Goblet Alt Reverse Lunge
30s – Rest
Block 2 – 5.75 min
Floor – 3 Rounds
45s – TRX High Row
5s – Rest
45s – TRX Chest Press
30s – Rest
Rower – 3 Rounds
45s – Sumo Squat
5s – Rest
45s – Goblet Alt Lateral Lunge
30s – Rest
Block 3 – 2.75 min
Finisher
Everyone – 3 Rounds
20s – Static Crunch w/ Over/Unders
10s – Rest
20s – Power Sit-up
10s – Rest
Lift Total Body 2
Warm up – 6 mins
Block 1 – 7 mins: 6-8 single arm chest press 10 power push up
Block 2 – 7 mins: 6-8 alternating goblet reverse lunge 10 alternating jump lunge
Block 3 – 6 mins: 6-8 each side bird dog low row 10 TRX low row (explosive tempo)
Block 4 – 6 mins: 6-8 suitcase deadlift 10 hip hinge swing
Finisher 2.75 mins: 3 rounds: 30 sec weighted squat – 15 sec jump squat (15sec rest between rounds)
Lift Total Body 3
Warm-up:
Jog in place
Plank pushup walk out
Alt runner's lunge with alt arm reach
Good morning with arm reach
Walking downward dog
3 high knees switch
Row side block 1:
Single weight deadlift on Right side for 20 sec
Single weight deadlift on Left side for 20 sec
Plank shoulder taps for 20 sec
Rest 30 sec, Repeat for 3 rounds
Row side block 2:
Right side bench step up for 20 sec
Left side bench step up for 20 sec
10 sec transition
TRX Bicep Curls for 20 sec
30 sec rest, Repeat for 3 rounds
Floor side block 1:
Miniband hip raises for 20 sec
Miniband toe reach for 20 sec
20 sec rest Repeat above for 4 rounds
Floor side block 2:
Split stance high row on right for 20 sec
Split stance high row on left for 20 sec
10 sec transition
Lateral bench hops for 20 sec
30 sec rest, Repeat for 3 rounds
All sides (finisher):
Right side lunge pulse for 20 sec
5 sec transition
Left side lunge pulse for 20 sec
10 sec transition
Body weight pulsing squats for 20 sec
10 sec rest, Repeat one more time (only 2 rounds)
When are Lift 45 Classes at Orangetheory?
As stated above, Lift 45 classes only complement but do not replace the Orange 60 classes. Therefore, they are held during sessions when no Orange 60 classes are scheduled.
During weekdays, that is, Monday to Friday, the classes are held during the day, the specific time frame dependent on the studio. Sadly, this schedule only works for people who can manage a day's class. However, this schedule is not workable if you work from 8 am to 5 pm.
However, there is also a weekend option, and the Lift 45 classes take place in the evening after all the weekend classes. Therefore, if you are not available for weekday weight classes, Saturday and Sunday evenings should work for you. Most members prefer to take the last Orange 60 class, then skip right into the Orange 45 class, back-to-back.
How to Book a Lift 45 Class at OTF
Interestingly, you book into a Lift 45 class normally on the Orangetheory app, just as you would with other Orangetheory classes. There is no extra charge for the class unless you have exceeded your monthly subscription limit. If you are taking it as an extra class, you will pay at the friendly rate of a regular Orangetheory class, which is, in most cases, $18-28 (cost depending on location).
Once you book the class, you will see an update on whether it is lower body, upper body, or full body, which are the three options available. This gives you a chance to know whether or not it is the strength training you need. You also prepare for the class beforehand to ensure that you are fit and ready for it.
However, remember that Lift 45 classes are not cardio classes, so they may not excite you as much when it comes to heart rate. Your heart rate zones may be lower, as the focus is on muscle-building and strength training as opposed to cardiovascular.
Finally, you prepare for the class on a material day and go for the class as you would with other classes.
FAQs
Does the class focus on gaining splat points / do we have to wear our monitors?
Our coach always explains that if we wear our monitors, the goal is not orange like in regular class & the focus here is form & lifting much heavier than you typically would in 2/3G. You can wear your monitor; you won't get any to very many splat points . No cardio; it's just lifting weights.
Recommend or not… do lift 45 and regular class same day?
Absolutely recommend especially if you are at a point where you want to challenge yourself a bit more.
I've done
Lift 45+Orange 60
Lift 45+Orange 90
Orange 60+Lift 45
I don't think it truly matters what order you combo up although I personally prefer the lift first.
Are you completing 12 splat points in lift 45 classes? Is that the goal?
The goal is not to get splats. The goal is to perfect the exercises on the floor and focus on the quality of your reps. Our coaches don't even encourage the heart rate monitor in these classes.
Who does the Lift 45 class? Are they good weight lifting classes, or is it better to go to a gym that does weight lifting with squat racks/rigs?
Anyone can take the Lift 45 class, regardless of their fitness level. However, the weight-lifting goals will also determine whether the class is a good match or not.
For beginners and intermediate users, Lift 45 is challenging and with amazing strength, endurance, and power results. However, for professional weight lifters who look for high levels of weight lifting equipment and results, pure gyms for weight lifting are a better choice.
Conclusion
Lift 45 at Orangetheory refers to weight-lifting classes that last 45 minutes. They are excellent at training lifting form, encouraging better weight-lifting skills, and facilitating muscle strength. Numerous strength training equipment competes with pure weight lifting gym equipment, from fixed equipment and accessories to movable options.
When used with Orange 60, Lift 45 has shown better fitness results, as one can finally benefit from cardio and strength training, all from the same gym. And yes, it is definitely worth it!
Get More Info: